There are so many models on the market that choosing the best bathroom sink seems an impossible wish. A sink is a must in any bathroom since it's used for basic things like washing your hands and face, and brushing your teeth.
If you want to find the best sink for your bathroom, this guide will give you a good amount of information on how to choose one. Also, you will find some bathroom sink reviews, so you have a better chance of finding an ideal product.
See The Quick Comparison Chart
Bathroom Sink Types and Uses
You can buy a new bathroom sink that doesn't look out of place as long as you're aware of the multiple types of bathroom sinks/basins available on the market. So, the models you will usually stumble upon in the stores are:
1. Undermount Sinks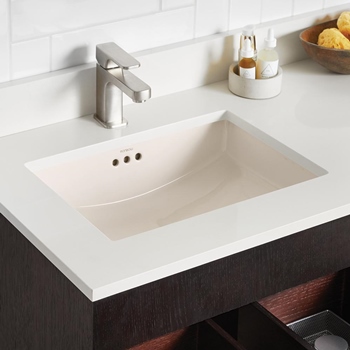 Undermount sinks are usually mounted from below your countertop, thus being pretty much like a hole inside your counter. They are a great choice when you don't want to make the bathroom seem too crowded, as the sink won't sit on the counter, but inside it.
They are generally custom made. So, if you want to replace an under-mount sink, it will be quite burdensome.
2. Wall Hung Sinks
It's enough to read the name to understand what these sinks are all about. Basically, they are mounted against the wall. So, they do not require a countertop, but just a wall to be installed on. Their plumbing line and supply line are exposed, though. If you need a sink for a smaller space, this one is great choice.
3. Above Countertop Sinks
These are the types of sinks that you place on your countertop, without having to make a hole in it and mount the sink from underneath. They're a good way to make the area look more luxurious, and a great choice for people with a lot of space in the bathroom.
4. Console Sinks
Console sinks are the types that use four legs for support. They can look very nice, although they have their drains and supply lines visible. Therefore, if you go with this type of sink, you will have to make sure the material matches the décor of the room.
5. Pedestal Sinks
These sinks are literally placed on a pedestal. Basically, they use a column for support, so they are pretty much freestanding and not set in vanity. If you think you could use some additional space in your bathroom, they're a wonderful addition.
6. Vanity Bathroom Tops
These are pretty much single-piece countertops with built-in sinks. If you have a spacious bathroom, they are great because they will also make space look more elegant. Although they generally come with no base, you can buy one yourself.
These vanity bathroom tops can be made from marble, wood, tile, granite and many others.
7. Self-Rimming Sinks
Self-rimming sinks are very similar to the undermount ones, although they use the finished rim at the top, on the countertop, for their placement. They have the advantage of being easy to replace at any given time. Not to mention that you can set them up without any problem.
Best Bathroom Sinks Comparison Chart
PRODUCT
DETAILS

Luxier CS-006 Bathroom Porcelain Ceramic Vessel Vanity Sink Art Basin

Price: $
Customer Rating: 4.5
Weight: 19.6 lbs
Material: Ceramic
Dimensions: 16 x 4.5 x 16 inches

View On Amazon

ELECWISH Bathroom Vessel Sink with Faucet Mounting Ring

Price: $$
Customer Rating: 4.3
Weight: 17 lbs
Material: Glass
Dimensions: 16.5 x 16.5 x 5.3 inches

View On Amazon

Kohler K-2209-0 Ceramic Undermount Oval Bathroom Sink

Price: $$
Customer Rating: 4.4
Weight: 16.7 lbs
Material: Vitreous China
Dimensions: 19.1 x 15.7 x 9.3 inches

View On Amazon

Miligore 16″ x 13″ Oval White Ceramic Vessel Sink

Price: $
Customer Rating: 4.8
Weight: 13.4 lbs
Material: Ceramic
Dimensions: 18 x 15.8 x 9.2 inches

View On Amazon

KINGO HOME Above Counter Porcelain Ceramic Bathroom Vessel Sink

Price: $$
Customer Rating: 4.8
Weight: 14.45 lbs
Material: Porcelain
Dimensions: 20.2 x 18.8 x 10.5 inches

View On Amazon

DECOLAV 1402-CWH Callensia Undermount Lavatory Sink

Price: $$
Customer Rating: 4.3
Weight: 20 lbs
Material: Ceramic
Dimensions: 8.2 x 15.2 x 21.2 inches

View On Amazon

Nantucket Sinks UM – 16×11 Inch Ceramic Undermount Vanity

Price: $$
Customer Rating: 4.1
Weight: 14 lbs
Material: Ceramic
Dimensions: 18 x 13 x 7.5 inches

View On Amazon
Best Bathroom Sink Reviews
1. Luxier CS-006 Bathroom Porcelain Ceramic Vessel Vanity Sink Art Basin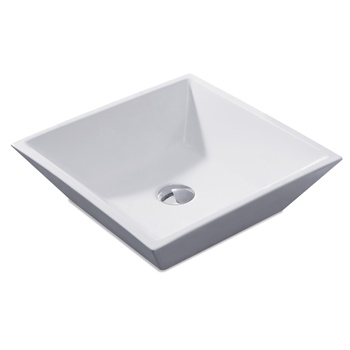 Some people want to go for a modern, luxurious look for their bathroom, and that's alright. If you happen to be one of them, then this sink from Luxier may suit your tastes. With a square design and a center placed drain, this little sink will make you more eager to use the bathroom as soon as you wake up.
Although it has a very delicate look to it, the construction is of high-quality and won't be damaged too easily. It's made of ceramic, so you can rest assured it will last. It requires an above the counter installation and it will look gorgeous standing on it. The sink has a shallow depth, and you have enough space under the faucet to wash whatever you need to.
However, you should know that the design is not perfectly square and that the water may splash a lot, but other than that, it will give you the hotel feel that you probably seek.
Pros
Easy to install
Modern design that will fit a lot of bathrooms
High-quality construction
2-Year Manufacturer Warranty
Cons
The water will splash a lot
It may start leaking as it doesn't always align properly
2. ELECWISH Bathroom Vessel Sink with Faucet Mounting Ring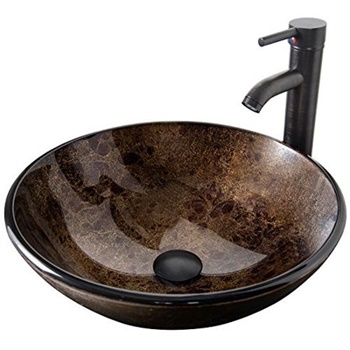 Above the countersinks are great to add that luxurious, hotel-like look you seek for your bathroom. Standing taller and as elegant as they could be, they can be a wonderful addition to any bathroom, whether it's a smaller one or a big one.
A big advantage of this Elecwish product, apart from the obvious gorgeous design, is the low-lead material and anti-scratch glossy surface faucet. Faucets tend to get scratched when they're being used a lot, and it's not a pleasant surprise, especially when you're a perfectionist and aspire to have an outstanding bathroom. Thankfully, it won't be the case if you purchase this product.
The sink itself is also resistant to scratches. It's made of a non-porous, tempered glass that doesn't allow scratches to settle too easily. To make things even better, the surface of the sink is very easy to clean, so don't worry about spending too much on that task.
Pros
It's very durable
The surface of the sink and the faucet are scratch-resistant
It is very beautiful and makes the environment look modern
It's easy to clean
Cons
The instructions are not too clear
It doesn't come with all the necessary hardware to complete the faucet installation
3. Kohler K-2209-0 Ceramic Undermount Oval Bathroom Sink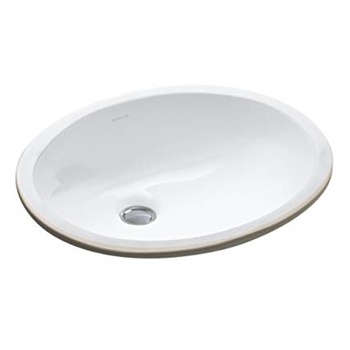 You can always go for an undermount sink if you don't want to take too much space with an above counter one. This sink is quite simple in design, but that doesn't make it unattractive at all. It looks very nice and can accommodate most bathrooms.
The sink has a vitreous china construction. This means that the sink will be a durable acquisition, and its shine won't fade away too easily. It's effortless to clean and maintain too. The sink can be installed easily, and it requires a wall or counter-mount faucet, as it doesn't have any faucet holes and comes with no faucet of its own.
This product has an oval shape and a timeless look too. Whether you want to go for a traditional or modern look, you can always incorporate this sink the right way without negatively affecting the design you aim for.
Pros
It's very easy to clean and maintain
Has an overflow drain
Made of vitreous china that ensures a long-lasting good look and durability
It's easy to make it suit any bathroom design
Cons
Has no faucet hole so you'll have to buy a separate one and mount it on the wall or counter
4. Miligore 16″ x 13″ Oval White Ceramic Vessel Sink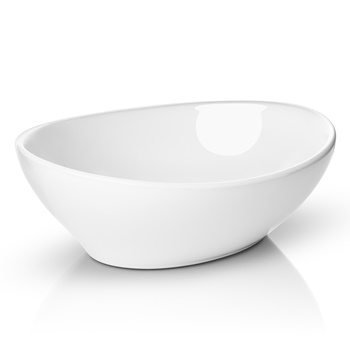 If you want an oval-shaped, deep sink, you can't go wrong with this Miligore product. It's an above the counter sink that will make you eager to use it whenever you have the chance. Similar to a bowl, it's a suitable installment for minimalists, and if you're also aiming for modern bathroom design, it's even better – this sink fits the requirement.
Just like with every other product, you must be aiming for an easy installation that doesn't make you want to pull your hair out. A big benefit of the sink is the fact that it comes complete with a drain opening. So, you can use any standard, overflow type drain.
Meanwhile, it also has a vitreous china enamel glaze that protects it from scratches and makes sure the product will be as beautiful and shiny as new. It's made of durable porcelain ceramic and you can rest assured that the sink is durable enough and will stay shiny even as years go by.
Pros
High-quality, durable material construction for a long-lasting experience
Vitreous china enamel glaze to prevent scratching
It looks glamorous and it's great for minimalists
The installation is very easy
Cons
It may cause very little splashing
5. KINGO HOME Above Counter Porcelain Ceramic Bathroom Vessel Sink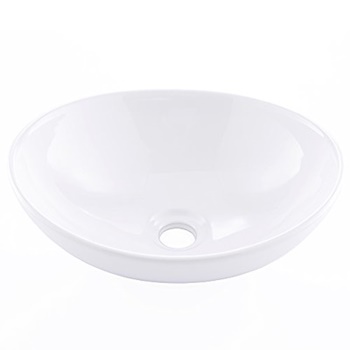 Not all sinks give you a hard time when it comes to installing them, and this Kingo Home sink exists to prove it. It will go by smoothly and help you achieve the modern look you may be seeking for your bathroom.
The product is pretty much an oval-shaped sink – and although it's simple, it still looks very elegant. The white, shiny finish is eye-candy, and simply being in the presence of this installation will make you feel amazing. Also, it's essential to point out that the finish is scratch resistant and durable.
The drain is placed in the center, thus making sure all water will be evenly distributed towards it and eliminated from the sink. Just bear in mind that you won't have an included pop up drain, nor a faucet. It's a little disappointing, but you will have to buy these separately.
This sink doesn't take up too much space, being perfect if you want to be left with some counter space too.
Pros
Scratch-resistant finish
It's very easy to install
It has a shiny look that will add beauty to the bathroom
Doesn't take much counter space
The drain works amazingly as it's located in the center
Cons
It doesn't come with a pop-up drain, so you will have to buy one yourself
6. DECOLAV 1402-CWH Callensia Undermount Lavatory Sink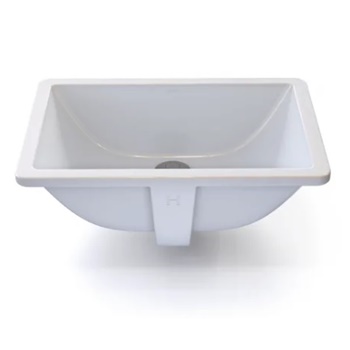 As an undermount sink, this beautiful unit can also improve your bathroom's look. This product is made of vitreous china, ensuring that it will provide enough quality so the sink can last.
It is double fired and glazed, which is why it looks so great. However, there's more to it than that – the finish is stain resistant, so you'll have a less difficult time trying to clean and maintain it. Moreover, the finish adds an extra ounce of elegance to your bathroom.
The rectangular sink is an undermount one, meaning it will take a little less counter space since it doesn't sit on top of it. In addition, it won't make you want to pull your hair out during the installation – it's an easy process that requires little to no effort.
Pros
Great quality for the price
Easy and quick installation
It's not difficult for it to match the look of the rest of the bathroom
It's stain-resistant
It looks elegant
Cons
Some customers mentioned that it gets chipped easily
7. Nantucket Sinks UM – 16 x 11 Inch Ceramic Undermount Vanity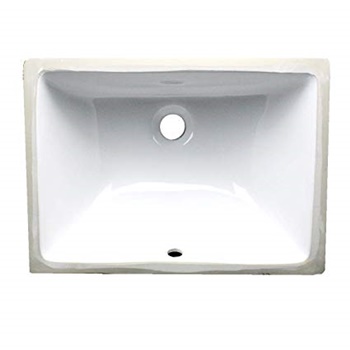 If you want to go for a rectangular undermount sink, why not try this Nantucket model? It is a bowl-type that will surely look good in your bathroom. The vitreous china construction makes sure it's strong, while the enamel glaze will ensure durability.
On top of that, the surface is easy-to-clean and you will be able to pretty much get rid of all dirt without too much trouble. It has an overflow to keep your counter and floor safe in case too much water gathers inside. This protection mechanism is always a great feature to have just in case.
However, the sink doesn't have a faucet and drain included – so, these will have to be purchased separately. In addition, the product will require professional installation. Unless you have some knowledge on installing these, it's better to call on a specialist.
When it comes to looks, there's no need to worry – the color and finish allow you to match whichever look you're aiming for and most likely match the fixtures too.
Pros
Wonderful look that improves the look of the bathroom
It's an easy-to-clean sink
Has an overflow to prevent splashing
Cons
It requires a professional to be installed
Comes with no pop-up drain
Bathroom Sink Materials
Bathroom sinks can be made of a wide variety of materials. This is an advantage because you have plenty of choices at your disposal. You need to be aware of how each material will have an effect on the look of the product, as well as the durability. Here are the materials you will see when looking for bathroom sinks:
1. Porcelain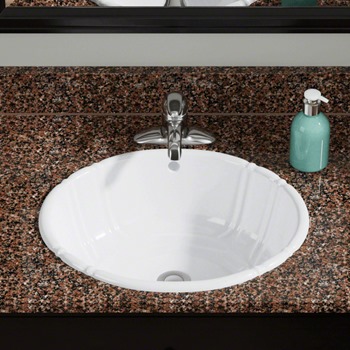 This type of sink is a harder type of ceramic meant to last. It works best for people who are looking for a strong, durable alternative to install in their bathroom. But although it is very hard and strong, it looks very nice and delicate.
A great trait that these sinks possess is the fact that they don't require a lot of maintenance. Cleaning them will be a quick, trouble-free process, as liquid soap and a sponge will be enough to keep their shine. Of course, you may try other types of cleaners too as long as they won't cause damage. For example, this material shouldn't be cleaned with vinegar – vinegar is acidic and may ruin the sink's surface.
2. Stone
Are you an artistic individual? Then a stone sink may be the best way to match this trait of yours. The cool thing about stone sinks, apart from their obvious increased durability, is their beauty. You can find sinks made of various types of stones, like green jade, marble, granite, sandstone and many others. However, they may be a better fit if the sink will go in a bathroom used by kids or a high-traffic bathroom.
3. Ceramic
You can purchase a ceramic sink if you are looking for a rigid unit with a smooth surface that doesn't require too much maintenance. Ceramic is made of fired clay, and sinks made of it are sealed in such a way that they're not stained so easily. If you want to only use a sponge or dry cloth with some water and cleaning solution to maintain it, you should consider a ceramic sink.
4. Stainless Steel
What people love about stainless steel sinks is their ability to resist rust and stains. Compared to other types of metal, stainless steel does a better job of keeping your sink shiny for longer periods. So, these units are extremely durable from this point of view, but their disadvantage is certainly that they're more prone to scratches if you're not careful. You should not set these up in high-traffic or kids' bathrooms.
5. Glass
Glass sinks are very durable and are perfect for a lot of bathrooms. The tempered glass ones are good options thanks to how resistant they are to cracks. They won't shatter too easily, and on top of that, they are splendid as well. As such, if you go for a glass sink, you will have a unit that looks like a jewel, while being easy to clean and maintain.
Bathroom Sink Buying Guide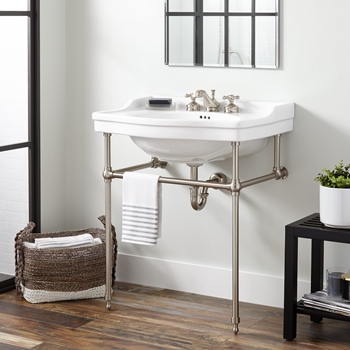 Every product has some key factors you should take into consideration prior to actually buying it. The last thing you want is to buy something and then notice at home that it's not what you wished for. In order to avoid that, here are some things to consider when shopping for your new bathroom sink:
1. Shape
Some people may argue that shape is not that relevant, given that you need the sink for cleaning and nothing else. However, some people are very focused on getting the best look for their bathroom – if you are one of those people, then the shape is an important consideration.
The most commonly found sink shapes are rectangular and oval. Rectangular ones may be a good choice if you have a lot of space that you want to fill, and if you want a modern sink. Conversely, a round-shaped sink works better for smaller bathrooms. Choose wisely.
2. Faucet Holes
There are sinks that require a countertop faucet or wall-mounted one, while others have holes in the faucet-designated place. Depending on how your bathroom looks at the moment, you should consider the faucet. Do you have a sink with holes for the faucet, and simply want a replacement in the same format?
If that's the case, you should always ensure that the new sink has the same number of holes. If you want to keep your faucet on the wall or the countertop, then simply look for a sink model that has no holes.
3. Material
A good sink is made of high-quality materials, as you've seen in the previous section. That means that the sink should be guaranteed to last for a very long time and not break at the smallest impact. Moreover, the surface needs to be made in such a way that it doesn't scratch easily and maintains its shine.
Well, you have a few options to choose from, such as marble, porcelain, steel or granite. All of them hold certain advantages. For example, porcelain is one of the best materials from a design point of view, because it's very beautiful and requires little maintenance. However, it's quite pricey.
Stainless steel is a better choice if you want to get a sink while saving some cash in the process. But you will have to offer it more maintenance, as it's not that easy to clean. Marble and granite represent a good alternative as they require less maintenance, with marble being the less pricey option out of the two.
4. Size
The size needs to be considered because not all bathrooms are the same. Some houses have a smaller bathroom, whereas others have a very big one with a lot of space. Therefore, you should choose the size of your new sink according to the space you have available in your bathroom.
The average size for rectangular sinks can be between 18 and 21 inches long, while for round ones, it can be around 19 inches in diameter. But what you need to consider regarding the size in some instances is the depth of the sink. Some sinks resemble a bowl as they are very deep, while others are less deep and have less water capacity. So, take into consideration your needs and the number of people using the sink.
5. Warranty
A warranty could save you some trouble if, for some reason, there are problems with the sink you've purchased. Of course, it doesn't apply if you're the one who damaged the sink, as you can void the warranty this way. A warranty will last, on average, between one and five years, although lifetime warranties are also available in some situations.
There are more advantages to a warranty for your sink, though. If you want to sell your house, the warranty may ensure you sell it with a new, beautiful and fully functional sink.
6. Overflow
It's ideal to go for a sink with an overflow drain. Even if you don't have the habit of filling your sink with water, you never know when the drain will be useful. This way, you can make sure no water will be splashed on the counter or the floor and cause a mess.
7. Color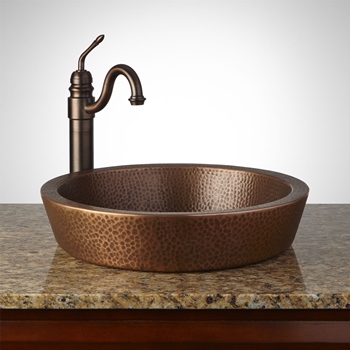 Don't expect bathroom sinks to come in a limited amount of colors. On the contrary, you can find them in a variety of shades, which is even better if you are going for a specific bathroom design. For instance, some bathroom sinks have an eggshell color, while others come in off-white and white. White ones are the most commonly found ones.
Still, you have the chance to find more colors too. In some cases, brown, black and even pink sinks can be found in stores. Just choose one that you think will complete the overall look of the room, matching the walls, your top-rated toilet seat, bathtub, and anything of the sort. It's important that it doesn't look out of place.
8. Number of People Using the Sink
You should also think about the number of people living with you, thus how many individuals are going to use the sink. Moreover, it's important to think about how often people are going to use it.
If there are children in the household and they tend to go to the bathroom and use the sink a lot, maybe you should look for sinks made of durable materials. Children may end up scratching them or try to climb of them, which is not ideal if you have a delicate sink. The same goes for a high-trafficked area – you should buy a high-quality sink, as constant usage may damage a delicate one much easier.
At the same time, if there are only adults using the sink – let's say, a couple – you can go with a glamorous sink with a shiny look. Adults will be more considerate and are more likely to be careful when using the new sink.
How to Install a Bathroom Sink?
Before you install the bathroom sink, you have to know all the steps you should go through for proper installation. So, here's what you should do to make sure you'll get to enjoy your sink in no time:
1. Get the Tools
You will need tools to install the sink properly, especially if you're doing it alone. Luckily, you don't need anything but basic tools to complete the installation. What you need should be used to match the valves in the plumbing, so prepare a basin wrench, plumbers' wrenches, silicone caulking, and plumbing sockets.
2. Turn Off Your Water Supply
It's essential to turn off the water supply before you start the installation process, so no unwanted incident happens. In general, the valves will be found under the sink, and if they're not there, you will have to turn off the main water supply so you can operate. Make sure you test if the water is really turned off before you do anything.
3. Measure the Space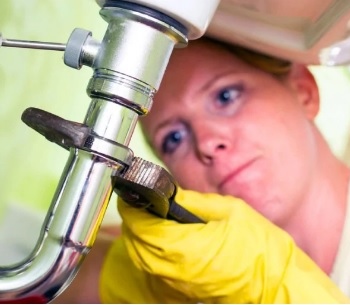 Before you even purchase the new sink, you will have to measure the space you have available for the sink – you should also check out the wanted product's size. If you don't do this, you might end up with a sink that doesn't fit its designated space. Luckily, sinks generally come with a template that will help you determine whether the surface is spacious enough to welcome the new sink.
Also, you should ensure that the valves and faucet under the sink correspond to the supply lines. These things should always be established before the installation, so you don't encounter any problems.
4. Remove the Old Sink
If you already have a sink installed but want to replace it, you will have to remove it before adding the newly purchased product. To do that, you have to disconnect the faucet from the drain and supply lines with a crescent wrench or locking pliers.
Use your hands to unscrew the nut that connects the drain and the sink. It won't be hard to find given it's pretty large usually. To remove the actual sink, take a knife and run it around the sink's perimeter. There's a caulk that connects the sink, so you'll have to loosen it if you want to remove the old unit.
5. Caulk Your New Sink
If you have the new sink already, place it in its designated spot and make sure to caulk it. This can be done by putting some silicone on the sink's bottom lip before setting it into the hole. However, the product may need caulking in different places depending on the type and design of the sink you have bought.
Once you caulk it and set it into the hole, you should clean up any potential excess silicone.
6. Use Clips
Manufacturers are looking for ways to improve their products all the time, so when it comes to sinks, they add connective clips to help you anchor them into place. Sometimes, sealing caulk is not enough, so clips may be of great help. In general, they will simply hold the unit in place.
Keep in mind that their design may vary depending on the type of sink. If you don't know exactly how to use them, look over the instructions' manual and find out.
7. Add the Faucet
You can't make use of the sink without having a faucet, right? Not all faucets are equal – some are installed on the counter, while others are installed directly on the edge on the sink, where there are some special holes.
In general, newer faucets will screw in a clockwise direction. In certain cases, you will have to use a sealant to secure the faucet, while in others, the faucets will have a rubber gasket around the base for proper installation.
8. Install Your Drain Kit and Tailpiece
What you have to do next is install the tailpiece, which can be done by dropping it through the sink so you can screw it on the underneath nut. You can either use silicone to seal this part or use the gaskets that come with the sink when it applies. Once you install the gasket, make sure to use the cardboard washer and locknut so the tailpiece will be secured into place.
9. Match the Water Lines and Water Supply Lines with the Sink
Check whether the water lines and the new fixture match. In case they don't, you can always buy some additional lines to complete the installation.
Once everything matches, connect the water supply lines by screwing them into place.
10. Add the Pop-Up
If the sink comes with a pop-up drain, ensure that you connect it so you can use and unclog the sink drain when it is needed. All you have to do is slide the rod's short end into the tailpiece's opening, and then follow the instructions of your respective sink.
11. Add More Sealant and Turn on the Water
Seal any gaps between the sink and the wall by using some caulk. Sometimes, the top of the sink will require more sealing.
Afterward, you should turn on your water and check for potential leaks. Tighten the connections if you notice any leaks. However, if it's the drain that leaks, you shouldn't force the tightening, but rather try a new washer.
FAQ About Bathroom Sinks
We love helping you out – that's why our homepage contains a lot of information about various bathroom units, sinks included. Therefore, we also want to answer some of your questions. So, here are some of the most frequently asked questions about sinks, with the proper answers:
1. Are All Bathroom Sinks Expensive?
Not really. Usually, the price goes up when we're talking about high-quality material. But that doesn't mean you will have to break the bank to afford a good sink. You can find products for around $50 or a little higher, but you will most certainly find something of quality for less than you expect.
Just keep in mind that if a sink is pricier and made from better material, it's prone to last longer since the material is more durable – so, the cost is worth it.
2. I Have Two Bathrooms and One of Them Needs a Sink Replacement – Should I Replace the Sink for Both Bathrooms, or Only for the One That Needs It?
It's better to replace both sinks at the same time than only replace one of them. Sinks will need replacement after some years anyway, and only doing so for one of them may confuse you when it comes to tracking manufacturer warranties. So, better buy new sinks for both bathrooms if you plan on making such an investment.
3. Is It Alright If I Use Bleach to Clean My Porcelain Sink, or I Should Stick with Other Cleaning Methods?
This depends on how new your sink is. When a sink is new, it's cleaner and unscratched, so bleach is safe. However, it has to be a white sink. If you have a colored one, bleach will only end up discoloring it and ruining its whole look. If you have a colored sink, you should stick with other bathroom sink cleaning methods, such as a sponge and dish soap. Lemon juice and vinegar are also great options if you want to use more natural methods.
4. Is There a Big Difference Between White and Off-White Sinks? Which One Should I Settle For?
When you see each shade alone, it's easy to be confused and you might wonder how the two are different. But if you put them next to each other, you will notice a slight difference. Off-white works better when you just want to add a subtler touch to the bathroom, while bright white is a better option when you're going for a lively look. Choose one based on how the bathroom looks and your preferences.
Wrap Up
You always need a sink that fits the look of the bathroom, and one that works according to your needs. Since you've read this guide, you are now aware of what you need to pay attention to in order to choose the best bathroom sink.
Hopefully, at least one of the products presented in the bathroom sink reviews has grabbed your attention. If not, at least you know how to choose the right one for you.