Many people are on the hunt for the best dual shower head nowadays. These units have become really popular among people who care about their bathroom's design and functionality. These come with a traditional showerhead, together with a handheld one, in a single system. With a single handheld showerhead, all you'd get is a normal shower. However, a dual one comes with a few other benefits. You can use the traditional showerhead to let water flow down on you like rain, while the handheld one can be used to reach any area of the body.
So, you might want to go shopping around for your own dual shower head. In order to pick a good one, you will have to read some dual shower head reviews and some other information about these units. You're in luck because we will present them to you in this article, so let's get started!
See The Quick Comparison Chart
Benefits of Dual Shower Heads
Having a dual shower head unit can be a great way to improve your shower experience. The impact it can have is due to the number of features it can possess, not to mention the options you have since there will be two heads spraying water, instead of one.
Do you want to know why replacing your old shower head with a dual unit will bring you many advantages? Then let's take a look at this list of benefits given by dual showerheads.
1. You Can Shower with Your Partner
It's not unusual to hear your spouse's desperate knocks on the bathroom door when you're too comfortable showering. Both of you have schedules you want to follow and getting in each other's way because you only have one shower can be very annoying.
Switching to a dual shower head unit can change your lives for the better. You will have two heads to use, meaning one partner can use a showerhead, and the other partner will use the remaining shower head. Moreover, depending on the needs and space you have available, a second top-rated shower chair can be added so both of you can have your own spot. Not only that, but you'll also get to spend some time with your spouse, without fighting over who gets to shower first.
2. Multiple Features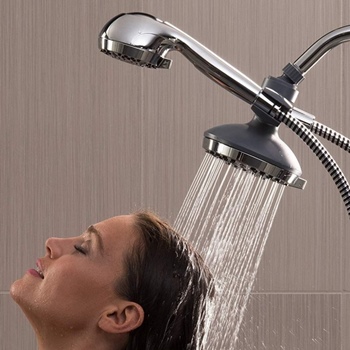 These showers are often provided with a series of features to improve your showering experience. You won't only have two separate shower heads, but a number of functions to go with each one of them too.
You'll enjoy some amazing warmth and comfort with functions like rain massage, energy and water-saving mode, rain mist, and many others. Besides showering, you will feel like you're at the spa as well.
A number of water patterns are sometimes included as well. What makes it better is that manufacturers often incorporate these functions for both showerheads.
3. Full Body Coverage
Since there are two water sources instead of one, you can rest assured your whole body will be shrouded in water. The overhead shower will let water flow on you like rain, while the handheld one will help you clean harder-to-reach areas. No spot will be missed this way, ensuring a nice, effective cleaning.
4. Different Temperatures
It's hard to find the right temperature for your water, and you sometimes end up wasting a lot of time trying to adjust it. With two showers, this will be much easier. One of the shower heads can be set to have a hotter temperature, while the other can have a much lower temperature.
5. They're Pocket-Friendly
Many people refrain from making bathroom improvements because their income doesn't allow them to spend too much. But when it comes to dual shower units, things get better. While some of them will have greater costs due to being made of better materials and having more functions, you'll find models for much less. A lot of models come for prices under $100.
When you think you'll have them for a long time, the price doesn't seem like such a burden anymore. Of course, there are both pros and cons for multiple showerheads, but advantages override.
Best Dual Shower Heads Comparison Chart
PRODUCT
DETAILS

Hydroluxe 1433 24 Function 4″ Face Dual 2 in 1 Shower Head System

Price: $
Customer Rating: 4.2
Weight: 1.5 lbs
Flow Rate: 2.5 GPM
Dimensions: 9 x 6 x 4 inches

View On Amazon

AquaDance 7″ Premium High-Pressure 3-Way Combo Shower Head

Price: $$
Customer Rating: 4.4
Weight: 2.2 lbs
Flow Rate: 2.5 GPM
Dimensions: 4 x 10 x 7 inches

View On Amazon

DreamSpa 3-way 8-Setting Shower Head and Handheld Shower Combo

Price: $$
Customer Rating: 4.3
Weight: 1.8 lbs
Flow Rate: 2.5 GPM
Dimensions: 9.5 x 7 x 2 inches

View On Amazon

Ana Bath Spot Resist Brushed Nickel Dual Combo Shower

Price: $$$
Customer Rating: 4.6
Weight: 2.55 lbs
Flow Rate: 2.31 GPM
Dimensions: 7.8 x 6.3 x 13.1 inches

View On Amazon

AquaStorm by HotelSpa 30-Setting SpiralFlo Luxury Shower Head

Price: $
Customer Rating: 4.3
Weight: 1.5 lbs
Flow Rate: 2.5 GPM
Dimensions: 6 x 4 x 9 inches

View On Amazon

DreamSpa Ultra-Luxury 9″ Rainfall Shower Head/Handheld Combo

Price: $$
Customer Rating: 3.8
Weight: 1.8 lbs
Flow Rate: 2.5 GPM
Dimensions: 9 x 6 x 3.5 inches

View On Amazon

Hotel Spa 1831 Ultra-Luxury 3-way Dual Shower-Head

Price: $$
Customer Rating: 4.1
Weight: 1.5 lbs
Flow Rate: 2.5 GPM
Dimensions: 8.5 x 6 x 4 inches

View On Amazon
Best Dual Shower Head Reviews
1. Hydroluxe 1433 24 Function 4″ Face Dual 2 in 1 Shower Head System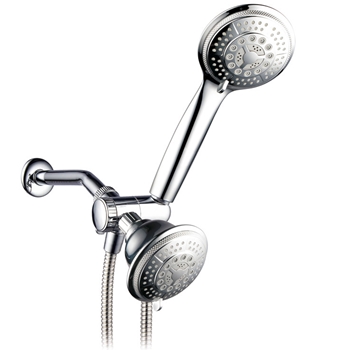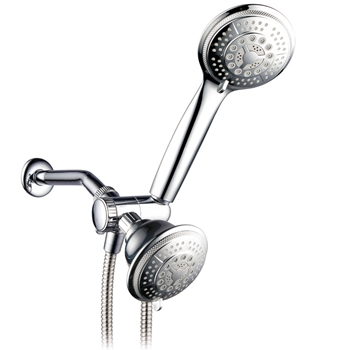 Wouldn't it be easy and convenient if a product came with everything it needed, so installation could be done with no trouble? That's something you can achieve with this product. It comes with the necessary pieces, including plumber's tape and all washers.
Concurrently, the installation itself is very easy, because you need no tools to install it. You just need a few minutes to connect it to a normal overhead shower arm.
This pack comes with showerheads, each with its own rub-clean jets, oversize 4-inch chrome face and others. Not to mention that you will be able to enjoy yourself with a series of features like stay-warm mist, power rain, water-saving economy rain, massage, and pause.
And to make things even better for you, it also allows you to choose from 24 full and combined water flow patterns. Your showers will be more fun and if that's the kind of experience you want, then you should aim for this model.
Pros
More than 24 water flow patterns
Easy and tool-free installation
Both showerheads have adjustable settings
It comes with 10-year limited warranty
Cons
It's made of plastic
The water pressure is not too strong unless you remove the water restrictors
2. AquaDance 7″ Premium High-Pressure 3-Way Combo Shower Head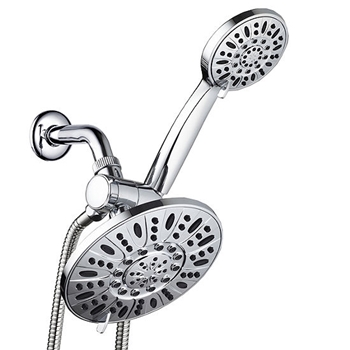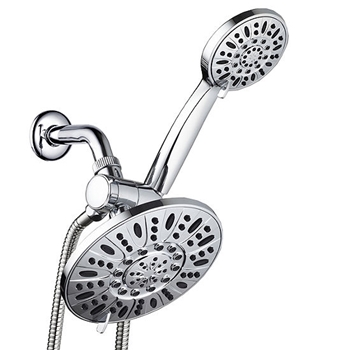 Who wouldn't love a dual shower head that doesn't only have a very friendly price, but also has a variety of settings to choose from? Aside from the advantage of being affordable, you will also have access to rain mist, pulsating massage, power rain, power mist, rain massage, and water-saving pause mode.
If you're someone who wants to do things yourself without having to seek a plumber, then this may be the dual shower head to pick. It can be set up without using any tool, with installation taking just a few minutes. It has three hand-tighten connections only.
And for those who want a good price but are worried about quality, the product seems a good match. With a hose reinforced with stainless steel, it won't break apart so easily. The design of the dual shower head also has an all-chrome finish for added beauty and convenience when cleaning.
Pros
Can be installed easily
It has a lot of features to choose from
Both showerheads can work either simultaneously or separately
It looks very pretty
Cons
The seal tape is quite thin
The pressure is not the strongest
3. DreamSpa 3-way 8-Setting Shower Head and Handheld Shower Combo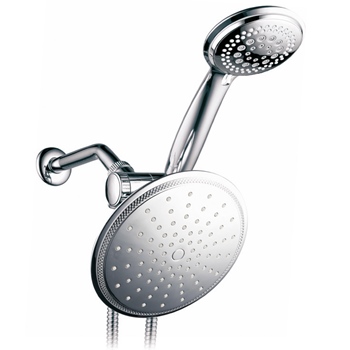 Sometimes, you're tired of having to wait for your spouse to finish their beauty session until you get to take a shower. With a normal showerhead, you would have to do that, but this dual one from DreamSpa comes to solve your problems. Both heads work separately, as well as simultaneously. Therefore, you can shower at the same time as your spouse does, with each one of you using separate heads.
What makes this product worthy of being bought is the durable build of the hose. It's made of flexible stainless steel to make sure it won't break too easily. Also, the hose nuts are made of conical brass, which allows for easy hand tightening.
When it comes to installation, things get even better. To prevent you from having to struggle and waste time, you will need no tools to set it up. The unit has 7 settings, including pulsating massage, eco rain, power rain, hydro-mist, rain/massage, rain/mist, and water-saving pause.
Pros
Comes with 7 settings
Can give you a nice spa experience
Has a limited lifetime warranty
Cons
Unclear instructions
Water may start spurting out of the side of the showerhead after a while
4. Ana Bath Spot Resist Brushed Nickel Dual Combo Shower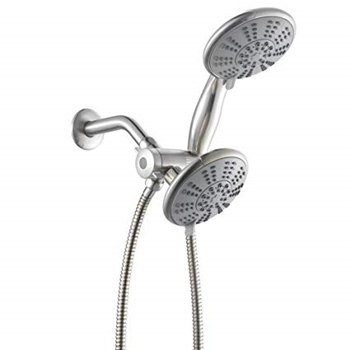 This particular dual shower head makes such a great acquisition thanks to how easy it is to maintain. If you're someone who is tired of spending a whole day trying to unclog bathroom installments, you'll have it much easier with this unit. It comes with anti-clog nozzles. Thus, any mineral deposits and calcium can be removed if you push the nozzles with water on. They're easy to rub clean as well.
For people who like versatility with their products, they'll be very pleased when they see the 5 functions available with this item. You can easily switch between functions, and the functions include massage and rain mix, rain spray, bubbling and rain mix, bubbling spray, and massage spray.
The hose is made of stainless steel and it has 2 brass nuts too. Therefore, this is a great way to ensure better durability. Also, there is a wide spray face with an ergonomic handle that can give you a great rainfall spa experience.
Pros
It's very versatile
The showerheads work both together and separately
It has anti-clog nozzles
It's easy to install
Cons
The pressure will be gone after a while
Nozzles may clog
5. AquaStorm by HotelSpa 30-Setting SpiralFlo Luxury Shower Head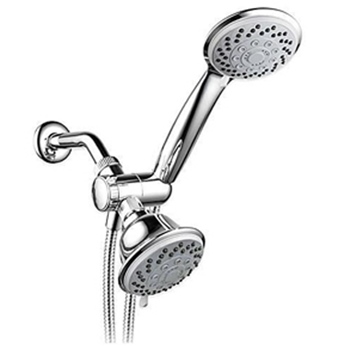 Anyone would want to settle for something that has been tested and proven to be effective, and this unit is one of the products that have indeed been tested. US showerhead experts tried this dual shower head and it's a trusted, durable and functional product.
What sets this product apart is the variety of functions incorporated in both showerheads. For instance, the rainfall shower head has 6 settings, including rain massage, power mist, power rain, pulsating massage, water-saving economy mode, and rain mist. Meanwhile, the handheld shower has a pulsating massage, power rain, rain massage, water-saving economy mode, rain mist, and power mist.
If you don't have the time to go to the spa, then this dual shower head should offer you the same comfortable and relaxing experience you'd get at a spa.
And you don't have to worry that you'll have to spend money on the plumber or that installation will cause headaches. No tools are required for the connection. There are three hand-tighten connections that just take a few minutes to set up. Concurrently, it fits any standard shower arm too.
Pros
It comes with a lifetime U.S. warranty
Both showerheads are versatile
Hassle-free installation
Tested by professionals
It's very lightweight
Cons
The materials are not so durable, as it's mostly made of plastic
6. DreamSpa Ultra-Luxury 9″ Rainfall Shower Head/Handheld Combo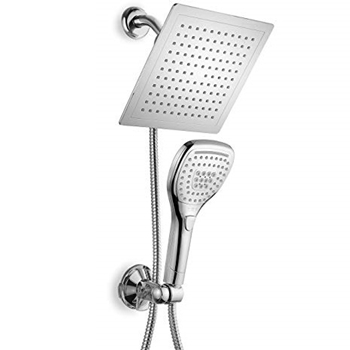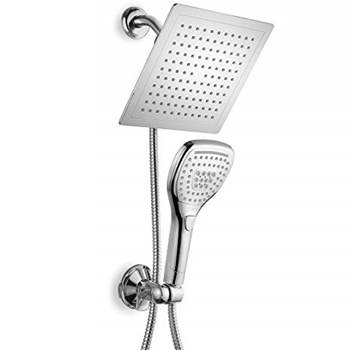 If you're one of the people who prefer a rain shower head with larger coverage, then you should be good to go with this product. DreamSpa created a dual shower head where the rainfall one is large enough, for shoulder-to-shoulder water flow coverage. Meanwhile, the handheld one has a push-button flow control so you can use it both as a handheld or overhead one, depending on your preference.
The installation is quite an easy process because you need no tools. The whole thing takes a few minutes, after which you'll be able to use the unit as you please.
The DreamSpa dual shower gives you a few settings to enjoy like luxurious waterfall settings, as well as high-power rain and aeration massage. The rub-clean jets make it easy to clean and maintain your product after using it. That's another added advantage. You just need to make sure you have the necessary space for the large rainfall shower to operate.
Pros
Easy to set up
It can be maintained with no difficulty
Has a limited lifetime warranty
Easy-to-understand instructions
It's good-looking
Cons
The materials used in its composition are not of high-quality
7. Hotel Spa 1831 Ultra-Luxury 3-way Dual Shower-Head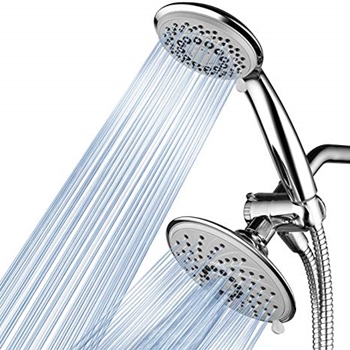 This is the dual shower head for people who care about water flow patterns. If you're one of them, you may love this. The shower heads can work separately or simultaneously, and they have a list of 30 water flow patterns, both combined and full.
It's one of the aspects that can make you feel like you created your own little spa. But that's not all. It has 6 settings for both showers, such as hydrating mist, power rain, rain/mist, pulsating massage, water-saving economy and rain/massage.
Before enjoying these amazing features, you have to install it, and what's great about that is that the installation is tools-free. It takes just a few minutes until you're done connecting the pieces, and to make things better, any standard overhead shower arm will work with it.
Everything you need for it will be included in the package, so you won't have to go to the store and buy additional things for it. That's pretty convenient.
Pros
The showerheads can be used together or individually
You will have everything you need in the package
Both showerheads have 6 settings
Over 30 water flow patterns included
Good customer service
Cons
The big shower head's neck may break
What Is a Dual Shower Head?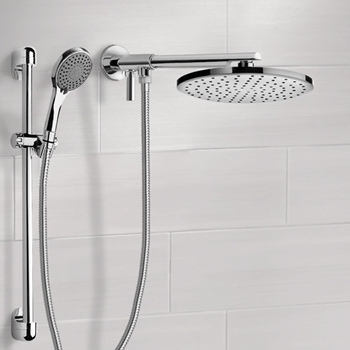 A dual shower head is a system that offers you two shower heads in a single unit. Basically, you will have the standard, handheld shower you're probably used to, as well as a rainfall one. This offers versatility by allowing you to choose whichever shower is deemed more useful at the moment.
The dual shower head is a good option if you want multiple options when showering, or when showering with a spouse becomes a necessity. It comes in multiple sizes and functions. That being said, the rainfall shower may be smaller or may have shoulder-to-shoulder coverage. In some cases, the handheld one can be used as an overhead one too, or just handheld.
The cool thing when it comes to dual shower heads is that you can choose based on your financial possibilities or personal style. Dual shower heads are not the priciest units you'll find and can accommodate one's budget easily. At the same time, you can find models that match your bathroom or simply look beautiful enough to serve as décor, too.
You can also adjust the water spray to have the pressure you want, either low or high. Dual shower heads can also be used either individually or at the same time.
Dual Shower Head Types
Since bathrooms can look and work totally different in each home, it's important to have some understanding of the various types of dual shower heads and their operation. It is probably not a surprise that you have access to more than one type of dual showerheads. Knowing these options will ensure you purchase one that meets your bathroom's needs and makes it look gorgeous as well. The types you will find in shops are:
1. Rainfall and Handheld Shower Combo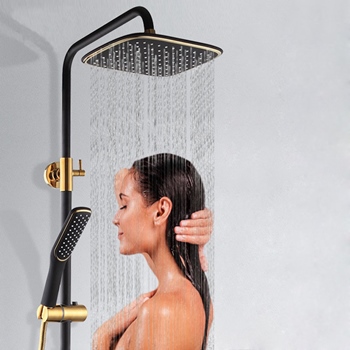 This may be the most common dual shower head type you will find. Just as the name suggests, the unit comes with a mix of a handheld shower and a rainfall one. This means that you can remove one of the shower heads from the wall and use it to reach more areas of your body.
This is such a benefit since you can be more comfortable when using it. The removable one has a flexible hose that allows you to twist it as necessary and make sure you don't miss any body part. Plus, you can use it to clean the shower enclosing or bathtub after you're done.
2. Fixed Dual Showers
This type has two overhead showers attached to a single mount, and none of these are removable. This type is a good option if you want larger coverage of your body when showering. While not removable, the shower heads can be adjusted until you get an angle that works best for you.
3. Units with Low or High Pressure
Some of these showerheads may come with a high or low-pressure option, depending on the material they're made of. Sturdier materials will have higher pressure since the material is able to resist the water pressure. Meanwhile, units made of cheaper materials will stop working properly if the water pressure is too high.
Dual Shower Head Buying Guide
Purchasing a dual shower head in a rush can have consequences. Your unit may either end up malfunctioning after a while, you may have no idea of the features it has to offer, and more than that, you may even have no idea about the warranty. For this reason, you must know what a good dual shower unit must have before you even think of paying for it.
Here are some of the things to take into account prior to buying your own dual shower heads:
1. Installation Process
Nobody loves going through the whole installation process, especially if you're not accustomed to such things. Not to mention that sometimes, the installation is bound to give you headaches, especially when you don't have everything required to set it up. Also, there are little details like minimum drain size with multiple shower heads, etc.
When searching for your new dual shower unit, we recommend checking that the product comes with all it needs if you want a hassle-free process. Moreover, it needs to have clear instructions, unless you want to waste a lot of time trying to understand the vague sentences.
If you do your shopping online, it will be easier to find these things out through customers' reviews.
2. Price
Who's to say you can't find a great product for a lower price? There are surely some cheap items that make you regret your choices, but even so, you're not always guaranteed to hit the jackpot with an overpriced unit either.
Most dual shower units are not that pricey. In fact, a lot come for under $100, which is why they are so accessible. It's a better idea to make a budget before checking various online shops.
Keep in mind that you have to check the price, as well as the number of benefits the product has to offer and the reviews left by past customers. It will tell you whether the product is worth it or not, thus helping you avoid wasting your cash. Compare prices between each other while considering the features and reviews, and you'll come to a conclusion.
3. Functions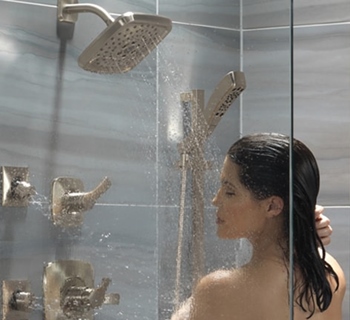 The functions of a showerhead can make your life better. If you're someone who likes a good spa experience, then you'll love how a dual shower unit can offer you the same benefits. These showerheads come in different sizes and have various functions.
For example, you can set the showerhead to give you a massage or use a rain mist setting for relaxation. Conversely, a water-saving feature is sometimes incorporated within a few models to help you save water and money. These are only a few of the numerous features a showerhead may contain.
These functions are included for your own convenience, and the best thing of all is that they can be incorporated in both showerheads. This way, it's possible to enjoy the same functions, no matter which shower head you use. You can also turn both shower heads on at the same time while having different functions on each.
4. Design
It may not be the thing to guide yourself after, but it's still something to consider if you want a stylish bathroom. The dual shower unit design should ideally match the other fixtures in the bathroom.
Thankfully, there is a wide range of designs and colors to pick from. Showerheads have certain finishes, so whether you choose nickel, bronze or chrome, you're sure to have a beautiful fixture.
5. Material and Quality
You're probably not surprised that there are models you should avoid when buying a dual shower unit. Not all of them are made of the same high-quality materials, and that is bound to make the units fail after a few uses.
For your own good, it's best to avoid shower heads made of plastic. Plastic doesn't resist too much to water pressure, and it may break after being used a few times. Water may start flowing from the side of the showerhead, or the pressure will simply decrease easily.
Make sure you settle for a dual shower with a sturdier construction, which won't fail you rapidly. Otherwise, you would have just wasted your money.
6. Warranty
You never know when your dual shower heads will stop working, and it can be frustrating. You'd have to spend your cash on reparations or replacements. That's why it would be useful to have a warranty for a product.
Even showerheads come with warranties. Check out all features before buying, and know what benefits you have included with the warranty, as well as the period available. It may come in handy at one point.
7. Water pressure
You can't shower properly if the water is barely sprayed out of the showerheads. Of course, the shower is not the only reason you're getting a certain amount of pressure. Each house has its own water pressure, and that has to be taken into consideration too before you purchase a new fixture.
With dual shower units, you have two options: high or low pressure. Depending on your house's water pressure and your preferences, you have to pick one that suits you. Find out if the one you've set your eyes upon has enough water pressure capability.
8. Additional Features
Did you know that even a dual shower heads unit can have additional features? Yes, you can get more than the spa experience offered by the water pattern and functions. For example, some models come with speakers, or LED lights.
These are not a must and don't affect the performance of the unit – they are just extras. If you think your showers will get better with these features, then look for units that have them. You can look for showerheads that have one or all the features you wish for.
9. Cleaning and Maintenance
Spending hours struggling to clean your shower heads is nobody's dream. In fact, it can easily ruin the whole enthusiasm you had for your new fixture.
This is the reason why you should settle for units with easy cleaning and maintenance. There are models much easier to clean compared to others, and easier to maintain in the long run. For example, models with anti-clog nozzles are a thing, having the power to remove minerals that gather after being exposed to water.
Ensure you don't settle for less than a model easy to take care of.
Can You Run Dual Shower Heads on One Valve?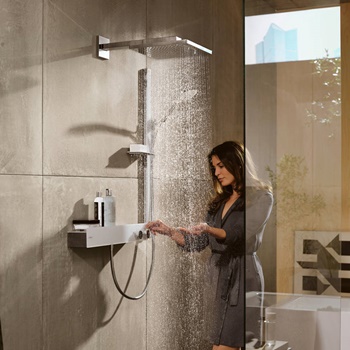 Yes, dual shower heads can run on one valve only. Basically, the valve is responsible for the water flow and the temperature of the water you use, and it can mix both hot and cold water to match your temperature preferences.
Since there are shower heads you can use simultaneously with a dual shower unit, it is possible to make them work on one valve. However, it's important to keep in mind the different types of shower valves before you make the unit work on the same one.
You can have a thermostatic valve or pressure balance valve. If you have a dual shower unit running on the same valve, then you probably have a pressure balance one in place. The valve will try to balance the pressure for each shower head. More often than not, though, pressure can be lost if the showers aren't needed simultaneously.
You can also have the dual shower heads running on a thermostatic valve. It will generally help you set the volume for each of the heads, meaning you'll increase or decrease pressure and volume for them as you please.
Both showerheads can run on one valve, but you need to make sure you have the right type of valve that doesn't affect the functionality of the unit.
FAQ about Dual Shower Heads?
When it comes to dual shower heads, people often have things they're unaware of, and questions they want answers to. That being said, here is a shortlist of questions people ask about dual shower heads:
1. Will the Rainfall Shower Head Have the Same Pressure as the Handheld One?
When you get a combo of handheld and rainfall showerheads, you may wonder whether the two have the same pressure. Well, the rainfall one won't always have the same high pressure as the handheld one. They are mostly used to give you shoulder-to-shoulder coverage and to make it easier for you to wash your hair.
While you have the chance to get a dual shower unit with a high-pressure rainfall showerhead, the handheld one will generally provide you with better pressure.
2. Are All Dual Shower Heads Universal?
Thankfully, manufacturers want their products to be in everyone's reach, and they work hard to ensure that. So, dual shower heads usually come with a standard size to fit all bathrooms. Showerheads have become universal this way, making it easier for you to shop around without worrying about possibly ending up with a model that doesn't fit.
3. How Can I Know for Sure If the Dual Shower Heads Have Good Pressure?
It's hard to figure out how the pressure works for a specific model unless you've tried it yourself – and this is impossible without buying it. However, the one way through which you can find out how good the pressure works is through reviews. If you buy your product online, don't hesitate to check the reviews left by others and find out if the pressure is good, if it decreased as time went by, and so on.
Brands will always try to claim they will give you the pressure you desire, but they don't always deliver what they promise.
Wrap Up
You can't go wrong with the best dual shower head, especially if you know how to pick it. Most people just want to improve the functionality of their bathroom, and not spend too much money while at it. For the most part, though, dual shower heads are not so expensive, so they may even accommodate your own budget.
This buying guide was packed with a lot of useful information that we've spent time procuring – and we have also included some dual shower head reviews. For more information about bathroom-related units, please visit our homepage. That being said, we hope you will buy the most amazing dual shower head for your house.