The best shower chair can make showering a pleasant, relaxing experience. You can rest and enjoy your time instead of fretting falling and slipping.
However, considering how many models you can find on the market, it might be difficult to narrow it down until you find the best model for your purposes. This is why we have brought you some of the best shower chair reviews and a handy buyer's guide to help you in making a great choice.
See The Quick Comparison Chart
Who Needs a Shower Chair?
Certainly, while everyone may be free to use a shower chair, there are some people that might be able to benefit more from this type of product. Overall, here is who definitely needs a shower chair:
1. The Elderly Folk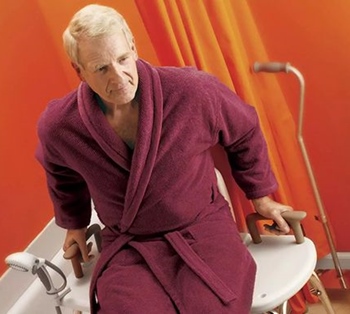 When people are getting older, they no longer have the same control over their bodies. The slip and fall record for the elderly is increasing every year – particularly with people that are older than 60 years of age.
Why's that, you may ask? Because as they age, their reflexes may no longer be as sharp as they used to be. At that point, if they ever slip, they will no longer be able to stop their fall in time – and will only end up injuring themselves.
However, this type of shower chair will have the elderly seated throughout the entire shower – therefore, preventing any unfortunate incidents from happening.
2. The Disabled People
People with a disability may also have problems when they are showering – particularly if their problems revolve around the leg area. No matter if they are in crutches or have no mobility in their legs, they will need something to provide them the necessary support while they are taking a shower.
Depending on the gravity of their disability, they may use a different type of shower chair. For instance, if they still have a certain degree of mobility in their legs, then a standard shower chair might be useful. On the other hand, if they are in a wheelchair, then they might also make use of a transfer bench.
3. People with Broken Bones
When you have broken bones, the last thing you want is to make things worse by falling in the shower. When you have a broken leg, for instance, you might feel like you can go through the shower without stepping on the broken foot.
However, all it takes is a leg crap or an accidental stepping on that particular foot – and you will be on your way down to Fall Town. This is why you should get such a chair – even if it's for the short term. If you're not careful enough, this short-term problem might actually become long term.
4. People with Injuries
Let's say that you don't have any broken bone – but you do have a troublesome injury (e.g. you pulled a muscle) that does not allow you to move in the way you wanted to. In this case, you might want to do anything to prevent your injury from getting even worse. Thus, you should invest in a shower chair that you may use until your injury heals.
5. People with Back Problems
When your back hurts, even something simple such as standing straight in the shower can be a painful activity. You want to put as little strain on your back as possible. So, in this case, you might to invest in a shower chair – specifically, one that features a well-supporting backrest. Thus, if you feel like your back is no longer responding to you in the way that it should, then it might be time for you to invest in a shower chair.
Types And Uses Of Shower Chairs
Shower chairs come in various types – depending on their purpose. Here are the forms in which these products can be bought:
1. Standard Shower Chairs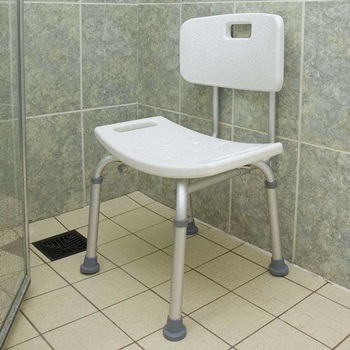 Standard shower chairs have four legs, a backrest, and look pretty much like your average chair. In most cases, they have a handgrip that should make it easy for you to stand and get up. Considering that these chairs have a backrest, they are also very efficient if you have a bad back and need some extra support.
2. Shower Stools
If your back is just fine and you feel the need to have more moving space, then a shower stool might be exactly what you are looking for. When there's no backrest to bump into, it will be much easier for you to turn around and clean yourself properly.  Plus, these stools will make it much easier for you to clean your back.
3. Transfer Benches
A transfer bench is ideal for people that have issues with getting in or out of the bathtub. These units are longer than your average stool or shower chair – and they generally cover both the inside and outside of the bathtub.
The benches have two legs in the bathtub and two legs outside of it. This way, you may sit on the bench while you are outside the bathtub, and then transfer yourself inside it. The benches generally have adjustable legs, so that you may fit them in accordance with the height of your bathtub.
You can read more about handicap shower seats here.
4. Corner Shower Seat
If you are running very low on shower space, then you might want to go for a corner shower chair. These units are conveniently sized, and if you have mobility issues in your lower region, they may support you without taking too much of your shower space.
5. Folding Shower Chair
Folding shower chairs are ideal for two purposes: one, for storage, and second, for temporary use. For instance, if you injured yourself, you should be able to use the shower chair only when you need extra support. This way, you can store it away when you no longer need it – and it will not take that much space in your home.
This type of portable shower chair is also perfect if the person in need is not the only one that uses the shower. For instance, if healthy people are also using it, they make take the shower chair out and fold it every time they need to shower or bathe.
6. Reclining Shower Chair
Regardless of your difficulties bathing, this does not mean that you cannot be comfortable as well. This is where the reclining shower chair comes into the mix. Featuring a commode seat, lumbar support, padded leg extensions, and a footrest, this chair can actually allow you to enjoy your bathing experience – without making it difficult for you to get out of the bathtub.
7. Wall-Mounted Shower Chairs
In the event that you do not want to bother with continuously taking your chair in and out of the shower, you might go with a wall-mounted shower chair. Plus, considering that these shower chairs have no legs to go into the bathtub or shower area, they are considered to be a space-saving option.  You can see the installation of this shower chairs here.
Best Shower Chairs Comparison Chart
PRODUCT
DETAILS

Vaunn Medical Tool-Free Assembly Spa Bathtub Shower Lift Chair

Price: $$
Customer Rating: 4.6
Weight: 8.5 pounds
Weight Capacity: 300 pounds
Seat Height: 12.5 – 19.5 inches
Type: Standart

View On Amazon

Ez2care Adjustable Lightweight Shower Stool

Price: $
Customer Rating: 4.5
Weight: 4 pounds
Weight Capacity: 250 pounds
Seat Height: 12.5 – 18 inches
Type: Stool

View On Amazon

MedMobile® BATHTUB TRANSFER BENCH

Price: $$
Customer Rating: 3.9
Weight: 11.8 pounds
Weight Capacity: 250 pounds
Seat Height: 16.5 – 20.5 inches
Type: Transfer Bench

View On Amazon

Drive Medical Premium Series Shower Chair with Back and Arms

Price: $$
Customer Rating: 4.3
Weight: 8 pounds
Weight Capacity: 350 pounds
Seat Height: 16.5 – 20.5 inches
Type: Standart

View On Amazon

Dr. Maya Adjustable Shower Chair with Assist Shower Handle

Price: $$
Customer Rating: 4.5
Weight: 4.7 pounds
Weight Capacity: 300 pounds
Seat Height: 12 – 19.5 inches
Type: Stool

View On Amazon

Carex Bath Seat and Shower Chair With Back

Price: $$
Customer Rating: 4.8
Weight: 9.6 pounds
Weight Capacity: 400 pounds
Seat Height: 16 – 21 inches
Type: Standart

View On Amazon

Health Line Shower Chair Bath Seat Bench with Removable Back & Arms

Price: $$$
Customer Rating: 4.7
Weight: 10.8 pounds
Weight Capacity: 300 pounds
Seat Height: 16.1 – 21.3 inches
Type: Standart

View On Amazon
Best Shower Chair Reviews
1. Vaunn Medical Tool-Free Assembly Spa Bathtub Shower Lift Chair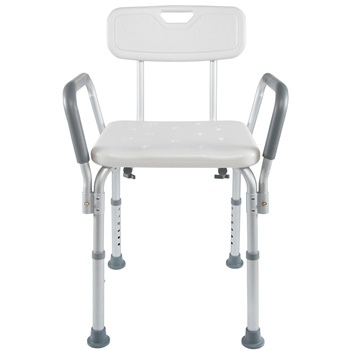 If you are looking for a lightweight and portable chair that you may use in the shower, then this is certainly a model that you might want to keep your eyes on. While this chair labels as a "standard shower chair," you may also install it as a stool.
Made mostly from anodized aluminum (the frame) and a high-quality ABS plastic seat, this chair is certainly very durable and can withstand continuous water use. Moreover, unlike standard chairs that can hold around 250 lbs, this one can hold as much as 300 lbs.
At 8 pounds with the back support and 6 pounds without it, this chair is lightweight – and very simple to take with you even when you are traveling. Moreover, the chair is easy to assemble and install, making it a very convenient choice if you are running low on time or have low mobility issues.
Pros
Fairly high weight capacity
The aluminum structure ensure its full durability
Adjustable height makes it suitable for anyone
Contoured seat is very comfortable
Cons
The surface is slightly slippery
2. Ez2care Adjustable Lightweight Shower Stool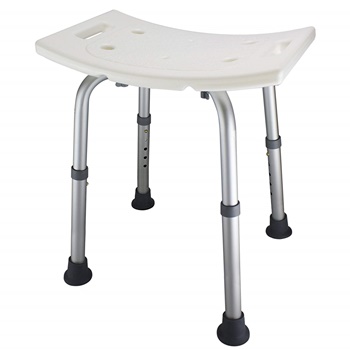 If you need something simple and not too fancy, then this shower stool should certainly prove very useful. It is only efficient for those that have a certain degree and mobility. So, if that's your case, then this stool is certainly going to prove comfortable.
With a curved surface for sitting, this chair's ergonomic design makes it very comfortable to sit on. Moreover, since it has holes in the seat, pooling is also avoided.
It may not have handles, but the seat has hand supports. This way, you may grab onto the chair whenever you need to get up or down.
Pros
Very easy to assemble and move around
Can pretty much fit into any bathtub
The side handles make it safe and efficient to use
Compact and portable construction
Cons
Can only hold 250 lbs
Still rather slippery
3. MedMobile® BATHTUB TRANSFER BENCH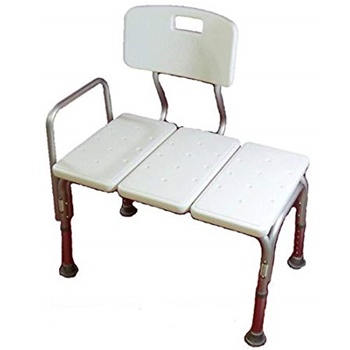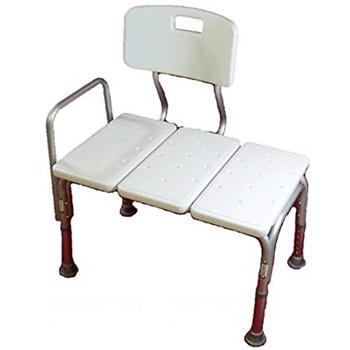 If your problem keeps you immobilized in a wheelchair, then this transfer bench will make it easier for you to get from the chair to the bathing area. With its generous 25-inch seat in length, it gives you enough space for you to transfer yourself from one point to the other.
The seat is highly adjustable, and it can easily go from 15.5 inches to 20.5 inches. This can be quite convenient, particularly if your bathtub is a rather tall one. It is also highly comfortable to sit on – and thanks to its numerous perforations, the chair does not pool. This means that the chances of you slipping are rather slim.
The seat also features an adjustable backrest, and you may choose on which side it should be installed or whether you want it installed or not. The legs also have some good quality rubberized feet attached – ones that will attach themselves to the surface of the floor and bathtub (all due to the suction cups).
Pros
Flexible and highly adjustable design
The legs are very stable and remain attached to the ground
The seat is very comfortable and does not pool
Cons
Assembly is rather difficult – and depending on your issue, you might require assistance
4. Drive Medical Premium Series Shower Chair with Back and Arms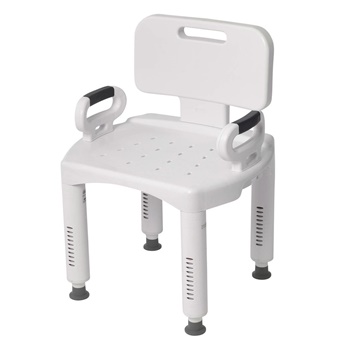 If you are looking for nothing more than the standard shower chair with no complicated assembly, then you might want to give this one a try. Since the backrest and armrests are pre-installed, all you have to do is put it into your shower area. Moreover, if you want to remove and store them, you may easily do so.
This chair is fairly convenient if you are slightly on the heavier side. Since it can support as much as 350 lbs, it is the perfect option for those that are struggling with obesity. It may be made from plastic, but it is the high-density kind – meaning that it is durable and mold-resistant.
The rubber grip is also very efficient when safety is concerned. This way, even if the entire surface is wet, you will not risk losing your grip – and you also will not risk injuring yourself. The rubber feet will prevent you from slipping out of place, adding even more to your safety.
Pros
Very easy to move around
Very sturdy and firm thanks to the rubber feet
The material from which it was made is very durable and reliable
Can support more weight than the average shower chair
Cons
Users have reported quality issues with the plastic (it tends to break under heavy weight)
5. Dr. Maya Adjustable Shower Chair with Assist Shower Handle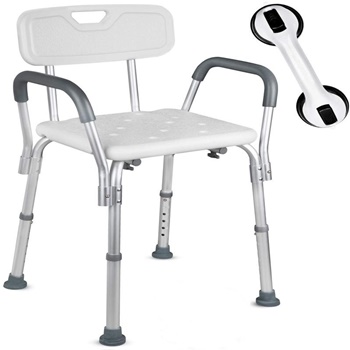 If you need a high-quality shower stool that will not wobble under your weight, this shower chair should be on your list. Since its legs are made from high-quality, corrosion-resistant aluminum, it is the kind of chair that you know will last you for a fair amount of time.
The seat itself, while made from plastic, is also very thick. This means that the chances of it breaking from right under you are very slim – even if you are on the slightly heavier side (as long as you stay within the limit). The chair can support a maximum of 300 pounds.
Featuring six ergonomically placed drain holes, this chair allows for proper and consistent drainage. Therefore, it reduces the chances of you sliding or slipping in the shower. The assembly only takes little time, and it can easily be put into storage if you only need it for temporary use.
Pros
A heavy-duty chair that does not wobble even under great weight
The anti-slip feet make the chair extra stable
Can be fitted in any kind of tub
Cons
The customer support is not always easy to reach
6. Carex Bath Seat and Shower Chair With Back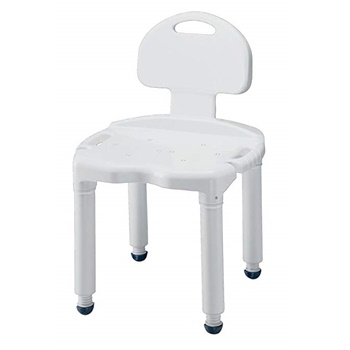 Those of you looking for a heavy-duty chair that is very easy to assemble might find an interest in this product. Very comfortable to sit on and with an easy to clean and maintain design, this chair is a great choice for those that do not want to trouble themselves too much with just a chair.
This unit can support as much as 400 lbs – which means that it is a good choice for those that are on the heavier side. That being said, this chair can easily fit even into bathtubs that are on the smaller size.
This item features a number of drainage holes. This way, pooling is avoided, and the chances of you slipping and falling in the shower are lowered even more. Its safety is further on enhanced by the high-quality rubberized feet, which will keep the chair safely in its place.
Pros
The drainage holes keep the chair from pooling
Very easy to assemble and highly comfortable
You may easily adjust the height
Cons
It takes quite a lot of space in the bathtub
7. Health Line Shower Chair Bath Seat Bench with Removable Back & Arms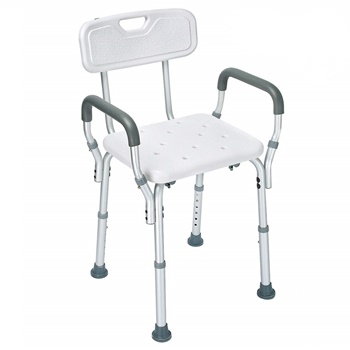 This chair comes all the way from a German producer – and we all know that this means quality. Made from secure and environmentally friendly materials, this product has an aluminum frame that should last you for quite a fair amount of time.
The assembly is toll-free, which means that you should not have any problems installing the chair – even if you are the one with the issues. Moreover, the backrest and armrests are very easy to remove. So, if you find yourself with better mobility, you may choose to have a shower with just the stool.
Featuring seat perforations, padded armrests, and rubberized feet, this shower chair is also non-slip. This means that you may easily take a shower at all times, without worrying that the water will cause everything to become slippery.
Pros
Durable construction that does not wobble
Assembly is easy even without help
Versatile and may easily be changed from standard chair to stool
Cons
Some parts may not align like they normally should, making the assembly take more time
What Is a Shower Chair?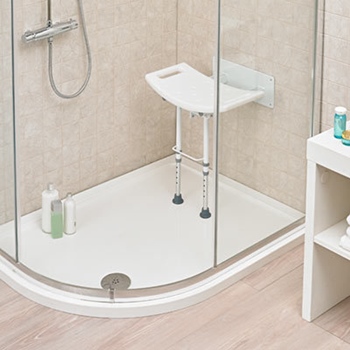 A shower chair is an item that you can take into the bathtub or shower with you so that you can shower easily. This kind of chair can be portable – or you may choose to have it installed permanently in your shower.
Unlike regular house chairs, these shower chairs are not easily affected by the water – as they are made from water-resistant or waterproof materials. It is also possible to waterproof a regular chair for converting it into a shower chair, but still, it may not be a long-term solution. Moreover, shower chairs are easy to clean, and they have the ability to dry rather quickly as well. Most of the time, these chairs are made with a sturdy plastic seat, aluminum legs, and rubberized feet.
A shower chair may be used in an assisted living facility, a nursing home or even a regular bathroom. It offers extra support for those taking a shower, making it much easier for them to get themselves cleaned up.
Plus, these chairs can be used in the bath, as long as you adjust them accordingly. This way, you may relax, knowing that you may easily get out of the bathtub when the bath is over. It is the more price-friendly alternative to the best walk-in tubs – and we will give you more details as to who should have these chairs, so read on.
Shower Chair Buying Guide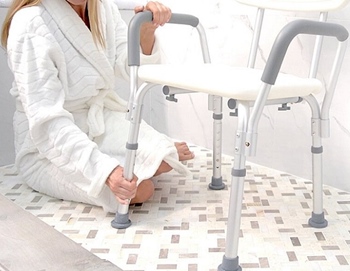 When it comes to buying a shower chair, there are certain factors that you might want to keep in mind – all of which are very important when it comes to comfort, safety, and quality.
When looking for chairs for your shower time, here are a few factors that you might want to keep an eye out for. Bear in mind that not all of these features might be listed in the product description – so, if you have a question that needs to be answered, you should contact the manufacturer. Its customer support should be able to provide you the answers that you need.
1. Non-Slip Material
This is perhaps the most important factor to consider – but while some shower chairs may have a non-slip surface, other (lower quality) models do not have such a surface. This is something that you should carefully consider – because a chair without a non-slip surface can become a hazard in the shower.
Most shower chairs are made from plastic – and while plastic is alright when you sit on it fully clothed, it is not the same when you sit on it naked, in the shower. Water makes that surface slippery. So, unless it has something to take away the "slip," such as drainage holes that prevent the water from pooling, it might make the shower time quite risky.
2. Back and Arm Support
If you need some extra stability, then you might want to go for a shower chair that has both armrests and back support. Moreover, make sure that the backrest provides all the lumbar support that you need. This is a particularly useful aspect if you have back problems.
You may choose chairs that have in-built armrests and back support – but some companies nowadays also produce models with removable attachments. This is actually the perfect choice if you are not entirely certain whether you need a standard chair or a stool.
3. Size
Now, wouldn't it be awkward if you bought a shower chair, only to realize that it does not fit into your bathroom or shower cabin? Or let us say that it does fit – but it doesn't give you any extra room to actually wash yourself. This is why you need to buy a chair that will fit in your available space so that you can also be comfortable in it.
4. Material
Shower chairs are often made from molded plastic or other rust-resistant materials. That's why you need to ensure that your shower chair of choice is made from something that can withstand frequent exposure to water.
Moreover, it has to be made from high-quality material so that it does not break under your weight. You may check our home page for more examples of high-quality materials used in bathroom items.
Wood may also be used in the construction of some shower chairs, and they have a very aesthetically appealing look. Bear in mind that while most of them do have a rather strong waterproof coating, they might not be as durable over time. Wood may get moldy when exposed to water, and all it will take is one single chip falling from the coating, and its entire construction may be compromised.
5. Weight Capacity
Needless to say, you need to purchase a shower chair that can hold onto your weight. The average shower chair should withstand up to 250 pounds – but in the event that you have a heavier weight, you can find chairs that can support up to 400 pounds. This is a particularly important feature to consider if the reason for your disability is extra weight.
6. Adjustability
Can you adjust the height of your chair? Most shower chairs should be adjustable so that you can reach your feet on the ground while keeping your knees at a 90-degree angle. Also, adjustability is important when the height of the bathtub is concerned.
For example, if you want to take a soak in a bathtub, you need to make sure that the chair is not completely above the water level – and that you can actually enjoy the warmth of the water. Each bathtub is different, so you need to adjust the chair accordingly.
7. Portability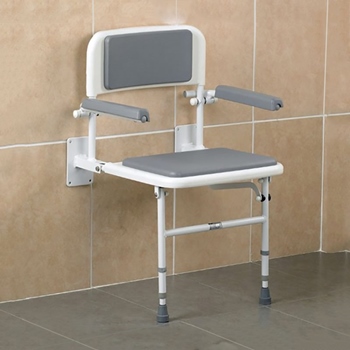 Depending on your reason for using the chair, you must decide if you want it to always remain in the shower area or if you need to take it out quite often. For instance, if other people with no issues are using the bathtub/shower, they will have to remove it quite often – which can be quite troublesome if the chair is difficult to maneuver.
Moreover, the nature of your situation will decide whether you need a portable chair or not. If you are an elder living alone or in an assisted facility, then it is likely that you will want to keep your chair permanently in your shower area. If you just need one because of an injury, then you might want to go for a portable chair that can be folded so that you can store it.
You might also want to take a closer look at its weight. The more lightweight it is, the easier it will be for you to carry it from storage to the bathtub. If you have back problems or other issues, the last thing you want to do is to carry a heavy chair.
8. Comfort
The seat may be durable, of high quality, and fitting your shower area like a charm – but if it is not comfortable, then it is all for nothing. This is why you should ensure that it is as comfortable as it could possibly be.
This comfort can be achieved in several ways. Some prefer the benefit of padded chairs, as they are softer and comfy to sit on. However, since padding is prone to damaging or developing mold, some people prefer opting for curved chairs – as they tend to be both comfortable and durable.
9. Assembly
Before purchasing a shower chair, make sure that is is easy to assemble. You need a tool-free design that everyone can use regardless of their problems. If the attachments (e.g. the backrest and the armrests) are removable, make sure that they are easy to put back together when needed.
10. Storage Areas
Some shower chairs feature their own storage compartments where you may stash your toiletries. This way, if your mobility is limited, you will not have to worry too much about injuring yourself as you reach for those units. Some of these chairs even come with holders for your shower head. All you have to do is to find the right model that features all the benefits that you want.
11. Feet
Rubberized feet also enter the safety category. Without them, the chair might just slip from under your feet – and we do not need to stress how dangerous that can be.
Some lower quality chairs will have standard rubber feet that will keep them from sliding over the shower pan or bathtub. However, a good quality shower chair will have suction cups at the end of their feet, which will attach themselves to the bathtub. This is actually a highly convenient option if the bottom of the bathtub is slightly rounder – which prevents the chair from standing straight.
12. Durability
Last but perhaps most importantly, you need to purchase a shower chair that will be durable in the long run. After all, depending on your circumstances, you might have to use it quite often. And the last thing you want is for the chair to break right under you. This can be extremely dangerous, particularly if your reflexes are no longer the way they used to be.
The durability may be determined by looking at the materials, as well as the quality of the construction – but most of the time, you may determine it by reading the reviews of other people that have used it. They will tell you precisely if the chair tends to break underweight, if it is prone to developing mold, or if it has other different issues.
Bathroom Safety Tips for the Elderly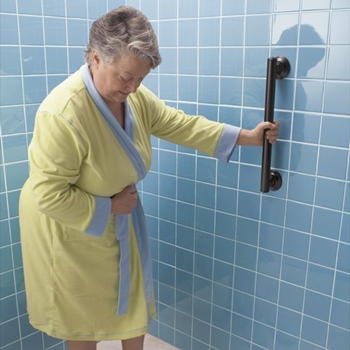 Aside from the addition of the shower chair, there are other steps that you might want to take to make the bathroom safer for you or your loved ones. Remember, bathroom safety begins from the moment you actually step into the bathroom.
1. Remove the Rugs
Yes, we know that you may have grown fond of those pretty throw rugs that make your bathroom look cozier and more sophisticated. However, those rugs are actually the reason why so many slip and falls tend to happen – which is why you need to remove them.
If you can't go without something on the floor, choose a bath mat instead – one that has a strong non-slip bottom. Or, if you have grown particularly attached to that rug you already have in your bathroom, then you may find special tape you can glue to the bottom. This will keep it sticking to the ground and will eliminate any hazards.
2. Install Grab Bars
If you seem to have issues with maintaining your balance in the bathroom, no matter if it's the shower, bathtub, or toilet, then you might want to consider installing grab rails as well. These are useful in helping people maintain their balance when they are getting up or trying to lower themselves.
Plus, these can prevent a hazard in-the-making. In the event that you feel yourself slipping and falling, you can grab the handle and protect yourself from a tragedy before it actually happens.
3. Clean the Bathroom
It might not seem very important, but you might want to clean your bathroom – or at least your bathing area – regularly to prevent any accidents from occurring. The mold that may grow in those places may lead to an extra slippery floor – and that can obviously be very dangerous for you.
3. Get a Toilet Seat Raiser
When you are old or have a disability, even sitting on a regular (but fairly low) toilet might actually be a very difficult task to do. A low toilet seat can be rather hazardous for people that cannot move properly. That's why a toilet seat raiser might be quite helpful. These seats will prevent you from having to squat low – which tends to be the cause for many injuries.
4. Use a Handheld Shower Head
With a fixed shower head, it might be rather difficult to shower properly, as you have to remain straight in one point – sometimes with the water not even falling on you properly. These showerheads are mostly suitable for people showering in an upright position.
However, if you are in a sitting position, you might benefit more from a top-rated handheld shower head. This way, you will not have to move too much during your shower. Therefore, you minimize any risks of accidents.
5. Install a Weighted Shower Curtain
Most hazards occur because the water slips through the curtains, causing the entire floor to become slippery. However, one way to prevent a tragedy from happening is to install a weighted curtain. This way, the falling water should be contained in the shower area – allowing your floors to remain nice and dry.
FAQ about Shower Chairs
1. Are Shower Chairs Covered by Insurance?
This will actually depend on the insurance company that you are working with. For instance, some firms cover these units, as they believe they are useful for a comfortable lifestyle. If they are not covered entirely, then they should at least have a portion of the price covered. And you will only have to pay for what's left.
The problem is that while some medical companies provide coverage for this type of item, others do not classify it as a medical necessity. It's more of a "comfort accessory," which is why you might have to pay for it from your own pocket. You might want to check with your provider and see whether your insurance covers it or not.
2. Do I Need to Clean My Shower Chair?
You might think that since you are using the chair in the shower, where it is continuously soaked by water, you do not need to clean it. However, just like you have to wash your towels after using them or clean your bathtub, you also need to clean your shower chair. This is because humidity will make the chair prone to developing mold and stains. And you want to prevent that from happening.
3. How Should I Clean and Maintain My Shower Chair?
After each use, you should remember to wipe the chair down with mild soap, rinse it and then leave it in a well-ventilated place to dry. Most high-quality shower chairs will be resistant to mold formation – but in the event that it is a lower quality product, you might want to wipe it dry with a clean rag.
Avoid using anything too abrasive or packed in strong chemicals. This may only end up damaging the product in the long run. You may also want to read the instructions from the manufacturer, as they also tend to have some fairly good pointers.
Wrap Up
Finding the best shower chair is certainly going to be a very challenging task, as there are many options out there to go for. Since they are sold in various models and designs, the perfect chair can be found for every home.
Hopefully, our shower chair reviews have managed to help you narrow down your searches – allowing you to find the proper model for your bathroom. Plus, while some of these products may be on the budget side, they still have a quality and durability worth mentioning.
See also: best toilet seats