The best high pressure shower head can turn a terrible, nerve-wrecking experience into a pleasant shower, despite the lower water pressure coming in from the pipes. Did you ever think of how much better your life can become if you switch to a high-pressure showerhead? It will put an end to your frustration resulting from the low pressure of the old unit.
Some high pressure shower head reviews, combined with information about choosing the right one, might guide you towards making a wise investment. This is what you'll accomplish by reading this buying guide. Let's get to it and see why you should consider high-pressure showerheads while learning how to pick one too.
See The Quick Comparison Chart
Who Should Buy a High-Pressure Shower Head?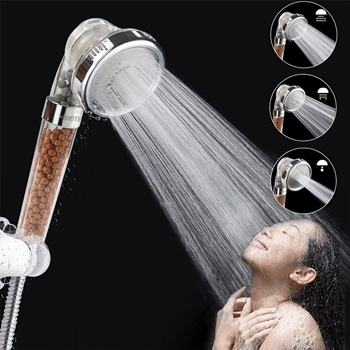 A high-pressure showerhead is a suitable choice for anyone with low-pressure problems with their shower. In many cases, some people have a hard time getting a proper shower because their showerhead is barely spraying water with enough power for proper cleaning. There are houses that generate lower pressure in general, in which case the showerhead is not the core of the issue. The problem can't be solved if you use low-pressure shower heads, as they'd only make things worse.
Let's be fair, it would be hard to thoroughly remove the dirt from your body or the shower enclosing with only a dribble coming from the showerhead. You'd have to almost touch the surfaces with the item to be able to get water on them, and even then it's not too effective. With high pressure, the showerhead can operate from a long distance while being more effective.
That being said, a high-pressure showerhead can spray water with more force. The pressurized shower head will not only ease your self-cleaning sessions but also lower your electricity and water costs.
A high-pressure showerhead may also be a wise choice for people who want their body massaged during the process. It's unlikely that you'll get the same amount of relaxation with a low-pressure shower head as you would with a high-pressure one. The strongly sprayed water will give you a nice massage and relieve tension and stress. For anyone with an overwhelming schedule, a shower with strong pressure may come as a blessing.
Benefits of High-Pressure Shower Heads
There must be something amazing about high-pressure showerheads if they're selling, and if people look for them, right? Whereas they don't work for any house or for any person, a list of benefits always comes with them. Here are a few advantages to look into when considering a high-pressure showerhead:
1. They Save Water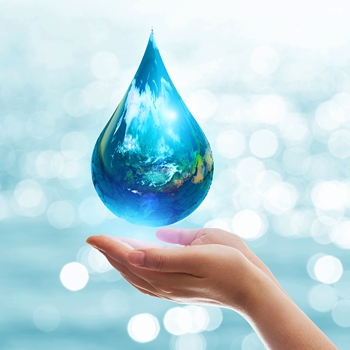 The days when you'd waste hours battling to get more water out of the showerhead will be nothing but a bad memory after you purchase a high-pressure showerhead. The name alone is reassuring enough, as it tells you what the fixture does.
You'd think that, since more water is sprayed in a stronger manner, water consumption will rise. That's far from the truth. You will end up using less water and spending less time in the shower, as you won't be obliged to use the insufficient water drops the old shower is lazily providing. If you have very low pressure, you'd use more water as you have to let it flow for much longer.
2. A Better Washing Experience
Considering how much power a high-pressure shower has, you'll have a superior experience when clearing away the dirt from your skin. Washing yourself and rinsing will be a smooth and straightforward process, with no complications.
3. They Don't Need Additional Pipework
High-pressure showerheads work by themselves – so, you don't have to change your pipework to get them to function. There are two ways these fixtures work. One of them is by adding a pressure chamber, which will work to push water out of the head at a faster rate. The other way is by adding fewer holes on the surface, which will cause more water to come out.
4. You'll Have a Spa Experience
Going to the spa is a costly activity, and also hard to do if you have a chaotic schedule. However, a high-pressure shower head can give you similar results, so you will only have to step into the shower as soon as you get home.
Thanks to the high pressure of the water, you'll get a well-deserved muscle massage. All of your stress will go down the drain with the water that flows from your body.
Best High Pressure Shower Heads Comparison Chart
PRODUCT
DETAILS

WASSA High-Pressure Shower Head – 3 Inch

Price: $$
Customer Rating: 4.8
Weight: 5.6 ounces
Flow Rate: 2.5 GPM
Dimensions: 4.5 x 3 x 3 inches

View On Amazon

Speakman S-2005-HB Hotel Anystream High-Pressure Shower Head

Price: $$$
Customer Rating: 4.6
Weight: 13.4 ounces
Flow Rate: 2.5 GPM
Dimensions: 5.4 x 3.2 x 3.2 inches

View On Amazon

Aqua Elegante High-Pressure Boosting Luxury Shower Head

Price: $$
Customer Rating: 4.8
Weight: 7 ounces
Flow Rate: 2.5 GPM
Dimensions: 4.7 x 4.3 x 4.7 inches

View On Amazon

Speakman S-2252 Signature Icon Anystream Adjustable High-Pressure Shower Head

Price: $$$$
Customer Rating: 4.4
Weight: 1.2 ounces
Flow Rate: 2.5 GPM
Dimensions: 4 x 2.8 x 4 inches

View On Amazon

Vida Alegria 5-Inch Spashower High-Pressure Shower Head

Price: $$
Customer Rating: 4.6
Weight: 5.6 ounces
Flow Rate: 2.5 GPM
Dimensions: 4.7 x 4.7 x 3.7 inches

View On Amazon

AquaBliss TurboSpa 3 Inch High-Pressure Shower Head

Price: $$
Customer Rating: 4.7
Weight: 3.2 ounces
Flow Rate: 2.5 GPM
Dimensions: 5 x 3.3 x 3.3 inches

View On Amazon

Culligan WSH-C125 Wall-Mounted Filtered Shower Head with Massage

Price: $$
Customer Rating: 4.1
Weight: 1.55 ounces
Flow Rate: 2.5 GPM
Dimensions: 4.8 x 8.5 x 12.2 inches

View On Amazon
Best High-Pressure Shower Head Reviews
1. WASSA High-Pressure Shower Head – 3 Inch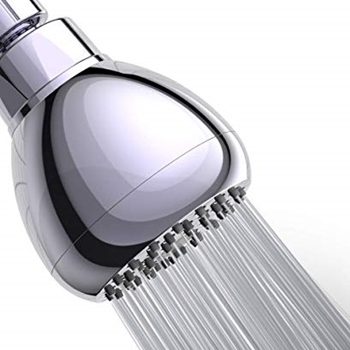 High-pressure shower heads need to be resistant to the water pressure that's about to go through them. Otherwise, you're not really making a great deal. WASSA managed to mix durability with great functionality, in this 3-inch high-pressure showerhead.
The ball connection is made of durable brass. The manufacturers made it this way to make sure no leaking or cracking will affect its functionality. The G1/2" brass connection won't let anything bad happen to your fixture. Furthermore, the swivel ball joint works when adjusting the water spray direction.
Trouble-Free installation is an attractive trait, and you can have this with this model. You need to hand-tight the product on your existing shower arm, once you unscrew the old one. This way, there will be no need for you to call a plumber and spend more cash.
Pros
It has an attractive, modern design
It makes your shower feel comfortable and nice
The construction is durable
The installation won't give you any trouble
While having a strong construction, it's lightweight
It helps you shower much faster
Cons
The pressure may be way too strong
The showerhead won't work without the swivel ball joint
2. Speakman S-2005-HB Hotel Anystream High-Pressure Shower Head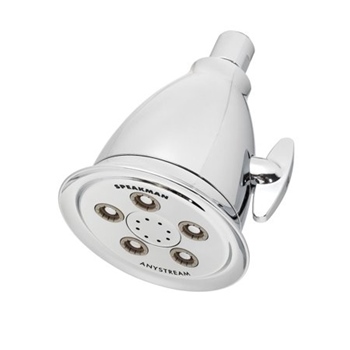 The first thing you'll love about this high-pressure showerhead is the design. It has a stylish touch, with a shiny finish that looks very delicate and elegant. The five nozzles will spray water with enough pressure to ensure your cleaning will be done properly, and no area of your body will be left unwashed.
An advantage of this product is the low maintenance it requires. All you have to do is wipe the surface every now and then, while the plungers are self-cleaning. The showerhead is able to resist hard-water buildup, making the fixture better and more durable altogether.
The unit can be adjusted as you please, so your body can be evenly sprayed with water. Massage settings are included too.
Pros
360 degrees rotation is possible for full-body coverage and convenient cleaning
Barely any maintenance is needed
It has a simple, yet stylish look that will bring a modern touch to your bathroom
Cons
Some buyers experienced leakage
The material is quite cheap
3. Aqua Elegante High-Pressure Boosting Luxury Shower Head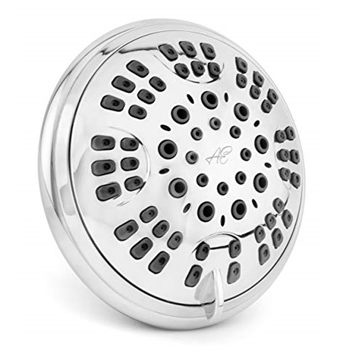 If you're tired of finding products that seem like they'd take years to set up, this shower head is nothing to worry about. No plumber will have to be called – all you have to do is twist it on. With the clear instructions provided with the showerhead, you're sure to experience no issues with the installation.
You are probably someone who won't even look twice at something made from cheap plastic. So, to counter that, if you buy this product, you will have something made of heavy-duty ABS plastic, a construction sturdy enough to protect the head against damage. On top of that, it's rustproof too, just like stainless steel.
It contains some great settings, and they're six in number. You may gain access to pulsating massage, water-saving, saturating power blast, gentle rain, and 2 mixed modes. This system will let you have a hard-to-match showering experience, one that you might only get by going to the spa.
Pros
It comes with a 5-year warranty
The construction is sturdy and resistant to damage, as well as rust
The six settings can help you de-stress and relax after a long day
You'll have no stress with the installation
Cons
The pressure is not strong enough
4. Speakman S-2252 Signature Icon Anystream Adjustable High-Pressure Shower Head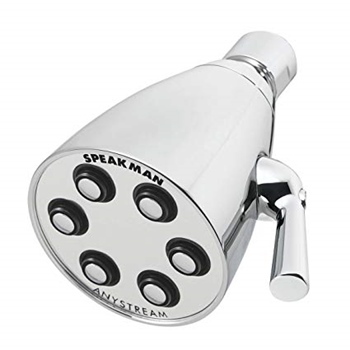 Would you like to have an exemplary bathroom, one that you'll be more than proud of showing to anyone? This high-pressure showerhead may give you a hand. Its design is modern and gives you a luxurious feel. Made of solid brass, the model features an up-to-date faucet design, as well as clean lines to match most bathroom designs.
Many times, normal showerheads give you a lot of problems, such as being hard to clean due to build-up. If you're tired of that, maybe you should give this shower head a try. It requires little maintenance, as there are self-cleaning plungers put into place that resist hard-water sediment and build-up.
Concurrently, it's great when you want to make sure no spot of your body will be missed. The showerhead has Anystream 360° adjustable rotation to follow your body position and help you clean yourself properly. It can even be used to clean around the shower this way.
Pros
You won't have to spend too much time cleaning it
It has a solid brass construction that promises durability
The adjustable showerhead helps you have a much better showering experience
Cons
According to some past customers, the product didn't function properly for too long
5. Vida Alegria 5-Inch Spashower High-Pressure Shower Head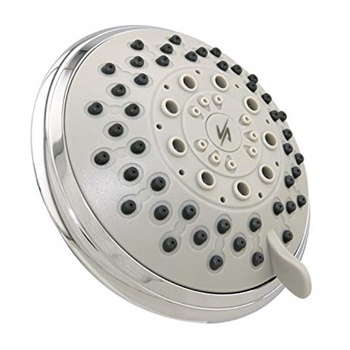 Let's be honest, if you bought a shower that cracked and stopped working properly immediately after being purchased, you'd hate it. And who wouldn't? That's why you need to look for something that's high-quality and durable, like this product.
Both the ball joint and connector are made of solid brass to ensure no crack will ruin its beauty and functionality. The luxurious build will give you the feel like you're at an expensive hotel rather than at home. There may be problems over time though, as the sturdy material may not always prevent leaking, despite the features saying it will.
The showerhead contains a removable flow restrictor. If you experience low water pressure problems, then maybe you should consider the idea of buying this. The 2-part removable flow restrictor will get rid of these problems. To make things better, you'll also have a shower head that's easy to clean, as it has silicone jets. Hard-water deposits will be de-clogged to keep the head fully functional and clean.
Pros
No hard-water deposits will ruin it
It has a 3-year unconditional warranty
It's easy to adjust
It was made from sturdy material to ensure it lasts
Cons
It may start leaking after a while
6. AquaBliss TurboSpa 3 Inch High-Pressure Shower Head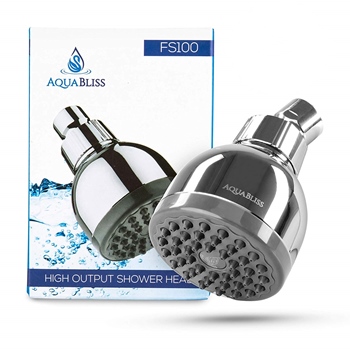 With an easy, 3-step no-tool installation, this showerhead model comes to make sure you won't have to spend additional cash on tools. Setting it up will be effortless if you know how to do it.
The cherry on top is probably the unique flow regulator setup incorporated within this fixture. It works to give you water pressure to the maximum – to enjoy a great shower experience. But although it has this feature, the pressure doesn't always work as intended. It is indeed high pressure, just not ultra.
High-pressure showerhead nozzles are covering the surface of the showerhead to force water out, clean your body and give you a much-deserving massage. It will help melt stress away and give some relaxation after a long day at work. If you're always tired and moody after a workday, this may be the product that cures it. A spa experience will thus be fulfilled, all in the comfort of your own home.
Pros
You get a 1-year warranty
It has zero-maintenance self-cleaning nozzles to save you from a troublesome cleaning procedure
The water forced out of the nozzles will massage you and relieve tension and stress
Cons
The pressure may not always be as high as the features claim
7. Culligan WSH-C125 Wall-Mounted Filtered Shower Head with Massage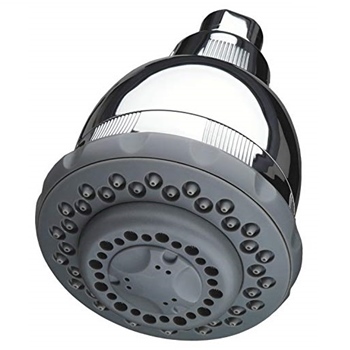 The Culligan WSH-C125 model is a good option if you want something versatile, with multiple spray settings depending on your mood. You can choose from invigorating pulse functions that caress your muscles after a day full of strain, as well as full-body spray functions that cover your whole body, and many others. There is a total of five spray settings you can use to your advantage.
Moreover, it will only take a few minutes to set it up. You can toss away any tools you were intending to use, as none is necessary during the installation. You will just have to use a Teflon tape that will be included in the package. You'll wrap it around your existing shower arm and attach the showerhead.
To prevent you from coming in contact with bacteria, the product is patented filter media bacteriostatic. This means that the growth and circulation of bacteria are limited, to make room for a clean and healthy shower.
Pros
The spray nozzles have anti-clog rubber to help with maintenance
No bacteria will pollute your water
It's easy to install
It has five spray settings to match your mood
Cons
The anti-bacteria filter may not last too much
What Causes Low Water Pressure in Shower?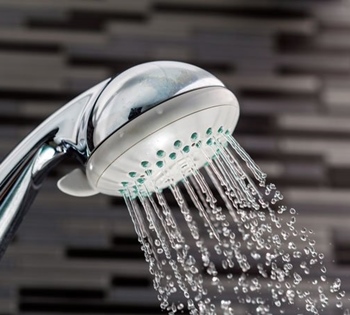 There are many reasons why your water pressure could be low in the shower. It could be from the shower itself, or the house as a whole may have an issue with water pressure. To be able to get a better shower pressure, there are a lot of things to consider.
Sometimes, if the pressure is generally low in the house, it could be because the water lines are affected by a mineral build-up. Luckily, it's not a problem without a solution. You'll have to call some plumbers to diagnose the problem and work to get rid of the build-up. Sometimes, there may be water leaks from a certain spot of the installation, and this will take from the pressure the shower sprays.
If the hot water faucet is the only one experiencing low pressure, the problem could be the hot water heater, which may be malfunctioning for some reason. Conversely, if the shower is the only one with low-pressure problems, the fixture itself could be the "perpetrator". You may be using a low-pressure shower head without having knowledge of it, or the showerhead might have hard-water build-up – thus, it's clogged.
There are also a few situations when the fixture is already old, and that could be the core of the problem. Things don't last forever and must be replaced at one point. Your showerhead may be in this situation. Outdated fixtures have been used a lot and they're bound to fail at one point in time, be it because of a crack, hard-water build-up, or anything else.
High-Pressure Shower Head Types
Even high-pressure showerheads come in various types to accommodate anyone's needs. Their versatility stands in more than the number of functions they pack – it is also found in their variety.
Let's take a look at this list of high-pressure shower head types and see what options you have available:
1. Water-Saving
It would be amazing to save water while being able to shower nicely – and although they have a higher pressure, some showerheads can also help you save water. There are special showers made to maintain the same water pressure level, whereas less water is being wasted. So, this is a shower type for people who want to save some money.
2. Handheld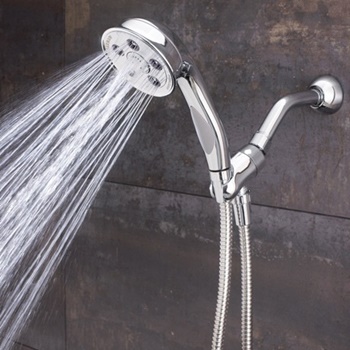 Handheld showers are the casual type you see in most homes. They are connected to a hose that allows better flexibility and helps you move the showerhead as you please. A handheld high-pressure shower head is perfect when you need to clean your showering spot. In addition, it helps you clean areas that are normally not so easy to reach – at the same time, the water pressure removes dirt and massages your muscles.
3. Rainfall/Jet
Rainfall/jet showerheads are those situated above your head. They are fixed to the wall and will allow water to flow on your body. High-pressure showerheads can be found in this format too, although they're not always the best option.
If the pressure is too high, they will make a mess everywhere, even on the bathroom vanity. At the same time, violently spraying water on your head may tangle your hair. Besides, cleaning rather hidden body areas won't be that easy.
4. Dual
Dual showerheads are a 2-in-1 version for people who want versatility or are tired of having to rush after hearing their spouse's constant knocks on the bathroom door. You'll have a handheld shower and a rainfall one connected to the same system. With two options, you can rest assured that full-body coverage will be guaranteed.
High-Pressure Shower Head Buying Guide
So, you want to get a high-pressure showerhead. That's a wise choice. However, the problem comes when you're trying to choose the right model. What should you consider while you go hunting for the best high-pressure shower head? Well, we're here to help – so, below you'll find some features that a quality high-pressure unit should have.
1. Warranty
What will happen if the showerhead, or some of the pieces included, break apart or start malfunctioning not long after you set them up? Normally, you'll be granted a warranty with your product, which covers the costs for certain issues you encounter with your item.
Still, not all warranties are the same, and not all of them may be used for the same amount of time. You must know early on what benefits you'll be served through the warranty – such as how long it's available for, what it covers and so on. We recommend choosing a warranty that also covers the finish, especially if the design is important for you.
2. Price
High-pressure showerheads are available for all sorts of prices. Sometimes, that price is worth it, sometimes it's not, and this is where you need to be careful.
Most decent high pressure shower heads don't come with a shock-inducing price tag. You can find them for under $100, so they're a pretty affordable option. Nonetheless, the price can't be taken as a factor alone. You need to look at it while considering all the features the product has to offer, as well as the number of good reviews people have written about it.
If the price is too good to be true, maybe you will want to do some deeper research and see if it's worth it before you invest in the product. Very cheap prices can be indicators of bad quality.
3. Spray Patterns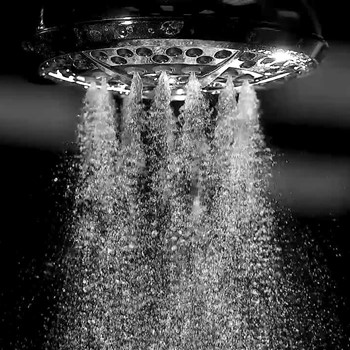 Spray patterns are not the biggest requirement, although you may want to look into them if you want a spa-like experience with your purchase. First of all, check whether you have full-body coverage with yours, which can be proven by the width of the product.
Other than that, you should look for shower heads with spray patterns ranging from gentle water flow to massaging. Whether it's a rainfall showerhead or a handheld one, the power of the water flow can help you soothe the pain resulting from a nerve-wracking day at work. If you're using physical effort at work or at home, and end up with muscle aches, a high-pressure shower will feel relieving with the right spray pattern.
So, if this is something you're into, look for high pressure shower heads with functions that match your needs.
4. Dimensions
It would be bad if you went home with your newly purchased shower head, only to find out it doesn't work the way you want it to. When thinking of dimensions, you should consider the shower head's radius. If you want your whole body to be shrouded in water, picking a shower head with a wider face is the way to go.
Check the dimensions of the item before buying it if you don't want to get something too small.
5. Style
Some of us are perfectionists and want everything to look just how we imagine. There's nothing wrong with that, and the great thing is that even high pressure shower heads can be made to suit your tastes.
Manufacturers try to match great features with style and originality, thus giving you more options to choose from in terms of design. You can opt for a classic one or a modern one, all depending on how the rest of your bathroom looks.
6. Construction
As mentioned many times throughout our guides and homepage, you shouldn't buy anything made of cheap materials that are bound to break in less than a month. Some showerheads are built from plastic – the cheap kind. The only good option in this regard is ABS thermoplastic, which is not only lightweight, but sturdier than your average plastic and able to withstand heat and pressure. It's worth considering if you want to save a penny and still get the benefits of these showerheads.
Of course, a great option is a showerhead made of metal. Stainless steel is more resistant to heat and pressure, and sure to last longer than a flimsy-made one. Nevertheless, metal should be a consideration only if you're looking towards overhead showers. A handheld metal one can damage your bath or injure you if it falls, so it's not the best choice.
7. Water-Saving
Ultimately, a shower head that saves water will also save you cash. Instead of wasting water, all of it will be used for the main purpose – to clean. The experience will be different compared to when you were struggling with low pressure and had to make incantations to get a drop of water.
Saving water will make you less afraid of water bills – so, if your house's water pressure is low, consider a high-pressure shower head with a water-saving option. You'll see improvements in your water pressure and your financial situation.
8. Additional Features
If you want, you can go for something a little more stylish, mostly when you want to contribute to the modern look of the bathroom. There are shower heads that come with additional features like Bluetooth speakers. This will work by letting you listen to your favorite songs while maintaining your body's hygiene.
Another cool and fun feature is presented in the form of LED lights. Whenever you're using the shower, this feature will let you use colorful lights that change as you clean your body. The colors can change depending on the water temperature. That's pretty amazing.
What Else Can Be Done to Increase Low Water Pressure?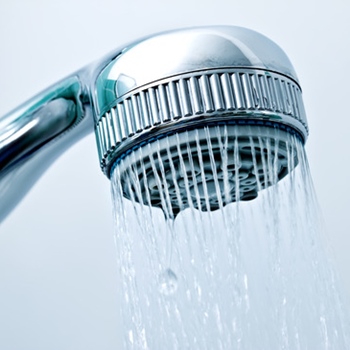 A high-pressure showerhead will not always solve the low water pressure problem you're dealing with. That being said, you'll have to use other methods to increase low shower pressure.
One of them is checking for leaky pipes. Very often, pressure diminishes due to a leak from the pipes. A leak can be proven by damp spots beneath the pipes, particularly if it's under the main supply line. Sometimes, condensation may cause them too, so check carefully to determine the true problem. If leaking is the case, fix it and check the water pressure again afterward.
If your house has an old supply line, maybe it's time to consider some replacements. Old systems won't have the same glory they once did, and it may take a toll on the water pressure in your house. Therefore, if you think this is the case, try replacing your installation with new fittings.
Cleaning the pipes should also be a requirement, especially if you think a build-up is the "culprit" in your pressure problem. More often than not, pipes get clogged due to hard-water build-up and decrease the amount of water they can push towards your shower.
If you're not a professional when it comes to these things, the ideal thing to do is call one. There are many professionals who'll look into the problem and solve it for you, be it leaky pipes, build-ups, and many others. Not to mention that they have better chances to detect the cause for your pressure problem.
FAQ about High-Pressure Shower Heads
No question should be left unanswered, not when you're doing your best to find the right high-pressure showerhead. But a lot of people have their curiosities, with you probably being one of them. Well, if that's the case, check the most frequently asked questions below and maybe you'll find the answer you're looking for:
1. Does Every High-Pressure Shower Head Have Removable Flow Restrictors?
No, not all of them will have flow restrictors that can be removed. While you'll find a lot of models that allow you to do it, there are fewer and fewer models with this feature as time goes by.
2. I Want to Have Strong Water Pressure In My Shower. Should I Get a Handheld Shower Head, or a Rainfall One?
This all depends on your preferences and needs. Rainfall showerheads don't have the strongest pressure, simply because they let waterfall rather than spraying it like a handheld shower. But they may be a good choice if you like your hard shoulder massage every now and then.
If you want stronger water pressure for better cleaning, a handheld showerhead may be a better option.
3. Will a High-Pressure Shower Head Always Solve a Pressure Problem In My House?
Not always. Although a high-pressure showerhead works when the pressure problem is related directly to the shower, and even your house, some cases require different solutions. That being said, if there is a hard-water build-up that stops the water from circulating with the same intensity, a high-pressure showerhead won't magically solve the issue. The plumber is the one who will be able to do it.
4. How Can I Maintain My High-Pressure Shower Head?
Maintenance is not a problem for the most part. If you're careful enough to pick a high-quality model that prevents hard-water build-up, all you have to do is wipe the fixture from time to time. Use a damp cloth and warm water, and gently rub the surface. It will shine brightly once again.
5. Is a High-Pressure Shower Head Easy to Install?
Usually, it is. There are some models that are more complicated, but generally, installing a shower head is not a hard job. If you have clear instructions, following them will be a piece of cake. Not to mention that if you buy something that requires no tools for installation, you've hit the jackpot.
The only thing that will be a little unpleasant will be clearing the potential rust in the shower arm threads. Other than that, you just have to wrap some tape in the clockwise direction and screw your new fixture in the same direction.
6. My High-Pressure Shower Head Still Got Clogged With Build-up. What Should I Do?
If clogging happens, you'll have to try unclogging your showerhead by cleaning it with vinegar. Vinegar is a great substance used in such cases. Also, you may want to try contacting the manufacturers in case a warranty for this exists – especially if the product is meant to have anti-clogging features.
Wrap Up
You can choose the best high pressure shower head only when you know what to look for. Through this buying guide, we tried to offer you enough knowledge to be able to make a good choice when shopping for a unit like this.
We've given you plenty of information, such as types of high-pressure showerheads, benefits, high-pressure shower head reviews, and much more. Use all of this to your advantage, and you will be sure to make the right choice.
See also: top-rated low-flow shower heads