Investing in the best low flow shower head can help save on the utility bill, conserve the environment, or simply be a matter of preference.
But how do you find a high-quality unit? Obviously, you do it by reading a couple of low flow shower head reviews. In order to make your acquisition a much easier process, we have brought together some of the most popular products, as well as a few tips for you to find the best item for your needs.
See The Quick Comparison Chart
Benefits of a Low Flow Shower Head
Using low-flow showerheads is not just a fancy thing that we all do simply to "fit in." There are certain benefits that you may reap using these products – benefits that you would not get if you were only to use the standard showerhead. Here are the benefits you get if you decide to buy a low flow showerhead instead of a regular model.
1. It Saves You on the Water Bill
Perhaps the most obvious reason why you should invest in a low flow showerhead is the fact that it saves you quite a fair amount of water on the utility bill. Depending on the GPM that the particular product has, such a showerhead can save you anything from 25% to 40% of water. This way, you will not be grabbing yourselves by the hair every month simply because you like to take long showers.
2. It Saves You on the Energy Bill
Yes, you heard that right: low flow showerheads also help you save on the energy bill. How, you may ask? Well, the less water you use, then the less water you have to heat up for the shower. Consequently, the less water you heat up, the less energy you will consume throughout the entire process. This may not seem like much in the beginning – but in the long run, it can save you quite a lot of money.
3. It Helps the Environment
Global warming, anyone? It's common knowledge that water consumption plays a great deal in all our issues with climate change – and the explanation for that is rather simple. When we use energy to warm up the water for our baths and showers, we also increase the CO2 dispersion in the air. However, the less water we use, the less CO2 will be emitted in the air. When we use low flow showerheads, we are actually helping the environment.
4. You Still Get a Great Shower
Perhaps one of the biggest benefits of using a low flow showerhead is that you'll feel like you are taking a traditional shower – all while using less water. With today's technology, a water-saving shower will feel no different from a regular one – and you won't make any compromises. You'll feel like you are at the spa – but a much more affordable one in the long run.
Best Low Flow Shower Heads Comparison Chart
PRODUCT
DETAILS

High Sierra's High Efficiency All Metal 1.5 GPM Low Flow Showerhead

Price: $$$
Customer Rating: 4.6
Material: Metal
Flow Rate: 1.5 GPM
Water Sense: Yes

View On Amazon

Niagara Earth Massage 1.25GPM Low Flow Showerhead

Price: $
Customer Rating: 4.4
Material: ABS Thermoplastic
Flow Rate: 1.25 GPM
Water Sense: Yes

View On Amazon

Delta Faucet 2-Spray Shower Head, Chrome 75152

Price: $$
Customer Rating: 4.5
Material: ABS Thermoplastic
Flow Rate: 2.5 GPM
Water Sense: No

View On Amazon

Niagara N2517 Sava Spa 1.75 GPM Fixed-Mount Showerhead, White

Price: $
Customer Rating: 4.1
Material: Metal
Flow Rate: 1.75 GPM
Water Sense: Yes

View On Amazon

Fire Hydrant Shower Head for Low Water Pressure

Price: $$$
Customer Rating: 4.6
Material: Metal
Flow Rate: 2.5 GPM
Water Sense: No

View On Amazon

American Standard 1660717.002 FloWise Transitional 3-Function Water Saving Shower

Price: $$
Customer Rating: 4.2
Material: ABS Thermoplastic
Flow Rate: 1.5 GPM
Water Sense: Yes

View On Amazon

Waterpik Ecoflow Fixed Mount Showerhead

Price: $$
Customer Rating: 3.8
Material: ABS Thermoplastic
Flow Rate: 1.6 GPM
Water Sense: Yes

View On Amazon
Best Low Flow Shower Heads Reviews
1. High Sierra's High Efficiency All Metal 1.5 GPM Low Flow Showerhead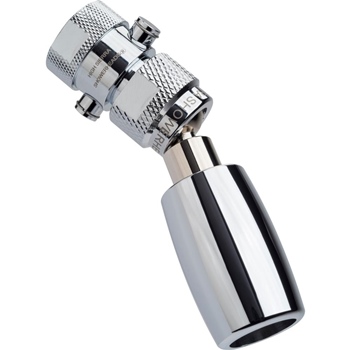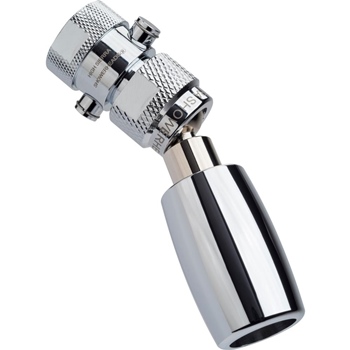 Featuring a 1.5 GPM flow rate, this shower head is perfect if you are looking to save water while showering. Compared to the average showerhead, this will use about 40% less water than usual, cutting your bills and water consumption to almost half.
Made from solid metal, this fixed shower head is expected to last for quite a long time – particularly considering that you won't be moving it around too often. If the style is your concern, you may purchase it in the classic chrome color, or you may go for nickel, oil-rubbed bronze, or polished brass.
The dimensions of this showerhead are relatively small, making it perfect for a smaller bathroom that you want to keep nice and sleek. All things considered, the patented nozzle will deliver a strong, full-body spray that will have large drops – despite the low water consumption.
Pros
Very low water consumption
Variety of finishes to choose from
Dependable full spray that provides large drops
Cons
It is slightly expensive
The warranty does not really cover much
2. Niagara Earth Massage 1.25GPM Low Flow Showerhead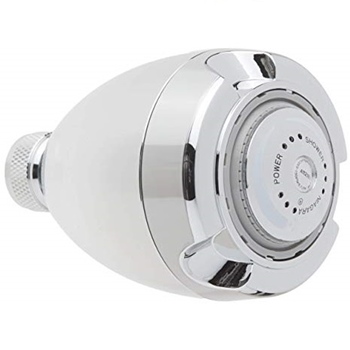 You may be opting for a low water consumption product – but this does not mean that you should skimp on the comfort. With this shower head, you will get the feeling of a massage – meaning that it will be like you have your own spa in your bathroom. The 9-jet turbo massage is also adjustable, which means that you may set it up to your own preferences.
Furthermore, regardless of the water pressure that you choose, you will get a consistent flow rate. At 1.25 GPM, it uses 50% less water than your average 2.5 GPM showerhead – bringing your consumption down to half.
Maintenance is also important, which is why this unit was made to be self-cleaning. It does not have an aerated spray, so it will require no maintenance – aside from perhaps the occasional vinegar cleanse every few weeks.
Made from durable ABS thermoplastic, this shower head is also made to last. Plus, since it has a fixed design, it's unlikely that you will move it around very often – which means that it will be less likely to break.
Pros
The adjustable 9-jet turbo massage feature is a nice touch
The self-cleaning technology makes it easy to maintain
Very low water consumption even in comparison to other WaterSense units
Cons
The ABS plastic is fragile and will require careful handling
Some people say that the flow rate is too low for a perfect shower
3. Delta Faucet 2-Spray Shower Head, Chrome 75152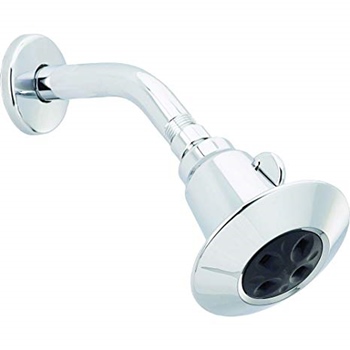 If you are looking for more intensity while saving water, then this one is a great choice. Featuring H2Okinetic Technology, this showerhead provides three times the coverage of a standard showerhead – all while only using 2.5 GPM of water. It is perfect if you don't like the very low flow of most WaterSense units.
The showerhead features a beautiful chrome finish, along with a price that is much lower compared to other similar products. It is the perfect one to buy if you are shopping on a budget.
For those that have different showering preferences every night, the sprayer of this model can be easily adjusted to suit your needs. You can choose either of the showering modes so that you may have the perfect shower each and every time. Plus, it has a limited lifetime warranty, which means that if anything ever goes wrong, you get coverage.
Pros
Comfortable spray that will make showering a pleasant activity
High-end, elegant chrome design
The spray may be adjusted to fit anyone's preferences
Limited lifetime warranty that provides decent coverage
Cons
Aside from the 360-degree head rotation, the fixture is rigid
Some plastic parts are rather weak
4. Niagara N2517 Sava Spa 1.75 GPM Fixed-Mount Showerhead, White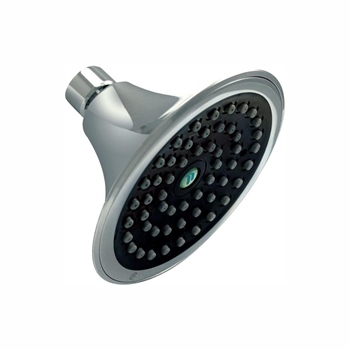 Those of you looking for a small shower head that can offer quite a fair amount of coverage might want to try out the Sava Spa from Niagara. With its 4.4-inch spray head, you will get a wide, constant flow of water that will make you feel exactly as if you are showering in a spa.
Made from durable, high-quality ABS thermoplastic, this model is expected to have quite a long life, provided you give it the proper maintenance. You may buy it with a white or a chrome finish – whichever is more suitable for your bathroom design.
Last but not least, this low flow shower head has also been given a 10-year warranty. This means that if anything happens with the product after regular, well-maintained use, you are entitled to get replacements for the parts that have worn out prematurely. This speaks a lot about the quality of the product.
Pros
Sleek design, perfect for modern bathrooms
Great coverage thanks to the wide showerhead
High durability thanks to the quality thermoplastic construction
Cons
Very rigid once installed
The pressure seems rather low for some people
5. Fire Hydrant Shower Head for Low Water Pressure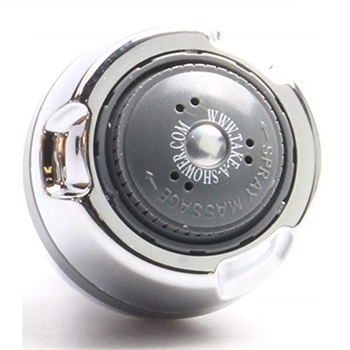 If you're looking to get more pressure in the shower, then you might want to give this unit a try. Using 2.5 GPM of water, this one is perfect if you like that feeling of getting soaked while being environmentally friendly.
Since this unit is made entirely from metal parts, its durability is higher compared to other similar showers. Plus, it is very easy to install, even if you are not a supreme expert in plumbing.
Lastly, if you are a fan of massages, this one is once more a great model to consider. Featuring a variety of spray patterns, you may choose the one that is just right for you and bring the spa experience straight in your bathroom.
Pros
The high-pressure spray feels like a massage
Solid brass construction that ensures the durability of the unit
Sleek design that works perfectly with modern bathrooms
Cons
It's very easy to accidentally unscrew the showerhead when you just want to change the shower mode
The stream of water is very thin.
6. American Standard 1660717.002 FloWise Transitional 3-Function Water Saving Shower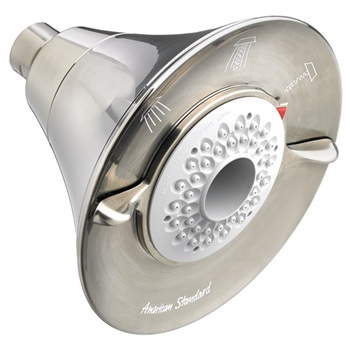 When in doubt, many people always go for American Standard. The brand has become so popular that it is indeed a standard for many American bathrooms – so, it is understandable why they would create water-saving showerheads as well.
Using only 1.5 GPM, this sleek showerhead allows you to save up to 40% of the water that you normally use. Plus, since you will not be heating up as much water, it will also help you save on the energy bill.
This showerhead provides three spray functions: full, turbine, or a combination between the two. This way, you may select the one that feels most comfortable for you.
Pros
The turbine shower technology is very efficient
It saves quite a significant amount of water
High functionality due to multiple shower modes
Cons
Limited adjustability
The water pressure is still rather weak
7. Waterpik Ecoflow Fixed Mount Showerhead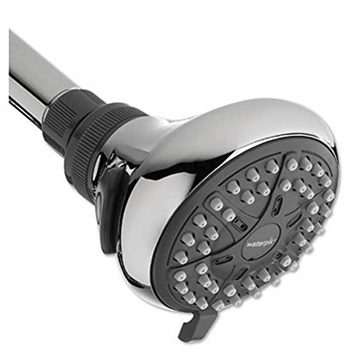 If corrosion is a problem for you and you are looking for something resistant to that, then you might want to give this model a try. Made from high-impact ABS thermoplastic, it is expected to have a fairly long life provided you take care of it and give it the proper maintenance.
With its OptiFlow technology, this low flow showerhead uses 40% less water – all while keeping a pressure that will make every shower comfortable. It also features a 1.6 GPM flow rate, which makes it fit the standards for WaterSense certifications.
Aside from its water-saving ability, this showerhead also features anti-clogging technologies. This means that the unit will not end up clogging from the minerals flowing in the water.
Pros
Anti-clogging technology that makes it easy to maintain
Advanced OptiFlow technology that offers a superior shower experience
The design is resistant to corrosion
Cons
The design is fixed and cannot be adjusted during the shower
Is prone to breaking easily
What Are Low Flow Shower Heads?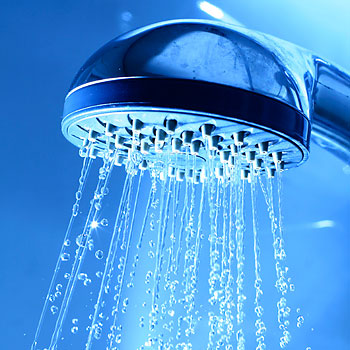 Nowadays, there are many showerheads that use a reasonable amount of water – around 2.5 GPM. This is considered to be not too high in terms of water use, but not too low either. It's somewhere in the middle, but it may still be considered a low flow showerhead.
That being said, there are those that go even below that 2.5 GPM flow rate – and go even lower than 2.o GPM as well. The 2.0 limit is a standard that was deemed by the EPA to be quite the economical one – so, you can imagine that the lower it goes, the more water you'll be able to save. You can find more about how GPM is calculated by visiting our homepage.
Simply put, when a shower head is at least or goes below 2.0 GPM, the U.S. government provides it with the WaterSense certificate and deems it as a low flow showerhead. This happens because the product is considered an economical one – a shower head that can do a better job at saving energy and water.
That being said, if less water is being used, it does not necessarily mean that the product will have a poor performance – at least not if you buy a high-quality one. For example, by increasing the pressure of the water, you will be getting the same water jet of a regular shower – while using a smaller amount of water.
Similarly, these shower heads are given the AirInfusion Technology – at least when it comes to the newer models. This will cause the water droplets to get bigger by imbuing them with air. This offers you a much more drenching experience without actually increasing water consumption.
Types of Low Flow Shower Heads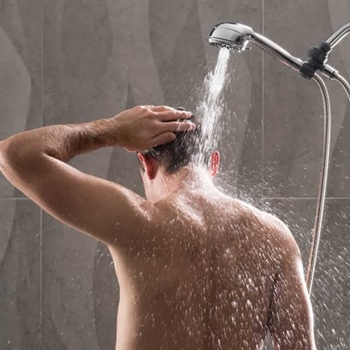 When it comes to types of low flow showerheads, there are practically two options that you may go for. Both of them will come with their own benefits, and you just have to decide which one suits your preferences the most.
1. Handheld
Handheld showerheads are attached to a flexible hose so that you may "walk" the showerhead in whichever way you like. This way, you will not have to remain fixed, standing under the showerhead when you are taking a shower. You may remain seated – or you may use the showerhead to give yourself a massage. They are very convenient in that regard.
Moreover, a flexible shower head will help you keep the bathroom clean. So, all you have to do is direct the water jet towards the wall and everything should be clean in a jiffy.
2. Fixed Shower Heads
Handheld showerheads are certainly a very convenient choice, but unless you buy a product of very high quality, there is a chance that it will end up breaking in just a couple of months. This is what happens when you continuously mess with or move a product.
On the other hand, fixed shower heads are not moved as much – only sometimes, with models that you can twist to adjust the direction in which the water falls. For this reason, they tend to be more durable than the regular handheld shower units.
The biggest disadvantage is that you won't be able to move the showerhead from its place. This will keep you in one standing position and will also make it impossible for you to clean the bath with it.
Low Flow Shower Head Buying Guide
When it comes to buying the perfect low flow showerhead, there are certain aspects that you might want to keep in mind before making the purchase. Following these criteria is very important, as it will help you decide whether the shower head you purchase is a good choice for your home or not.
1. Construction
Unless you purchase a low flow shower head with good construction, you will end up having to buy a new unit every few months because the old one broke. This is why you must ensure that the design is well-thought-of and the materials are durable.
For example, most showerheads are made from plastic since it's more lightweight and significantly cheaper. They are a good option if you are shopping on a budget since you will not have to pay an arm and a leg for it. However, they are less durable than the alternative – and are more prone to breakage. You may have to replace your shower head at least once every few months.
Similar but quite different from the standard "budget plastic" shower head is a high-impact ABS thermoplastic shell. It is quite durable – and while it is not as durable as other showerheads, it still has decent durability for the price that it's sold at.
If you are looking for a more durable alternative, then you might want to go for something made from stainless steel or metal. Stainless steel is generally the most reliable solution, as it is not that prone to developing rust – but other metal alloys should also be reliable as long as they received a high-quality coating. Needless to say, this kind of material is very good in general if you are looking for something that will not break quickly.
2. Design and Style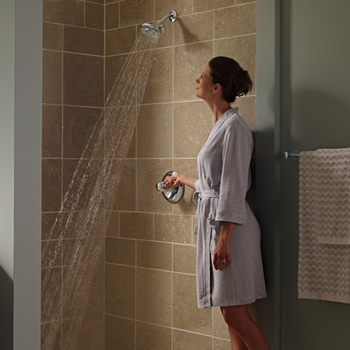 Each buyer will have his or her own preferences and tastes when it comes to buying bathroom items. No matter if it's a sink, a shower pan from our shower pan reviews, or a showerhead, you need to ensure that it fits with your bathroom style.
Nowadays, manufacturers produce shower heads in a variety of shapes and styles. Obviously, the first thing you will have to decide on is whether you want a fixed shower head or a handheld model.
Bear in mind that while a fixed shower head cannot be handheld, a handheld model can be set to stay fix. The only difference between them is that fixed models tend to be more reliable and durable in the long run.
The design is also fairly important to consider. Some manufacturers make wider showerheads to provide better water coverage, whereas others make them thinner to decrease that coverage and further on, give the impression of more coverage. Thinner shower heads are also less likely to sprinkle water all around the shower area – so, they don't make a mess out of everything.
3. Water Flow Rate
Indeed, when a shower head is deemed as "low flow," it goes without saying that its flow will be under 2.0 GPM. However, the question here is how low will the GPM go? For instance, a low flow showerhead with a 1.25 GPM will obviously consume less water compared to one that has 2.0 GPM.
First things first, make sure that your product features a WaterSense certification. This will ensure that it will use just as much water as it needs, without making any excesses. Further on, check exactly what the flow rate is. The lower the GPM, the less water you will use – and the better it will be for both you and the environment.
4. Adjustability
Imagine this: you are getting home, hopping into the bathroom in the hopes of enjoying a very nice shower that will feel like a spa treatment. Only that you cannot move the showerhead and the water jet feels nothing like the spa. This is why you should get a low flow showerhead that can be easily adjusted for your own comfort.
There are two ways in which this can be approached. To begin with, the adjustability may involve the direction of the water jet. Fixed water jets may be much more difficult to adjust (aside from slightly changing their falling direction). So, if you need something with a bit more maneuverability, you may want to go for a handheld model. This may be attached to a swivel ball bracket and adjusted in whichever way you want.
Second, the adjustability also involves the pressure of the showerhead. Some may like the sharp, turbo massage feeling provided by a certain showerhead, whereas others will want that smooth feeling of water simply falling down the skin. So, instead of purchasing different shower heads for every shower need, you might want to look into a shower head that may be easily adjusted.
5. Size
Size can sometimes make a big difference, particularly if you consider the place that you live in. Granted, a wider showerhead may provide bigger coverage, but it might not be suitable for every kind of home. You may want a larger shower head in a bigger home, but if the bathroom that you are planning to install your low flow showerhead it in is very small, then this might not be such a smart choice.
For example, if you have a sleek and small, modern-looking bathroom, you do not want to ruin all its look by bringing out a showerhead that looks pretty much like a spaceship. In this case, a smaller model might be just what you need – particularly, if the technology that it uses provides good coverage for you.
However, if you live in a large house with a large bathroom and a large shower, then you might want to go for a bigger shower head. A small one will not only provide insufficient coverage, but it might also look out of place.
6. Maintenance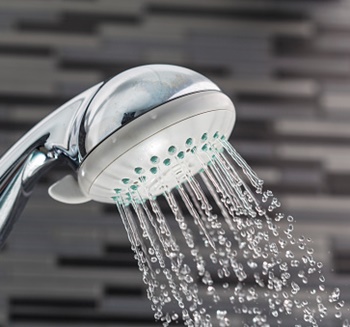 Maintenance is also something to be carefully considered, as you don't want something that you'll end up scrubbing to no end. A low-quality showerhead may get continuously clogged, and you'll have to make time every week to unclog it.
To prevent this from happening, you should go for a showerhead that features anti-clogging and self-cleaning technologies such as the TouchClean technology or silicone rubber jet nozzles. These will offer you the advantage of little to no maintenance, as the shower head will end up cleaning itself for the most part. Non-aerated sprays are also a good option to keep your shower head clean.
However, make sure that you are not too rigid when it comes to choosing your shower head. It's fairly difficult to find a unit that has only one of these technologies alongside WaterSense, let alone all of them. Be more open with your criteria.
7. Finish
Sure, style is great, but if the finish reminds you of something that was taken out of your grandma's basement, then you won't be able to turn your bathroom into that cool spa anymore. You need to find a finish that will go well with the rest of your bathroom as well.
From chrome to bronze and brushed nickel, there are many finishes that you can go for. Make sure that the finish is corrosion resistant, particularly since you will be dealing with significant amounts of water.
8. Additional Technology
As mentioned, low flow showerheads come with different technologies aside from WaterSense, depending on the unit that you are purchasing. Some will be self-cleaning, others will have turbine technology, and some may feature advanced OptiFlow technology. If you're lucky enough, you might find the perfect shower head that is actually a combination of more of these.
9. Warranty
If possible, look for something that comes with a warranty – the bigger, the better. You do not want to pay lots of money for a showerhead that breaks in two weeks – or worse, already arrives broken. This is why you need to ensure that you get some coverage. Not every seller will provide a warranty, so make sure to look for those that do.
10. WaterSense Certification
Your showerhead may be considered to be "low flow" but it might not have a WaterSense certification. To ensure that it uses the least amount of water while being efficient, you might want to make sure that it comes with a WaterSense certification. WaterSense units are those that have a GPM lower than 2.0.
How Much Water Do Low Flow Shower Heads Save?
This will depend on the water consumption rating of the showerhead. Obviously, the lower the GPM, the more water you will be able to save. Regardless of the model, you may save as little as 25% and as much as 40%.
Let's take this example. Let's say that, for conservative purposes, you take a total of 25 showers over a 30-day course. We'll also place an average of 7 minutes for each shower – again, for you to be conservative. Let's assume that your choice in low flow showerheads is a 1.5 GPM model, as opposed to your standard 2.5 GPM showerhead.
If you take 25 showers that last 7 minutes every month, you will be spending about 175 minutes in the shower. If you multiply it with the 2.5 GPM of the standard showerhead, it means that you'll consume about 437 gallons of water over the course of one month simply by showering.
Say that instead of a 2.5 GPM shower head you use a 1.5 GPM model. If you multiply 175 minutes by the GPM rate, you will find that you used only about 262 gallons – which is 175 gallons less than with the traditional unit. You used 40% less water simply by changing the showerhead – and it made you no less clean.
You can also check OWASA's low flow showerhead water-saving research for further information.
Tips to Save Water in the Shower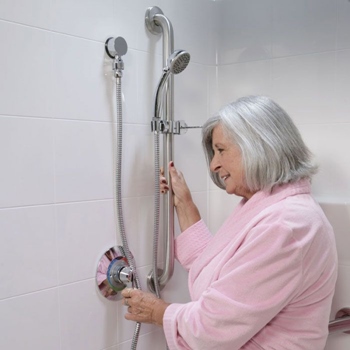 Hot showers might seem like a tempting thing to do – but while a low flow showerhead might do a very good part of the job, you also need to learn how to be conservative yourself. Here are a few tips for you to save water in the shower so that you can tone down that water bill.
1. Take Shorter Showers
This one should be obvious, but if you want to save water, you can't take those hour-long showers that you were used to. What use would a low flow shower head be if you are going to use gallons and gallons of water anyway? A longer shower will take around 50 gallons of water, so try going lower than that.
The shorter the shower, the better. Generally speaking, you would not need more than 5 minutes to take a shower – or let's say 7 if you really want to pamper yourself.
2. Save the Colder Water
It's a known fact that before the warm water begins to flow, a certain amount of cold water pours out of the showerhead. No one actually steps in that cold water – so, you just let it flow down the drain, wasting precious water.
Instead of letting that happen, you should grab a bucket and save the cold water for other purposes, such as cleaning, flushing the toilet, or watering the plants. This way, you will not be wasting any water.
3. Turn the Water Off When You Do Not Need It
You don't need the water running when you are lathering up with soap or shampooing your hair. So, instead of wasting water on thin air, turn the knob off when you do not need it. Only turn the water on when you need something rinsed off.
4. Be Multifunctional
A good way to save water is to actually be multifunctional in the shower. Do not shave or brush your teeth separately – that's just wasted water. Instead, hop in the shower and save water by being multifunctional. Plus, if you decide to invite your significant other to take a shower with you, you'd be multifunctional to the point that you are saving one person's worth of showering time.
5. Take Showers Instead of Baths
This might be rather bad news for you if you are a fan of frequent baths – but choosing a shower instead of bathing will help you save quite a lot of water. The average bath will take about 35-50 gallons of water, whereas a short 7-minute shower will take only about 20 gallons of water with a low flow showerhead. Think of baths as just the occasional treat and stick to showering.
6. Get a Steam Shower
Most of the time, you turn the hot water on and leave it running simply because the bathroom is cold, and you are freezing while you are lathering up. However, if you invest in a top-rated steam shower, the bathroom will warm up with the use of steam and it will be much easier for you to shut the water off while you are lathering. Granted, you may be using a tad bit more energy by warming up the water to the point of boiling – but at the same time, you will be using significantly less water.
FAQ about Low Flow Shower Heads
1. Will the Massaging Option be Less Effective on a Low Flow Shower Head?
If you are opting for a low flow showerhead, this does not automatically mean that you will have less pressure. Since a low flow unit will mix the water with air, the chances are very high that you'll actually have more air sent up the showerhead. This means that nothing will actually be or feel different during your shower.
2. How Long Does a Low Flow Shower Head Usually Last?
This will depend on the model that you buy – as well as the material from which it was made. Fixed shower units usually last more than handheld ones, and stainless-steel models also have a much longer life compared to a plastic one. Therefore, a stainless-steel fixed shower head will certainly last longer compared to a plastic handheld one. It may last for as much as a few years – and as little as a few months.
3. Do Low Flow Shower Heads Increase the Pressure Coming from the Wand?
These units make no modifications to the pressure of the water. Instead, they might increase the water force and the velocity of the water. For this reason, it might seem as if the pressure of the water is higher.
Wrap Up
Finding the best low flow shower head certainly cannot be something very easy to do, given all the technology that you have to consider. Sometimes, you may have to pay a slightly higher price. But when you think about the water you will be saving in the long run, this is actually an economical solution.
Hopefully, our low flow shower head reviews have proven to be useful for you and you were able to make your choice. Regardless of your budget and your showering preferences, there is certainly a showerhead for you.