The best shower pan can effectively direct your water towards the drains, so it doesn't gather and cause flooding. It is used for enclosing the shower and is placed on the floor so that it resembles a pan. You'll need less time to clean your shower if you own a shower pan. Since it collects your water and makes it flow through the drain, maintenance becomes a much easier task, helping you save time.
Don't worry if you don't know how you can find the most suitable shower pan for your home. In this post, we've included a shower pan buying guide to help you find the right model. Moreover, we included shower pan reviews to help you make a great pick.
See The Quick Comparison Chart
Shower Pan Types And Uses
You need to know what types of shower pans are available to choose the right one for you. Some of them may be a better fit for your bathroom's style or size depending on their shape. Conversely, some are more durable than others due to the materials they're made of. Here are the shower pan types you will encounter on the market:
1. Steel
Steel shower pans represent a great alternative when you want something durable, as there's no denying the strength of steel. But although they're sturdy, these shower bases are easily damaged if you expose them to moisture, air, or dirt.
2. Acrylic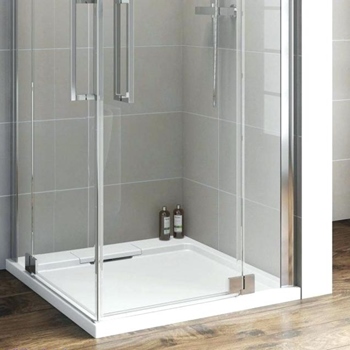 Acrylic shower bases are probably the most famous ones out of the bunch. Basically, this material is very strong and durable and is easy to take care of in the long run. Not to mention that it's also lightweight, despite being very strong. If you opt for an acrylic shower pan, you will most probably have it for a long time.
3. Ceramic
At first, it might not sound like a good option, but a ceramic shower pan is actually a great investment. It's very good and durable, and it will always look good in your bathroom, no matter if you remodel the area. The best thing is that it has increased durability. However, it is quite a costly option, so it's not always accessible for people with lower incomes.
4. Solid Surface
Solid surface shower pans are the ones you will probably find all over the market. They are simple but can be found in better-looking versions too. Also, you can find them in multiple colors, being a better match for people who care about design.
5. Curved
Curved shower pans can be an amazing option when you want to add some style to your bathroom area. More often than not, they are an easy way to make the shower space look and feel more luxurious.
6. Custom Made
If you really want to make sure that you end up with a model you love, maybe you should opt for a custom-made shower pan. This way, you can have one that you're sure will fit in with the surroundings and look amazing in your bathroom.
Best Shower Pans Comparison Chart
PRODUCT
DETAILS

DreamLine SlimLine 34x42x2 3/4 in. H Center Drain Single Threshold Shower Base

Price: $$
Customer Rating: 3.9
Weight: 38.1 lbs
Dimensions: 34 x 42 x 2.8 inches

View On Amazon

Bestbath 30×30 Shower Base – 30×30 Shower Pan

Price: $$
Customer Rating: 5.0
Weight: 50 lbs
Dimensions: 30 x 30 x 6 inches

View On Amazon

Schluter Systems KERDI-SHOWER-ST – 32″ x 60″ – Shower Tray

Price: $
Customer Rating: 4.4
Weight: 4 lbs
Dimensions: 32 x 32 x 4 inches

View On Amazon

Swanstone FR-3260R-037 Veritek Right Hand Drain Shower Base

Price: $$
Customer Rating: 4.7
Weight: 50 lbs
Dimensions: 32 x 60 x 4.3 inches

View On Amazon

Kohler K-9026-47 Purist Shower Receptor, 48″ X 36″, Almond

Price: $$$$$
Customer Rating: 4.5
Weight: 232 lbs
Dimensions: 50.4 x 38.5 x 9.4 inches

View On Amazon

DreamLine SlimLine 32x48x2 3/4 in. H Center Drain Single Threshold Shower Base

Price: $
Customer Rating: 3.7
Weight: 41.9 lbs
Dimensions: 32 x 48 x 2.8 inches

View On Amazon

PROFLO PFSB3434WH Single Curb Rectangular Shower Pan

Price: $
Customer Rating: 3.8
Weight: 22 lbs
Dimensions: 38 x 38 x 8 inches

View On Amazon
Best Shower Pan Reviews
1. DreamLine SlimLine 34x42x2 3/4 in. H Center Drain Single Threshold Shower Base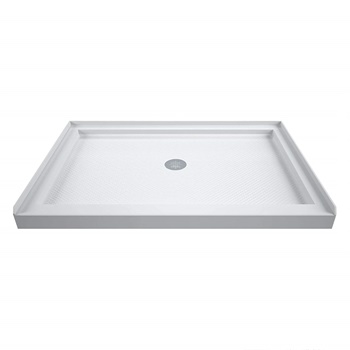 If you want something more durable for your bathroom, a good idea would be to go for this product. It has a nicely manufactured base that won't allow any flexing, adding stability and ensuring your safety this way. The base is resistant and comes with a limited lifetime manufacturer warranty.
During the installation, the base has to be connected directly to studs. You will need to seek a professional to make sure everything is done the right way. This is a little bit of a downer, but it's better to be safe than sorry.
The drain of the unit is placed in the middle, so water can be thoroughly eliminated without gathering in a huge amount. To make things even better, the floor surface is slip-resistant for added safety. Another thing that won't disappoint is the look of the product – it's nice and elegant, and able to fit many types of bathrooms.
Pros
The floor doesn't let you slip
It's beautiful and has an elegant look
Has a limited lifetime manufacturer warranty
The construction doesn't allow flexing of the base
Cons
You need a professional to install it
2. Bestbath 30×30 Shower Base – 30×30 Shower Pan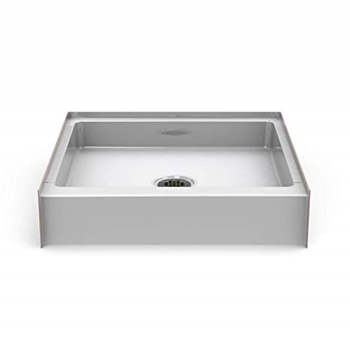 With this product, you'd get yourself a shower base that is unlikely to let any drop of water go out of the shower enclosing. It's quite tall, meaning that it will effectively collect your water and lead it towards the drain, without allowing too much of it to gather.
One of its top features is that it's easy to install. Because let's be honest, there's nothing more frustrating than buying a unit that takes longer to set up than the amount of time you're going to use it for. More than that, you want to make sure you get to use it as soon as possible. The installation can be done in a day for this product, as it also comes with a drain.
The shower pan is a great opportunity for small homes or RVs, thanks to its small size. After all, you don't want something that can't fit your floor. In addition, the product was made of stain-resistant gelcoat, and the shower pan is of very high quality. You can rest assured that you'll have it for quite a while.
Pros
Durable construction
Deep and able to restrain the water
Easy to set up
Fits smaller bathrooms
Cons
3. Schluter Systems KERDI-SHOWER-ST – 32″ x 60″ – Shower Tray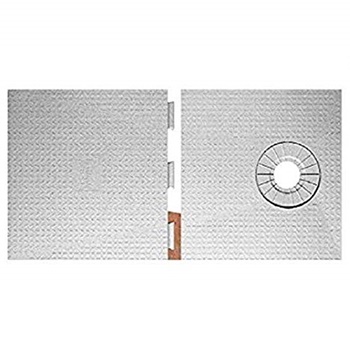 It's important to make sure all the water goes into the drain and doesn't stay in the shower pan. Well, with this shower tray model, this might be achievable. This is a shower tray that has been made of lightweight expanded polystyrene. Therefore, it can ensure that the water will go where it belongs after a shower – in the drain.
The drain is placed in the center of the unit, so you have even better chances of getting rid of the water that gathers in the tray during a shower. Meanwhile, the expanded polystyrene is helpful for constructing mortar-free shower receptors.
The membrane and tile of the product are waterproof. All you have to do is install and grout the tile, after which you assembly the rest of the unit and have it work. The installation is not difficult – it is very easy to follow the instructions and set it up.
Pros
The surface is waterproof
Drain located in the center for easy water elimination
The installation is simple
It's great for remodeling your bathroom
Cons
It's a little pricey
The material feels like it's flexible
4. Swanstone FR-3260R-037 Veritek Right Hand Drain Shower Base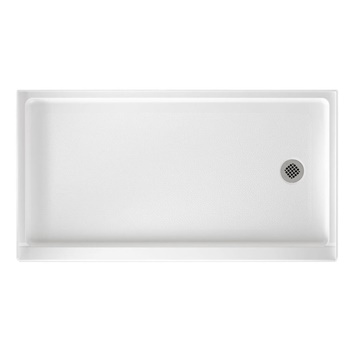 If you want a high-performing product, you should go with this unit from Swanstone. There is one specific feature that takes the spotlight when it comes to it, respectively the anti-mold one. No matter how much you use it – the unit is supposed to last without you having to worry about the apparition of mold.
If you don't want to spend hours rubbing and cleaning the shower base, this could be the answer to your prayers. This shower pan is very easy to maintain, giving you no headaches during your attempts to bring its shine back.
Moreover, the drain works perfectly, and you don't have to worry about water leftovers. It also looks beautiful, even though the design is simple. Usually, it should fit no matter the style of your bathroom.
The material is durable and it's very unlikely for it to damage over time. It's sure to last you for a long time to come.
Pros
The drain works perfectly and eliminates every trace of water
The product is not prone to mold
Beautiful design that fits most bathrooms
Durable construction
Easy to take care of
Cons
It may be a little expensive to some people
5. Kohler K-9026-47 Purist Shower Receptor, 48″ X 36″, Almond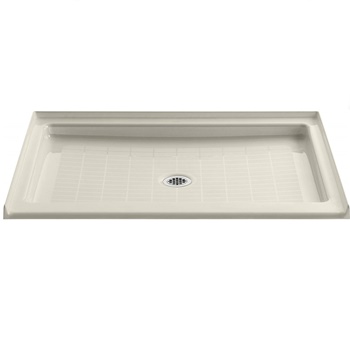 Something modern will always add a touch of luxury in your home, and the same goes for shower pans. If you get something with a modern look, you're sure to make your bathroom feel like the one in a 5-star hotel. Well, this shower receptor can help you achieve that.
It has a smooth deep look, while on the surface there are lines to help with the adherence. To make things even better, the unit comes in a variety of colors to match your taste and the design of the bathroom. You can easily personalize it according to your own style, which is a much better option for perfectionists.
What outshines the good looks is the durability. The material the product is manufactured from is impact-resistant, and it also resists stains and scratches. Moreover, it's easy to clean and maintain, so what else could you ask for?
In addition, the product has a safeguard slip-resistant technology to add more safety. You won't have to worry about potentially slipping and falling in the shower.
Pros
Comes in multiple colors
Looks beautiful and modern
Made from easy-to-maintain, durable material
Can fit the style of most bathrooms
Safeguard slip-resistant technology for more safety
Cons
It doesn't come with an apron
6. DreamLine SlimLine 32x48x2 3/4 in. H Center Drain Single Threshold Shower Base
This DreamLine product is what you should go for if you want durability, and you surely do. After all, it's never pleasant to purchase something, only for it to break shortly after. This unit is made from durable material and one that will not allow the base to flex. More specifically, the base is made from high-gloss acrylic, which is reinforced with fiberglass.
Also, the installation is pretty quick and easy. You will have to seek a professional to help you with it, but at least you know the unit will be installed properly.
As for the design of the product, you don't have to worry – it looks very beautiful and will definitely improve the design of your bathroom.
The maintenance process will be easy thanks to the glossy acrylic finish safeguards. They are effective against stains, so you won't have too much work to do when cleaning the unit.
Pros
Easy maintenance due to the glossy acrylic finish safeguards against stains
Durable construction
No flexing of the base
Beautiful design that will go perfectly with most bathrooms
Safe to use
Cons
You need a professional to install it
The drain is not centered
7. PROFLO PFSB3434WH Single Curb Rectangular Shower Pan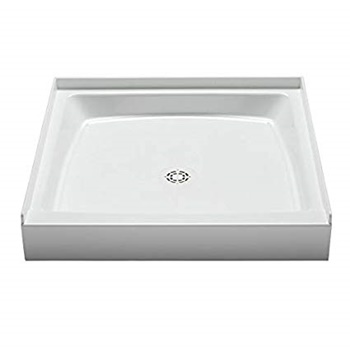 Do you want a product that will be a piece of cake to install, and allow you to use it not long after the installation? If that's the case, maybe you should settle for this PROFLO shower pan.
This rectangular unit is easy to set up. Moreover, the drain is located in the center of the pan, which means that all water will be collected in the middle and eliminated immediately.
The product is always tested in the factory before being sent to the distributors. This way, the manufacturer makes sure everything works as expected. Also, the unit is made of slip-resistant material, to add some safety by ensuring you won't have any slipping accidents in the shower. Not to mention that the material used for construction is of high quality and will ensure the unit will last.
Pros
Non-slippery base for added safety
Product tested in the factory before being put on sale
Manufactured from high-quality materials
Quick and easy installation
Drain located in the center for better water drainage
Cons
You may have to redo the pipes to accommodate the product since the drain mold goes below the floor level.
Shower Pans vs. Tiles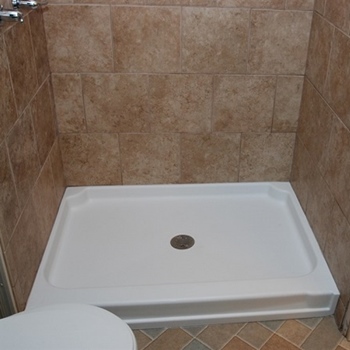 Many people are a little confused when it comes to shower pans, as they don't know whether they are better than tiles or not. Well, there are indeed some advantages that shower pans have over tiles.
For example, installing shower pans will be less costly compared to tiles. You need perfect grout to set up your tiles, and what's worse is that you will have to change them over time. Meanwhile, shower pans will last for much longer without requiring replacement, being a wiser investment.
On top of that, shower pans are sturdier. Basically, the materials they're made of are different, and more often than not, shower pans are manufactured from more durable materials. Since you'll be standing on the shower pan while showering, it's supposed to handle your body weight without cracking, which is why it's made of a stronger material.
If you know how to maintain them and take care of them, almost all shower pans (f.e. acrylic) will last for much longer compared to tiles. You'll only spend your cash once, without the need for replacements and reparations. Very often, shower pans also come with some additional features to make your showering experience better, but we'll talk about that a bit later.
Shower Pan Buying Guide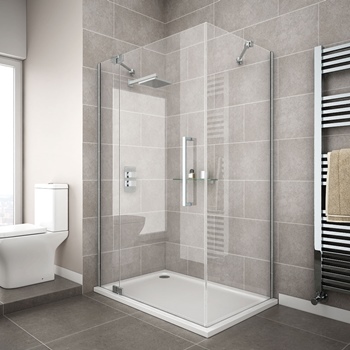 Prior to buying your product, you need to be aware of some key considerations. More specifically, the perfect shower pan for your bathroom should have a series of features.
So, if you want to end up with the product that's most suitable for your shower, here are the things you should pay attention to before you invest your cash:
1. Waterproof
You may be wondering why this feature is important, given the shower base will be used in the shower and is meant to collect the water. Well, the truth is that you don't want the water to stay in the shower pan – it has to be directed towards the drain. And what better way to do that than with a waterproof shower base?
As long as the floor of your shower is waterproof, water will not accumulate there, and you won't see any watermarks on it. This will save you a lot of time during the cleaning process – not to mention that it maintains the beautiful design of the shower pan.
2. Ease of Installation
Let's be fair, now – whether you'll install the shower pan by yourself or call a professional to do it, it would be a shame if the unit is difficult to set up. Unless you want to swear all throughout the installation, it's recommended to find a product that is easy to install.
It's usually mentioned in the product description whether the item will give you a hard time during the installation or not, but the product reviews will reveal this information as well. Improper installation will lead to floor damage and you can even break the unit.
Also, before the installation, you should also think about whether you want the best sliding shower doors or curtains. These will serve as protection so your bathroom won't get wet or flooded.
3. Material
One thing you must be really careful about is the material of your new shower pan. There are a few ones most commonly used in the creation of shower pans, but some of them may be very expensive and not a good option for everyone.
For instance, you can find ceramic ones, and although they're strong and durable, they are also very pricey. Fiberglass is used to create these units too, but the problem is that it's not a long-lasting option.
The best one out of the bunch is acrylic, which is also the material you will most commonly find for these units. Acrylic shower pans are so popular because they are durable and strong, and they are also affordable. Additionally, they are easy to clean and maintain, and in case they get damaged, they require cheaper reparations.
4. Size
Size is important because not all bathrooms are the same. What works for one bathroom might not work for another. That being said, if you have a smaller house, you need to pay a lot of attention to the size of the shower pan you're about to buy.
When you're shopping for a shower pan, make sure its size will fit inside the bathroom – otherwise, it's a no-no. It needs to fit in such a way that you have enough space to shower and not get in the way of other bathroom units.
5. Durability
The last thing you want is to end up with a shower pan that cracks after barely being used for a week. Just like any other installation in your home, you need something strong and durable. Besides, you need something that won't require you to spend more cash on reparations or replacements.
Make sure you choose something that you know is strong enough to withstand pressure and won't get damaged at the first hit it takes.
6. Scratch Resistance
If you buy a shower pan with a beautiful design, you surely don't want to see this look ruined by scratches. These surfaces are easy to get scratched if something heavy falls on them, or if you clean them violently with a harsh cleaning agent.
As such, you have to make sure that the shower base has a scratch-resistant surface to maintain its beauty.
7. Style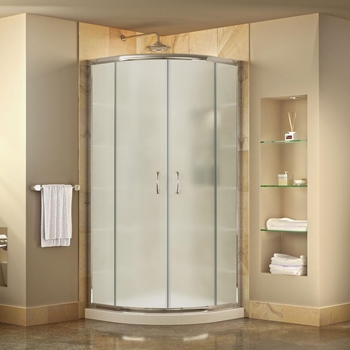 For some people, it's very important to have a shower base that compliments the rest of the bathroom. If you happen to be one of those people, you may be interested in the style and design of the product.
Luckily, you have quite a few options when it comes to shower pans because they come in various shapes. For example, you can choose between neo-angle, single threshold, rectangular, quarter-round, and many others. You just need to make sure it will fit in its designated place.
8. cUPC Certification
It's always a good idea to see whether the product you're about to buy is cUPC certified or not. This certification proves that the product is authentic and that it follows the American and Canadian national standards.
Not to mention that it's much easier to trust a certificated product than a non-certificated one. Don't forget to look for this aspect.
9. Stain Resistance
Rubbing hours and hours to no avail is always going to be very annoying, especially when you want to be done with it and move to other tasks. Sadly, some shower pans require their owners to do that, as water stains and other types of stains have a tendency to form on the surface.
Obviously, you want to avoid that as much as possible, which is why you should look for shower bases that have stain-resistant features. These will make sure no stain will ever damage the beauty of your shower floor.
10. Price
We don't want you to end up wasting your money, which is why we don't advise you to go for shower pans that come for a very low price. Although price doesn't always indicate the quality of the product, it does give you a hint of its reliability in some cases. Having said that, when something is way too cheap, it might be too good to be true.
Concurrently, you don't have to buy the most expensive product if you're looking for a high-quality shower base. Many shower bases come for decent prices – so, if your pocket can't handle a higher price, look for a unit with a good price-quality ratio.
How to Install a Shower Pan?
In general, installing a shower pan can only happen with the help of a professional. Unless you have knowledge in this field yourself, it's better to let a specialist deal with the process, as he's the only one who knows how to do it perfectly. However, if you do decide to do it yourself, here are the steps you should perform during your shower base installation:
1. Measure Your Space
Prior to buying your shower pan, you have to measure your available space in the bathroom. This is essential as it will help you make sure you pick something that fits. When you take measurements, you should do it from the wall that will come in contact with the base, and then see if the product you set your eyes upon will fit properly. Shower pans can be either standard-sized or custom-sized.
2. Get Some Basic Tools
In order to install the shower pan, you will need some basic tools to help you perform the task. So, you'll need a hammer, masking tape, framing square, drill bits, screwdrivers, power drill, screws, carpenter's level, silicone bath caulk, wooden shim, washers, tape measure, and pliers.
3. Prepare the Spot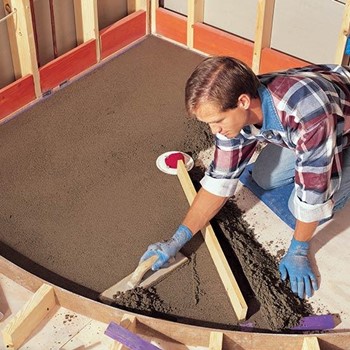 You must get the place ready before actually installing the shower pan. That means you will have to do some cleaning and remove any dirt or debris. Try to remove all debris off the surface, after which you should take a broom to get rid of all loose debris. Also, use a paint scraping tool in case there have been adhesive-like material on the floor previously.
4. Apply Water Seal
Now that the cleaning part is done, you can start adding the things necessary for the installation. Start by applying a coat of water seal product to the surface. This will make sure you will have a dry surface before putting the unit into place. The surface has to be completely dry if you don't want to experience issues later on. If the place is damp, it can cause the growth of mold and mildew.
5. Check the Fit of the Shower Base
Check whether the product fits in the designated place without sealing it. It's essential to make sure the unit is not sloppy or loose, or else you'll encounter problems later on. If it's loose, try to find ways to stabilize it until you know it's safe.
6. Check the Drain Cutout
The drain cutout of your new shower pan should line up, or else you'll be unable to properly install the product. Make sure you don't force it if it doesn't, or you risk damaging the pan, and that's the last thing you wish for.
Start the installation when you think the dry fit is good, and everything will go accordingly.
7. Install the Drain Hardware
Look over the manufacturer's instructions to proceed with attaching the drain system. You have to slip a coupling piece in the drainpipe and then seal it. Afterward, you should use the carpenter's level and wood shims to level the shower base. Mark the spot where the studs are being met by the unit.
8. Attach the Pan
Once everything else is done, you should carefully attach the pan to the studs, in such a way that you don't end up damaging the product. If you're overdoing it when tightening, you risk cracking it.
You can also check other sources to see shower pan installation with pictures.
Shower Pan Maintenance and Cleaning
Luckily, cleaning your shower pan is not that difficult. If you buy a waterproof shower floor, or one that is scratch or stain resistant, you will not have to struggle too much with the maintenance. However, no matter the case, you should clean it regularly.
Usually, it's better to clean the shower after each use, so that it's always clean and bacteria-free. To do this, you simply rinse the surface, after which it will go back to looking nice and shiny.
Removing soap scums is also essential, like from every other surface of the bathroom.
If you want to perform a deeper cleaning, you'll need some special items to help you do this. That being said, buying a handheld scrub brush is a must, and you will also need a pump bottle of washing soap. From here, everything is simple – you use the washing soap on the surface of the shower pan, after which you start scrubbing with the brush.
However, make sure the brush is not made from any material that can easily scratch your shower base. Find something safe to use on most surfaces.
Once you're done scrubbing the area, use water from the shower to rinse it, and the pan will be clean. Do this as many times as needed to remove all of the annoying dirt.
FAQ About Shower Pans
Do you still have some unanswered questions about shower pans? In this case, read on to discover even more interesting details about these products:
1. How Much Weight Can a Shower Pan Withstand?
It all depends on the specific product that you buy, but in general, a shower base should be able to hold up to 300 LBS. Some may be sturdier and hold even more than that. This is why you should carefully check the product specifications before you buy it.
2. Do I Have to Take Precautions Before Installing the Shower Base?
Yes, you do. Basically, you have to make sure that the joints between the wall tiles and the base won't allow water to penetrate them. Moreover, you need to properly level the unit to prevent any damage to it, such as cracks.
If you don't do any of these, you risk damaging a part of your bathroom, and you'll have to use more cash to repair that area and spend more time to refit the unit.
3. How Long Can a Shower Pan Last?
This comes down to the quality of the product you own, as well as how well you take care of it. On average, a shower pan should last many years, up to 10 years at least. In some cases, it can last even more than that, especially if you maintain it properly.
4. Can I Replace My Shower Pan Without Having to Remove the Tiles?
If your tiles break and the shower unit you have is old, then there are very low chances of finding replacement tiles. But you can still remove your shower pan while no damage will be caused to the tiles. Therefore, you can simply change the shower pan alone and keep the tiles.
5. Will It Be Expensive to Fix a Leaking Shower Base?
Reparations for leaking shower pans are not that expensive, but it all depends on the severity of the leak. The price can range between $150 and $500 if the shower faucet is also leaking. Concurrently, it may cost you around $125 to repair a malfunctioning diverter.
6. How Expensive Is It to Replace a Shower Pan?
Replacing a shower pan can go between $650 and $1,500, and even higher in some cases. Since you're replacing the old one, you have to consider the fact that you'll spend money on the actual new shower pan, after which you will have to pay for the installation. So, there are quite high costs involved with replacing your shower pan.
7. Are Shower Pans Safe?
They are safe, but not all of them provide the same level of safety. In order to be considered safe, a shower pan must not flex too much and should be leveled properly. Also, it must have a non-slippery surface to avoid accidents. These features will ensure that your shower floor is as safe as it can be.
Wrap Up
You can make a wonderful and fulfilling acquisition by choosing the best shower pan. As you were able to see, they can be different from each other and come with various features – some that you didn't even think about.
You've read our shower pan reviews, as well as the buying guide that went into a lot of detail to show you how to choose the right product. Hopefully, now you know what aspects to consider in order to choose your next shower pan with little to no effort. If you're in the process of remodeling your shower area or bathroom and need more information in this regard, feel free to visit our homepage.