The best acrylic bathtubs are cheap when you compare it to tubs made from other different materials, but the advantage here is that they can be purchased in a variety of shapes and sizes. In fact, acrylic bathtubs are getting more popular by the day.
Regardless of your budget, there will always be a suitable choice for your purposes. You can go through our acrylic bathtub reviews to find the one that speaks out to you the most. This article will make things much easier for you as it will guide you towards the right choice.
See The Quick Comparison Chart
What Are Acrylic Bathtubs?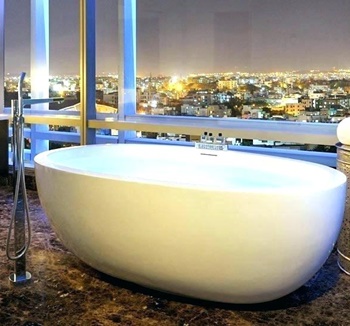 Comparing the advantages and disadvantages of acrylic bathtubs, it is very obvious why they are so popular on the market. They are comfortable, warm, low maintenance – and most importantly, they are very affordable. Acrylic bathtubs are the kind that you buy when you are looking for quality, but you do not want to blow through your entire budget.
Simply put, acrylic bathtubs are made from sheets of acrylic plastic that have been vacuum-formed to take a certain shape (which is why we see so many interesting free-standing models nowadays). Most often, these tubs have also been reinforced with fiberglass so that their durability is increased.
Considering that the material is supple and soft, it is very convenient when it comes to creating tubs of a variety of shapes and sizes. Plus, considering that acrylic is generally lightweight, you may install it on any level of your home – without worrying that the tub will damage your floor.
Acrylic bathtubs are also the kind that you go for when you want something easy to install and maintain. Plus, they are easier (and less expensive) to repair while being more resistant to damage. They are the budget choice for people that are looking for luxurious-looking products.
Acrylic Bathtub Types And Uses
Since acrylic bathtubs are such affordable options, it is easy to understand why people are continuously investing in them. It does not matter if you are on a tight budget or you have the money to spare – acrylic bathtubs respect every "wallet size", so that you may find the one that suits your needs the most.
With so many different layouts and sizes of bathrooms, it's only logical that the manufacturers would create a number of different types so that their customers could benefit from. To put it as simple as possible, here are the main types of acrylic bathtubs that you may go for.
1. Freestanding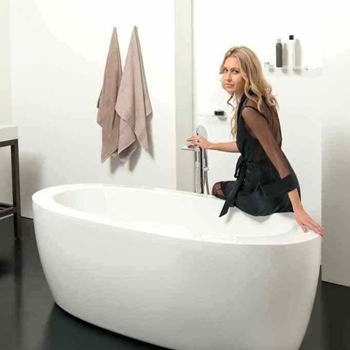 A freestanding acrylic bathtub is a kind that does not have to be fixed to a wall. Indeed, you can fix it next to a wall – but not necessarily. If you have a bigger bathroom, you may simply install it in the center, making the entire place look even fancier.
Since these tubs do not take any wall room, you may use that space to add dressers, cupboards, or anything else that might help you with storage.
2. Right of Left Hand Configuration
Depending on where the drain is located, you will have to choose the appropriate bathtub configuration. You may easily find both right and left-hand configuration bathtubs – but what's important is that you make the proper choice. If you order the wrong bathtub by mistake, then you might not be able to install it – and if you do, it will look odd and unsightly.
3. Corner Bathtubs
Some people have more room on their walls, whereas others seem to have most of their free room around the corners. If you happen to be in the latter category, you might want to choose a corner acrylic bathtub in favor of one that is installed alongside a wall.
These bathtubs are usually square-shaped, and they fit perfectly in the corner of every bathroom. These tubs usually feature a seat, as they have plenty of room. They are also large enough to fit two people – but due to their size, they are not very appropriate for small bathrooms. In most cases, they are a perfect fit only if your bathroom is very spacious.
4. One and Two-Person Bathtubs
Taking a bath by yourself can be relaxing – but sharing this moment with your significant other can also be very romantic. In this case, you might want to buy a two-person bathtub. They are obviously much bigger than the standard one-person bathtub, and they can also handle a lot more weight compared to the "singles". However, keep in mind that this increase in size will also mean that there will be extra weight bearing down on the floor.
Best Acrylic Bathtubs Comparison Chart
PRODUCT
DETAILS

WOODBRIDGE BTA1518 59″ Acrylic Bathtub

Price: $$$
Customer Rating: 4.4
Size: 59 x 31.5 x 22 inches
Weight: 88 pounds
Capacity: 55 gallons
Type: Freestanding

View On Amazon

American Standard 2460.002.011 Bathtub

Price: $
Customer Rating: 4.3
Size: 60 x 32 x 17.5 inches
Weight: 147 pounds
Capacity: 56 gallons
Type: Left-Hand Configuration

View On Amazon

KINGSTON BRASS VTRS592928 59″ Acrylic Bathtub

Price: $$$
Customer Rating: 4.2
Size: 59.1 x 29.1 x 27.6 inches
Weight: 123 pounds
Capacity: 52 gallons
Type: Freestanding

View On Amazon

KOHLER Villager Alcove Bathtub

Price: $
Customer Rating: 3.8
Size: 60 x 30.2 x 14 inches
Weight: 316 pounds
Capacity: 40 gallons
Type: Left-Hand Configuration

View On Amazon

WOODBRIDGE B-0010 Acrylic Bathtub

Price: $$
Customer Rating: 4.6
Size: 67 x 31.5 x 28.4 inches
Weight: 95 pounds
Capacity: 60 gallons
Type: Freestanding

View On Amazon

American Standard 2461.002.011 5-Feet Bathtub

Price: $$
Customer Rating: 4.4
Size: 60 x 32 x 17.5 inches
Weight: 147 pounds
Capacity: 56 gallons
Type: Left-Hand Configuration

View On Amazon

WOODBRIDGE White 54″ Acrylic Bathtub

Price: $$
Customer Rating: 4.0
Size: 54 x 29 x 29 inches
Weight: 151 pounds
Capacity: 55 gallons
Type: Freestanding

View On Amazon
Best Acrylic Bathtub Reviews
1. WOODBRIDGE BTA1518 59″ Acrylic Bathtub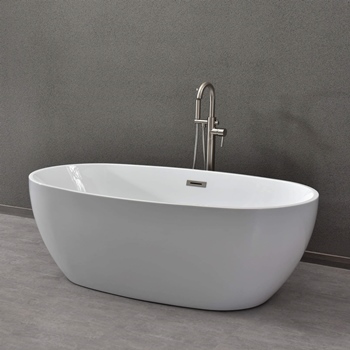 Woodbridge has always made a name for itself by creating some fabulous bathtubs – and when we see this model, we can absolutely understand why. It is the kind of bathtub that you may find in a luxury apartment, the one that is fit for kings and queens to bathe in.
Made entirely from high-quality, high-gloss Lucite acrylic and featuring a fiberglass and resin reinforcement, this bathtub is fairly long-lasting. This is actually quite a surprising factor, considering the competitive price that it is sold at.
Since the design for this model is a chic freestanding one, you may install it wherever you want – even in the center of the bathroom. This is actually quite a convenient choice if you have a larger bathroom.
Pros
Luxurious durable finish
The surface is slip-resistant
Spacious and comfortable to sit in
Cons
Drain and overflow are not brushed nickel, but shiny chrome
Potential cracking sound as you step into the tub
2. American Standard 2460.002.011 Bathtub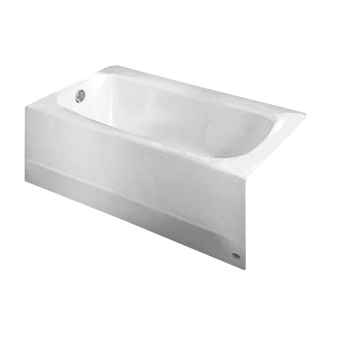 When it comes to bathroom items, numerous American go for American Standard – and this also applies to various people from all around the world. Featuring a left-hand configuration, this may easily be installed next to a wall, saving you a fair amount of space.
This bathtub is slightly heavier than your standard acrylic bathtub – but at the same time, it is very easy to install. Moreover, since this model uses heavier material mixes, you can also expect it to be longer-lasting than a standard unit.
This is a bathtub that you can really soak it. Since it's 5 feet long and 1.5 feet deep, you can soak to your heart's content. This bathtub is even large enough to handle a couple wanting to bathe together. With just the right amount of water, they should be able to snuggle without having to worry about the tub overflowing.
Pros
Very spacious design
Easy to install
Very comfortable, even for tall people
Cons
Some customers have complained of an orange peel
3. KINGSTON BRASS VTRS592928 59″ Acrylic Bathtub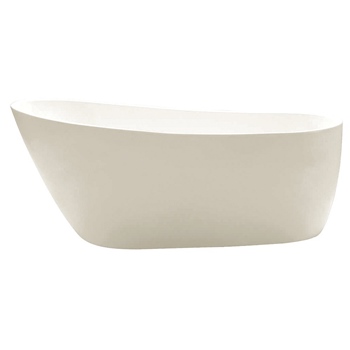 There's no reason to spend a fortune while visiting the spa when you can simply bring the spa into your own home. Due to the smooth model of this tub, you may turn your bathroom in a very relaxing place where you can unwind after a very stressful day.
The tub has a classic slipper-shaped design that makes it look modern yet traditional at the same time. The modernity and durability of the acrylic that has been used will also ensure that the comfort is superior – like you would expect with any spa treatment.
Since this bathtub may hold around 52 gallons of water, you can get a relaxing and deep bath experience – one that will literally make you feel like you are at the spa. At the end of the day, when you are cleaning the bathtub, you will be able to do it quite fast due to the antimicrobial surface.
Pros
The antimicrobial surface makes it easy to clean
Wide and deep enough to provide a superior bath experience
The bathtub comes packaged with all the drains and overflows that you need to install it
Cons
It requires quite a lot of room
Users complain that it is not among the easiest to install
4. KOHLER Villager Alcove Bathtub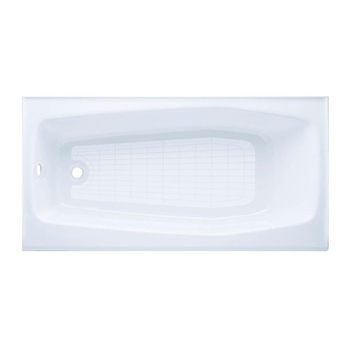 When it comes to bathroom items, we can all admit that Kohler is a great name that has gained the appreciation of many of its users. The Villager bathtub is quite popular among the masses, as it is comfortable enough to provide that soak you so desperately need after a long day.
Since this bathtub is pretty heavy, you may have to ensure that the floor of your bathroom has the ability to support it. However, you can be sure that this model you have chosen is very durable.
This bathtub comes with an integrated apron. This means that you will not have to purchase any side panels separately, and the bathtub will look great from the very start. This is actually quite convenient, as it is often difficult to find a side panel that matches the bathtub in color completely.
Pros
Solid construction makes the bathtub very durable
Attractive design that saves space while being spacious
The hardy finish is very durable and will be very difficult to chip
Cons
The non-slip coating makes it quite difficult for you to slide down in the bathtub
The back of the tub is not slanted enough for some people's liking
The bathtub is heavy, so it might be difficult to install
5. WOODBRIDGE B-0010 Acrylic Bathtub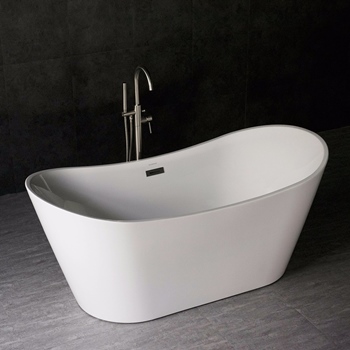 Woodbridge strikes again with yet another attractive, freestanding model. This item represents luxury, chic style, and comfort – all in the same bathtub. Plus, considering that the Lucite acrylic from which it was made is highly durable, you may expect this model to be quite durable.
This bathtub was reinforced with fiberglass and Ashland resin, making it even more resistant against damage. Plus, the stain-resistant coating that this bathtub has received makes it very easy to clean and maintain, even after you have used the tub for quite a long time.
The Woodbridge bathtub has a capacity of approximately 60 gallons of water. This means that you will be able to take a very good soak, enjoying the depth of the tub as your comfort level increases. The installation accessories are also included within the package, which means that all you will have to worry about is finding someone to install the bathtub for you (in the event that you cannot do it yourself).
Pros
Sleek, luxurious design
Deeper than most acrylic bathtubs
It is lightweight, which makes it easy to carry
Cons 
The installation can be rather tricky if you opt against using a professional
Some have expressed concerns regarding the frailty of the plumbing parts
6. American Standard 2461.002.011 5-Feet Bathtub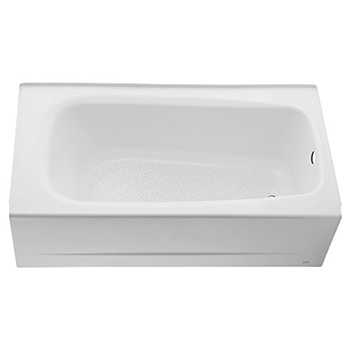 Those of you looking for a higher-quality acrylic bathtub that is sold at a relatively convenient price might learn to appreciate this model. Made with an Americast construction, this unit is durable enough to last you through entire years of bathing.
Featuring a right-hand outlet, this bathtub is perfect if you have this kind of installation. Plus, the bathtub has its own integrated apron to hide the bottom, which means that you will not have to start looking for same-colored panels. In most cases, it is actually quite difficult to find something in the same color as your bathtub.
This bathtub also features a full slip-resistant surface. This means that you will not have to worry about any accidents in the bathtub, causing you to put yourself in danger. The coating is also very easy to clean and maintain, which means that you will not be spending your entire life in the bathroom, trying to get it tidy.
Pros
The design looks very nice and strong
The anti-slip surface makes it safer for you to bathe without worrying about any accidents
The tub is fairly lightweight compared to the models that have been cast out of iron
Cons
The installation may be quite challenging
It can still be considered slightly heavy compared to other models
7. WOODBRIDGE White 54″ Acrylic Bathtub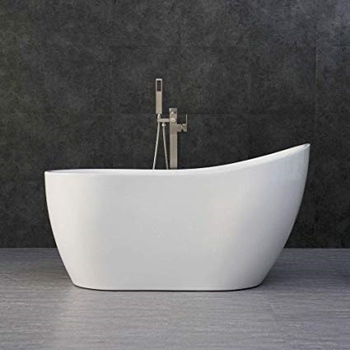 If you are looking for a tub that has a premium-quality construction, then you might want to give this model a try. Made entirely from glossy white Lucite acrylic and featuring a fiberglass and resin reinforcement, this bathtub is bound to last for quite a lot of time without getting scratched or damaged.
This acrylic freestanding bathtub has been given a slipper effect that holds quite a bit of a modern twist. You can simply let yourself soak in the bathtub as the slanted back supports you. The anti-slip coating will also prevent you from slipping in case you get too comfortable.
Unlike many bathtubs of the kind, this one has a bug cover adapt that has the purpose of grounding the drain pipe. This means that the insects and bacteria will be kept at bay, without you having to worry about any "crawlers" disturbing your bath time.
Pros
Sleek and elegant design that conforms to the body shape
You get a 5-year warranty
It is a very easy task for acrylic bathtub cleaners
Cons
Since it is quite big, it can be too wide to get it through some bathroom doors
Some users claim that a thicker construction would have been better
Acrylic vs. Cast Iron Tubs: What Are the Differences?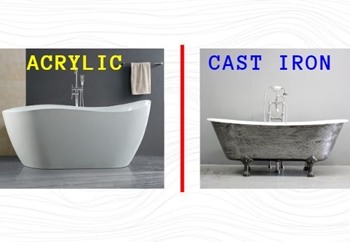 When it comes to bathtubs, there are two materials that are actually quite popular: cast iron and acrylic. Both materials may look very similar when it comes to their shape and style, but they are actually quite different. Here is the main, simplified version of what you need to know.
1. Weight
Compared to acrylic bathtubs, which are lightweight, cast iron bathtubs are very heavy. On average, an acrylic bathtub weighs around 100 pounds, whereas cast iron models weigh well over 300 pounds – and that's before you even add the water. A heavy bathtub might often need floor support, and not all of them can be installed on the upper floor.
2. Durability
Cast iron might be heavy, but at the same time, it is very durable. A cast iron bathtub can last for entire decades without needing any repairs on changes. Acrylic, on the other hand, is quite durable – but it is nothing compared to cast iron tubs.
3. Appearance
Acrylic tubs can mimic the looks of the models made from cast iron, which is why it will be difficult to see any differences. However, the cast-iron models have the advantage of richness, timelessness, and authenticity – making them a very attractive choice for those looking for an investment.
4. Heat Retention
Cast iron is widely known for the fact that it can retain heat – so, if you fill the tub with warm water, it will retain that warmth. Acrylic also boasts superior warmth, and the surface is generally warm to the touch even if there is no water in the tub. For this reason, both acrylic and cast iron bathtubs are perfect if you want to take a long soak.
5. Maintenance
Both cast iron and acrylic bathtubs are very easy to clean and only need little cleaning with non-abrasive, mild detergent. Still, acrylic bathtubs may receive scratches more easily compared to the ones made from cast iron, which means that they are more susceptible to cracks and chipping. However, the good news is that they are fairly inexpensive to repair, which is why they are still considered an investment.
6. Price
When it comes to the cost, acrylic is by far the more affordable option. However, since these products may not have the same life span of cast iron tubs, you might end up having to replace the tub more often.
Acrylic Bathtub Buying Guide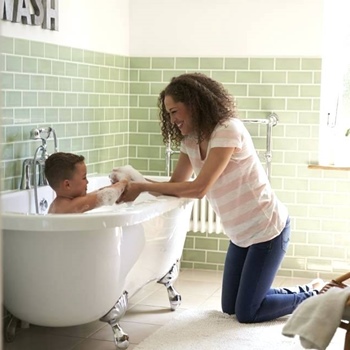 Before you set on purchasing your acrylic bathtub, there are a few things that you might want to consider first. These types of bathtubs are unique in their own sense, which is why you need to ensure that the one you buy is perfect for the purpose that you have in mind.
Here are the factors that you have to keep in mind when you are making a purchase for a new acrylic bathtub.
1. Positioning
When you are purchasing an acrylic bathtub, you must have an idea over where you are planning to install it firsthand. Some bathrooms are quite spacious – but others have barely enough space for you to move around. This is why you have to ensure that the dimensions of your tub are in line with the dimensions of your bathroom.
If you have a larger bathroom, you can choose something bigger – such as a freestanding or a corner bathtub. This is generally a great choice for those that want to make a statement for those entering a bathroom. It will also give you enough space for you to install a top-rated bathtub caddy or anything else you might use for storage.
However, these are not a very good choice if you have a small bathroom. In this case, a wall-mounted bathroom with left or right-handed configuration might be a much more suitable choice.
2. Size
In most cases, the size of the acrylic bathtub won't only depend on your available space; it will also depend on the size of the people that are using it. If you are particularly tall, you may want to go for the longest bathtub available that can fit into your bathroom. Make sure to go for a model that can be installed without being too large and without taking too much space.
If you need a particularly big tub – one that can fit two people, for instance – you can go for a corner bathtub. Bear in mind that this can only be a good solution if you have a bigger bathroom. A small one can greatly cramp your style, and you will barely have any space to install the best bathroom sinks and anything else.
3. Installation
When you get a bathtub, it would be ideal for its installation to be as simple as possible – particularly if you are planning to install the bathtub yourself. Most bathtubs already arrive with user-friendly instructions that tell you exactly what to do – and if you buy a bathtub that is easy to install, then it will all be a breeze.
You may want to read as many user reviews as possible, as they are the ones that will tell you how easy it is to install the bathtub. The only aid you might need is for someone to help you position it.
Secondly, you should look for acrylic bathtubs that already arrive with their own fixtures. As a standard rule, bathtubs generally have these fixtures when they arrive – but you should always check just to be certain. Installation might be delayed if you have to purchase your own.
4. Features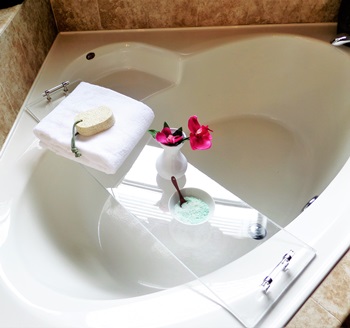 If you wish for your bathtub to be more than just functional – enter, bathe, get out – then you must look for some extra features. For instance, some of these bathtubs have seats, which represent a good option for disabled or elderly that cannot stand on their own from a lower seated position.
Similarly, some bathtubs may come with features such as textured floors, non-slip coating, lumbar support, and even storage decks for toiletries. Each bathtub is unique, so make sure you get the features that suit your needs.
5. Accessories
If you want to figure out whether the acrylic bathtub is worth the price or not, you need to evaluate its accessories. Some bathtubs are indeed more expensive than others – but if you take a closer look, you might find out that there is a very good reason for this. These bathtubs arrive with all the features that you might need, and they also have other accessories to make your experience all the more pleasant.
6. Configuration
When thinking about which bathtub to buy, you also have to consider your waste pipe configuration. This will determine which side you have to set the drain. Granted, you may find bathtubs that have a universal configuration – but most of the time, this configuration will be specific. They will usually mention whether the configuration is right-handed or left-handed.
7. Warranty
Obviously, when you purchase a bathtub, you must also ensure that it comes with a warranty. The longer it is, the better. Generally speaking, products with longer warranties are more reliable.
Some manufacturers offer only 2-year warranties, whereas others go from 5 to lifetime. With that in mind, not every manufacturer covers the same problems. This is why you always need to check the print so that you can be sure the faults you think about are actually covered.
How to Install an Acrylic Bathtub
If you are feeling particularly confident, you may choose to install the acrylic bathtub on your own. You do not have to be professionally certified in the domain, as long as you believe it is within the borders of your own abilities. Plus, as there aren't many steps to be completed in this task, everything relies on the fact that you have to be as careful and precise as possible. These instructions should be able to efficiently help you install your tub without causing damage – to you or the bathtub.
1. Find a Good Place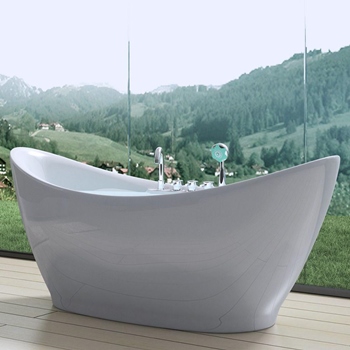 The first thing that you will have to do is to find a place to install your bathroom – and the factor of decision won't be "I like this place, let's put it here". You need to ensure that the waste pipe is matched up so that everything can be properly connected at the end. You will also need to ensure that you can access the faucet plumbing pipes to the pipework of your home.
2. Position the Tub in Its Place
You may have found the perfect spot – but if you do not position the tub properly, you can't even begin to install it. Once you have found the place, you must get your hands on a spirit level and ensure the ground is also completely level. If this isn't done, there's a chance that the water won't be drained completely. If the ground isn't even, you may want to get a tub with adjustable feet.
Once the bathtub has been positioned in its place, you may proceed to fix it. Most acrylic bathtubs arrive with their own fixing kit so that you may attach the bathtub to the wall and/or to the floor. This way, your bathtub will remain stable and will not tip at the slightest movement.
3. Connect the Pipework
Now that the bathtub has been positioned and fixed, all that is left for you to do is to connect your pipes. Make sure that you connect both the pipework and the faucet. You should also ensure that you use as much plumber tape as needed so that the pipes do not start leaking.
FAQ Acrylic Bathtubs
1. Can You Tile an Acrylic Bathtub?
The majority of acrylic bathtubs cannot be tiled, as the tiles will not bond to the bathtub. This will eventually cause the tiles to fall off – and in the process, it is likely that your warranty will be voided. As an alternative, you may opt for a tub surround that you can install around the tub – but not actually stick it to the tub.
2. Can You Resurface or Paint an Acrylic Tub?
Yes, you can – and there are two methods for you to do so. You may take it to professionals, or you may do paint your tub yourself with a DIY acrylic refinishing kit from your local home improvement shop. The latter is the least expensive one, but bear in mind that for the refurbishing to be successful, you must have at least some knowledge in the procedure.
3. Will Baking Soda Damage My Acrylic Tub?
Baking soda is quite popular as a cleaning product, but it is also known that it is abrasive – which is why it can raise concerns with certain people. However, these concerns are unfounded, as baking soda will not damage your tub – not if you use it correctly.
Baking soda is a perfect mild detergent for getting rid of a stubborn stain. When cleaning the tub, sprinkle the tub with some baking soda, spray it with some water, and then let it sit for a few minutes. Once you have done this, clean it with the non-abrasive side of a sponge (do not use the rough side), rinse it and that's it.
4. How Long Do Acrylic Bathtubs Generally Last?
Considering that acrylic bathtubs are among the least expensive options, they also have a short lifespan compared to other materials. Having that in mind, you may still expect your bathtub to last you for at least 10 to 15 years before it has to be repaired or replaced.
5. Can You Buy Acrylic Bathtubs in Different Colors?
Yes, you may find acrylic bathtubs in other colors as well, as it is easy to mix molten plastic with dye. However, the problem is that manufacturers are generally sticking to colors that are popular at a certain time – in this case, white and its variants. However, you may find a nice color to match your bathroom.
6. Is It Safe to Use Acetone on my Acrylic Bathtub?
While it may be tempting to use acetone-based cleaners on your bathtub due to the fact that they're efficient against stains, this is something that is not recommended. It's the number one reason why premature discoloration happens. So, if you end up spilling acetone on your acrylic tub, you may want to rinse it off and clean the area with a mild detergent as fast as you can.
Wrap Up
Bathtubs are something we could live without – but for obvious purposes, we do not want to. After a long day, a soak in the bathtub is sometimes all that we can think about. The best acrylic bathtub will not only be price-friendly but will also be comfortable enough for you to enjoy a long, good soak. You just have to make sure that you choose the right model for your purposes.
We hope that our acrylic bathtub reviews were helpful enough for you to choose the perfect product. There are some serious things that you need to consider – because after all, an acrylic bathtub is a long-term investment. Make sure that it has all the features and accessories that you need, and that the configuration of the tub is also appropriate for your bathroom. Choosing the wrong kind might end up costing you more money than you were willing to spend.