The best bathtub caddy can make the whole bathing experience even better. The bathtub is where all of your stress can be washed away with lovely scents and gentle bubbles. Yet the only way to make the experience even richer is by serving your favorite snack, drink, or book as you let the skin on your fingertips get all wrinkled.
However, the market is stuffed with a lot of different models, and choosing one could be a very long process. Not all of these items work the same way – that's why it might be very difficult to choose the one that's right for you. In this article, you will find bathtub caddy reviews, and a buying guide to assist you during the shopping process.
See The Quick Comparison Chart
Bathtub Caddy Benefits
Before you purchase a bathtub caddy, it's important to know what it can bring into your life. You can't simply buy one without knowing what it can do for you. With that being said, let's look at some of the main benefits of bathtub trays:
1. They Make You More Comfortable
One of the most obvious benefits is the comfort aspect. When you don't have a bathtub caddy to hold your soaps or anything of the sort, you have to keep reaching for whatever you need in a different spot. It's quite annoying.
With a bathtub tray, though, this can easily change – all you have to do is place the caddy on the bathtub and keep your belongings there and they're instantly easier to reach. Not to mention that it increases your comfort since it helps you sit in the water and read a book or watch a movie at the same time.
2. It Has a Nice Design
The design of the bathtub caddy itself is a good-enough benefit to buy it – especially if you want to make your bathroom look more modern and similar to a spa. Bathtub trays are often designed with a wide range of slots to keep your stuff, but they're also made in such a way that they're a total delight to look at.
Whether it's made of bamboo or stainless steel, a bathtub caddy will look amazing and will be useful as well.
3. It Can Hold Your Stuff
As mentioned previously, a bathtub tray can properly keep your stuff on it in order to give you easier access. The cool thing is that you'll also be able to keep a book or tablet on it, as well as your phone, in case you want some entertainment while relaxing in the hot water. It doesn't only use the space for what's useful to your bath, but it is also a great way to prevent boredom and have a spa-like experience. Read on to find out more about that.
To summarize, bathtub caddies are an important factor to prepare a relaxing bath.
What Can You Use Your Bathtub Caddy for?
As you already know, a bathtub caddy has slots to help you hold various items. However, what exactly can you use the bathtub tray for? Here are some of the things you can place on it:
Soaps, scented candles, bath salts
Books, magazines
Tablets, Kindle
Smartphone
Towels
Sponges
Wine glass
Bluetooth speaker
Snacks
Best Bathtub Caddies Comparison Chart
PRODUCT
DETAILS

Royal Craft Wood Luxury Bathtub Caddy Tray

Price: $$
Customer Rating: 4.6
Weight: 4 pounds
Material: Bamboo

View On Amazon

Bambüsi Bamboo Bathtub Caddy Tray

Price: $$
Customer Rating: 4.2
Weight: 3.9 pounds
Material: Bamboo

View On Amazon

ToiletTree Products Stainless Steel Rust Proof Bathtub Caddy

Price: $$
Customer Rating: 4.5
Weight: 3.8 pounds
Material: Stainless steel

View On Amazon

Umbra Aquala Bamboo and Chrome Extendable Bathtub Tray Caddy

Price: $
Customer Rating: 4.5
Weight: 3.22 pounds
Material: Bamboo and chrome

View On Amazon

Adorn Home Essentials Bamboo Bathtub Caddy Wine Holder

Price: $$
Customer Rating: 4.1
Weight: 6.15 pounds
Material: Bamboo

View On Amazon

Royal Craft Bamboo One or Two Person Bath Tray with Extending Sides

Price: $$
Customer Rating: 4.5
Weight: 5.65 pounds
Material: Bamboo

View On Amazon

Utoplike Bamboo Tub Tray with Sliding Towel Holder

Price: $
Customer Rating: 4.3
Weight: 2.7 pounds
Material: Bamboo

View On Amazon
Best Bathtub Caddy Reviews
1. Royal Craft Wood Luxury Bathtub Caddy Tray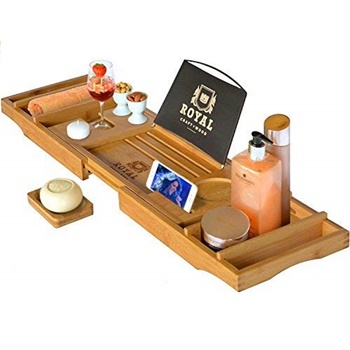 Do you bathe alone, or prefer saving time and bathing with your partner? Whichever your choice is, this bathtub caddy can be used by one or two people at the same time. It has enough accessory slots on both sides to make it suitable for two people. That being said, if you want to bathe together to save some time or just to have a romantic time, this bathtub tray may be just what you're looking for.
A great thing about it is the fact that it's waterproof and durable. The product is made of high-quality bamboo wood, not to mention that the wood is also covered with a lacquer coat. The build is sturdy enough to keep the tray intact for a long time. Furthermore, contact with water won't result in damage to the product, as it's waterproof.
And since nobody likes a bathtub caddy that slips, you won't have to worry about this one. It has non-slip silicone grips to prevent any slipping incidents. It's also adjustable and can fit most bathtubs.
Pros
It's made of a durable material and won't break easily
Waterproof construction
Can be used by 2 people
It won't slip
Can be adjusted to fit most bathtubs
Cons
2. Bambüsi Bamboo Bathtub Caddy Tray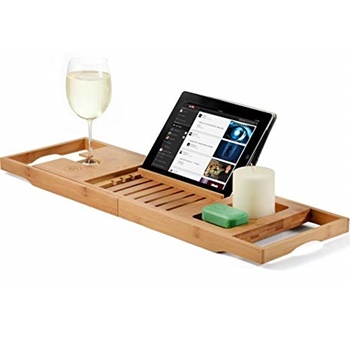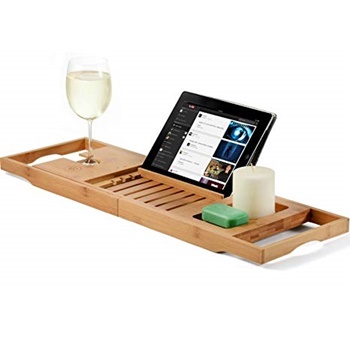 This extendable bathtub caddy can make your life better if you need to relax properly after a long day and want a tray that doesn't slip. The caddy can extent to make sure it fits a lot of bathtub types and sizes. Also, the grips are of non-slip silicone so the product can stick properly to the tub.
Whether you need a caddy for yourself or want to gift it to someone, this might be the right product to use. It can work as a gift for multiple occasions, birthdays, Christmas, or more. What's even better is that it can be used by two people at the same time – so, it's just perfect for couples for a romantic night, honeymoon, or anything of the sort.
Also, it comes with a rustproof metal reading rack where you can store your book or tablet without worrying about them getting damaged by water. The product also has a wine glass holder and cell phone tray, all so you can feel like you're in a luxury spa.
Pros
It's waterproof
Can extend to fit multiple types of bathtubs
It can be used by two people at the same time
It doesn't slip
Cons
3. ToiletTree Products Stainless Steel Rust Proof Bathtub Caddy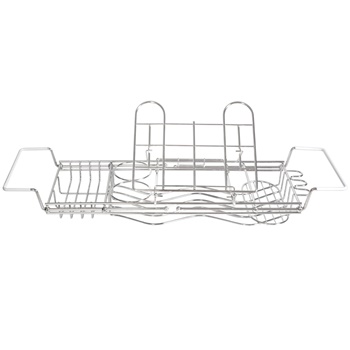 This ToiletTree caddy is extendable, making it easy to use in case you have a bigger bathtub and a smaller caddy wouldn't fit it. This caddy has a lot of places where you can store your belongings, such as your tablet, book, phone, or anything of the sort. There are multiple slots for them, so you won't have to worry too much.
The caddy can be a wonderful addition to your bathtub if you like taking a relaxing bath after a long, exhausting day. It will stick to the surface of the tub and make sure it doesn't slip. The slide-in and slide-out arms will make it able to stick to the sides of the bathtub just right.
In addition, the caddy is made of stainless steel to ensure it won't break apart easily and will last you for a long time. Also, you should know that the item is rust-proof, so you have no need to worry about that.
Pros
Comes with multiple slots to store your belongings
Can extend to fit multiple bathtubs
Durable stainless-steel construction
Rust-proof
Cons
The glass holders are pretty small
4. Umbra Aquala Bamboo and Chrome Extendable Bathtub Tray Caddy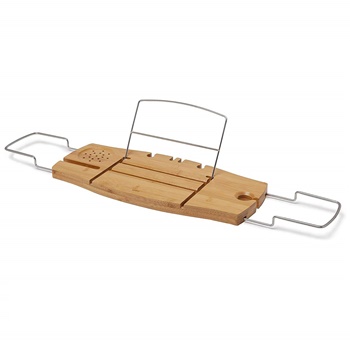 It's great when you can take a relaxing bath and have everything at your disposal after a very stressful day. Luckily, you can with this bathtub tray. Designed to hold your items and accessories, this item can be a great way to help you get rid of the stress you've accumulated during the day.
You will have everything you need to be placed in the rightful slots, be it a glass of wine, a book, a tablet, or anything of the sort. To make everything better, the caddy has extendable arms to place it on the sides of the bathtub with no problems. They won't slip, as they have a layer of silicone on their surface which makes them slip-resistant.
Also, the product is waterproof. Since you may be worrying that the material could be ruined over time due to water exposure, the manufacturers took measures to prevent anything bad from happening. It's made of bamboo, a natural material that will resist water. Furthermore, it will offer you a spa-like feel.
Pros
It's waterproof
Made of natural materials to evoke the spa-like feel
The extendable arms are slip-resistant
Cons
Might start peeling after a while
There's nothing to keep your page when reading a book
5. Adorn Home Essentials Bamboo Bathtub Caddy Wine Holder
You can't really trust a bathtub caddy unless it's sturdy and safe enough to keep your belongings without any problems. This Adorn Home Essentials tray is one of those items you can trust. It's made of high-quality wood. Therefore, it is very sturdy, durable and can also resist water.
It should go without saying that this caddy has multiple spots to let you store your things. But aside from that, it has one additional slot, where you can store your phone. Not to mention that it features a detachable shelf. This way, you can enjoy a spa-like experience in your own home.
Just like many other bathtub caddies, this one is adjustable, thus being suitable for most bathtub sizes and types. It can fit a tub as long as it's anywhere between 23" to 41" wide. To boost your spa-like experience, the product will also come with a bath pillow. That's pretty amazing, right?
Pros
The product can be adjusted to fit your bathtub
Has an additional slot and a detachable shelf
It's made of a durable and waterproof material
You have a money-back guarantee in case the product doesn't live up to your expectations
Cons
Water may gather in the sliding area and cause mold
6. Royal Craft Bamboo One or Two Person Bath Tray with Extending Sides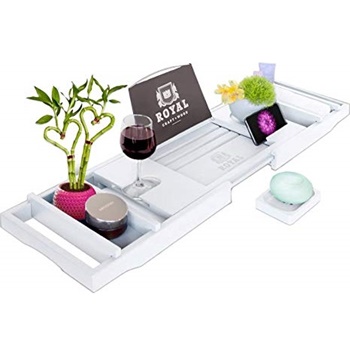 Are you looking for a spa-like experience without having to go to an actual spa? Well, this Royal Craft bathtub caddy could help you achieve that experience at home. Whether it's for a romantic evening with your partner or you just want to relax by yourself, you can rest assured that this caddy will come in handy.
Basically, this tray is made to fit a lot of bathtubs as it has extendable sides. It's made of bamboo and covered with a lacquer layer, in order to make sure it lasts, and that water won't ruin it.
The tray looks very stylish and is sure to add a luxurious touch to the bathroom. The finish makes it look very modern, a total eye-candy for people who care a lot about design. Additionally, the tray can be used for an anniversary, date night, honeymoon or anything similar.
Even better, the tray is slip-resistant, so you can nicely place it on your bathtub without worrying about it slipping and your belongings dropping inside the water.
Pros
The bathtub caddy is suitable for two people
It's sturdy and waterproof
Comes with a bonus soap holder
It's slip-resistant
Cons
Although the design itself looks beautiful, the paint job is not the best
7. Utoplike Bamboo Tub Tray with Sliding Towel Holder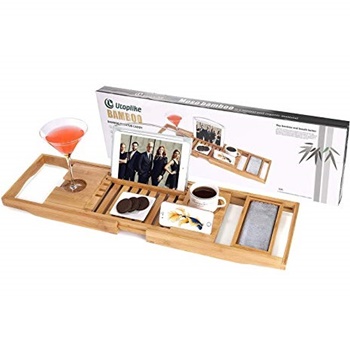 If you want an idea for a gift to give to a special woman in your life or you just need to use something for yourself to relax in the bathtub, you may like this caddy. It's made of renewable moso bamboo, while its surface is varnished so it resists despite being exposed to water all the time.
If you have a wider bathtub, it's important to note that this caddy can be extended, going from 27.55 inches to 41.3 inches. This way, it can fit wider bathtubs with no issues. Also, the product comes with some safety slots. This means that you can rest assured the tray won't be tipped over by mistake while you're bathing. Thus, anything you place on it will be safe.
The tray has an elegant look that will also work great as a bathroom decoration. If you care a lot about the aspect of your bathroom, then you might come to love this bathtub caddy.
Pros
Made of moso bamboo for added durability
It's waterproof
Can work as a gift or for yourself
The design is beautiful and may also decorate the bathroom
Has safety slots to avoid being tipped over
Cons
The chrome bar isn't too good for reading magazines
What Is a Bathtub Caddy?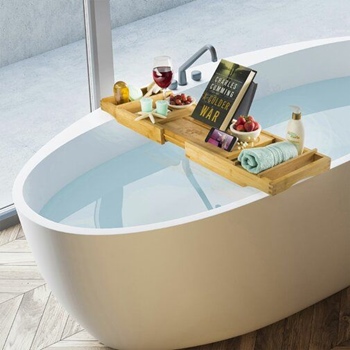 Also known as a bathtub tray, a bathtub/shower caddy is a product that is placed on the sides of the tub. It is used to hold your belongings – such as a book, magazine, tablet, and phone – for a more relaxing bathing experience. It can also help you achieve the movie-like experience by giving you a wine glass holding slot. If you need to keep your soap, scented candles, and other accessories on it, there will usually be special slots for them as well.
Most of the time, a bathtub caddy can improve your bathing experience and make you feel like you're at the spa. If you don't have time to go to the spa and want to read or watch a movie while bathing, a bathtub tray is the right type of product.
Bathtub Caddy Buying Guide
Venturing on the market without knowing the traits of a high-quality bathtub caddy would be a mistake. Basically, you wouldn't know what to pick and you could end up with something that isn't durable or just doesn't have enough slots for what you need. Without further ado, let's see what you should look for when choosing a bathtub tray unless you don't want to make your own bathtub caddy.
1. Material
One of the main things to look for when it comes to bathtub trays is, of course, the material. Not all of them are made of the same material and, besides, not all materials have the same durability. It shouldn't be a surprise to you that some materials will break or scratch more easily compared to others – that's why you need something that lasts.
Moreover, since the product will always be exposed to water, it must be waterproof. So, bathtub caddies are mostly made of:
1.1 Teak
Teak is a tropical hardwood, which is a very water-resistant material, and a durable one as well. It's a good choice if you're going to use the tray a lot, but the disadvantage with it is that it's the most expensive material for bathtub caddies.
1.2 Plastic
Plastic might not sound like the most attractive option. Caddies made of plastic have their own advantages, though, such as being cheaper and water-resistant. So, they're more accessible for people on a budget. However, they aren't that durable, and they lack the versatility offered by other materials.
1.3 Bamboo
A very popular choice in terms of material is bamboo. It is natural and looks great and it also makes the bathtub tray durable and water-resistant. Although it has these advantages, it's still prone to warping or molding. So, you need to perform some serious maintenance for these types of trays.
1.4 Stainless Steel
The coolest thing about stainless steel caddies is that they are durable and don't rust while having a modern look. They are a little smaller – so, you won't be able to store big items on them, but they're more versatile at the same time.
2. Holders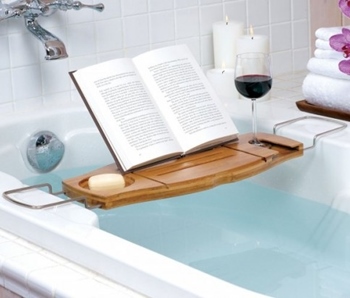 To figure out how many holders the ideal bathtub caddy should have, you have to consider what you want to use it for. The more items you want to hold, the more slots your caddy is going to need.
Therefore, if you want to hold a glass of wine, a tablet, a book, a phone or anything else, you should make sure your tray has the right number of holders for them. Keep in mind that some of the trays are slotted and some aren't, and it would be a shame to pick one that doesn't match your requirements.
In addition, you should see whether the tray can also hold your pages – with pegs – when you're reading. Every special slot should have something that holds the item in place without the risk of having it fall into the water.
3. Size
There are bathtub trays that have a fixed size, and bathtub trays that are adjustable. Fixed-size ones might not be the best choice if you don't know the size of your bathtub, as you can end up with something too small for what you have.
Adjustable ones can extend, meaning they are more likely to fit multiple types of bathtubs, whether you have a top-rated acrylic bathtub, a top-rated freestanding bathtub, or anything else.
4. Color
Maybe you don't consider color to be such an important factor, but if you're someone that cares a lot about design, then you should pay attention to it. Even bathtub trays can come in multiple colors, irrespective of the material. Pick one that matches the rest of the bathroom décor and installations.
FAQ about Bathtub Caddies
We want to make sure you end up with the best bathtub caddy on the market. So, here are the answers to some of the questions you might still have about bathtub trays:
1. Can Bathtub Caddies Be Used as Bed Trays Too?
Some of them can indeed be used in your bed as well. You have to fold the legs out from the bottom of the tray, and the caddy can also be used outside the bathroom.
2. Won't Bathtub Caddies Slip Since they Are Placed on the Bathtub?
Not really. Some of them may slip, but if you look for a slip-resistant product, yours won't have the same fate. A lot of manufacturers are working on improving their products, so you can find a lot of non-slip bathtub caddies out there.
3. Which One Is Better – a Teak or a Bamboo Caddy?
Bamboo is generally a better choice simply because it's cheaper while maintaining many of the amazing features teak has to offer. Basically, bamboo is free of toxins, lightweight, and gorgeous, as well as water-resistant.
Wrap Up
If you like to relax in the bathtub, then the best bathtub caddy might be exactly what you need. You can attach it to the bathtub as a table, and it's a great way to place things on it during your bath – a scrub, soap, wine glass, book, tablet, or anything of the sort.
So, if you're about to choose such a product, pay attention to our bathtub caddy reviews and the buying guide, and you will find something appropriate for you. Make sure you get something that lasts and has enough slots for all your belongings. That being said, we hope our information was of help to you.