Bath pillows are some of the things that are perfect for some relaxation after a long day at work. When you're always working, your stress builds up and you may feel very tense at the end of the day. One way of unwinding is by taking a warm bath. Add to this the best bath pillow and your relaxation session will be complete.
Why are bath pillows so popular? Well, it's simple – they bring the spa experience in your own home, meaning that you can relax to the fullest whenever you feel the need to. In addition, they're very comfortable.
If you didn't have a bath pillow before, you might not know how to choose a high-quality one, or what a good bath pillow should have. We're here to help, so this guide will offer you some useful information to help you when storming the shops for bath pillows. You can also read some bath pillow reviews to serve as examples.
See The Quick Comparison Chart
What Is a Bath Pillow and Do You Need One?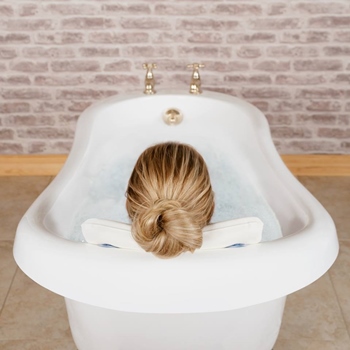 A bath pillow is a type of pillow you can attach to the side of the bathtub, serving as a way to rest your head while you lay down and relax. In general, these pillows are attached to the hard surface with suction cups and will stand still as long as the cups are of high-quality. Whether you have the best freestanding bathtub or a top-rated acrylic bathtub, the pillows should stay in place.
In general, bath pillows are made from certain materials that will ensure your head will be kept in place, and that the surface is soft enough to keep you comfortable.
Bath Pillow Benefits
There are plenty of benefits with bath pillows. Even at first glance, it will be easy to tell how these items can make your life better. So, here are some advantages you will enjoy with these wonder pillows:
1. Stress Reduction
Stress is something that lives within every person nowadays, be it because of familial problems, work, a hectic schedule, and so on. But nothing compares to a hot, relaxing bath. It is able to wash away all of your stress and relax you for the rest of the day.
In order to enhance this experience, you can use a bath pillow and have an even better time in the bathtub. Since no strain is added on your body, no additional stress will be given. You can lay your head on this pillow and stay in the water for as long as you want to.
This experience will feel pretty much the same as a spa one, so if you want to get this, all you have to do is buy a bath pillow.
2. Spa-Like Experience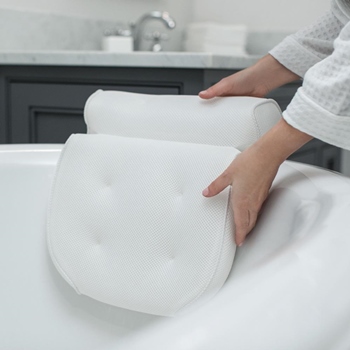 As previously mentioned, bath pillows represent a great way to enjoy the spa experience in your own house. Basically, taking a bath does more than cleaning your body – it's a way to relieve some of the tension built during the day. As a result, you'll be able to go to bed more content and at peace with yourself.
Since bath pillows are so comfortable, they will only encourage you to spend more time inside the water – therefore, you will enjoy more of the benefits associated with a hot bath.
3. No Back and Neck Pain
If you were to lay your head on the bathtub margin without any soft cushion, your neck and back would most likely feel very painful after a while. It's best to avoid this feeling by purchasing a pillow.
This type of cushion will support your bones and muscles and align your back so you can feel amazing once you're done with the bath. This pillow will prevent adding more pressure on the neck and back, meaning you will get out of the bathroom feeling much better, and with no added pain.
Best Bath Pillows Comparison Chart
PRODUCT
DETAILS

Epica 2X-Thick Luxury Spa Bath Pillow, SuperGrip Suction Cups

Price: $
Customer Rating: 4.3
Material: Luxury foam
Suction Cups: 7
Dimensions: 14 x 12 x 3 inches

View On Amazon

Gorilla Grip Luxury 3-Panel Design Bath Pillow

Price: $$
Customer Rating: 4.2
Material: Luxury foam
Suction Cups: 7
Dimensions: 19.5 x 15 x 2 inches

View On Amazon

IndulgeMe Harrison House Luxurious Bath Pillow

Price: $$
Customer Rating: 4.2
Material: 3D mesh
Suction Cups: 4
Dimensions: 14 x 13 x 4 inches

View On Amazon

Stock Your Home Luxury Spa Bath Pillow 3–Panel Bathtub Cushion

Price: $$
Customer Rating: 3.8
Material: Foam
Suction Cups: 7
Dimensions: 14.5 x 2 x 21 inches

View On Amazon

Jobar International JB7419 Home Spa Bath Pillow

Price: $
Customer Rating: 3.9
Material: Open-air fiber
Suction Cups: 2
Dimensions: 14.8 x 4 x 13 inches

View On Amazon

GORILLA GRIP Original Spa Bath Pillow

Price: $
Customer Rating: 4.2
Material: Luxury foam
Suction Cups: 7
Dimensions: 12.5 x 12.5 x 4 inches

View On Amazon

Aquasentials Inflatable Bath Pillow

Price: $
Customer Rating: 3.9
Material: Terry cloth
Suction Cups: 4
Dimensions: 8.4 x 6.2 x 0.8 inches

View On Amazon
Best Bath Pillow Reviews
1. Epica 2X-Thick Luxury Spa Bath Pillow, SuperGrip Suction Cups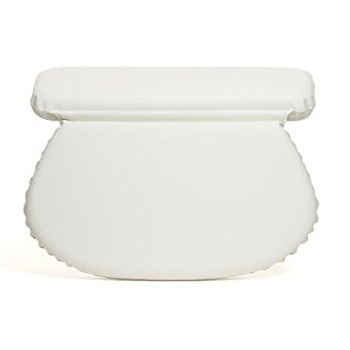 The thicker the pillow, the better, because your head will rest on a softer surface. This Epica 2X-Thick pillow brings the spa experience straight to your home, ensuring that your bath will be the most relaxing one you could ask for. If you want to feel completely stress-free while you're relaxing in the water, then this product may be a suitable one for you.
To make sure that the pillow attaches properly on the edge of your bathtub, it comes with suction cups that keep it in place while you use it. The suction cups are quite big and powerful. Additionally, they are placed in such a way that the pillow is sure to stick for a very long time. Your head will be positioned in a healthy way.
The pillow is made from double-thick luxury foam. This means that you won't have to go to the spa anymore – the spa will come to you with this pillow.
Pros
It is very soft
It comes with big suction cups to keep it in place
Has a 10-year comfort guarantee
Waterproof construction to prevent mold and mildew
Cons
The top suction cups may not work as well as the lower ones
2. Gorilla Grip Luxury 3-Panel Design Bath Pillow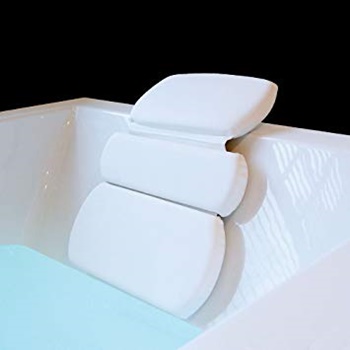 This Gorilla Grip pillow is so great because it can fit multiple types of tubs, and multiple sizes at that. Therefore, even if you have a simple bathtub or jacuzzi, this pillow will fit without problems. Furthermore, it has a very soft surface, as it's made of padded foam.
The item is oversized and meant to support your head, neck, and shoulders, making sure you're comfortable in your tub and that your pain is relieved. Maintenance will be an effortless process as well. The pillow is very easy to clean, as all you need is a cloth to wipe it.
Another amazing feature of this pillow is the fact that it's waterproof. Even if water happens to reach your pillow, it will not penetrate it, and thus no mold and mildew will ruin this item. As for the softness of the pillow, the padded foam is thick, but still able to provide you with hard to match the comfort, as your head will be "swallowed" by the surface.
Pros
It's very easy to clean and maintain
Waterproof feature to prevent mold and mildew
Strong suction cups for proper attachment
Amazing comfort levels
Cons
The suction cups float and don't work well underwater
3. IndulgeMe Harrison House Luxurious Bath Pillow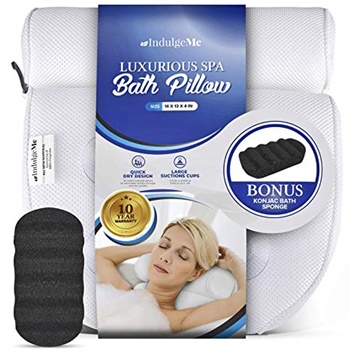 Durability is important with any product, and thankfully, this pillow we're about to review is quite sturdy. It was built to last for a long time to come, which is why IndulgeMe can return your money in case you aren't pleased with the product.
Just like a luxurious bath pillow, this product allows you to sink into it for added comfort. It's great for supporting your neck, head, and shoulders, and if you think you could use some relaxation, this pillow may be able to offer some great relief. It's thick enough, and you'll be able to rest your head very easily.
And for an improved experience, you'll also receive a konjac sponge included with the product. Therefore, you will have the opportunity to feel like you're at the spa, as you'll exfoliate your skin with this sponge. Your pores will get smaller, with a lower risk of getting clogged – thus, you'll have healthier and shinier skin as a result.
Pros
Very comfortable and soft
Great support for the shoulders, neck, and head
It comes with a konjac sponge
It's very easy to clean
It can fit any tub type
Cons
A bad smell may appear after a while
4. Stock Your Home Luxury Spa Bath Pillow 3–Panel Bathtub Cushion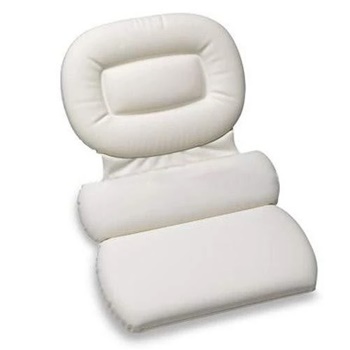 Who would refuse the ultimate relaxation during a shower? The shower is probably the part of the day you're looking forward to the most, especially if your job is demanding. You can relieve some of the accumulated tension by relaxing in your bathtub with this non-slip cushion.
Unlike other pillows that may slip on the bathtub's surface, this one is special – it has a non-slip material to make sure you have full support. As such, you can easily rest your shoulders and neck and feel no strain.
The pillow can be attached with suction cups, but sometimes, they may slip off. However, you can always just attach them back and keep using the pillow as you wish. The design of the pillow is a waterproof one. Thus, no odors, mold or mildew will ruin your experience with the cushion.
Whereas the pillow is thick, it's still able to give you the same amount of softness as a thinner one. The three-panel design will ensure you're always comfortable.
Pros
Waterproof design
Three-panel design for increased comfort
Non-slip surface
Cons
The suction cups may come off from time to time
5. Jobar International JB7419 Home Spa Bath Pillow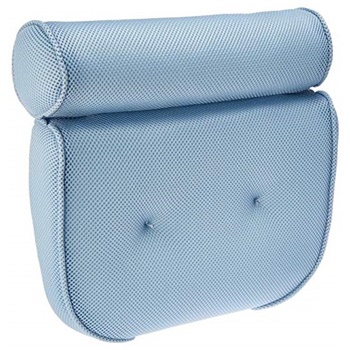 This bath pillow from Jobar International is made with open-air fibers so moisture can go through properly – as a result, mold, and mildew won't damage the product. The pillow can be secured to the bathtub with a suction cup, making sure your cushion won't slip easily while you're resting your head.
The coolest thing about this item is that it comes with a bolster neck. These are great supports for your shoulders and neck – thus, if you suffer from pain in any of these areas, this pillow will relieve it.
For maintenance, you can either hand wash it or steam clean it, and it will dry very quickly. So, it's easy to clean and make sure you won't have to deal with an insupportable odor, or with mold and mildew.
Moreover, you can try to fold it if you need better back support. It's a great way to keep your body in a healthy position.
Pros
It offers head, shoulder and neck support
Open-air fibers to allow air and water to circulate
It's easy to clean and maintain
Cons
The suction cups are not that good
6. GORILLA GRIP Original Spa Bath Pillow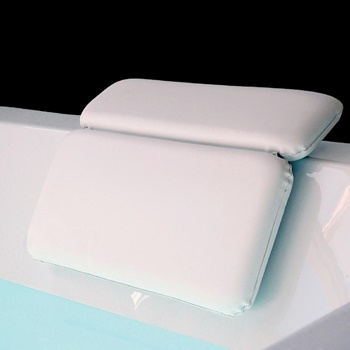 If you want to enjoy a luxurious experience, then you might want to go for this Gorilla Grip pillow. Coming with a very soft and smooth surface, this is the pillow you can turn to when you need to feel the warmth and comfort of a real bath pillow.
No matter if you want to use it in a bathtub or a jacuzzi – this pillow will work for most tubs. Furthermore, it can accommodate multiple tub sizes. As for the attachment method, it has 7 strong suction cups meant to offer stability for your product.
The pillow is pretty large and has a big 2-panel design – therefore, both your head and your neck will get the support they need. The same can be said about your shoulders. The orthopedic support is great if you suffer from any pain, as it will make you feel better.
Last, but not least, the pillow is very easy to clean, as all you need is a clean cloth. Once you're done wiping it, you can let it dry and you can reuse it.
Pros
It is very easy to clean
It's waterproof
It has orthopedic support for great comfort
Cons
The pillow's suction cups may slip
7. Aquasentials Inflatable Bath Pillow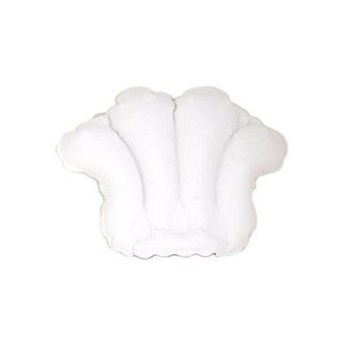 This puffy pillow isn't only great for neck support, but it also looks adorable. The shape looks very similar to a seashell, which only goes perfectly with the bathroom design. Besides, since it's made of terrycloth, you will surely feel like you're being "swallowed" by soft clouds while resting your head.
This white pillow has 4 sectioned parts, thus allowing you to adjust it as you wish. It offers great support for your neck, shoulders, and head, and it's a good way to soothe any pain in those areas. If you want to relax in the water and have a spa-like experience at home, you can be sure that this pillow will offer you a hand.
There are 4 suction cups added to the pillow, each one of them serving to secure the item to the edge of the bathtub. It should be stable enough not to slip. Moreover, the material is quite durable. The pillow is very likely to last you for a very long time if you know how to care for it.
Pros
Very soft and comfortable
The design is adjustable
It doesn't slip easily
The pillow looks very nice
Cons
May start growing mold after a while
Bath Pillow Buying Guide
It's extremely important to know how a high-quality bath pillow should look so that you don't waste your money. This way, you will end up with a product you're happy with, and a good and durable one at that. If you want to know what a good bath pillow should have, we'll list a few things below.
1. Anti-Mildew
One of the worst things that could happen with a pillow is for it to grow mold and mildew. They tend to appear in damp places, and they're very dangerous for your health. Since your pillow will be kept on the edge of the bathtub, the chances are that it will come in contact with water at one point, so you have to make sure nothing bad is going to happen.
There are plenty of bath pillows on the market that is made of good materials that don't allow mold and mildew to settle. Of course, it is possible to get rid of mildews from bath pillows, but it is better to be careful. Therefore, you should look for items made of materials that are naturally breathable, and don't become a breeding ground for bacteria. Otherwise, you'll have a hard time with the nasty odors.
2. Good Suction Cups
One of the downsides with many bath pillows is represented by the suction cups. They are not always that good, so the pillow often tends to slip and fall from under your head, which is very annoying in the long run.
For this reason, it's ideal to have a pillow with top-notch suction cups, which won't lose their effectiveness too easily. If you don't do that, you will have to constantly deal with attaching the pillow again and again.
3. Material
You can't exactly settle for the bath pillow with the least quality. You should always look at what a pillow is made of before you spend your cash on it. Bath pillows can be made of vinyl, PVC, or fabric, while some of them can be simply covered in fabric.
Vinyl may be the best option because it's waterproof, and it's also very soft and warm to the touch. Other materials may be good, but vinyl is the best one out of the bunch.
4. Quick Drying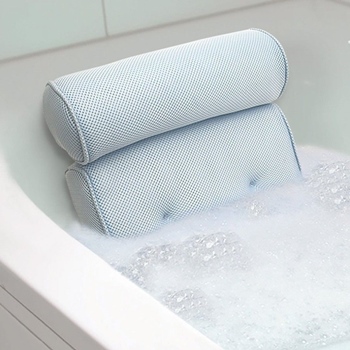 To avoid mold and mildew, you need something that dries quickly after you clean it. Many bath pillows come with the quick-drying feature – this means that they won't stay damp for too long after you're done cleaning them. It's ideal that the pillow can dry in the air after the cleaning process.
Also, look for machine-washable pillows, as they are easier to take care of after each use, and you can leave them to dry with no problem.
5. Price
Price may matter sometimes too, especially if you don't have too many funds and want to settle for something pocket-friendly. Not all bath pillows are so expensive. You can find something for a convenient price, while still being able to enjoy the same benefits.
6. Size
Depending on your needs and wishes, you should choose a pillow that is able to match your requirements properly. You will see various sizes as you browse for bath pillows, and each one of them comes with its own benefits.
For instance, some cushions will be able to provide much better support for your neck, shoulders, and head if they're bigger. These will also make sure to keep your back in a healthy position and prevent potential pain.
FAQ About Bath Pillows
In order to choose a good bath pillow, you need answers to every question. Here are some of the most frequently asked questions regarding bath pillows:
1. Can Bath Tub Pillows Be Washed in the Washing Machine With No Damage Risk?
Yes, there are some bath pillows that can be safely cleaned inside the washing machine with no problem whatsoever. However, you do need to check the material the pillow is made of, as not all of them are suitable for this method. So, if you want to use this simple method, you'd better pick a machine washable pillow.
2. Do I Also Need a Bath Pillow for My Child?
If you have a child, then a bath pillow will surely be suitable for him/her as well. There aren't any risks with it, especially if the child is already old enough to bathe alone.
3. How Many Suction Cups Should a Bath Pillow Have?
As many as possible. In general, bath pillows with multiple suction cups stick to the bathtub much better than those with fewer. If possible, buy one that has seven or more suction cups, for extra support.
In addition to our experiences, you can check further tips for bath pillows.
Wrap Up
It's easy to see how the best bath pillow can make it hard for you to leave your bathtub ever again. With the great comfort it offers, you'll create your own little spa, all without having to leave your beloved home.
A bath pillow can relieve your neck and shoulders pain and offer support for your head while you're relaxing in the water. Bath pillows are becoming more popular as time goes by, so if you want to buy one for yourself, you have nothing to lose.
Hopefully, our bath pillow reviews have shown you the different sides to such products, and the buying guide was insightful enough to help you make a choice. Use our information as guidance when you're shopping for these pillows and if you need any other tips regarding your bathroom units, please check our homepage.