Getting the best freestanding bathtub can really change your bathroom for the better. More often than not, their design is gorgeous, with a uniqueness of their own, and no matter the budget, you can find something nice and fit for you.
But finding the right freestanding tub is not exactly the easiest task. Don't worry – we're here to give you a hand in buying a great tub. This guide will give you plenty of useful information, together with freestanding tub reviews to get you started.
See The Quick Comparison Chart
Freestanding Bathtub Advantages and Drawbacks
When you're about to buy a freestanding bathtub, you should, of course, consider the pros and cons. These will help you balance them and see if the tub is worth it in your situation, or if you should reconsider and look for another product. Here are some of the pros and cons of freestanding bathtubs:
1. Advantages
1.1 They bring nostalgia
One of the highlights when it comes to freestanding tubs is the nostalgia they give you. They were very popular back in the day, and having the same type of tub today, despite it looking modern, will give your bathroom a traditional aspect. Concurrently, they can replace an existing bathtub – and these days, they are quite fashionable.
1.2 You have more wall space remaining
Built-in bathtubs can be a little annoying because they cover a big part of the wall. Unlike them, freestanding ones will be placed in any preferred spot, allowing you to showcase your nicely designed wall tiles. In addition, this saves some space too. Of course, that's not to say you have to run away from built-in bathtubs but getting one will have you sacrifice a lot of wall space.
1.3 They look nice
Nobody would like an ugly fixture, that's for sure. The goal is to have a functional, yet nice-looking bathroom, and with a freestanding bathtub, that won't be a problem. A lot of these bathtubs are eye-candy, making you proud to show your guests around. For an elegant touch, they work amazingly. You can also get help from our bathtub caddy reviews to use with them for an even better look.
1.4 They give the impression of more space
If your house has a large bathroom, then a freestanding bathtub will give you the impression that there is even more space. Once again, since they're not built-in, they don't take wall space. The area around you, as well as underneath in some cases, will be free, meaning you will have more space when stepping on one of the best memory foam bath mats outside the tub.
1.5 You'll feel like you're in a SPA
Do you have no time to go to an actual SPA because of your chaotic schedule? Don't worry – a freestanding bathtub will solve the issue. As they allow you to feel nice and comfy, they will give you the feeling of a SPA, thus bringing that experience home.
2. Drawbacks
2.1 Space requirements
One of the things that could be a disadvantage when it comes to freestanding bathtubs is the amount of space they take. You will not only need to check the size of the tub and see if it fits – but you'll also have to make sure you can walk around it too. As such, it's only suitable for bigger bathrooms.
2.2 They're pricey
If you don't have such a big budget, a freestanding bathtub might not be the best option. These fixtures are quite expensive, being a luxury item. Only buy one if you know you have the funds for it.
2.3 You'll do the pipework
Installing it will give you some additional work to do, as you'll be the one having to get the pipework done. Or, you can ask for the help of a specialist. However, if your floor is made of concrete, then you should give up on getting one of these fixtures.
Best Freestanding Bathtubs Comparison Chart
PRODUCT
DETAILS

Empava 48″ Freestanding Bathtub

Price: $$$
Customer Rating: 4.2
Weight: 86 lbs
Gallons: 58.11
Dimensions: 47.24 x 31.49 x 30.7 inches

View On Amazon

Wyndham Collection Soho 72-inch Freestanding Bathtub

Price: $$$
Customer Rating: 3.9
Weight: 127 lbs
Gallons: 65
Dimensions: 31.2 x 71.5 x 23.8 inches

View On Amazon

ARIEL Platinum AM128JDCLZ Whirlpool Bathtub

Price: $$$$
Customer Rating: 4.1
Weight: 253 lbs
Gallons: 60
Dimensions: 71 x 37.4 x 27.5 inches

View On Amazon

AKDY F210 Free Standing Bathtub

Price: $$
Customer Rating: 4.0
Weight: 101 lbs
Gallons: 79
Dimensions: 66.9 x 30.5 x 30.5 inches

View On Amazon

MAYKKE Barnet 61″ Modern Oval Freestanding Bathtub

Price: $$$
Customer Rating: 4.0
Weight: 82.7 lbs
Gallons: 52.83
Dimensions: 61 x 30.7 x 21.6 inches

View On Amazon

WOODBRIDGE 67″ Freestanding Bathtub

Price: $
Customer Rating: 4.3
Weight: 67 lbs
Gallons: 60
Dimensions: 67 x 31.8 x 23 inches

View On Amazon

FerdY 67" Freestanding Modern Bathtub

Price: $$
Customer Rating: 4.3
Weight: 93 lbs
Gallons: 60.8
Dimensions: 66 x 32 x 23 inches

View On Amazon
Best Freestanding Bathtub Reviews
1. Empava 48″ Freestanding Bathtub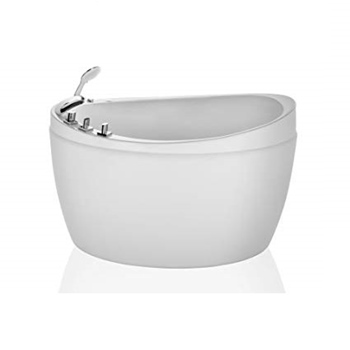 Some people want their products to be made in the U.S.A. In case you're one of these persons, you might find this product appealing. It has quite a simple look, but that works great for individuals who don't want anything too detailed and care more about the usage of the product rather than its looks.
Made of 100% glossy white acrylic, the installment was reinforced with fiberglass too. This has been done to ensure durability and thus save you potential reparation or replacement costs.
Likewise, the design is versatile – it matched any décor, and it also lets you use any tub filler if you want a specific type of bathroom. However, you'll have to buy your own tub filler since it's not included with the bathtub.
The spa bathtub should be big enough to let you fit and sit comfortably too.
Pros
Durable finish to make sure it lasts
It has brushed nickel drain and overflow to prevent spillage
The double insulation will maintain the right temperature
It's eye-candy
Cons
Some customers complained that the company was slow to respond when contacted for an issue
The drain might start leaking
2. Wyndham Collection Soho 72-inch Freestanding Bathtub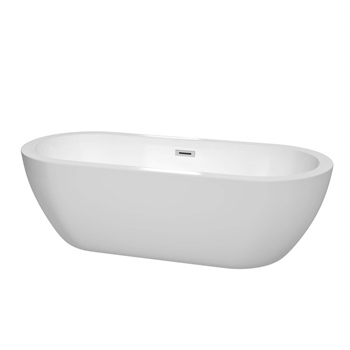 Not all bathtubs are deep enough, which could cause a problem when you're trying to bathe and feel comfy – but it's not the case with this freestanding bathtub. If you're looking for something deeper, then you can rest assured that this one is what you should be checking out.
It has good quality as the acrylic construction is sturdy enough to allow you to handle and install it with no problems. To make that better, the installment comes with a two-year manufacturer's warranty.
The freestanding bathtub has a cable-driven pop-up drain and a waste overflow. These are included and installed within the product. You'll just have to make sure to buy a separate tub filler since there isn't one included.
Compared to casual steel or enamel bathtubs, this one is more comfortable, most likely due to the material and the actual quality construction. The installment is warmer to the touch in comparison to traditional tubs.
Pros
Fits in with any bathroom décor
The bathtub is very solid
It has overflow protection thanks to the pop drain
It's deep and comfy
Cons
There's the risk of it arriving with little damage like cracks
The instructions are not too clear
3. ARIEL Platinum AM128JDCLZ Whirlpool Bathtub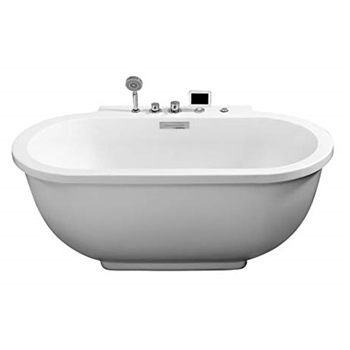 If you have a small bathroom, then you'll need a bathtub small enough to fit and not take up too much space – but it should also allow you to fit inside it and feel comfy. Luckily, this product might answer your prayers. It's not too big, yet not too small.
The things that attract a lot of people are the additional features coming with it. For example, it has a touch screen keypad, a waterfall faucet, as well as Bluetooth radio.
When you need some water action, this installment can give you what you desire. It comes with 14 multidirectional Whirlpool jets and 6 water flow settings, for hydro-massage and water action. Add that to the fact that it also has LED chromotherapy lighting.
And given you also want to make sure you don't buy something that breaks up easily, the manufacturers gave it a strong acrylic and fiberglass design. As such, it's durable.
Pros
Elegant design that adds beauty to the bathroom
The additional features add to your comfort and happiness
It used the latest technology
It was created with durability
Cons
The fittings might be a little loose
You won't find parts to replace the broken ones once the bathtub stops working
4. AKDY F210 Free Standing Bathtub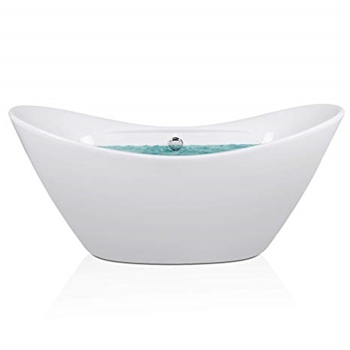 It would be a shame if you bought a bathtub only to see it doesn't have enough capacity. After all, you need to bathe properly. Well, this tub has enough capacity, suitable for any bathing desire of yours, or your family's. It's able to fit 79 gallons of water. This means you can easily clean yourself, your pet, or anything else you need.
The curved look will make it seem like a jewelry piece. It's very elegant and will surely add a stylish touch to most bathrooms. You can also easily place your head on the edge of the tub when you want to relax in the water.
The lack of a tub filler might be a little annoying, but you can buy one separately. The product includes the fittings needed to install the bathtub, though.
Pros
Durability has been ensured
The installment has a double coating and scratch & chip resistant acrylic
The flexible drainage pipe comes included
1-year limited parts warranty included
Cons
The pop-up drain in the center might have a slow leak
Customer service might be slow to answer
5. MAYKKE Barnet 61″ Modern Oval Freestanding Bathtub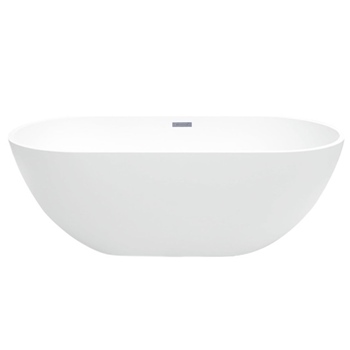 This product is worth buying if you're looking for something with a simple look, which is also easy to install. The bathtub can easily be installed without deadbolting or remodeling. To make it better, it also comes with leveling feet, so you can stabilize the tub regardless of the surface underneath it.
The design is simple, yet stylish. The edge is straight in all areas, while the installment has a smooth white color, being a match for any bathroom design, and making you feel like you're at the spa. The tub is also meant to last. The construction has been carefully made to last, being made of 100% pure acrylic material.
There's also an overflow and drain assembly, with a polished chrome trim included as well. Those who want to combine functionality with relaxation can look into this bathtub.
Pros
The tub is easy to install and adjustable
Both the interior and exterior finish are smooth
It has a drain and overflow trim
The design looks modern and luxurious
Cons
It might start peeling over time
Some buyers weren't able to return it
Some people received it without an overflow drain, despite the features stating there should be one
6. WOODBRIDGE 67″ Freestanding Bathtub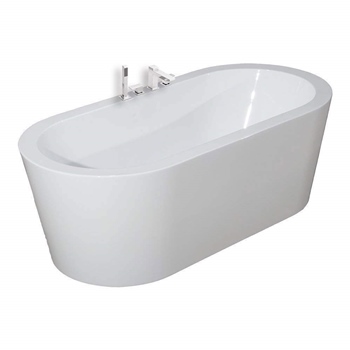 Since you need enough space when bathing, you must get a bathtub that can give you that space – this might be the tub you were looking for. The way it was designed makes it so that the bathtub is deep and wide enough, allowing you to sit comfortably.
This tub is made of acrylic and fiberglass. The construction is 100% white LUCITE acrylic and ASHLAND resin & fiberglass. But these are not exactly cheap materials, so this tub is not the most affordable.
The fiberglass is meant to increase the durability of the product, protecting it from damage. It is also easy to clean and maintain, an instant advantage.
Pros
It comes with a drain and with a pipe to prevent leaks
It has 5 years limited warranty on the bathtub structure and surface and 1-year limited warranty for the plumbing parts
Durable construction
It's very comfortable and offers space
Cons
Apparently, few buyers have declared the tub feels unsafe, as it sounds like it's about to crack
7. FerdY 67" Freestanding Modern Bathtub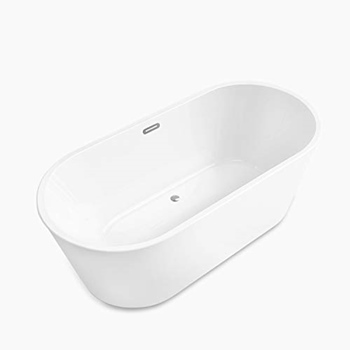 This freestanding modern bathtub is what you should settle for if you want a simple-looking, yet large soaking bathtub. It allows your whole body to soak in water and enjoy some good relaxation after a long, exhausting day.
One of the good things about it is the elegant design. If you care about the look of your bathroom, then you'd be doing it a favor by adding this tub. It will serve as a tub and a decoration as well.
The features specify that discoloration won't be an occurrence with this bathtub. If you've had bathtubs in the past that changed their color, you know how annoying this can be, especially when you want a pure white fixture. It is supposed to maintain its white finish for 10 years.
The tub has a capacity of 800 kg and includes the double drain and overflow. This is to prevent spillage from happening, so you can enjoy your bath.
Pros
White finish that won't get yellow for a long time
It goes with any bathroom style
The acrylic material is easy to clean and maintain
The product is cUPC certified
Cons
The drain connector looks like it's made out of cheap plastic
The sketchy diagrams do not match the tub drain
What Is a Freestanding Bathtub?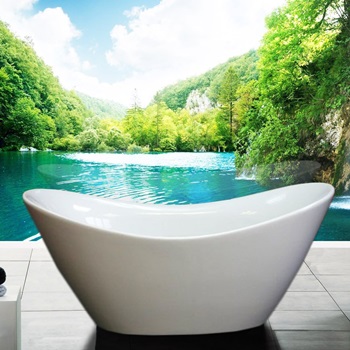 Freestanding bathtubs are called "freestanding" for a reason, as they're different from the traditional ones you're used to seeing in most homes. A freestanding bathtub is a tub you can place wherever you want. It is a fixture that can be put in pretty much any place in the bathroom, depending on where you have free space and where it is convenient for you.
Freestanding bathtubs are finished on all sides and can stand alone, without having to be glued to be built-in. They work the same way, though. Nevertheless, they are better looking and can make for a nice décor in any bathroom, while giving the user the feeling of a spa.
The demand for freestanding bathtubs grows with every year, and it's not a surprise considering how modern they look and feel. Some of them have futuristic and elegant looks and are also packed with some additional features for comfort – something that won't feel the same with a traditional one. Some of them have features for water action and massage, helping you relieve potential pressure points and feeling much happier after each bath.
These bathtubs are just great for people who love taking baths, long ones especially – so, if you're one of them, you should choose freestanding bathtubs. Likewise, apart from being beautiful and useful, they also come in various materials, shapes, sizes, styles and so on. That being said, you'd be better off with a freestanding bathtub from this point of view, in comparison with a built-in one.
Types of Freestanding Bathtubs
As previously stated, freestanding bathtubs come in multiple types. Therefore, you can choose based on your preferences, the style of your bathroom, or simply whichever looks the best to you. Here are some of the types you'll find in stores or online:
1. Double Ended
Just like the name suggests for these, they have two rounded ends, so you can bathe on any side you wish. The walls of the bathtub are usually sloped so you can feel comfortable. Thanks to this, you can lay your head on the edge while you're relaxing in the warm water. The ends are not raised either – everything is at the same level.
If you want to bathe with someone, the bathtub should fit both of you – but these also come in different sizes to accommodate your needs.
2. Japanese Soaking
The name of this one makes it quite unclear what it is. This freestanding bathtub is, however, really small – the smallest one in length. However, it is taller, and the person bathing is supposed to submerge in the water that will then reach up to their shoulders. Believe it or not, these may come in larger sizes to let you bathe with someone else, adding one additional integrated seat.
While great, they are not the best if you like lying in the bathtub as you do in your bed.
3. Double Slipper
Double slipper freestanding tubs have their sides a bit lower – basically, both ends are raised, and are perfect for couples. If you want to bathe with your significant other, the tub will let both of you lay your heads on each end.
4. Single Slipper
This one is similar to the double slipper, with the exception that only one end is raised, while the other is at the normal level. If you love sitting alone in the bathtub, this one is great to consider, especially given the added comfort it is able to provide. Thanks to the raised end, your back will have enough support to let you sit comfortably.
5. Single Ended
This is pretty much the most common style of freestanding bathtub you can meet in homes. With these, only one end is rounded. This one is meant for lounging, and the other one is meant for the faucet and drain.
6. Pedestal
This type of freestanding bathtub is called "pedestal" or "skirted" due to the fact that it uses a plinth to stand on the floor. While other bathtubs use claw feet, this one will really make you feel like standing on a pedestal – and who doesn't like that? They can be found in combination with other styles like a double-ended, single-ended, double slipper, single slipper and so on.
7. Clawfoot
This is the type of bathtub opposite to the pedestal ones. This is very popular and has been so ever since the 80s. Just like the pedestal ones, these items can be found in combination with other bathtub types. Additionally, they work amazingly for people who want to replace old clawfoot tubs, while maintaining the same beautiful, traditional look.
8. Walk-In
Walk-in bathtubs are great whether you have mobility problems or not. They feature a door-like part that will give you easy access to the inside of the tub, and you won't have to lift your legs every time you want to get in. Besides, they also look gorgeous.
It is also possible to build a freestanding bathtub yourself to reach your unique type.
Freestanding Bathtub Buying Guide
When you're shopping for a freestanding bathtub, you should be prepared. A lot of things come into play when you're buying one of these fixtures. And after all, you can't overlook this, not if you want to end up with the tub of your dreams.
Freestanding bathtubs have their own features that you must take into account before spending the money. Here's all you should look for prior to investing in one:
1. Capacity
Each tub has its own capacity. Some are able to handle more, some can only handle less. The capacity comes down to how you're going to use it, how many people are going to use it, as well as the size of your bathroom.
For example, if you have a bathroom that is big enough, double slipper or double-ended ones are larger and will properly accommodate inside the room. Generally, a standard bathtub will hold between 40 and 50 gallons of water, but that doesn't mean there aren't exceptions to the rule.
Before you decide on the right capacity, have the measurements of the bathroom ready to make sure you won't take too much space with it.
2. Size
Before buying the actual bathtub, the recommendation is to measure everything, from the size of the bath to the existing furniture inside. You must make a plan to be sure the bathtub will fit and not take unnecessary space. The area that your bathroom door needs in order to open and close should be considered too.
Moreover, make sure the tub you choose will be able to enter the doorway. Most of them have the right size for that, but it's better to be safe than sorry. Measure the passageways, stairwells, doors, and anything needed to get to the bathroom.
Also, consider your height and weight, and the same goes for the rest of the family members living with you. The tub needs to suit your needs. Whether the tub will be larger or shorter depends on you, and the size of the bathroom.
3. Installation
Installation is probably one of the most relevant things to consider regarding freestanding bathtubs. You already know that the tub should be measured before you buy it, but the installation process should also be on your list of considerations.
Does the fixture come with an instruction manual? Does it come with all the pieces required for the installation? Are you going to need a professional to put the tub into place? How are you going to get the fixture inside the bathroom?
All of those questions should find an answer – an answer that will determine how easy it will be to install the bathtub. You will also need to make sure there are at least four inches between the surrounding walls and the edges of the bathtub.
Not to mention that you also have to consider the weight. Some floors are not strong enough to hold any type of bathtub, so don't forget to check out this aspect.
4. Style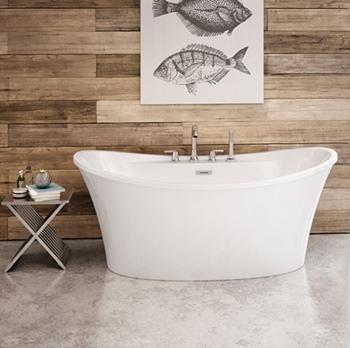 Some people don't mind the look of the tub. After all, you're going to use it to clean yourself, so why does it matter how it looks?
Well, in some cases, it matters – particularly if you're a perfectionist and want everyone to look nice. Luckily, with freestanding bathtubs, you can't really go wrong, as all of them are gorgeous. Still, you need to think of a style that would fit the surrounding décor.
Think about the look you're trying to achieve – is it a traditional one, or a rather modern one? These will help you decide on the aspect of the bathtub you'll purchase.
For example, a classic slipper bathtub might do wonders if you're just going for a traditional look. Conversely, a metallic finish is the choice to go for if you want a modern design.
5. Overflow
An overflow is a must, especially if you're someone who tends to take a lot of baths. In certain situations, the water might go above the safe level and it risks overflowing and flooding your house. To prevent this, some bathtubs come with overflow protection.
In general, overflow protection is a drain built into the interior of the fixture, and once the water rises too high, it will not allow it to spill over the floor. It's essential to choose a tub that has this feature, just in case. You'll feel much safer like this.
6. Material
You are already aware that bathtubs can be made of various materials. They can be cast iron, resin or acrylic, although you can find some made of stainless steel, copper or stone – these materials are more uncommon.
The most common choice for freestanding bathtubs is acrylic. An acrylic tub is lightweight, so reinforcing the floor to install it will not always be necessary. This makes it more convenient, and a favorite choice for most people looking for one of these tubs.
Resin tubs are heavier, so you might have to reinforce the floor for them. Nevertheless, they are usually provided with an overflow system, which is built-in. They also look really beautiful as they have a modern style.
And last but not least, cast iron tubs are very heavy. Reinforcing the floor is one of the first things to look into if this is the material you're going for. On the good side, they are durable, and you are less likely to require reparations or replacements for them. For vintage homes, they are a suitable choice.
7. Faucet
Apart from the actual bathtub, the faucet is also something you should be looking into. Tub fillers come in various styles, like tub inner-wall mount, freestanding, deck mount and so on. But it all comes down to the material and type of bathtub that you choose, as it will determine your tub filler options.
For example, acrylic and cast-iron tubs might have a lot of options for faucets, such as the rolled rim, inner-wall tub drillings, and so on. Before choosing one, get familiar with each type of faucet, and find out which one is right for your own tub.
How to Install a Freestanding Bathtub
1. Make a Plan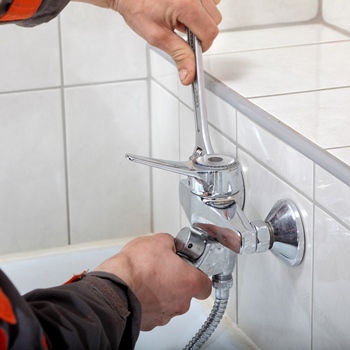 Prior to starting the installation, you need to make a plan to ensure everything will go accordingly. It wouldn't be too pleasant to purchase one before having the permission to install it or buying one to find out it won't fit.
Make sure you check your local building codes so the bathtub will be legally installed. Also, if you have a house that is part of a homeowner's association, it will be ideal to talk to the board or read through the CC&Rs to ensure you get permission.
Think about whether you will need a curved waterfall spout in the wall, a spout rising from the floor, a showerhead mounted on the ceiling and so on. You need to know how the tub will be filled. Also, check with an engineer, inspector or architect prior to purchasing the tub, as you need to make sure that the floor is strong enough to support the new installment.
2. Install the Bathtub
Once you have everything that you need for installing the tub, get to work. All units should come with an instruction manual to help you out when installing them. Follow the manual closely, and don't be ashamed to call the manufacturer and ask them about any curiosity or problem you experience. Use the proper tools so you don't damage anything. If there's something you think you won't be able to do, make sure to call a professional so that nothing goes wrong.
Make sure to clean the drain hole as well, so it doesn't deal with debris and dirt. Also, be sure to use a small dab of silicone to squeeze around the drain body once it's dry.
3. Clean Everything Up
After you're done with the installation process, clean up the area and check whether everything's in place or not, so you can fix mistakes early on. However, abstain from filling the bathtub and using it as soon as you're done installing it. You have to wait 24 hours to use it.
You can also check other freestanding bathtub installations to be sure.
Freestanding Bathtub Maintenance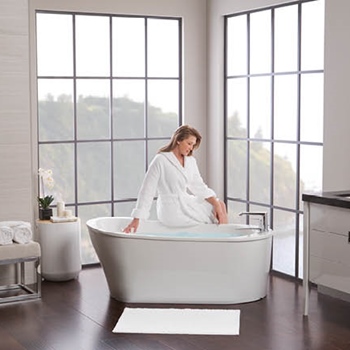 Maintaining your bathtub is actually quite easy. You need a brush in case you're dealing with any stains. A toothbrush works too since the threads are strong enough to eliminate stains. Use bleaching powder water and rub the stains until they go away.
For stains that are more stubborn, you can use a lemon dipped in salt and rub against the stain. When you're dealing with scale, lemon can be combined with vinegar instead and used to combat the problem. On colored bathtubs, refrain from using cleaning agents that have bleach in them, or your tub will quickly lose its charm and its color. All cleaning solutions that you use should be mild and gently clean the bathtub.
For regular cleaning, simply use a soft sponge or cloth to clean the surface, together with a mild detergent. Glass cleaners can be used for acrylic freestanding bathtubs as well.
You can also check some ways to re-caulk your bathtub.
Mold and bacteria are annoying to deal with, but they should be eliminated immediately. As such, perform some bleaching powder watering to solve the problem (only on white tubs), but make sure to rinse quickly.
Has the surface of the bathtub been scratched? Don't worry – you can always use a clean cloth and wipe the area with colorless automatic grinding force solution. Afterward, you just need colorless wax to coat the area and fix the scratch. However, keep in mind that you shouldn't use the wax on the bottom of the tub. This could cause slipping, something you'd preferably avoid.
FAQ About Freestanding Bathtubs
Sometimes, people have curiosities when it comes to these installments, which is normal. So, if you have some specific questions, here are some of the most frequently asked ones:
1. How can I level my bathtub?
Leveling a bathtub should not be that difficult. You basically need to take measures of the tub's legs' length or measure the distance between the side flanges' bottom and the base. Keep in mind that this only works for tubs that have no decorative legs, as some tubs come with legs hidden by mortar.
Measure the tub base, and trace an outline of it on the floor, depending on the area of installation. Spread mortar on the marked area – 1 inch deeper – and place the tub on top. Put the tub on the mortar and push it until you notice the side flanges are reaching the floor.
A level should be laid on the side of your bathtub and pushed down on one side, in the event that you want to make a tub level. Keep doing so with the other sides of the tub, and always check to make sure they're in level.
Use a towel to wipe away any leftover mortar that was squeezed from under the bathtub. Clean the area and let the mortar dry for a whole day.
2. Why are so many freestanding bathtubs made of acrylic?
More often than not, bathtubs are made of acrylic as the material comes with a series of benefits. It is very soft and supple, making it a great choice when the bathtubs need to have specific sizes. It's also lightweight and works better for rather sensitive floors.
Also, the material can retain heat and is more affordable. It is durable, because it's usually reinforced with fiberglass to prevent it from damage, and it's easy to clean and maintain as well. It has plenty of configuration, color and size options too, which could be another reason why it's such a common choice.
3. Is a freestanding bathtub better than a built-in bathtub? How?
This all depends on your preferences and options. A freestanding bathtub has a series of benefits that built-in ones might not give you. For instance, they are very stylish. If you're looking for a traditional, stylish look, they're the ones to go with. Meanwhile, they also give you the feeling of a spa, another amazing thing – especially if you don't have time to go to an actual spa. It also offers you enough space to move around the fixture and doesn't cover the wall space – something you won't have with a built-in bathtub.
Of course, in some cases, you cannot consider a freestanding tub. If the bathroom is small, such an item will take up too much space – so, a built-in tub is much better.
Wrap Up
It can be daunting to go on the search for the best freestanding tub, but in the end, it's not impossible. Some of them have amazing functions and look gorgeous, but others have some disadvantages and are not always the best option. It's best to look at the situation from all angles – how good is the bathtub? Will it help you? Do you have space for it? Do you have the money for it? All these questions need an answer before you give away your money.
The information presented in this article should be enough to enlighten you and help you make a decision. Moreover, the freestanding tub reviews should have also shown you some models you can take into consideration. Maybe you already set your eyes on one of them, but if you haven't, no worries – plenty of other models are waiting on the market. Hopefully, you'll end up with the bathtub of your dreams. Also, do not hesitate to check our homepage – we have a lot of useful information about bathrooms and fixtures, which may come in handy.