If you're battling humidity (and potential mold) from having a badly ventilated bathroom, the best bathroom exhaust fan may be the right solution for you.With an exhaust fan that's mounted either on the ceiling or the wall, the excess moisture won't be a problem anymore.
Since we don't want you to go through the trouble of dealing with mold, we have come up with this buying guide. Here, you will read useful information, tips, and some bathroom exhaust fan reviews to help you decide on the right one for you. Let's get started!
See The Quick Comparison Chart
Advantages of Having an Exhaust Fan in Bathroom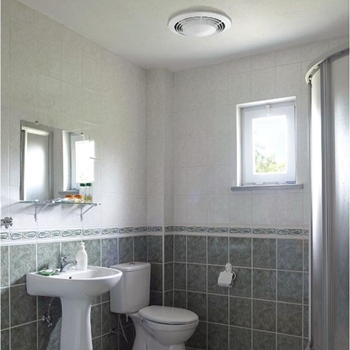 You would never guess how much of a change a bathroom exhaust fan can provide. Basically, it will have a huge influence on the air in the room. So, here are some of the biggest benefits you'll enjoy with this type of unit:
1. It Reduces Moisture
Because you take hot showers and use so much water in the bathroom, the environment gets really humid. The biggest problem with this is that the walls and wallpapers might be damaged, and mold might also appear. Mold can be a drag to deal with since it's hard to get rid of and can negatively influence the air quality.
Thankfully, installing an exhaust fan will help disperse a lot of the moisture, and let you use a bathroom that isn't ruined by humidity.
2. Mirrors Don't Get Foggy Anymore
Aren't you tired of having to wipe the mirrors of the fog that forms after a hot bath? It's annoying, especially since it leaves traces on the surface of the mirror. Wiping it will cause streaks too. Also, exposure to too much moisture isn't beneficial for the mirror either.
Bathroom exhaust fans can help solve this issue too, so you'll have the best fogless shower mirror.
3. Odors Won't Be a Problem
Odors can be caused by a lot of factors, be it cooking, smoke, or anything else. But when you're using the bathroom, it's a shame if your experience is being tainted by a bad smell, and you have to hold your nose all the time. Since exhaust fans ventilate the air, they help get rid of bad scents too, automatically being a blessing in any bathroom.
4. Air Quality Improvement
Since such a unit can keep mold and mildew at a distance, you can rest assured that your asthma or allergy symptoms won't be triggered. All it takes is a high-quality exhaust fan, and the problem will be as good as gone.
Best Bathroom Exhaust Fans Comparison Chart
PRODUCT
DETAILS

Broan Sensonic Bathroom Exhaust Fan

Price: $$$
Customer Rating: 4.3
Weight: 11 lbs
Air Flow Capacity: 110 cfm
Dimensions: 11.4 x 7.6 x 10.5 inches

View On Amazon

Panasonic FV-08-11VF5 WhisperFitEZ Fan

Price: $$$
Customer Rating: 4.5
Weight: 12 lbs
Air Flow Capacity: 110 cfm
Dimensions: 10.2 x 10.2 x 5.6 inches

View On Amazon

Broan-NuTone 678 Ventilation Fan

Price: $
Customer Rating: 4.3
Weight: 3.79 lbs
Air Flow Capacity: 50 cfm
Dimensions: 8.2 x 5.8 x 8 inches

View On Amazon

Delta Breez SLM80 Slim 80 CFM Exhaust Fan

Price: $$
Customer Rating: 4.3
Weight: 1 lbs
Air Flow Capacity: 80 cfm
Dimensions: 11.2 x 10.5 x 4 inches

View On Amazon

Broan-Nutone 9093WH Exhaust Fan

Price: $$$$
Customer Rating: 4.4
Weight: 20 lbs
Air Flow Capacity: 70 cfm
Dimensions: 18 x 18 x 12 inches

View On Amazon

RadonAway 23030-1 RP145 Radon Mitigation Fan

Price: $$$
Customer Rating: 4.7
Weight: 6 lbs
Air Flow Capacity: 166 cfm
Dimensions: 9.7 x 9.7 x 8.5 inches

View On Amazon

Broan-NuTone 688 Ceiling and Wall Ventilation Fan

Price: $
Customer Rating: 4.5
Weight: 3 lbs
WAir Flow Capacity: 50 cfm
Dimensions: 7.5 x 7.2 x 3.6 inches

View On Amazon
Best Bathroom Exhaust Fan Reviews
1. Broan Sensonic Bathroom Exhaust Fan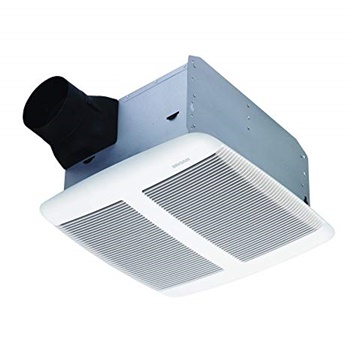 This bathroom exhaust fan can be a good choice for people who don't want to spend too much time figuring out the unit. Simply put, this product is easy to install and can also be used to replace an already existing exhaust fan.
Safety has not been overlooked either. The unit can safely be installed over the shower or bathtub as long as the branch circuit is GFCI protected. Also, the motor can operate continuously at 1.0 Sones and 110 CFM.
Moreover, the exhaust fan has built-in Bluetooth Dual High-Fidelity Sensonic Speakers. And what's good is that the manufacturers worked to ensure the audio is amazing and can still keep its quality even when behind the fan grilles.
So, if you want to enjoy some music while taking your sweet time showering, this product will suit you.
Pros
It can operate continuously
The ventilation is effective, decreasing humidity and odors
ENERGY STAR qualified
The motor is permanently lubricated
Cons
While the speakers are clear, they only work when the fan is turned on, which can be annoying for some people
Some customers have experienced connection problems with the Bluetooth feature and their phones
2. Panasonic FV-08-11VF5 WhisperFitEZ Fan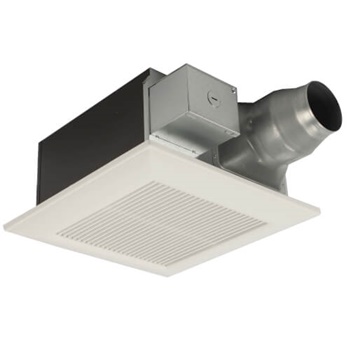 This exhaust fan model from Panasonic is a good choice for those who can't stand the noise. The unit has less than .3 sones when operating – which means that it will be quiet enough to not disturb you from any activity.
It does what any exhaust fan should do: work to rid you of any excess humidity, or any odor in the atmosphere. It's also pretty quick and easy to install. It comes with 6" and 4" ducts to help with the duct design, as well as layout.
This bathroom exhaust fan is also ENERGY STAR certified. So, it's also eco-friendly and shouldn't present any danger to you or your family. It also has GFCI protection so it can be used close to a shower or a bathtub. That's a pretty good advantage.
The quiet fan can be used either as a new unit or to replace an existing one. For 2 x 6 construction, this product is great.
Pros
It will not take too long to install
The main lights can light the surrounding area, being an advantage during the night
The fan speed can be easily accessed and switched as the cover can be pulled down towards you
Cons
Confusing instructions manual
While the features specify that the operation is quiet, some buyers have complained that the appliance can be loud
3. Broan-NuTone 678 Ventilation Fan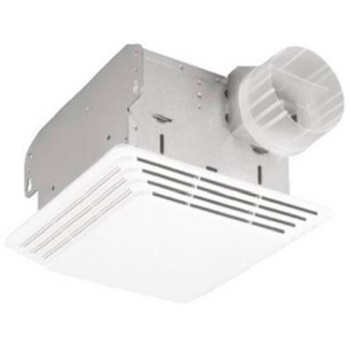 Even though you install the exhaust fan in the bathroom, where not many people will see it, you don't want it to look bad either. After all, the bathroom just feels better if it also looks good. And this unit can accomplish that.
Unlike other exhaust fans that seem to take up a lot of space, this one is smaller and pretty cute. It won't feel out of place. As for its efficiency, it has a fan and light combo to help get rid of mildew, humidity, and odors.
Even more, the unit is very easy to put in place, which is an advantage if you are not an expert at these things.
Pros
Safe to use near showers and bathtubs
Has shatter-resistant light diffusing lens to last
Can add lighting to the room
Easy to install
Can be newly installed or replace old exhaust fans
Cons
It may be a little noisy
Apparently, a few buyers have had an issue as the fan wasn't powerful enough, or arrived damaged
4. Delta Breez SLM80 Slim 80 CFM Exhaust Fan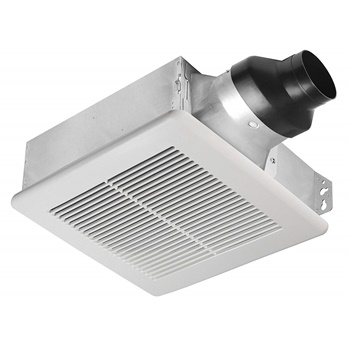 With only 0.6 sones of operation, this might be a suitable product for those sensitive to loud sounds. Since it only operates at that capacity, you won't get headaches from the fan's sound.
Aside from being quiet, it might also be good for people who want an exhaust fan but want to save some cash at the same time. The unit doesn't require a lot of energy to work, which means you won't spend a lot of money on energy bills.
In order to be more reliable, the features specify that the appliance has a DC brushless motor. Not to mention that the construction is also done with galvanized steel to make sure there will be no corrosion and your fan will be protected.
The item can fit in a 4" wall, and it's UL approved for wall and ceiling mount. Therefore, you can choose depending on which position is more convenient.
Pros
Durable and able to resist corrosion
Energy-saving operation
It operates quietly
It has a very nice look
Cons
The fan might not be the most powerful one, and might not remove all excess moisture
You might encounter issues if you choose to install it yourself.
5. Broan-Nutone 9093WH Exhaust Fan
If strong performance is what you value the most in bathroom exhaust fans, then you can give this product a try. While a lot of exhaust fans only focus on one specific benefit, this one seems to look good but have a good operation too. It has a 1500W heating element, and the ventilation fan is of 70CFM.
Moreover, it doesn't have complicated commands either. In fact, the fan is easy to use, having a four-function wall switch. This will allow you to easily manage the functions right out of the box, which is extremely convenient.
The product comes as a combo because it also lights up the room. Also, if you don't want a huge, bad-looking unit, you should know that this one has a beautiful finish – all for your convenience.
Pros
Safe to use
Doesn't take too much space
Has a very powerful operation
It looks very nice and compliments the bathroom
The galvanized steel housing makes it durable
The nightlight is very soft
It's easy to operate thanks to the four-function wall switch
Cons
It's pretty loud
The light bulbs are not too easy to change
6. RadonAway 23030-1 RP145 Radon Mitigation Fan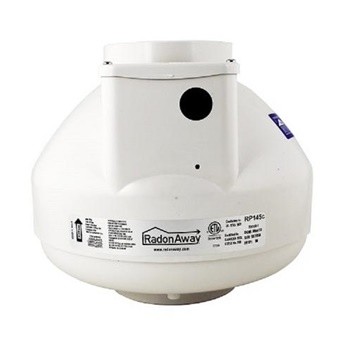 Safety is one of the most important aspects to take into consideration, especially when talking about appliances used in the bathroom. Since the environment will be automatically humid and water might reach the unit, it needs protection. Well, this bathroom exhaust fan has sealed seams in order to inhibit radon leakage, while the motor is thermally protected.
Moreover, this unit is energy efficient and you'll save some money on your bills. The features specify that it is able to have a quiet operation too – which is another important aspect. Whether you want to use it at home or in a commercial environment, the bathroom exhaust fan will suit both.
The installation is simple, and you can use it to replace older exhaust fans as well.
Pros
The unit can be installed easily
The noise is not loud enough to be a nuisance
It's safe to use
It can work 24/7
Cons
Many customers were not pleased with how little the bathroom exhaust fan lasted
There's no warranty for it if you install it yourself
7. Broan-NuTone 688 Ceiling and Wall Ventilation Fan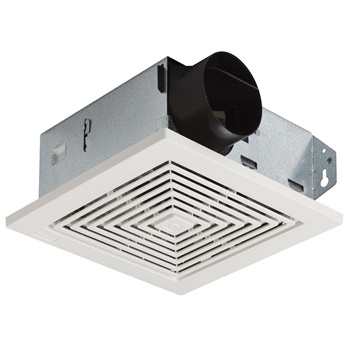 Versatility is always welcome with most products, and this is what this fan can provide. It is able to decrease humidity levels, and it can also rid you of cooking odors, tobacco smoke, and any other unpleasant smell.
Moreover, the unit is small and has quite a nice look to it – which means that it will fit in with most bathroom decors.
The motor is always lubricated. Besides, it has a Broan-designed polymeric blower that ensures a good operation whenever you use it. Also, installing it is easy as well. You just have to mount the grille without tools, and the exhaust fan will be ready to serve you.
The polymeric grilles have an advantage too: they can be painted as you wish, so you can make sure the color matches the décor of the bathroom. That's pretty amazing from a design point of view.
Pros
It's easy to replace older fans with it
Great quality for the price
Quieter than many other similar appliances
Cons
The power wires can be a little difficult to fit inside the small box
How to Size a Bathroom Fan?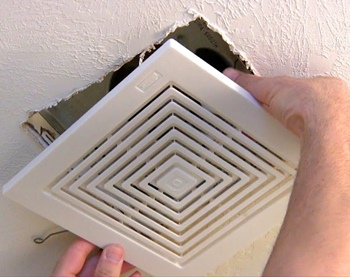 When it comes to choosing a bathroom exhaust fan, you have to take into consideration the size. However, size doesn't refer only to the actual dimensions of the fan – it also includes the power or the amount of air it's able to move.
To determine this, one must take a look at the cubic feet per minute. If you have a smaller bathroom, which is 100 square feet or lower than that, a standard-sized exhaust fan is what you should settle for. Normally, you need one cubic foot per minute per square foot. So, you have to find out the square footage of the bathroom to make sure you choose the right size for your exhaust fan.
In order to do that, the "secret" is to multiply the length of the room times the width. Sometimes, you can oversize the fan and get better power, making it more convenient.
In certain situations, though, you might have a large-sized bathroom – which means that a standard-sized exhaust fan would not be enough. A large bathroom means one that is above 100 square feet.
To calculate the size of the suitable exhaust fan for your bathroom, what you need to consider is the number of fixtures you have there. The formula involves adding up the CFM ratings for all the fixtures in the room. For example, 50 CFM for the toilet, 50 CFM for the bathtub, and so on.
If all you have in the bathroom is the toilet and the shower, then a 100-CFM fan should be enough. Meanwhile, if your bathroom has some additional fixtures like a jetted tub, combined with the toilet and shower, you'll need a fan of 200 CFM.
Keep in mind that if you have a bathroom with an enclosed shower or toilet, installing multiple exhaust fans might be the best course of action.
Bathroom Exhaust Fan Buying Guide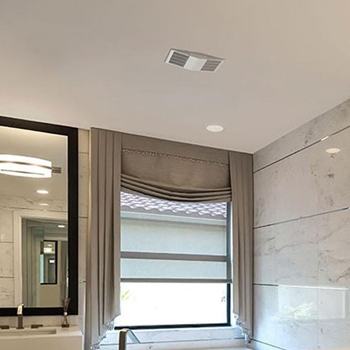 Bathroom exhaust fans may not be rocket science, but if you've never had one before, or you made a wrong choice, it might be hard to know how to find a good one. This is why, in order to pick something qualitative, there are some aspects to keep in mind. Here is what you should pay attention to:
1. Durability
As you'll be able to see from our homepage, durability is an important aspect for bathroom appliances. One of the worst things that could happen is to end up with an exhaust fan that breaks apart in a very short amount of time. You spend money on it after all, and even if the product has a warranty, it's still not pleasant to see it break down. For this reason, you should always look for specific features to ensure the fan will resist humidity and other factors.
See whether the casing of the fan is made of galvanized steel or not, and make sure that the motor is always lubricated. Likewise, ensure the exhaust fan is able to sustain the humidity. The best thing to do is to check the features, but also the reviews of the product, so you know if the benefits are actually true.
2. Noise
Everybody hates an appliance that sounds like a helicopter about to take off. It's not pleasant, and it isn't only deranging for your ears, but might also distract you from certain things. So, preferably, you should look for exhaust fans with low noise levels.
For exhaust fans, the noise level is generally measured in sones. So, the lower the sones number, the less noise the unit generates. Make sure you choose wisely.
3. Exhaust Fan Combo
Wouldn't it be cool if an exhaust fan had more features apart from circulating the air in the bathroom? Well, that's a thing. There are light/fan combo exhaust fans that not only get rid of humidity and odors by moving the air around, but also have a light bulb to brighten the area when you need to use it.
If you tend to take trips to the bathroom during the night, it might be better to have this as a light source than the actual lighting system. It's softer and won't hurt your eyes. It can also totally change the mood in the bathroom.
4. Mounting
You want a unit that is easy to mount, but that all depends on your bathroom and your preference. When it comes to mounting, there are two options for bathroom exhaust fans: wall and ceiling installation.
But you need to know that the ceiling is able to support the weight of the appliance, so you don't end up ruining anything. Take the fan unit's construction, as well as the bathroom's construction into consideration before you decide the type of mounting for your exhaust fan.
5. Additional Heater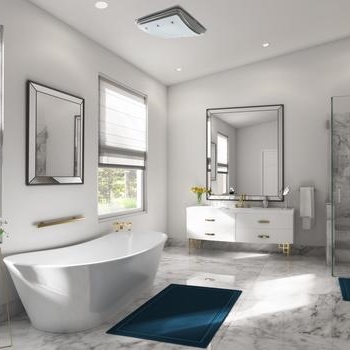 A few exhaust fans out there also come with a heater. More often than not, you end up feeling a little cold after a shower, or the bathroom itself gets cold during the winter. It's not too pleasant, which is what makes a heater such a wonderful extra to an exhaust fan.
So, if you were in need of the best bathroom heaters anyway, it would be a wiser decision to have an exhaust fan that has this feature. This way, you don't have to spend money on two separate appliances.
6. Warranty
Since some appliances might stop working early on, it's frustrating to have to spend money on reparations. So, it's always essential to have some sort of protection against damages and anything of the sort. In this case, you must look for a warranty.
A warranty will promise you durability for the item for a long time to come. But you should be careful what type of warranty you settle for. Some of them are shorter, of 1-5 years, but they do have a lot of advantages – guaranteeing the durability of the case and any other component.
There are also lifetime warranties, but these might be less convenient because they don't cover all the parts.
7. Energy Consumption
When installing a bathroom exhaust fan, the last thing you want is to spend more on electricity. Especially if you're on saving mode, it's ideal to find something that doesn't consume too much power. Check the specifications of the product to see how much it consumes, and check the reviews too, as they might mention it.
Also, make sure you don't assume an exhaust fan has lower power consumption simply because it has a smaller size compared to another. Size is not an indicator of how much the appliance consumes. Choose wisely and you won't end up with something that "devours" too much electricity.
8. Aspect
Normally, it doesn't really matter how your exhaust fan looks. What good does it do if you have an amazing looking fan with poor performance? Still, you may not want to settle for the ugliest unit you can find, especially if you have a beautiful, delicate décor in your bathroom and don't want to ruin it.
The color and finish of the exhaust fan must be considered in this scenario. Some fans have a rather modern aspect to them, while others go for a more traditional, or elegant look. It might seem weird to think about it, but there really are many options to choose from in terms of design.
There's an exhaust fan for any bathroom, so if you have the time to go on a search for the most aesthetically pleasing fan-operating unit, don't hesitate to do so.
9. Motion Sensor
If you want the exhaust fan to only work while you're in the bathroom, you can look for one that has motion sensor activation. This means that whenever someone walks into the room, the device will sense the movement and start operating. This can help you save on energy while ensuring that the unit does its job.
How to Install a Bathroom Exhaust Fan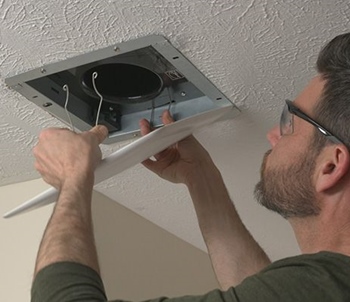 Usually, the installation of a bathroom exhaust fan is not that difficult, but it all depends on the unit you have. If you install it yourself, you must be very careful as you'll have to wear a respirator or dust mask while standing on a ladder. But at the same time, it's not the most difficult thing you'll have to deal with.
Once you have all the tools, here is what you need to do:
1. Find a Tubing Route
It's essential for the air-ventilated by the unit to be expelled outside the house. Thus, you must be able to access the attic to install the tube. So, check to see where the attic door access is, and go there by climbing up the ladder. Don't forget to flip off the circuit breaker before you do so, though.
2. Find the Power Source
You will have to connect the exhaust fan to electricity, which is why finding the power source is vital. See if power is running to the point where you want to install the appliance. See what the local electrical code is too. Sometimes, you might share the lighting circuit with the fan, while other areas have you running new circuits.
3. Find the Vent Location and Secure It
As mentioned, air needs to be eliminated out of the house. Find a location for it as you'll have to run a duct from the unit. Once you find the perfect spot, cut the vent location after scribbling the shape around the cent cap. Cut the shape with a saw, and attach the vent with screws.
Afterward, secure the fan to the joists. Don't forget to also route your unit to the exterior next.
4. Attach the Fan to its Housing
Now, it's time to insert your exhaust fan into its housing, which means you will also have to deal with the electrical wiring process. When you're done, attach the fan grille and turn the circuit breaker on.
FAQ About Bathroom Exhaust Fans
A lot of people still have curiosities when it comes to bathroom exhaust fans, and you might be one of them. If you need some additional information to make sure you're using the fan properly, here are some of the most frequently asked questions on the matter:
1. What to do if the water is dripping from the exhaust fan?
First of all, it's important to establish the cause of the problem. If there's a colder climate, the roof or wall cap will have ice forming on it. As such, when hot air starts to circulate the area, the ice will melt and come out of the appliance. Make sure to look for a wall cap that has a backdraft damper.
Sometimes, the issue can occur because condensation might happen due to the hot air traveling in the cold ducting. You will have to wrap some ductwork with insulation, so this doesn't happen anymore.
2. Do I necessarily need an electrician to replace or install my fan?
You don't have to call an electrician to replace or install the fan if you know enough about electricity yourself. But normally, it's recommended to have an expert check and see whether the unit is working properly, and it doesn't pose any dangers. Since there is some wiring included when installing an exhaust fan, it's better to be safe than sorry.
3. Is it dangerous to install my exhaust fan above the shower or the bathtub?
It all depends on the type of exhaust fan you purchase. Some of them are safe to install in such places as they are UL certified. So, you should always make sure this feature is listed. Concurrently, if a fan has another type of heating, it might not be fit to install above your shower or bathtub. In any case, you should carefully check the features of the product to make sure you know what to do.
4. Does my exhaust fan need cleaning?
Yes, exhaust fans will need regular cleaning, given they take moisture out of the air and eliminate it outside. Otherwise, mold might end up forming inside the fan, and it will still be toxic in the bathroom.
To do this, turn off the power first so you're safe. After that, you should use a soft cloth and mild detergent to clean the grill of the exhaust fan. When you're done cleaning it, try to dry it completely before you put it back to work. You don't want to put a wet fan to operate since it's an electrical appliance.
Also, a vacuum might be used to get rid of the dirt accumulating in the fan assembly as time goes by.
5. Why is the air moving so slow, even if my exhaust fan is operating?
Sometimes, build-up might prevent the air from moving properly, and you end up getting little ventilation, or no ventilation at all. This is one reason why you need to regularly clean the build-up.
Wrap Up
Finding the best bathroom exhaust fan can put you in a tough spot unless you have some experience with these units. You have to look carefully and analyze each product before coming to a conclusion. Our buying guide should have offered you enough information on the subject, and the process should be much easier to go through.
Now that you've read all the bathroom exhaust fan reviews, as well as the buying guide, installation information, and advantages, you should know how to choose. Hopefully, you'll get the right exhaust fan and get rid of the excess humidity in your bathroom.