It's simple – investing in the best bathroom heater can make getting in and out of the shower in cold winter mornings so much more comfortable. This small device can heat up your bathroom, and even help prevent the formation of mold.
We've prepared this buying guide as a short run-down of all the things you should know about these small units. You'll learn valuable information, read some bathroom heater reviews and, in the end, you'll be able to make an informed decision.
See The Quick Comparison Chart
Types And Uses Of Bathroom Heaters
1. Wall-Mounted Heaters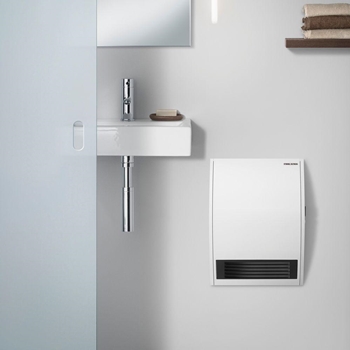 Just as the name suggests, these heating units are mounted on the wall. They can be extremely useful due to the fact that they save space and you won't fear to knock them over whenever you leave your toilet seat, for example.
But sometimes, in order to get wall heaters to operate, you have to do some extra work. Some of these heaters will require you to make either a hole in the ceiling or on the wall. This type of heater is known as a built-in heater, which is why it needs a hole in the wall.
One of the pros of built-in heaters is how they are easier to hide and won't take space or ruin the look of the bathroom. They are literally inside of a wall, so their power cord is hidden there. In order to get them to work, you can either have a simple switch button to turn the device on and off, or you can have it operate as soon as you turn on the lights.
For this type of heater, it would be much better to start the installation if your bathroom is being renovated or is under construction.
You can also come across detachable heaters. The name is pretty much self-explanatory. These heaters don't need a hole in the wall or ceiling to work – you just need to mount a frame on the wall, which will serve as support for the heater.
The disadvantage with this one is that, unlike a built-in heater, it's not concealed, and its power cords will be visible. This might not do any favor to the décor of the room, but it's a good device to own if you must heat your bathroom, yet don't want to undergo renovations.
2. Ceiling-Mounted Heaters
Obviously, these heaters are mounted on the ceiling. They work by heating the air in the room, and if you don't want to struggle to install such a device, a ceiling-mounted one might be a good option as long as you choose the right type.
There are also a few ceiling heaters that will be a drag if you don't have an electric experience. Luckily, they compensate for the installation effort with their outstanding performance. Not to mention that they don't take up unnecessary space.
3. Portable Heaters
Wouldn't it be amazing to have a heater that warms up the bathroom, but that you can also move around and have it heat other areas of the house? That is possible with portable heaters. These devices are quite popular on the market, so finding one for your bathroom should not be a difficult process.
Usually, they will look like a box, and they won't be too big. They will also feature a handle that will let you carry them around. And not to mention that they are also manufactured in such a way that they are resistant to humidity.
They will be able to serve you amazingly because they are strong and durable. Moreover, installing, using, and maintaining them is a piece of cake. If you're done warming the bathroom up, or the device is needed elsewhere, you just have to take it in that other room and plug it in.
These heaters are great for people who don't want to expand the central heating system of the house. It's a way to heat one particular area. So, if your bathroom is small, a portable heater will work just the way you want.
4. Towel Radiators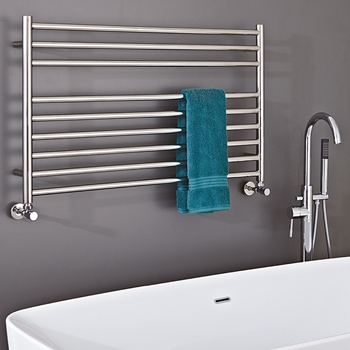 A towel radiator allows you to hang your towels while also providing the bathroom with enough warmth to make you feel comfortable. Normally, they can be curved or flat, and you can choose depending on the preference. The flat ones are cheaper, so they are a better alternative for people with lower incomes.
Towel radiators are fixed to your wall and can be connected to the central heating circuit of the house. You can find out more about them by checking out our homepage.
5. Fans
A fan might not actually generate heat, but it will circulate the air in the room. This will help you prevent mold and will also allow you to dry clothes in the room. The best bathroom exhaust fans, in particular, will keep the area dry, and apart from eliminating the mold risk, it also rids you of odors.
Of course, a fan alone is not enough to take care of the heating problem, so you will have to look for a combination of a heater that also has a fan. A fan will thoroughly blow the heat produced by the appliance and make your bathroom warm. It's a nice effect that a lot of people will come to love.
Best Bathroom Heaters Comparison Chart
PRODUCT
DETAILS

Lasko CD08200 Bathroom Heater

Price: $
Customer Rating: 4.4
Size: 6 x 6 x 7.65 inches
Weight: 3.8 pounds
Watts: 1500
Warranty: 3 years

View On Amazon

Stiebel Eltron 074058 Electric Fan Heater

Price: $$$$
Customer Rating: 4.2
Size: 4.8 x 13.2 x 18.1 inches
Weight: 8 pounds
Watts: 1500
Warranty: 3 years

View On Amazon

Broan Model 157 Ceiling Heater

Price: $$
Customer Rating: 4.1
Size: 11 x 11 x 4 inches
Weight: 1 pounds
Watts: 1250
Warranty: 1 year

View On Amazon

Lasko 5409 Portable Space Heater

Price: $
Customer Rating: 4.0
Size: 8.1 x 6.6 x 11.2 inches
Weight: 4 pounds
Watts: 1500
Warranty: 3 years

View On Amazon

Broan 750/1500W Wall Heater

Price: $$
Customer Rating: 4.0
Size: 15.2 x 11.1 x 6.1 inches
Weight: 5.97 pounds
Watts: 750/1500
Warranty: 1 year

View On Amazon

Cadet Com-Pak 1000W

Price: $$$
Customer Rating: 4.2
Size: 5.2 x 14 x 9.5 inches
Weight: 7.05 pounds
Watts: 1000
Warranty: 2 years

View On Amazon

Lasko 755320 Ceramic Space Heater

Price: $$
Customer Rating: 4.2
Size: 7.2 x 8.6 x 23 inches
Weight: 9 pounds
Watts: 1500
Warranty: 3 years

View On Amazon
Best Bathroom Heater Reviews
1. Lasko CD08200 Bathroom Heater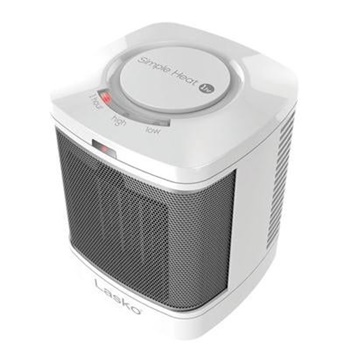 A small bathroom heater is a convenient option, especially if you don't have that much storage space there. Thankfully, Lasko came up with the design of this heater model, which is a great alternative for small bathrooms. It has a design that allows you to heat your bathroom and save some space at the same time.
Because of everyone worries about their safety when it comes to using heating appliances, this model has been provided with a special protection system. If the item overheats, it will automatically shut off to keep you safe.
It is able to heat up the bathroom pretty quickly, making it perfect to warm up the area before your morning shower for work. The unit is easy to use, having push buttons as controls and having the option to set up a 1-hour timer for your convenience.
Pros
One easy tap is enough to set a timer for warming up the area
Its portability allows you to use it in multiple areas, not just your bathroom
3-year limited warranty
Saves a lot of space with its small size
Cons
Some reviewers have had it vibrate and change its location while operating
The heater doesn't have a handle to pick it up
2. Stiebel Eltron 074058 Electric Fan Heater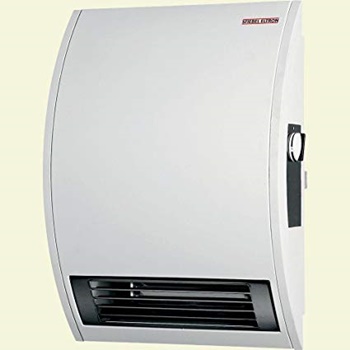 Some heaters can be very loud, but not this specific model. This Stiebel Eltron bathroom heater is able to operate quietly and not disturb you while warming up the area. Being wall-mounted, it's easy to set it to operate whenever you're using the bathroom.
This unit comes with a built-in thermostat to allow proper control of the device and make sure the amount of heat you get is enough. Concurrently, it has a booster timer that heats for up to an hour, after which it goes back to its previous thermostat setting.
Furthermore, the unit has a CK trend on/off switch to allow for easier operation. You can effortlessly turn it on and off depending on when you need to use it, and your bathroom will be heated for as long as you need.
Pros
Frost protection setting to maintain the temperature above a freezing one
Quiet operation that won't disturb you or anyone else in the house
Because of an even-heating down-draft design, the bathroom will heat up evenly
It has a nice, modern design that fits in with the bathroom's look
Cons
Some customers have declared that the unit started malfunctioning after a few months
3. Broan Model 157 Ceiling Heater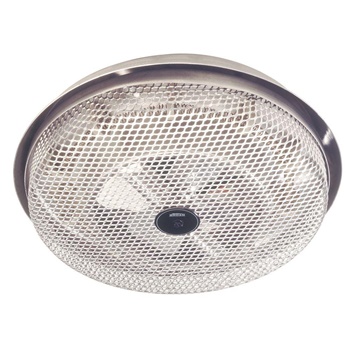 This is a ceiling heater and a good one at that. Because it's mounted on the ceiling, it has great potential to provide even heating in the bathroom. Not to mention that it's also easy to mount. You just need a standard 3 ½-inch or 4-inch octagonal or round ceiling electrical box, and you're all set.
If you want to cut some costs from your electricity bills, a solution would be installing this device. It is able to deliver 1250 watts of heat, and you don't have to wait too long until you feel the result. This saves time and money on electricity. In addition, it can shut off by itself. Also, it's easy to control due to the controls sold separately, like the 60-minute timer, thermostat and so on.
And if safety is a concern, you should know that this heater has thermal overload protection to prevent unwanted scenarios from occurring.
Pros
Automatic overheat protection to prevent dangerous situations from taking place
Easy to mount on any standard ceiling
It comes with a 1-year limited warranty
The heat will disperse evenly
Cons
It might make some clicking noises
A few customers have declared that the unit stopped working after a few months
4. Lasko 5409 Portable Space Heater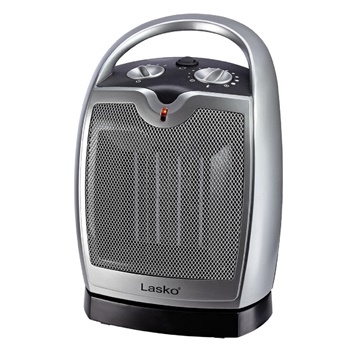 In case you want a portable heater, you might like this product. Some of its benefits are the fact that it comes fully assembled, and it also has 3 quiet settings. You can set it for low or high heat, or it can operate with the fan only.
Besides, it features a carry handle so you can move it around with no issue. That being said, you can put it on the floor, on the tabletop, or anywhere safe where it will also be able to give you the warmth you desire. For control, you will have a thermostat that will give you access to adjustments, so you can get the proper temperature in the area.
You also have some knobs on the heater's top, which are very easy to use.
Pros
It has an overheat protection that will turn off the unit in case it gets too hot
Carrying it around will be easy thanks to the handle
It has the power to heat the area very quickly
Cons
While it has an overheat protection, knocking it over will not stop it and this might be very dangerous
5. Broan 750/1500W Wall Heater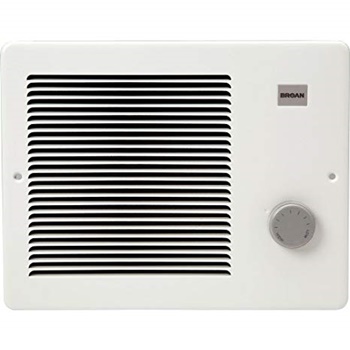 For those who want a unit with easy operation that doesn't require too much effort, this might be the right product. With an adjustable thermostat to control the temperature of the bathroom, you can have the right conditions whenever you're taking a shower.
The motor is lubricated permanently in order to operate properly, which means there is also less possibility for overheating. However, there's also a thermal overload protector put in place so you can rely on the unit even more.
It's a great alternative for people with lower income who don't want to waste cash on reparations or a new heater. Basically, this unit has a baked enamel finish to make it more durable, whereas there is also a grille with downflow louvers that distributes heat towards the floor.
Pros
The installation is easy
It won't take the heat from the house's main heat source, but provide it from a wall location
Durability will be ensured thanks to the quality build
You won't have to deal with noise
Cons
A few customers were unhappy that the unit keeps turning itself off and thus leaving the bathroom cool
It doesn't give off as much heat compared to other similar units
6. Cadet Com-Pak 1000W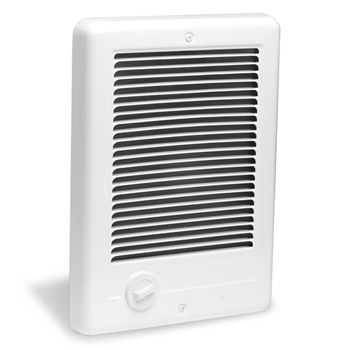 Since a faster-heating unit is preferred when you need to use the bathroom, this particular product can meet the requirement. It has a coil element that can quickly heat up, and warm the entire bathroom, especially if the area is up to 200 square feet.
Because it's wall-mounted, it will save you a lot of space. You won't have to think about where to place it when you need it to heat the room and will not have to worry about knocking it over by mistake either. It will be installed on the wall and allow you to move around freely.
Moreover, this heater won't annoy you with any noise either. The operation is done quietly, after which you can get ready to step into the shower.
Pros
The wall heater is safe to use as it comes with an auto turn-off system in case it gets way too hot
It has a fan that spreads the heat around for even warming
It comes with a grill, a wall can, thermostat and heater
Cons
There were a few buyers receiving a defective unit
The item might not work properly anymore after a while
7. Lasko 755320 Ceramic Space Heater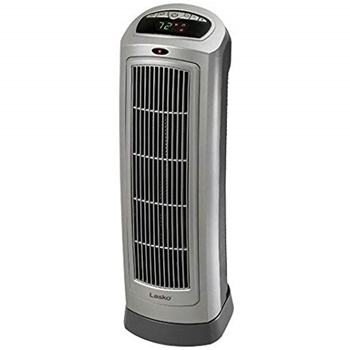 Most people want a heater that means business, and quickly heats up the area whenever they need. If you're one of those people, you can take a look at this particular model, as it has the power to deliver what you need. It can quickly heat up depending on the settings you make, and you will find it easier to undress for a shower in the middle of the winter.
If you want a device that you can control easily, you'll definitely like the timer and remote control included with this space heater. You can be at a distance, yet adjust the oscillation, temperature, and timer of the unit.
Besides all these benefits, this ceramic heater also features two quiet settings. You have the low heat and high heat settings to heat as much as you like while ensuring there will be no sound to disturb you or your family members.
Pros
The wireless remote control is included to allow you to adjust the unit from far away
The heater is portable, meaning you can use it in the bathroom but also in other rooms
The adjustable thermostat has a digital display that's easy to read
Cons
According to some reviewers, the unit is dangerous and may start a fire, as it overheats
Bathroom Heater Buying Guide
Certain features and benefits should be kept in mind when you're ready to buy your own bathroom heater. Knowing what to look for will help you choose the right model, so here are the things to take into consideration when you shop for these devices:
1. Cost
Most people worry about one thing: money. The actual price depends on the type of heater, the brand, and how good the heater actually is. So, you will have to spend some money, but in the end, you will have a good-operating device. But there are some smaller heaters that go below the one-hundred-dollar mark and make a good option for lower-income families.
When thinking of the cost of a bathroom heater, you need to consider more than the actual money you pay for the device. These units need a power source to operate, and the more power they use, the more electricity costs you will have to deal with.
If you're on a tight budget, you need to find something that is able to heat properly while running on less power. Usually, a portable heater or electric wall heater will do the trick. They are quite small, and while they do require electricity, they don't need too much of it.
Furthermore, there are some bathroom heaters that come with multiple heating settings, from lower to higher. Thanks to this feature, you can set the device to operate on the low setting, so that it uses less energy.
The ones that are more expensive – both in terms of price and long-term maintenance – are generally radiant floor heating units, ceiling fans, and infrared heaters. While they are extremely efficient, the costs of installation and electricity will give you headaches. So, they're not recommended if you're short of money.
All that being said, if you want to get a bathroom heater, you should also consider the running costs of the device, and not only the purchase price.
2. Safety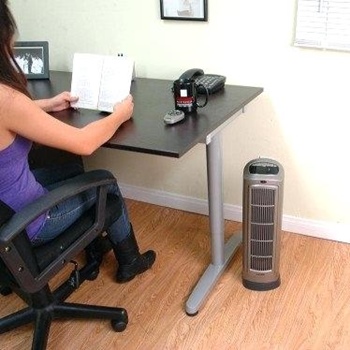 Safety comes first, no matter what – thus, it's mandatory that your device has specific safety systems to prevent a fire hazard. The bathroom is a damp and small place, and accidents are more likely to occur. Therefore, in case you choose a portable heater, it has to come with an auto shut-off feature if it falls. It must also have overheat protection. In fact, any type of heater should come with overheat protection, so don't overlook this aspect.
Also, make sure that the portable heater has an ALCI safety plug in place. Operating with it will be safer than using a normal plug, as it prevents the risk of electrocution.
3. Heating Speed
When you're taking showers in the morning before work, you're usually in a rush. Therefore, you can't wait for ages until the heater's effects can be felt. So, you need a heating unit that is able to shortly provide you with enough warmth to use the bathroom, since different heaters have different heating rates.
Usually, the ones able to heat quickly are infrared bathroom heaters, which use radiation to give off heat. Heaters that have a fan are also effective in this regard as the fan helps spread the heat faster.
4. Heater Type
Since there are so many types of heating units, you have to choose one that will be most convenient for you depending on the size and condition of the bathroom. Portable ones can be suitable if you want a device you can move around. But if you're looking for something safer than a portable one, you can go for wall-mounted or ceiling-mounted heaters. Choose based on your needs and the size of your bathroom.
5. Easy Installation
There are some bathroom heaters that are easy to install, while others need you to cut holes in the walls or the ceiling. For this, you need an instruction manual, and you must make sure you have the tools needed to mount the heating device.
If you don't want to go through a long, difficult process only to enjoy some warmth, choose a heater that can be put in place easily. Otherwise, you can call on a professional who can do the installation for you.
6. Heater Location
It's important to note that not all heaters are suitable for every bathroom. Bathrooms are designed differently, meaning you will have to inspect it before making the decision to buy the unit. If for any reason, you cannot install a ceiling, wall or radiant floor heater, you can settle for a portable one.
7. Silent Operation
Let's be honest, nobody would love waiting for the bathroom to heat while the heater sounds like a helicopter ready to take off. Since many devices of this type have a noisy operation, you must look for one that works quietly and doesn't disturb you. This is beneficial especially at night or in the mornings.
8. Versatility
There are a few heaters that can serve multiple purposes. That being said, they can be used in more rooms, and not the bathroom alone. Not to mention that some of them have the feature to eliminate unpleasant smells, as well as humidity.
9. Heating Ability
You need a device that has enough power to heat your entire bathroom. If your bathroom is small, a heating unit working on 500-watts will be enough to warm it up. 1000-watts will be the amount needed for larger bathrooms. In other words, the heater must comply to your bathroom needs. So, consider the size of the bathroom as well.
10. Extra Features
If you want to enjoy some additional benefits for your convenience, you can look for extra features in the heaters you buy. For example, some models come with a digital clock or a timer, and you can set them to allow the heater to work for a specific amount of time. So, if you want to feel even more comfortable and safer, some additional features will do the trick.
How to Install a Bathroom Heater?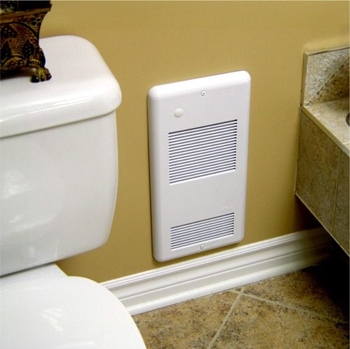 Usually, installing an electric heater should not be such a difficult task. Of course, it all depends on the type of heater you end up purchasing. All of them are installed differently, so it's recommended to check the instructions manual before you even start the process.
But before you install it, you will also have to think about the place it's going to be installed in. It's mandatory that the place allows the air to reach all areas of the room evenly, and that it's not a danger to you and your family.
Simply put, you will have to choose a place where airflow is not being blocked by any objects, and where you will feel the benefits of the device. If you don't have the necessary knowledge or skills to install a heating unit, it's essential to contact someone who does. The reason is that these devices usually need electrical wiring. You might even have to install proper ventilation to have the heater work in optimal conditions.
Not to mention that if you're going to use a thermostat, this shouldn't be installed close to the device. It must read the room's temperature, so make sure it's placed away from the heating unit.
Here's how to install various types of heaters:
1. Ceiling Heaters
As expected, these heaters need to be mounted on the ceiling. However, it has to be done in such a way that they are placed in the ceiling and not hanging. Therefore, when you install a ceiling heating device, you must make sure that it does fit into the ceiling space.
Make sure that you place it properly, so it can make use of the whole room, and distribute heat evenly. Also, you might have to take care of the electrical wiring system. Contact an electrician if you don't have what it takes to do it yourself.
2. Wall Heaters
With wall heaters, you have a choice to make between units you mount on the wall and those you recess into the wall. The former devices don't require that much work and that's what makes them so convenient. You mount them on any flat area, and they might stick out a bit.
You will have to cut an outline of the heater on the wall to know where you need to place the heater. Since the device needs a new circuit, what you have to do is set up a circuit breaker starting from the main panel towards the wall heater. Next, you must contact an electrician to finish the circuit and also make the opening between studs from the cable to the wall.
Make sure to use a power drill and mount the box between two of the studs, after which you can add the actual heater to the box by screwing it. Just make sure the unit fits properly.
3. Towel Warmer
A top-rated towel warmer is not so difficult to install. You need to take measurements and find where the rail has to be screwed into studs on the wall. Mark the wall as you find the spots, after which you need to use a power drill to make holes where the support anchors are going to be.
Using the support anchors, take the towel warmer and attach it to the wall.
4. Fan
For a fan, you will have to measure the size of the device on the wall and mark the area you will need to cut. You'll have to go to the attic and measure the housing of the unit.
By using a jigsaw, cut through the ceiling according to the marked area. Use a 90-degree duct elbow and put the fan in the place you prepared for it. Then, screw the fan to the wall. After securing the fan, you will need to take the duct pipe and attach it to the duct elbow.
You will also have to find an exit for the duct pipe, preferably outdoors – otherwise, it would risk causing mold. Once you find the place, attach the vent cap, make the wiring connections towards the bathroom's fan, and attach the grille. Afterward, you should be able to use the device.
If you are just replacing your bathroom fan, it is much easier.
Safety Tips for Bathroom Heaters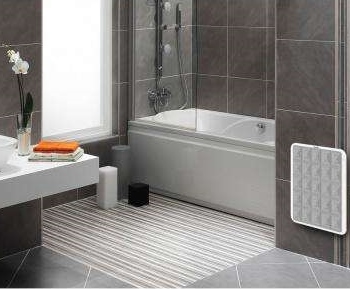 If you're not careful, a bathroom heater can quickly become a risk to you and your family. Many of them come with special protection systems, yet there's never a guarantee that nothing bad will happen.
Many heaters come with a waterproof feature, but even so, it's not recommended to keep these devices in places where water could reach them. A bathroom is a humid place and splashing water on things is not out of the question. Waterproof heaters may protect against water to an extent, but don't abuse that feature.
Also, it's mandatory to purchase a heater that has been created to be used in the bathroom. Some portable heaters, for example, are easy to use in the bathroom but check the advice of the manufacturers to make sure the units are fit for such spaces. Not all heaters are safe to use in the humid environment of the room, which is why you can't go with any product on the market.
If you choose a portable heater for your bathroom, look for one with overheat protection and one that shuts off if it's tipped over. You never know when you will knock it over, so it's better to be safe than sorry.
If you have children and you fear for their safety because of a heater, you should consider a ceiling unit or one that is at least mounted high up on your wall. This will prevent the little one from accidentally reaching the device and harming himself. Conversely, it's not recommended to place a ceiling or wall heater above the bath or shower, since it's the most humid part of the bathroom.
The heater you choose should be a newer model and one that is safe to touch. Especially when it comes to portable heaters, you want to be able to transport it without burning your hand upon touching the handle. Some models have a protective outer layer that doesn't overheat and lets you touch it.
If possible, check for a small fire extinguisher to have in the bathroom. You never know when a fire might occur, despite all the protection systems put in place. An extinguisher will be there to tame a fire if it's ready to unleash hell.
FAQ About Bathroom Heaters
Some things related to bathroom heaters might still be unclear and might raise a few questions. Here are the most frequently asked ones and their answers:
1. Can I Use My Bathroom Heater If I Have Children?
Yes, a bathroom heater can definitely be used near children. However, you need to consider the kids' ages and the type of heater installed in the bathroom. If you have a portable one, for example, it's not indicated to leave it on while the little one is using the bathroom. He might tip it over or touch it and burn his hands. Furthermore, a kid will not easily realize that it might be dangerous to touch the unit while his hands are wet, which might, again, be dangerous for the child. So, whether the heater is safe near children or not depends on the type of heater.
2. How Do I Use the Thermostat with My Heater?
Thermostats are meant to show you the current temperature of the room, and let you set the temperature you'd want to have in the bathroom. Since it is connected to the heater, it will allow the heater to operate in such a way that the temperature in the bathroom will reach the one you desire. When that happens, the heating unit will go back to its initial state in order to maintain the temperature.
3. What Should I Do If I Received a Faulty Heater?
If the heater you invested in proves to be defective, the best thing you can do is contact the manufacturers. All heaters should come with a manual where you will find a number or a website that you can use to contact the customer service. They will tell you what you have to do in order to return the product and will mention what other benefits you have for your own convenience as a customer.
4. My Heater Has a Timer. How Do I Use It?
A timer will allow you to set a specific time during which the heating unit will work, and once that time passes, it will turn off automatically. It's a great feature for when you're busy or you have to leave during the operation, and you won't want to worry about overheating.
5. Can I Leave the Heater on While Sleeping?
Although a few models are made to last longer and come with an overheat protection, we don't recommend leaving the heater on all night. Not only that it can be dangerous and cause a fire, but it will also consume a lot of electricity. Not to mention that the bathroom may warm up more than you need.
6. Do I Have to Clean My Bathroom Heater?
Some heater models will need some maintenance every now and then, because dirt may cause them to malfunction. Take the brush from your vacuum cleaner and reach the areas where dust and dirt tend to accumulate. You can also vacuum the intake grills when needed. Make sure the heater is turned off during the process, though, and clean the device on a regular basis.
Wrap Up
If your bathroom is particularly cold during the wintertime, then a bathroom heater is a must. So, if you want an easy solution to this problem, a bathroom heater can do wonders, as you might have seen from this buying guide.
There's a wide range of units to choose from, such as ceiling heaters, portable ones, wall-mounted ones, fans, and towel radiators. So, make sure you choose the best bathroom heater for your needs. Now you know the main features of such a device and what to consider when shopping for one. You also know how to install one and use it in a safe manner.
Since you've gone through our bathroom heater reviews, we hope you were able to find a product to serve you for years to come. We've offered you the information, and the choice is up to you to make.