If you're in search of a stylish mirror that doesn't get all foggy when you take a shower, you should treat yourself with the best fogless shower mirror. Just think about those times when you got out of the shower and wanted to shave but you were not able to see yourself in the mirror. You know how annoying it can be. As such, fogless mirrors are a smart investment that will make your morning routine simple and hassle-free. It can also come with additional handy features.
Here, you can find out convenient buying guide, as well as some product reviews to help you purchase a great model. Without further ado, let's get into it!
See The Quick Comparison Chart
What Is a Fogless Shower Mirror And Who Needs One?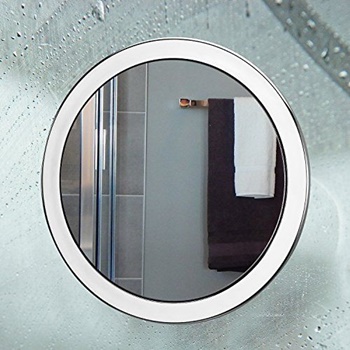 A fogless shower (or shaving) mirror is a type of mirror meant to have some sort of fog prevention mechanism. Basically, mirror fog occurs due to condensation, an effect that happens when you take a hot shower and the steam causes the surface of the mirror to become damp and blurry.
Fogless mirrors are items that have been invented with the sole purpose of allowing their owners to see themselves clearly and shave, apply makeup, tweeze, and so on. They don't have to be replacements for the existing mirror in your bathroom – they can be installed directly in the steam shower to help you save time by doing whatever you need immediately.
Fogless mirrors can either be attached to the pipe in the shower or attached to the wall with adhesive or suction cups.
Types And Uses Of Fogless Shower Mirrors
Searching for fogless mirrors will immediately reveal to you that there is more than one type you can go for. To be able to make your choice, we've come to your help. So, here is what you can choose from:
1. Heated Plate
Heated plate mirrors can be heated easily by just splashing some warm water on them. This will bring them to the same temperature as the water you're using, so when the hot temperature reaches them, no condensation will appear. They're a great alternative because they're very easy to use, and don't require any coating.
2. Mirrors with Reservoirs
These fogless mirrors are amazing alternatives as they are very durable. Basically, you can find a reservoir behind them, which will be used to heat your mirror and bring it to the same temperature as the one released by the shower water. That being said, the mirror won't start fogging.
Fogless mirrors with reservoirs are a wise investment since they last for so long and don't require any special coating in order to work their magic.
3. Mirrors with Coatings
If you look at online stores, you will see numerous fogless mirrors with coatings, mainly because they are the most common type. Simply put, they are sprayed with a special substance that creates a coating, and this coating will prevent fog from staining the mirror's surface.
It's a great alternative if you use the mirror every now and then and you're tired of the foggy surface. Nevertheless, they're less durable as the coating doesn't last forever. In time, it will start to fade away and the mirror will go from fogless to normal. Of course, you can find special sprays to apply the coating yourself, but this makes a costlier option.
Fogless Shower Mirror Benefits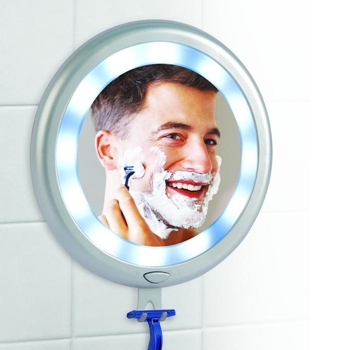 Knowing the benefits of a product is necessary to further convince you if you should buy it or not. Even when it comes to fogless mirrors, you can enjoy many advantages, outside the already obvious ones. Here are some of the benefits you can get with a fogless mirror:
1. No Fog
One of the most obvious benefits of the fogless mirror is… well… the fogless feature. Unlike normal mirrors that become "victims" of condensation not long after you start your hot shower, fogless ones prevent condensation and make sure you can see yourself. This will make your life easier as you could shave, apply or remove makeup, or do anything else that requires using the mirror while missing no spot.
Therefore, even if you have the best steam shower generator, a good fogless mirror can deal with all that steam.
2. They're Safe
With mirrors and pretty much anything made of glass, there's always the fear of getting cut in case the product shatters. Thankfully, fogless mirrors are usually shatter-resistant, further ensuring you will be safe from scratches, cuts or similar injuries.
So, you can have peace of mind even when it falls, and it's also easier to transport it when you travel since there are very low chances of it shattering.
3. They're Cheap
You don't need to be the type of person who lives in a mansion to be able to afford one of these fogless mirrors. Most of them have pocket-friendly prices, and you'll be able to find something that accommodates your budget. In general, fogless mirrors can go from as little as $10 and go towards the $30 price range.
4. No Special Installation Needed
Fogless mirror can either be freestanding, attached with a hook, with suction cups or adhesive, so there's no need to call anyone to install it since the process is easy and only takes a few minutes. Thus, it's free of trouble when it comes to setting it up.
5. Additional Space
Another great thing is that a lot of fogless mirrors come with shelves or hooks so you can hang your razor, makeup products, towel, or anything similar. As such, you will save some space in the bathroom, while having quick access to whatever you need.
Best Fogless Shower Mirrors Comparison Chart
PRODUCT
DETAILS

ToiletTree Products Fogless Shower Mirror with Squeegee

Price: $$
Customer Rating: 4.3
Attachment Method: Adhesive hook
Fogless Technology: Reservoir
Dimensions: 8.5 x 2.6 x 6.5 inches

View On Amazon

Deluxe Shave Well Shower Mirror for shaving fogless

Price: $
Customer Rating: 3.9
Attachment Method: Adhesive
Fogless Technology: Heat plate
Dimensions: 6.8 x 1 x 5.2 inches

View On Amazon

Mirrorvana Fogless Shower Mirror for Fog Free Shaving

Price: $
Customer Rating: 3.8
Attachment Method: Suction cup
Fogless Technology: Coated
Dimensions: 6.7 x 6.7 x 3.6 inches

View On Amazon

ToiletTree Products Deluxe Larger Fogless Shower Shaving Mirror

Price: $$$
Customer Rating: 4.3
Attachment Method: Adhesive tape
Fogless Technology: Reservoir
Dimensions: 6.5 x 1.75 x 8 inches

View On Amazon

Upper West Collection No Fog Shower Mirror with Rotating

Price: $
Customer Rating: 3.9
Attachment Method: Suction lock
Fogless Technology: Heat plate
Dimensions: 7 x 1 x 7 inches

View On Amazon

ProBeautify Fogless Shower Mirror with Razor Hook

Price: $
Customer Rating: 3.9
Attachment Method: Suction lock
Fogless Technology: Heat plate
Dimensions: 7 x 7 x 1 inches

View On Amazon

Ettori Fog-Free Shower Mirror

Price: $
Customer Rating: 3.5
Attachment Method: Suction lock
Fogless Technology: Coated
Dimensions: 5.9 x 1 x 7.5 inches

View On Amazon
Best Fogless Shower Mirror Reviews
1. ToiletTree Products Fogless Shower Mirror with Squeegee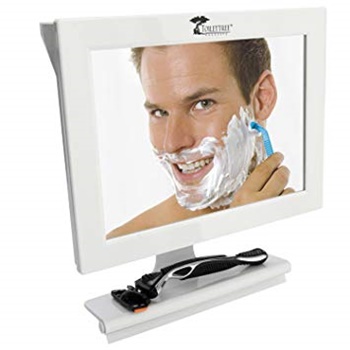 A fogless mirror should be guaranteed not to fog, just like this ToiletTree product. It has a shatterproof patented glass to prevent any trace of fog, even if you have a steam shower. In addition, it's resistant and won't shatter that easily, thus it can be mounted to the shower wall without any worries.
With this mirror, you can apply or remove makeup, exfoliate, shave, apply facial masks, tweeze or anything of the sort as soon as you're done with your shower. To help you with whatever you want to do after cleaning your body, the mirror also tilts up and down to adjust it based on your preferences.
We liked this mirror because it's easy to mount on the shower wall. The item comes with a double-sided tape that will not only secure the mirror to the wall immediately but is also water-resistant and causes no damage to the walls or tiles. It makes your life easier by not forcing you to shave out of the shower and above the sink, but rather save time and do it all in your shower enclosing.
Pros
Easy to mount
Secured to the wall
Can be adjusted for your own convenience
It's impact resistant
Cons
It's hard to remove the adhesive
The item is made of plastic
2. Deluxe Shave Well Shower Mirror for shaving fogless
This small mirror is more effective than you would think. It's perfect to use when shaving, especially if you want to save some time by doing it directly in the shower. You can keep this mirror under the shower stream so that it can effectively let you see yourself while preventing fog from tainting its surface.
To mount it on the wall, you have to use an adhesive hook that is included with the product. So, there are no suction cups, and the product will not accumulate any fog even if it sits under the hot shower steam.
On top of that, it's impressive how easy this item is to clean. Unlike normal mirrors that make your life a living hell, this one only needs some water and a little toothpaste to be shiny and ready to use. Once you clean it, the spots will go away. As such, it's meant to offer you a long-lasting, high-quality experience.
Pros
No suction cups to make sure the mirror sticks for a very long time
It's easy to clean and maintain
It has a very unique and beautiful design
Cons
The mirror backing might start to peel away
The hook may start to fall off after the shower
3. Mirrorvana Fogless Shower Mirror for Fog Free Shaving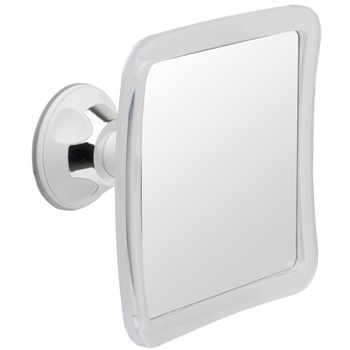 If you want to have a fogless mirror at home and benefit from the same quality when you travel, you may love this Mirrorvana product. The item is very lightweight and can be stored easily when you go away from home for a while. To make things better for you, it's shatterproof, so even in case of more violent impact, you won't risk getting hurt.
The thing that makes this mirror so effective against the fog is a fog-resistant coating that the manufacturers treated it with. As such, you will get to enjoy a fogless experience for a very long time. It's important to note that the anti-fog coating will wear off as time goes by, but if you periodically spray it with the substance and add a new coating, you'll get to keep using it.
Also, the installation process is quite simple. It comes with a suction cup to fix it on the wall. Therefore, you just need a flat, non-porous surface, and you can proceed with the installation. It also works against ceramic, marble, enamel, porcelain, glass or acrylic. The process will only take a few seconds.
Pros
Easy to install
Very light, compact and easy to transport
It's shatterproof
Has a fog-resistant coating
Cons
The anti-fog coating wears off easily
4. ToiletTree Products Deluxe Larger Fogless Shower Shaving Mirror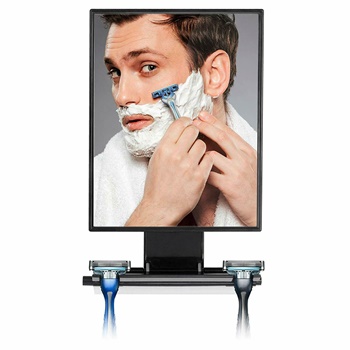 Who wouldn't love a rotating mirror? When you need a mirror in the shower, you must make sure you can move it around to see yourself properly from all angles. This ToiletTree product doesn't fail to impress in this regard – it can rotate at 360 degrees so you can use it just the way you like when tweezing, shaving, or anything of the sort.
This fogless product can easily stick to most wall surfaces. Even though you may be worrying about it sliding off the wall, this won't be an issue. In addition, the surface of the mirror is rustproof and shatterproof, meaning that even if you use it in a humid environment, it won't rust. At the same time, it won't shatter, so you don't risk getting hurt.
Maintenance is quite simple with the addition of the handy squeegee. This additional item will let you clean up the mirror easily, while you can store it inside the shelf once you're done. You aren't charged anything for the extra product.
Pros
The mirror is shatterproof and rustproof
It can be rotated at 360 degrees
No harsh chemicals or special coating
It can stick easily to any surface
Larger for better visibility
Cons
It's hard to remove from the tile
5. Upper West Collection No Fog Shower Mirror with Rotating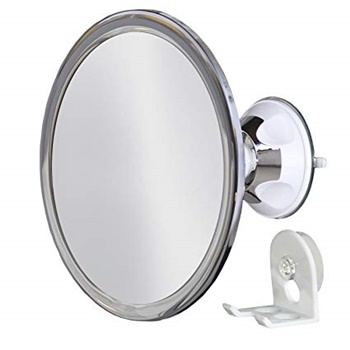 The more features it has, the more convenient the product is. It is the exact case with this Upper West Collection fogless mirror, which comes with a number of useful things meant to make you happy.
First of all, it's important to mention the flexibility of the arm. It can be rotated at 360 degrees, meaning that no matter what position you're in, you can rotate the mirror to see yourself from all angles. Besides, there's also a razor holder included, offering you easy access to it whenever you need to shave.
In addition, this mirror has no coating, and all you need to do to obtain the fogless benefit is splash some soapy water on it when you need to use it, thus heating it up. As the mirror gets warm, fog won't settle on it like it normally would.
As for the mounting option, it includes a suction lock, so you know the mirror won't fall from the wall and shatter.
Pros
It comes with a razor holder
It can be immediately heated by splashing water on it
Powerful suction lock to prevent falling
Flexible arm
Cons
The fogless advantage will fade away over time
The suction lock doesn't work well on non-glass surfaces
6. ProBeautify Fogless Shower Mirror with Razor Hook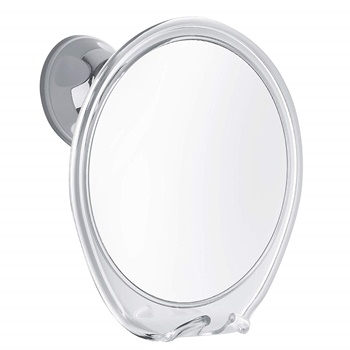 A round mirror can be really pretty and can improve the overall look of the shower area. It has a nice design that can be locked to the wall with a suction cup. The lock suction cup is meant to be very strong, so you won't have to worry about it falling too easily.
The mirror has a special system that allows you to heat it up to 100 degrees before each use, to make sure fog doesn't ruin your shaving experience, for example. All you have to do is splash some water on it before each use, and you will actually get to enjoy it the way you should.
On top of that, it makes your life much easier thanks to the 360 degrees rotation feature. To make sure you see every angle of your face, the mirror can easily rotate to adjust to your needs. Isn't that great?
Pros
Easy to install
Powerful lock suction cup
Nice, unique design with an attractive, round shape
It comes with a viewable screen and razor hook
It can be rotated at 360 degrees
Cons
The suction cup is only very powerful on glass
Cheap back plastic
7. Ettori Fog-Free Shower Mirror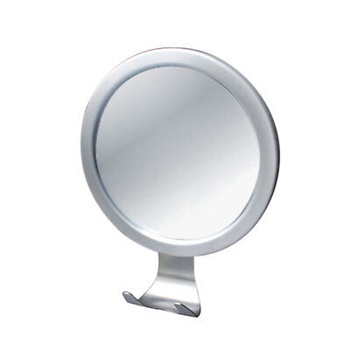 This Ettori fogless mirror does a great job when it comes to providing you with a fogless surface. It has an anti-fog coating on its surface, and the duration of the coating is mentioned to be 12 months, depending on how you handle it.
Storing will become much easier as the mirror has a hook where you can easily hang your towels, razors, sponges or anything of the sort. In addition, mounting it is a piece of cake – there will be 3 suction cups to help you attach the piece to the tiles or glass doors. After that, you'll immediately benefit from the mirror's features.
To make sure that you will have this item for a long time to come, the mirror has an aluminum alloy frame, while the hook is made of stainless steel. Therefore, even if the mirror falls by any chance, it won't damage too easily thanks to the sturdy frame.
Pros
The unit makes it easy to store different belongings
Anti-fog coating meant to last a year
The aluminum alloy frame makes it durable
Comes with a 1-year warranty
Has 3 powerful suction cups for mounting
Cons
It's a little small
Doesn't attach properly unless you have a glass surface
Fogless Shower Mirror Buying Guide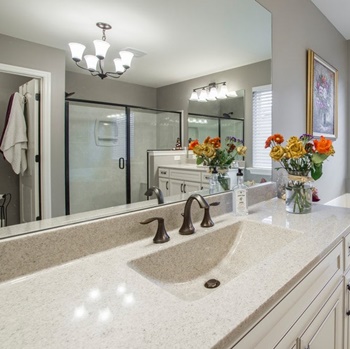 In your search for a fogless shower mirror, you will stumble upon a lot of products, and making your choice will not be a piece of cake.
Below, we'll put you face to face with the most important features you should pay attention to when getting a fogless mirror for yourself:
1. Safety
You may not give it too much attention, but mirrors can actually be a little dangerous if they shatter. Cutting yourself in the pieces of broken glass is not out of the question. So, you should always consider picking a fogless mirror that is shatterproof and tempered, to prevent any accidents. Shower mirrors are a little bit different about safety.
2. Type
Choosing the right type of mirror is important because not all of them are as effective as others, or as durable. As previously mentioned, fogless mirrors can come with a reservoir to heat up before you take the shower or with a coating to prevent the surface from condensation.
It's essential to buy something that you know will be effective in keeping condensation away from the mirror for long periods of time and that you won't have to replace anytime soon. In general, reservoir fogless mirrors are the best in this regard. They don't have any coating that you need to spray after certain periods of time and, more than that, they aren't as costly in the long run either.
If you want to settle for a fogless mirror with coating instead, then at least make sure that it has a coating that lasts for much longer. You can read the reviews of the product to find out for how long you'll get to enjoy the benefit of the coating.
3. Installation
Obviously, a difficult installation is something nobody's looking forward to, even when it comes to mirrors. Most fogless mirrors are easy to install, but there are some items that can give you a headache during the installation if you pick something more sophisticated. While all fogless mirrors do the same thing, the installation processes may differ.
So, make sure you choose something that takes very little time to set up and is easy to install. You should have all the necessary tools before installation as well, where it applies.
4. Size
Depending on where you're going to use the fogless mirror and what you need it for, you have to choose a suitable size. Bear in mind that fogless mirrors can be found in multiple sizes and shapes. So, it shouldn't be difficult to see something that accommodates your bathroom and needs.
To make sure the new mirror will have enough space and isn't at risk of being damaged, take measurements of the spot where you want to place it. This way, you'll have a better time analyzing a product's dimensions upon buying it.
5. Durability
Imagine the frustration you'd feel if you bought a new mirror and it started to decrease in quality shortly after the purchase. Wasting money is never fun, and when you buy something, you expect it to last – the same goes for fogless mirrors. Many products look nice in pictures, and then people are disappointed when the item they spent money on loses its efficiency after using it a couple of times.
Therefore, with fogless mirrors, you have to make sure the lifespan is long enough and that you won't have to look for a replacement mirror next month. Look at how good and durable the mirror itself is, and whether the borders are of high quality as well. If both of these are good enough, then you can rest assured the mirror will have a long lifespan.
6. Price
In general, you must be very wary of products that come for an extremely low price – so low that it seems too good to be real. However, this is one of those cases when you shouldn't settle for something that is too expensive, and rather go the opposite route.
Just think about it – this is just a mirror, and while it does hold some benefits, it wouldn't make sense if it came for a hardly affordable price. More often than not, you can find fogless mirrors for around $20-$30 or maybe a little more. When the price goes too high, though, you should carefully check the reviews and see if the price is worth it.
7. Warranty
Even fogless mirrors can come with a warranty. In general, manufacturers offer a return policy for a set amount of time, and if you're not pleased, you can get your money back or receive a new and better mirror. Of course, not all products have the same warranty period, which is why you should check it for the item that grabbed your attention before you think of buying it.
8. Additional Features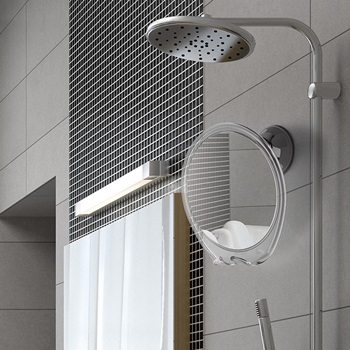 Believe it or not, but a lot of fogless mirrors can do more than simply let you see yourself clearly after a hot, steaming shower. Many of them have additional features to make everything more fun and ease your life even more – for some people, these extra features are a real blessing.
For instance, some of these mirrors come with LED lighting. So, even if you already have light in the bathroom, the additional lighting can make it much easier to see yourself more closely, especially if you need to apply makeup. The same goes for shaving, plucking your eyebrows, or anything of the sort.
Moreover, a lot of the mirrors come with hooks to allow you to hang additional stuff on them, or shelves so you can hold your razor or anything you need when using the mirror. Therefore, if you think these features will come in handy at any given time, consider checking out the additional ones for a fogless mirror before you buy it.
9. Mounting Type
Not all fogless mirrors are created the same way. Actually, different mirrors can be mounted differently, depending on how you find it more convenient.
That being said, some of them may be hanging from a rainfall showerhead. It's a great option if you don't want to ruin the wall or tiles and just want to have immediate access to the mirror. Still, it may not be a good option for everyone, as not all people have rainfall showerheads.
Another mounting type is the wall-mounted fogless mirror. Self-explanatory enough, these mirrors are attached to the wall, either through adhesive strips, screws or suction cups. They're the best if you're looking for a hands-free experience. Not to mention that they don't get knocked over, unlike a normal, free-standing mirror – this means that there's a lower risk of shattering them. However, some adhesives or suction cups may be hard to remove from the tile if you want to replace or move the mirror and may result in damages.
And lastly, there are free-standing fogless mirrors – these are a great option for people who want to move the mirror around with ease. Placing them wherever you want is a very big advantage, although you may encounter difficulties if there aren't enough places it can stand on. There is one big disadvantage with this type of mirror – it is very easy to knock it over. It may fall and shatter if it's not qualitative, so you should think very well before purchasing one.
Installation Methods for Fogless Mirrors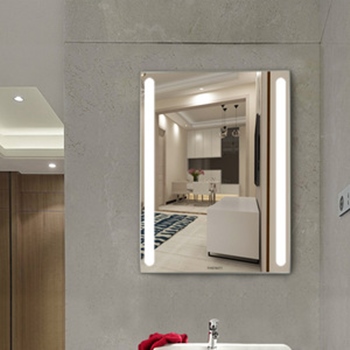 With these mirrors, a benefit is the installation methods available. You don't have to call any professional since there's no way you wouldn't know how to set them up. Here are the ways you can hang your shower mirror:
1. Suction Cups
You're probably familiar with suction cups – they're cups that use air pressure to stick to straight surfaces. Since the inside of the cup has low air pressure, while the outside has higher air pressure, the mirror using the suction cups will be properly attached to the wall. They have to be pressed down, which causes the air out so low air pressure remains inside.
2. Hooks
Some mirrors simply have a hook that you can use to hang them to certain stuff inside the shower. They may not be a good option if you have nothing that could help the mirror hang.
3. Adhesive
Adhesive tape is also an installation type commonly found in fogless mirrors. The mirror simply sticks to the wall or tile with adhesive and stays in place for long periods of time. However, sometimes, adhesive may ruin your tile or walls if you take the mirror off the wall.
4. Screws
Probably the safest installation type for fogless mirrors is represented by screws. You will have to drill holes so you can screw the base of the mirror, but although it's more work to do, screwing the object will guarantee that it stays on the wall and never falls.
FAQ about Fogless Shower Mirrors
Our site is dedicated to helping everyone in need when it comes to bathroom fixtures and units. So, fogless shower mirrors are one of the things you may need help with. To make sure you're well-informed before you pick your new mirror, here are some commonly asked questions about them:
1. Can I Clean My Fogless Mirror?
Of course, you can, and it's very much recommended. After all, even fogless mirrors are prone to getting dirty after a while, so you'd better be ready to clean them.
Cleaning a fogless shower mirror requires you to remove the mirror from its place, so you can reach all necessary areas and eliminate all dirt. Basically, you need to add some mild detergent and rub it with paper towels, so every soap scum can be removed thoroughly.
You can also use some shampoo or bubble bath on the damp mirror and rub it with a cloth or paper towel until all dirt is removed.
2. Will an Exhaust Fan Help Increase the Effect of the Mirror?
Although the mirror is already fogless, a top-rated bathroom exhaust fan may prove to be very useful when the mirror becomes "older" and thus less effective. Or, it can work when the mirror has no coating left and thus ends up with condensation.
So, a bathroom exhaust fan will help exchange the air in the bathroom and get rid of the moisture in the air. This is especially helpful when you're taking hot showers, and mirrors get damp as a result. Aside from helping you have a clear view of yourself, bathroom exhaust fans will prevent mold and mildew from appearing as well.
Wrap Up
You should always research carefully before buying a fogless mirror, especially if you want to make sure that you buy the best fogless shower mirror for your bathroom. Such a unit can be a life-changing experience if you're tired of seeing the mirror fogged whenever you step out of the shower.
We hope that you have found this buying guide useful and that the fogless shower mirror reviews were enough to show you some examples of what you can find. What are you waiting for? It's time to go on your search for your new fogless mirror!
See also: best towel warmers