The best towel warmer can be a great way to modernize your bathroom. Aside from the obvious benefit of giving you the warm embrace of a heated towel, the warmer will also give your bathroom a nice look.
Many people find it difficult to choose the right towel warmer for their house. The market is flooded with various models from different brands, and unless you're an expert in the matter, it's hard to tell which warmer is reliable and which isn't. Therefore, we're offering you this buying guide, where you'll read some towel warmer reviews, and you'll also find some information and advice on choosing a suitable unit. Let's get started!
See The Quick Comparison Chart
Advantages of Towel Warmers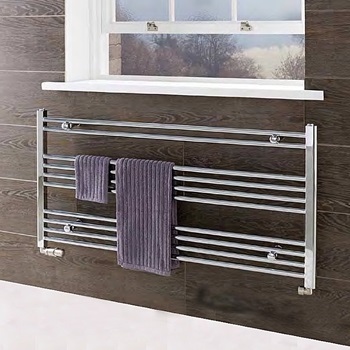 We want you to know everything that might be relevant when you choose new bathroom appliances. In this regard, our homepage has you covered. Moreover, this buying guide is meant to offer you all the information you need when it comes to towel warmers.
So, towel warmers come with a set of advantages that you'd surely want to know before buying one. Here are a few of the best things about these heating units:
1. They Decrease Stress
How many times were you hesitant to go to the shower when thinking about the cold feeling against your skin? It's unpleasant for sure, and quite stressful. However, with a towel warmer, your stress levels will be considerably decreased. Once you put your towels on the rails to heat, you know you'll be embraced by the warm material once you step out of the shower. It's very relaxing, and it can make you feel like you're at the spa. Who wouldn't love to cuddle in a warm, soft towel after all?
2. No Mold and Mildew
Damp towels risk smelling of mildew. It's not hygienic and it doesn't feel good to use a mildewed towel. Luckily, towel warmers can solve this issue. They don't only warm towels, but they also dry damp towels. That being said, you don't have to worry about dealing with awfully smelling towels ever again.
If you also have a humid bathroom with a top-rated steam shower generator, the towel warmer can help decrease some of the moisture and prevent mold apparition.
3. Hanging Little Pieces of Clothing
Whether you have a baby you need to warm clothes for, or you want to have some hot socks for a cold winter evening, the towel warmer is more than suitable for this job. Apart from hanging sheets or towels, you can also hang smaller clothing pieces to dry or warm them up. You'll surely love the versatility of these devices.
4. Great Look
People are often more concerned with the look of their rooms, but the bathroom is often ignored. Of course, this varies from person to person. But if you feel like your bathroom looks dull, adding a warmer for your towels might offer it a nice design – aside from the obvious benefit of having hot towels.
And let's be honest, typical towel bars are not that good looking. On the other hand, towel warmers will add a stylish touch and make the area look modern. If you have a nice bathroom with an acrylic bathtub, a towel warmer will only make it look better.
5. Storage Option
Having a large number of towels is cool, but do you know what isn't? Not having enough storage space for all of them. Some towels can be thicker and fluffier – not to mention bathrobes or other sheets. When space becomes a problem, a towel warmer lights a bulb. It won't only make the materials warm, but it can also be used to hang your sheets and not struggle to push them inside a cabinet.
The bigger the towel rail, the more space it will take, but the more sheets it will be able to store. Your bathroom's dimensions may limit the size of the warmer that you can use, though.
6. Energy-saving
Although towel warmers use electricity to operate, they can also save electricity because you'll not have to use the tumble dryer too often. As already mentioned, towels and small pieces of clothing can be hanged on the rails and dried out. Therefore, you'll save some costs by making less use of the dryer. Isn't that great?
Best Towel Warmers Comparison Chart
PRODUCT
DETAILS

Elite Hot Towel Cabinet

Price: $
Customer Rating: 4.4
Size: 17.8 x 10.5 x 14 inches
Weight: 9 pounds
Towel Capacity: 12

View On Amazon

Spa Luxe Hot Towel Cabinet

Price: $$
Customer Rating: 4.1
Size: 20.3 x 16.4 x 13.9 inches
Weight: 16.95 pounds
Towel Capacity: 24

View On Amazon

Salon Sundry Professional Hot Towel Warmer Cabinet

Price: $
Customer Rating: 4.0
Size: 13.4 x 11 x 10 inches
Weight: 12.1 pounds
Towel Capacity: 24

View On Amazon

HEATGENE Heated Drying Rack

Price: $$$$
Customer Rating: 4.4
Size: 33.8 x 26.5 x 3.5 inches
Weight: 11.85 pounds
Towel Capacity: 2

View On Amazon

Homeleader Towel Warmer and Drying Rack

Price: $
Customer Rating: 3.8
Size: 24.8 x 2.4 x 31.8 inches
Weight: 9.2 pounds
Towel Capacity: 3

View On Amazon

Warmrails WHC Hyde Park

Price: $$
Customer Rating: 3.3
Size: 24.1 x 13.75 x 39 inches
Weight: 10.8 pounds
Towel Capacity: 2-3

View On Amazon

INNOKA 2-in-1 Freestanding & Wall Mounted Towel Warmer

Price: $
Customer Rating: 3.4
Size: 36 x 23.2 x 2.5 inches
Weight: 7.87 pounds
Towel Capacity: 1-2

View On Amazon
Best Towel Warmer Reviews
1. Elite Hot Towel Cabinet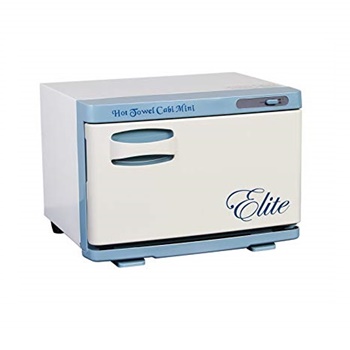 This is a small type of warmer that can be used specifically to warm towels or dry them up. It's a cabinet where you can insert 12 small towels and get them ready to use. It's space-saving too, making it a good choice if you don't have a lot of space in your salon, or you don't have a lot of clients.
The towels have to be rolled up to fit inside the cabinet. There's a rack inside where you can place the facial-sized towels, after which you close the cabinet's door and set it up to operate. It has an overheat protection system to make sure no accidents are going to happen, and your towels can dry out safely inside the appliance.
Likewise, the cabinet is insulated and has a padded heating element on the walls in order to ensure consistent heating.
Pros
It has an overheat protection system
It's compact and saves space
Good quality for the price
Cons
After a long time of consistent use, the cabinet's door might crack
Some clients complained about the amount of time it takes to warm up
2. Spa Luxe Hot Towel Cabinet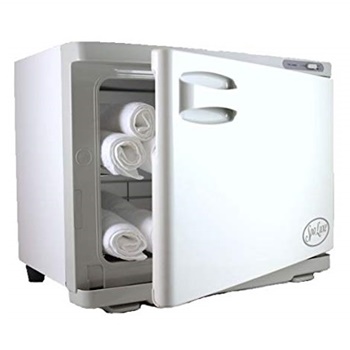 If you have a lot of facial towels or you are a manicurist and need towels ready, this cabinet is a very good choice. It has the capacity to hold about 24 regular manicure sized towels, warming them up and making sure you or your clients will enjoy the cozy material.  It can withstand the temperature of 160 degrees and maintain it for your convenience. Inside the cabinet, you will find two shelves where you can nicely place the towels.
Whereas it's not the most relevant aspect when it comes to these appliances, it's certainly worth mentioning that the warmer has a nice, clean look. It will fit in with most decors, so there's no need to worry about ruining the aspect of the room.
Pros
It doesn't overheat, providing just the right amount of heat to warm the towels
The door isn't noisy when opening or closing it
Great to use for businesses
The price is pretty convenient
Aside from towels, it can also work great in a spa by keeping stones warm
Cons
The appliance might take a while to heat up the towels
There's water seeping out of the door in some cases
3. Salon Sundry Professional Hot Towel Warmer Cabinet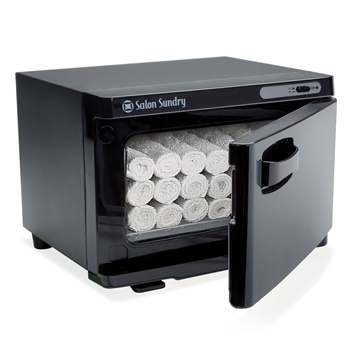 This product fits the requirements if you're looking for something that not only works nicely but also looks beautiful. It comes in two colors, respectively black or white, and you can choose whichever you want to accommodate the décor of the salon.
The cabinet can do a great job in heating up a high number of towels – although it depends on their size. If you're using small towels, you can add as much as 24 towels at once inside. Furthermore, the appliance is CE certified and safe to use, as it also has a US-standard grounded 3 prong plug.
And in order to make sure you always have the towels ready, you can rest assured the unit is powerful enough to do so. Once it heats up, it can maintain the same temperature, thus keeping the towels warm too. That already sounds like a great deal if you have a lot of clients and you don't want to have them waiting.
Pros
Great to use for spas, as it can be used for hot stones, rice bags, and towels
It doesn't take too long to heat up
Cons
There might be water spills in the tray
4. HEATGENE Heated Drying Rack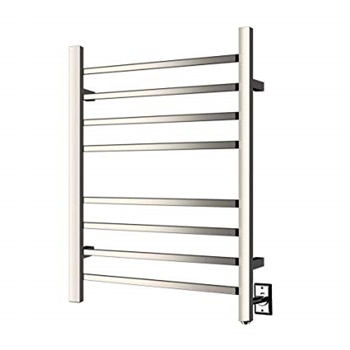 A towel bar can be a great way to hang up your towels after a shower and let them dry. Not to mention that it's also nice to have a hot towel ready for when you step out of the shower. This rack is wall-mounted, as well as hardwired and plugged-in appliance.
You can use it to heat large towels, as well as your bathrobe. And another added advantage is the modern look it gives to your bathroom. No matter what décor you have in the bathroom – this appliance can accommodate almost anything.
It has two wiring ways, respectively plug-in and hardwired. Luckily, the package comes with the tools you need for the installation, to ease your job. Once installed, the warmer is able to heat up your towels in a very short time. 15 minutes might be enough for your towel or bathrobe to get warm.
Pros
Overheat protection to ensure your towels don't catch fire
Designed to run 24 hours
2-year warranty
All necessary parts for the installation are included in the package
Cons
It sticks out quite far off the wall
It doesn't work that quick for very large bath towels. It's more convenient for regular ones instead.
5. Homeleader Towel Warmer and Drying Rack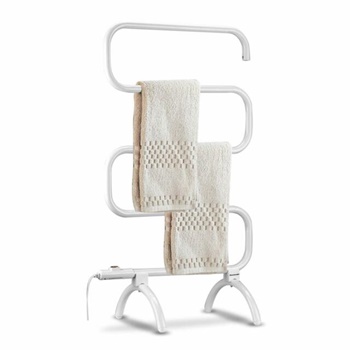 For a more unique design, this towel might be what you're looking for. It is elegant, it's made of white lacquered steel, and it will look amazing with any bathroom décor. It's not too big either, so even if you have a smaller bathroom, this unit will fit without being an obstacle. It's easy to mount on the wall too.
It has a power of 100 watts, and within only 30 minutes, it can reach between 113-122°F. As such, you can hang your bath towel and wait for it to get warm for when you get out of the shower or dry it after wiping yourself with it or washing it.
Also, it comes with a built-in thermostat to help you maintain the preferred temperature. It also saves energy, so your electricity bills won't give you too much trouble.
Pros
If there are issues with the product, you have a reliable customer service available 24/7
Lifetime support guarantee, 30-day money-back guarantee, and 12-month replacement warranty included
It is waterproof to ensure your safety
It heats up pretty quickly
Cons
It doesn't really come with any directions
Might not be too effective if you use very big towels
6. Warmrails WHC Hyde Park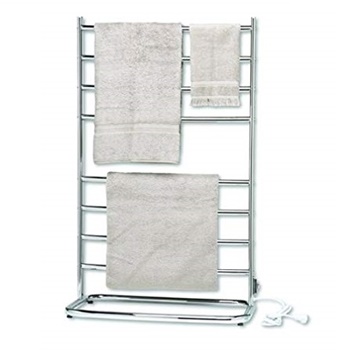 When it comes to towel warmers, you'd rather settle for something compact and useful. This model can be described as such. The dimensions for this towel warmer are not too big, nor too small. It has the right size to fit two medium-sized towels and get them ready for you. You'll love the luxurious feel the appliance is able to give you, and you'll feel like you're at a hotel or spa instead of your house.
Unlike some towel warmers that have to be mounted on the wall, this one is floor standing. It has the support that helps it stand, and you can place it wherever you need. Moreover, the chrome finish is attractive and will serve as a decoration for the bathroom. In addition, the unit has a 7' power cord with a grounded plug.
Pros
Suitable for towels, bedding, baby blankets, and swimsuits
It requires minimal assembly
One-year warranty included with the product
The price is affordable and offers a lot of quality for the value
Cons
According to a few reviewers, the appliance is not powerful enough and the towels don't get too warm as a result
The plastic coverings on the sidebars might melt if the warmer is used too much
7. INNOKA 2-in-1 Freestanding & Wall Mounted Towel Warmer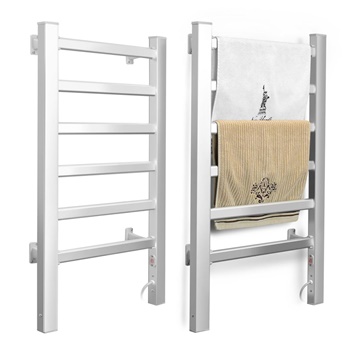 Nobody wants an appliance that is hard to operate. The main aim of a towel warmer is to heat up your towels or dry them – not to give you headaches. Luckily, if you purchase this unit, you won't stumble upon a troublesome product to deal with. The device has a switch. All you have to do is turn it on, after which the item will increase the temperature until reaching the optimal one. It can go between 110°F – 122°F in about 30-40 minutes.
Additionally, the towel warmer comes with a built-in thermostat. You'll monitor the condition of the appliance and you'll be able to know how long it should operate.
You can decide for yourself whether you want it mounted on the wall or freestanding. This will also give you more design options for the bathroom.
Pros
The warmer has a light indicator to let you know it's still in use, so you don't forget it on
It can heat up two bath-sized towels pretty quickly
Will fit amazingly in most bathrooms
Cons
Not all customers were pleased with the heating power of the appliance
The rack is not wide enough to support a standard-sized towel
What Is a Towel Warmer?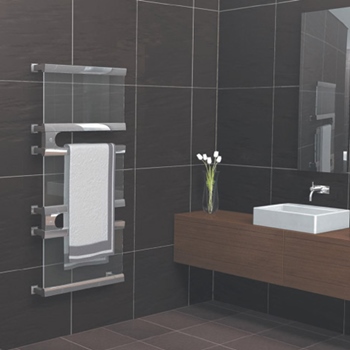 Before going deeper into more information regarding towel warmers, let's establish what these are. Simply put, they are appliances used in bathrooms or other humid spaces, serving as means of drying towels or warming them up so that you can use them after your shower. They can usually be installed on an empty wall in the bathroom. Not to mention that they also warm up the environment – this is great if you're tired of being slapped by the cold air whenever you want to shower.
What's cool about them is that you can either have a thermostat to set them up, a WiFi switch or just turn them on and off manually. The WiFi can let you program the towel for specific times of the day, being more convenient if you're about to go somewhere and want to return to a warm towel.
Still, towel warmers can be used for more than just warming up a towel in the bathroom. They can be installed in sunrooms, laundry rooms or mudrooms too. For instance, if you have a pool, a towel warmer can dry your towel and bathing suit after a swimming session. But it can also give you a cozy towel for when you want to get out of the pool. Isn't that great?
And if you have a laundry room and want to dry your clothing, what better way to do it than installing a towel warmer? Of course, you also have the option of adding the clothes inside the dryer, but for more delicate clothing, a towel rack is a much better option.
Towel Warmer Types
When you first see them, you might not think that towel warmers come in multiple types. They look pretty much the same, and all of them serve the same purpose, so how can they come in a variety of types? They do, though, and knowing them all can help you decide on one to suit your needs. Let's take a look at the four main types you'll find in stores:
1. Hydronic Warmers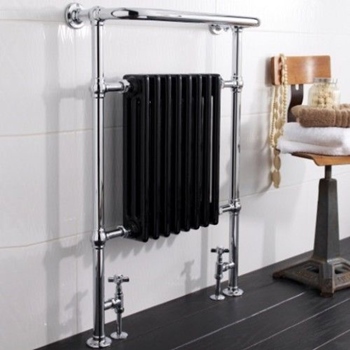 These types of towel warmers are quite unique in the way they operate and distribute heat. Although they also require electrical power to work, they have something that sets them apart from the other types of similar appliances. Basically, they use some kind of gel fluid to conduct heat. This gel resides inside the bars of the appliance. Meanwhile, other towel warmers make use of metallic coils inside the rack to warm up.
Hydronic towel warmers are able to distribute heat evenly and make sure you enjoy a nice, consistent warmth.
2. Plugged-In Electric Towel Warmer
The name is already suggestive when it comes to this type of towel warmer. Despite being electric, it is actually not connected to the electrical system of the house. It has to be connected to electricity manually – in other words, it must be plugged into an outlet.
The best thing about these warmers is that you don't need to spend money on an electrician or waste time installing the devices. There's no wiring required for the installation process. You just mount the appliance on the wall and plug it into the outlet, after which it's able to operate nicely. It might even save some money on electricity this way.
3. Electrical Hook-Up Electric Towel Warmer
Being arguably the most common type of towel warmer in homes, this appliance is very effective, although installing it might take some time. Its system requires you to connect it to the home's electrical system in order to work. But on the good side, you can use a timer or a switch to operate it. Therefore, you can set it up to work during specific times of the day and set the amount of time you want it to work for.
However, the only thing to keep in mind is that you should install it away from any water source. It can be dangerous to have it too close to water, so make sure it's installed at least a foot away from potential danger.
4. Towel Units with Radiator Capabilities
This type of towel radiator is yet another one that has something unique. It can be used to replace an older radiator that is defective or doesn't work anymore. It helps you save space by doing so, which is what makes it a convenient choice to begin with.
What makes it quite unique is the fact that you have to make a connection to the house's hot water supply if you want it to work properly, so keep this aspect in mind.
Installation Types of Towel Warmers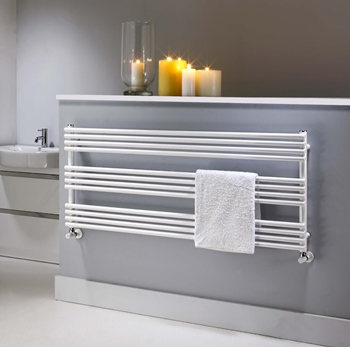 When you're thinking of buying one of these appliances, another aspect worth considering is how to install towel warmers in your bathroom. Not all towel warmers are equally created. Some of them require a certain amount of time to be installed, whereas others are quicker to put to use. Here are the main types of installation mounts for towel warmers:
1. Industrial Towel Warmers
Let's get the industrial ones out of the way first. Industrial towel warmers are larger than those you use in your house, and they look and operate a little differently. They look like a microwave, have racks inside, and fit a specific number of towels inside. More often than not, they're used in salons.
2. Floor-Mounted Towel Warmers
If you have a larger house, there's a towel warmer model you'll see on the market that will be more than suitable for your house – respectively the floor-mounted warmer. Just as the name already suggests, this unit has to be mounted on the floor. Generally, it is either an electric or a hydronic type.
They work best for larger bathrooms because they take up quite some space. Therefore, if you have a small bathroom, it's not a wise choice to consider a floor-mounted heating unit.
3. Wall-Mounted Towel Warmers
These towel warmers are probably the most commonly found towel warmers thanks to how versatile they are. They don't take up that much space, and they're easier to install too. Such a device can be put next to your top-rated bathroom sink, or anywhere else for that matter, as long as you have a free wall and it's safe.
Wall-mounted towel warmers could be used as replacements for towel racks – and they're a great choice because they can also heat up the room. The cool thing is the fact that you have many choices when it comes to these devices. Not only that you can choose between a plug-in or hardwired unit, but you can also choose between an electric or hydronic one. Apart from that, it looks great and can improve the modern look of the bathroom.
Wall-mounted towel warmers work best if you have a decent-sized bathroom and you don't want to change the look of the area too much.
4. Freestanding Towel Warmers
Freestanding towel warmers are the easiest to set up, and usually cheaper compared to their mounted "brothers". All you have to do is put the unit in one place close to a socket, and it will be able to operate. These appliances have a stand used to support the body – which means you can easily move them around as you wish. If you don't have the money to cover the costs of a wall-mounted warmer installation, this type of heating appliance is a great alternative.
The downsides are that they don't come in that much variety, and they don't look as nice as the other models. But if you don't have the funds, or you're a renter instead of a homeowner, you might want to settle for a freestanding towel for the time being.
Towel Warmer Buying Guide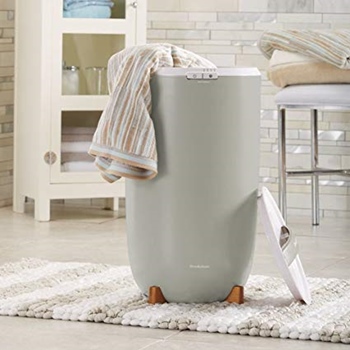 Before making the purchase, you may want to look at some of the warmer's features and see how they will help you. Below you will find some of the things to keep in mind:
1. Power Source
You have two options when it comes to power sources for the towel warmer: hydronic or electric. Deciding on one ultimately depends on your preferences.
Electric models are made to run strictly on electricity – as their name already implies. Basically, you plug them in or connect them to the electric system of the house, and they operate. They are also quite easy to install and maintain, and maybe that's why so many people choose them.
But there are also hydronic towel warmers, which use another power source rather than electricity. They use boiling water in order to distribute heat in the bars. Simply put, they use a radiator system, heating the towels the same way an electric warmer would do. Hydronic ones are usually better if you run out of electricity, as they'll still work even if the energy source is unavailable. Besides that, they are much safer.
2. Price
You can't always guide yourself after the smaller price that promises too much to be true. You can't go for the hardly affordable product either. More often than not, if a product is too cheap, everything promised in the features section might end up not functioning – or it might function, but it will not last enough.
Of course, nobody says you have to settle for a heating unit that will force you to break the bank. However, a moderately priced one is preferred, rather than a very low-priced one.
The towel warmer market has prices for everyone, so you can be sure you'll find something to fit your wallet.
3. Dimensions
Dimensions are very important to take into consideration – otherwise, you might end up with a warmer that won't fit your bathroom. Depending on the size of your house, the bathroom will have a specific size too. If it's too small, it might not be suitable for all types of towel rails. Make sure you have enough space to fit the type of appliance you set your eyes upon. For example, if you want to go for a wall-mounted towel warmer, check to see if you have a free wall in the bathroom.
In addition, you need to consider the number of towels you have to warm up before a bath, or how many you must dry each day. The bigger the area of the unit, the more towels, sheets, and clothing you'll be able to hang on it. A larger unit will also be preferred if you want to add some warmth to the bathroom.
4. Safety
Whether you worry about yourself or about the other members of your family, you have to agree that you can't overlook safety. Although towel warmers are meant to prepare you to embrace a warm feeling after a shower, they are not always the safest. They might be safe around children, yet you shouldn't allow your child to play with them – especially if you have an electrical appliance.
Towel warmers may be hot to touch, and while not all of them will cause skin damage when touched, it's ideal to choose a unit with overheat protection. In addition, you should consider an appliance with automatic shut off. This will make sure the towel warmer stops operating in case it gets too hot – thus, it prevents you from burning your skin, or it can prevent a potential fire hazard.
5. Style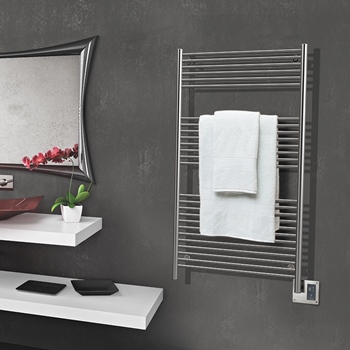 Do you want to use a towel warmer in order to make your bathroom more stylish? Then look over the many styles available in stores. You can choose between traditional, artistic, antique and many others. You can also choose between straight or arched tops, as well as straight or curved rails.
When browsing the list of options available, you need to consider the style of the bathroom. While the towel rails have to be eye-candy, they should also fit in with the already established décor. Depending on the color and many other design aspects, you have to choose from various warmer colors. You can get antique gold, bronze, white, black and many others. Whether the rails are curved or straight also has an impact on the overall look. Curved ones have a more stylish aspect, but they are also more expensive.
6. Extra Features
Sometimes, extra features can make your life better. So, if you want some added benefits, don't hesitate to purchase something with a few more functionalities. For example, some units might have additional hanging racks or robe hooks to hang smaller towels or robes. This will ensure they are not put on the hot rails, but just close to the heat source, thus being only lightly warmed.
Built-in switches might also be something worth looking into if you want to manually operate the appliance. Some manufacturers would recommend leaving the unit on all the time, but you never know when a switch might come in handy.
At the same time, adjustable temperature settings are also worth considering if you want full control over the heating power of the warmer. You'll set a lower or higher temperature according to your preferences – thus, the unit can be more efficient in drying or warming the materials.
A timer could be useful too. This way, you'll set the towel warmer to operate during specific times, and it will stop whenever you choose. It's a great way to make use of its benefits while saving on energy costs.
7. Wattage
Wattage pretty much refers to the maximum power output of the unit. You have to be aware of the insulation quality of the bathroom, its size, as well as where the property is located.
Most towel warmers have their wattage featured in their information section. Look out for it and ensure you choose one that matches the wattage capacity of your bathroom. If you choose something bigger, it will consume more electricity and you'll have to deal with more costs.
FAQ About Towel Warmers
Questions are bound to pop up in your head if you haven't had a towel warmer before. Here are some frequently asked questions and the answers to them:
1. Can Towel Warmers Only Be Used in the Bathroom?
A towel warmer can be used in other places too, so you don't have to install it in the bathroom. If you have an indoor pool, you can mount it in the same area to dry your swimsuit and towels. Spas, mudrooms or laundry rooms are other places where these appliances can be mounted. Even a kitchen is a suitable place.
2. Can My Towel Warmer Be Left on Constantly?
Generally, manufacturers advise that you keep the unit on all the time to always enjoy the conditions you desire. These towel heating units are built to operate for a long time, so usually, there's no problem in doing so.
More often than not, these units will increase the temperature until they reach an ideal one, after which the heating won't increase. Timers or thermostats are also added to help with this, which is why leaving them on won't be such an issue since they won't go above the limit.
If you do it, though, it's recommended to choose a safe model, preferably one that isn't hot to the touch, and shuts off when it overheats. Overheat protection can prevent a fire hazard.
Also, keep in mind that leaving them on for a long time will show up on your electricity bills, and that's the one downfall in this regard.
3. How Can I Clean My Towel Warmer?
If you have a towel rail, cleaning and maintaining it will be easy – you can simply run a damp cloth over the rails to get rid of any stains. Baby wipes or glass cleaners can do wonders too, depending on the amount of cleaning you need.
As for towel cabinets, you will need to use warm water, soap, a clean towel, a rag and disinfectant to do the job.
4. Can I Use a Towel Warmer Outdoors?
It's not really recommended to install a towel warmer outdoors, mostly because of the dangers you expose it to. Weather condition changes a lot, and the warmer might have to deal with snow, ice, rain, or other things. The biggest danger is probably the water that can enter behind the faceplate and reach the wiring. This might cause a short circuit, which can be extremely dangerous.
Towel warmers are best used indoors, so make sure you don't install it in a risky outdoor area.
5. What Are Towel Rails Made Of?
Heated towel rails are made of various materials, such as aluminum, mild steel, brass, cast iron, stainless steel, and others. The material has a big influence on the overall performance of the product. Some materials are better in distributing heat compared to others, while others are more durable and guarantee you'll own them for a long time to come.
Wrap Up
If you ever find yourself in the situation of purchasing a towel warmer, you must know what to take into account before investing in such a device. The best towel warmer must fit the size of your bathroom, and accommodate its design, as well as your own needs. Different types of warmers can operate differently, which is why you must know how to make your choice. They can either be towel rails or cabinets. The former is preferred for households, while the latter is meant for industrial purposes.
Now you know more about the benefits of these units and how they operate, and you've also read some towel warmer reviews. So, hopefully, you're well-informed and you can make the right choice for your needs.