When you have the best handheld shower head, the shower can finally be the relaxing oasis that you can rely on.
But how are you supposed to find a good model that is actually worth the money? If you read through some handheld shower head reviews, you might find a great model right away, or sift through our buying guide for help on making the right pick!
See The Quick Comparison Chart
Advantages of Handheld Shower Heads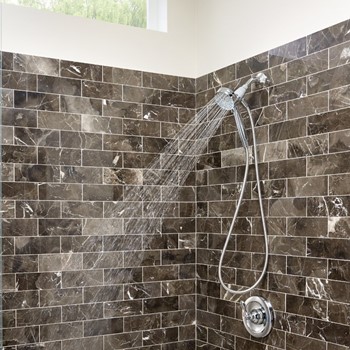 Handheld showerheads have become a common occurrence in the average person's home – and one may say that there is a very good reason for that. A few good reasons, to be more precise. Here are the advantages of installing a handheld showerhead in your bathroom.
1. It Helps Conserve Energy and Water
With a fixed shower head, the water goes only in one direction – down. Sometimes, the water might not fall where you need it – so, in order to wash everything off, you might end up consuming quite a lot of water. It's hard for the water to keep its focus when it's going all over the place and you do not have any control over its direction.
On the other hand, with a handheld showerhead, you may simply detach it from its support and direct the water exactly where you need it. Less water used, more cleanliness – and more comfort. Plus, most of these handheld showers have water control switches, which you may use to either turn the water off or to reduce its flow.
2. It's Good for Kids, Elderly, and the Disabled
Sometimes, there might be circumstances when your body will not be able to reach the fixed shower head. You may be too short because you are a kid – or you may have to shower seated because of a disability or because you are an elder person. In this case, a fixed shower head will only begin spraying water all over the place, and most of that water will be falling anywhere but on you.
However, with a handheld showerhead, it should be relatively easy for you to clean yourself, even if you are seated. You are less likely to fall and injure yourself this way – and if you are washing your kid, it's a good option to clean them up without getting yourself drenched in the process.
3. It Keeps the Shower Walls Clean
Each time you shower, soap will end up on all your shower walls and you'll have to scrub them clean. This is hardly something that you want to do right after you hop out of the shower, and it will be very difficult to scrub clean once the soap dries.
With a handheld showerhead, all you have to do is take it from its support, rinse the soap, or maybe even scrub a bit if the walls have become too dirty.
4. It Provides a Spa-Like Experience
Handheld showerheads provide a level of comfort that no average fixed shower head can. The fixed model, for instance, will only have the water falling down on you – which is great if you like that "standing under the shower" feeling.
However, a handheld showerhead will also double as a massager. Granted, you may use it fixed above your head when you attach it in the support – but if you have sore muscles, for instance, you may take the showerhead from its support and massage that exact area. It will feel like you have a therapy massage room straight in your bathroom.
Best Handheld Shower Heads Comparison Chart
PRODUCT
DETAILS

AquaDance High-Pressure 6-Setting Chrome Handheld Shower

Price: $
Customer Rating: 4.5
Size: 6 x 3.5 x 10 inches
Weight: 1.1 pounds
Material: ABS Plastic
Max Water Consumption: 2.5 GPM
Shower Spray Settings: 6

View On Amazon

YOO.MEE High-Pressure Handheld Shower Head

Price: $
Customer Rating: 4.6
Size: 8.9 x 3.3 x 1.8 inches
Weight: 1.1 pounds
Material: ABS Plastic
Max Water Consumption: 2.5 GPM
Shower Spray Settings: 3

View On Amazon

Delta Faucet 7-Spray Touch-Clean Hand Held Shower Head

Price: $
Customer Rating: 4.2
Size: 5 x 7 x 14 inches
Weight: 1.4 pounds
Material: ABS Plastic
Max Water Consumption: 2.5 GPM
Shower Spray Settings: 7

View On Amazon

Briout Massage Spa Detachable Hand Held Showerhead

Price: $
Customer Rating: 4.5
Size: 9.7 x 4.1 x 3.1 inches
Weight: 1.17 pounds
Material: ABS Plastic
Max Water Consumption: 3 GPM
Shower Spray Settings: 5

View On Amazon

Moen 26100EP Magnetix Six-Function Handheld Showerhead

Price: $$
Customer Rating: 4.3
Size: 4 x 2.5 x 8 inches
Weight: 1.65 pounds
Material: ABS Plastic
Max Water Consumption: 1.75 GPM
Shower Spray Settings: 6

View On Amazon

KES Bathroom Handheld Shower Head with Extra Long Hose

Price: $
Customer Rating: 4.4
Size: 4.8 x 2.9 x 10.1 inches
Weight: 1.19 pounds
Material: ABS Plastic
Max Water Consumption: 3 GPM
Shower Spray Settings: 1

View On Amazon

Vive Handheld Long Hose Shower Head

Price: $
Customer Rating: 4.0
Size: 9.6 x 5 x 3.6 inches
Weight: 1.35 pounds
Material: ABS Plastic
Max Water Consumption: 1.75 GPM
Shower Spray Settings: 5

View On Amazon
Best Handheld Shower Head Reviews
1. AquaDance High-Pressure 6-Setting Chrome Handheld Shower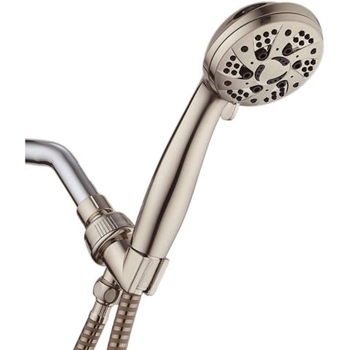 Those of you looking for a good handheld shower head will certainly appreciate this deluxe model, as it can be used as both a handheld and or an overhead shower. With its 3.5-inch click level dial, you may set the jet in whatever way you wish so that you can reap the benefits of a great massage.
The showerhead may be used as a fixed option, but at the same time, it has an angle-adjustable bracket. This allows you to point the shower head in whichever direction you need it to – without actually having to hold it in your hands.
The showerhead is easy to install and surprisingly tool-free. You won't even have to call the plumber in. Moreover, the package comes with all the parts that you need, ensuring that you will not have to purchase any piece separately. It even includes Teflon tape.
Pros
A variety of shower jet modes
Lightweight construction
It includes all the necessary parts
Very easy to install
Cons
The construction is prone to leaks
The hose is not that durable
2. YOO.MEE High-Pressure Handheld Shower Head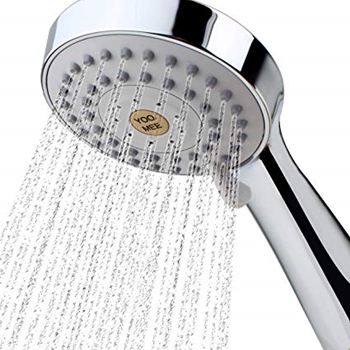 If you need a showerhead that will bring you a nice and comfortable pressure, then you will certainly appreciate this model. Featuring a power spray that shoots against low water pressure, this shower head is not only relaxing to stay under, but also water saving.
In the event that you have different shower preferences, you may also reap the advantages of a water flow regulator. This way, you may choose exactly how much water will flow through the hose, as well as how strong that jet will be.
The shower in itself is very durable. The hose is made from stainless steel, to make it more durable at its connection – whereas the head itself is made from high-quality ABS plastic. This will keep your shower head lightweight so that you won't feel like you are working out each time you are taking a shower.
Pros
Durable despite the material
You may choose from multiple shower settings
The installation is very simple
It does not use much water during showers
Cons
It does not feature an on/off switch
The warranty does not provide much coverage
The color may fade after a few weeks
3. Delta Faucet 7-Spray Touch-Clean Hand Held Shower Head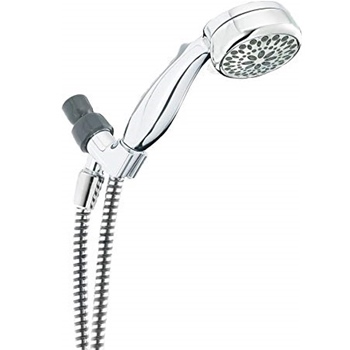 If you are looking for a showerhead that provides more spraying options, then this unit is certainly something that you want to get for your bathroom. Featuring 7 spray options, you may choose the option that you feel most comfortable with.
Aside from the standard shower setting, you also have features for massaging. This makes it a great option for those that are constantly dealing with sore and tired muscles. You may go from small massaging sprays to full body sprays in a heartbeat, bringing the spa experience right in your home.
This showerhead also features a TouchClean technology, meaning that it is very easy to clean it. All you need is a quick wipe, and the calcium buildups will go off straight away.
Pros
Easy to clean and maintain
It comes with a variety of powerful spraying options
Perfect for those that have sore muscles and painful spots
Cons
The hose is rather rigid
Some say that the construction is not long-lived
4. Briout Massage Spa Detachable Hand Held Showerhead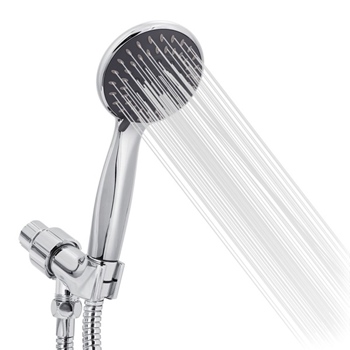 If you are looking to make your showers very relaxing while saving on the budget, you may want to take a look at this product. Featuring five different functions, you can adjust the shower experience to be just the way you want it to.
Made from advanced ABS material, this showerhead is not only durable but also lightweight. This means that your shower experience will be comfortable and safe, without feeling as if you are carrying too much.
This shower also functions perfectly as an overhead shower. Using the swivel ball bracket, you may place it in whichever way gives you more comfort and coverage.
Pros
Very easy to install
Advantageous price
Multifunctional use in the bathroom
The showerhead size is fairly wide
Cons
The water tends to spray around the shower circumference
It may only last for a couple of months
5. Moen 26100EP Magnetix Six-Function Handheld Showerhead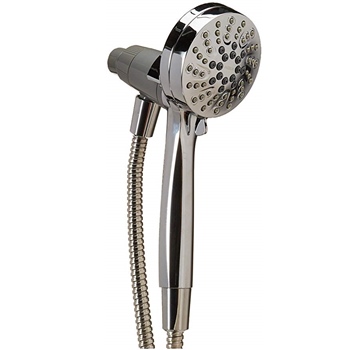 If you are looking for something with a particularly low water flow that will save you on the water consumption, then you might want to go for this unit. Featuring a 1.75 GPM water flow rate, it will consume little water while ensuring that you get that superior shower experience.
This showerhead is also easy to use due to its Magnetix technology. Since it has a magnetic docking system, you may easily attach and detach it from its overhead mode. All it takes is a snap of a magnet.
The multiple shower settings allow you to get a distinct shower experience, each and every evening. Plus, since it is ADA compliant, it is perfectly safe and easy to be used by the elderly or people with disabilities as well.
Pros
The Magnetix technology makes it easy to use in the shower
Customizable settings
Versatile and attractive design
The setup is a breeze
Cons
The plastic will last only about 9 months
Very low flow rate that can be inconvenient for some
6. KES Bathroom Handheld Shower Head with Extra Long Hose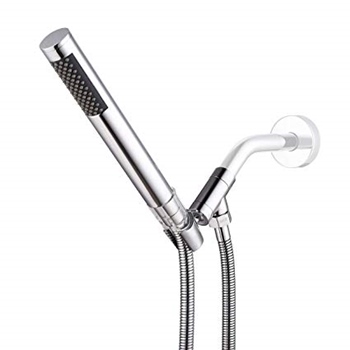 If you are looking for something simple yet different from your average showerhead, then you might want to go for this unit. Featuring a cylindrical design with a long 1.5-meter hose, this showerhead will be very easy to use in the shower.
Made from brushed steel, this shower head is very durable compared to the ones made from ABS plastic. The only more fragile part here is the plastic wall bracket, but even that one has proved to be quite durable.
The water spray from this shower is quite strong, making it relaxing to stay under. Plus, the jet is powerful enough to release the tension in the sore muscles – making it perfect if you are looking for a massage.
Pros
Nice design that makes it perfect for every modern bathroom
The stainless-steel construction is very durable
The water pressure is very comfortable and relaxing
The price is very convenient
Cons
The wall bracket is still rather fragile
Only has one water setting
Does not provide much water coverage
7. Vive Handheld Long Hose Shower Head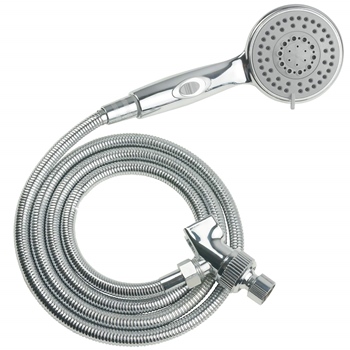 In case you are looking for a nice shower head built in the classic style that will provide quite a lot of coverage, you might want to try out this model. Since it can be fitted to the standard shower plumbing, you will not even have to call in the plumber to install your new showerhead.
Unlike other showerheads, this one also features an extra-long shower hose. Being 6.5 feet long in length, you can move in whichever way you want in the shower, without being too restricted in one spot. Plus, since the hose itself is rather flexible, you won't even feel bothered – mainly because it won't be bending in all the wrong directions.
Featuring multiple spray settings, this model allows you to bring the spa experience straight in your own home. All you have to do is press on the dial, and you may choose either of the five spraying patterns: massaging spray, saturating spray, bubble spray, and two combos. The combos are massaging and saturating spray, along with bubble and saturating spray.
Pros
Installing and adjusting it is very simple
Very affordable price
It offers quite a fair amount of coverage
Surprisingly good quality, considering that it's mostly plastic
Cons
The handheld unit is rather heavy
The on/off switch only works when you don't have water pressure
The water flow is rather weak
Handheld Shower Head Buying Guide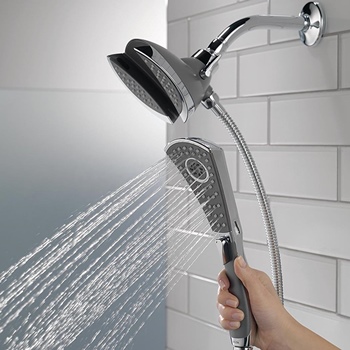 When getting a handheld showerhead, there are several factors that you might want to keep in mind to ensure you make a worthwhile purchase. Here are some features that you might want to be on the lookout for:
1. Finish and Style
The finish and style of a handheld showerhead will differ from brand to brand – as well as from model to model. Most brands will also have their own finishes, which is why you need to ensure that you pick something that matches every other bathroom and shower faucet that you have.
2. Material
Handheld showerheads may cost you a small fortune – even if you buy cheap ones. For example, if you buy units with poor construction, you will have to replace them very often. This is why you need to invest in a showerhead that was constructed using high-quality materials.
Most of the good quality handheld showerheads were made using a metal alloy made from stainless steel – the kind that has an elegant and glossy nickel or chrome finish. Generally speaking, these should last long enough so that you don't have to replace your shower head every few months.
Nevertheless, you might find some cheaper, high-quality shower heads that have plastic embedded in their construction. If that is the case, you might want to go for models that have high-quality ABS plastic, as it is more resistant to wear and tear.
3. Hose Length
Perhaps the most important aspect when looking for a handheld showerhead is the length of the hose that it comes with. If it's too short, then you won't be able to reach all the places that you need with it. On the other hand, if it is too long, then you might end up tripping all over it in the shower and will interfere with its use.
Ideally, for the average house, you might want to get a hose that is around 60 to 77 inches long. However, if you need it to be ADA compliant, you might want to go for an 84-inch long hose.
4. Spray Pattern or Massage
If you are buying a handheld showerhead, the chances are that you are doing it so that you may reap the massage benefits of the wand. In that case, you might want to ensure that it has the best massage features that it could be equipped with.
A good quality shower head with massage will have options that include jet, rain, pulse, aeration, and mist – but you might also get other features. The more, the merrier. These kinds of showerheads will be very efficient when it comes to relieving tension and muscle pain.
5. Spray System
While it might sound similar, spray patterns and spray systems are two different things. Spray pattern refers to the massage, whereas the spray system refers to whether it has a dual spray or not.
Some showerheads will have more than one system – a fixed and a handheld system. And yes, those are separate. The mounted unit will spray along with the one you are holding in your hand, giving you a deeper massage effect. Plus, depending on your preferences, you may set the water to come from both ends or just from one end.
Bear in mind that since these showerheads spray water in different directions, you might want to invest in a shower cabin or a shower curtain with one of the best shower curtain liners.
6. Head Size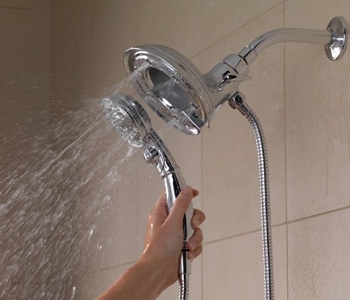 Depending on the model, the size of the head may go from small to rather large – so, make sure that the one you purchase gives you the coverage that you need. If you require more coverage but do not want to have a small spaceship in your shower, then you might also go for a dual shower head. You may find more info about dual shower heads by checking our home page.
7. Technology
Depending on the showerhead, each may use different technologies. To ensure that it caters to all your needs and offers you a memorable experience, you may want to pick wisely among the following technologies.
 7.1. Magnetix Design Technology
Magnetix Design Technology will provide you an easy way to attach the head to the hose – in a way that does not need any screws or attachments. The system is quick, time-saving – and you will not have to spend more time in the shower than you need to.
7.2. Optiflow Technology
Optiflow technology lets you enjoy an experience that you can usually only find at the spa. It offers a powerful, all-round jet spray technology that can make you feel like you are receiving a massage. It is perfect for those that want to also get the benefit of a massage whenever they are taking a shower.
7.3. WaterSense Technology
Worried that the water bill keeps growing more and more every month with every shower that you take? Are you worried that the amount of water you use is affecting the environment? In that case, you might want to go for something that uses WaterSense technology. These showerheads will maximize the efficiency of the water used – all while using small amounts of it.
7.4. TouchClean Technology
If you are the kind of person that does not have the time to give the shower a deep clean – but still want things to remain hygienic – then you might want to invest in a showerhead that has a TouchClean technology. This will ensure that your shower head remains clean at all times, without you having to scrub it continuously.
7.5. Silicone Rubber Jet Nozzles
If you tend to have a clogging problem, then you might want to invest in a good anti-clogging mechanism – such as the Silicone Rubber Jet Nozzles. This will prevent any sediments or exterior factors from clogging your shower head, ensuring that your water jet stays nice and clear.
You can also see different ideas before choosing your new handheld showerhead.
How to Install a Handheld Shower Head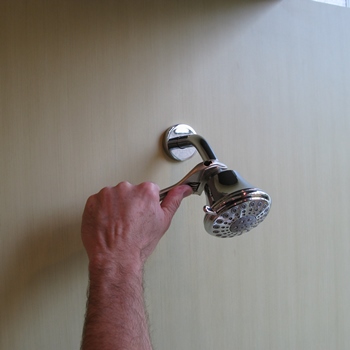 Once you have made the purchase for a new handheld showerhead, its installation is fairly straightforward. Once you have taken out the old showerhead, you just have to gather the right tools. When everything is ready, you can get straight to work.
1. Tools Needed to Install Handheld Shower Head
To install a handheld showerhead, you will need a few tools first. You will need a wrench and a Teflon tape – and you will obviously need the handheld shower head kit. This kit will usually contain the following parts:
The wand: the actual detachable head of your handheld shower kit
The metal hose: the hose that connects the wand to the plumbing of your house
The clamp and sidebar: included in some models, the clamp and the sidebar will allow you to move it up and down.
The mounting bracket: these are screwed onto the shower arm and will connect the water supply, hose, and wand.
The wall bracket: the stationary clamp that is installed near the wand and that you use to hold the wand into its place. Wall brackets aren't universal, so make sure that yours fits the showerhead.
Once the showerhead installation has been put in motion, it is time for you to move onto the next step: actually installing the showerhead with the hose.
2. Installing a Shower Head with Its Hose
If you want to install a shower head into an existing shower (obviously, after you finished removing the old showerhead), you may want to proceed with the next steps:
2.1. Turn the Water Off
If you don't want water spraying everywhere, you might want to turn off the water supply. If there isn't a local shut-off to your shower, you have to turn off the main water supply of the house or building. Most of the time, this is found in the basement or in the garage. It is usually found in the building plans.
2.2 Add the Mounting Bracket
If the showerhead that you purchased comes with a backing plate, you have to slide that on, first things first. Once you have done that, you need to install the mounting bracket and use your hand to tighten it. Make sure that your hose connection is found at the bottom of the bracket.
2.3. Connect the Hose
Once the mounting bracket has been added, you need to screw the hose into it. Make sure that you connect it to the right end of the bracket. The majority of hoses will have a decorative cone at their end which you will use to screw the wand on.
2.4. Connect the Wand
As mentioned, use the decorative cone to attach your shower wand into the hose. Use your hand to tighten it. Make sure that you use enough Teflon tape at the connections.
2.5. Check for Leaks
At this point, you may turn on the water source and allow the water to flow for a couple of minutes. Make sure that there aren't any leaks surrounding the connecting areas.
FAQ about Handheld Shower Heads
1. How High Should I Place the Spray Head of the Shower Kit?
On average, the wand should be placed about 6-7 inches from where the handle brace goes into the base – but truthfully, you should install it a couple of inches above head level. If you are not completely sure how high you want to install the showerhead, you might want to get something with a sidebar that will allow you to slide the shower up and down.
2. Do I Really Need Teflon Tape for My Shower Kit?
Technically speaking, if a handheld showerhead was manufactured and installed correctly, you would not need any Teflon tape. However, the truth is that leaks can happen even with the best products – and Teflon tape can prevent them. It may also prevent the parts from accidentally unscrewing themselves.
3. Should I Hire a Pro to Install My Handheld Shower Head?
This depends. If you are simply replacing an old handheld shower head with a new one, then you will not need to get a pro involved – you can save money by doing it yourself. However, if you are changing from a fixed shower head to a handheld one, then you might have to make some modifications to the valve and pipe installations. For these kinds of projects, you might need a contractor.
4. When Should I Change My Handheld Shower Head?
Depending on the quality of the showerhead, it might last from less than one year to more than a couple of years. Generally speaking, if you see a change in the water pressure, black mold, sediment buildups, or a constant drip from your showerhead, then it might be a sign to invest in a new one.
5. Can I Soak My Handheld Shower Head in Bleach?
Bleach is a very powerful chemical – and on the wrong material, it might actually cause damage to your shower head. Only mix a bit of bleach with water and spray it over for a couple of minutes if you are dealing with mildew. However, for day to day maintenance, you might want to mix equal parts of water and vinegar into a bag, which you place around the showerhead. Leave it there for 20 minutes, and then rinse the showerhead under the tap.
6. How Often Do I Need to Clean My Shower Head?
There is no clear and definite answer to that. Some people have to clean their showerhead every day, whereas others only have to clean it every few weeks. If the water in your area is clad with calcium and sediments, then you will have to clean it fairly often – but if not, it is just a matter of preference. Ideally, you might want to give it a weekly vinegar clean to keep it in peak condition.
7. Are Handheld Shower Heads Universal?
Handheld showerheads are often standardized to work in different countries, and there are also models that may be installed all over the world – but this does not mean that they are all the same. For instance, the showerheads in the U.S. are different from the ones in Europe, as they use a different pipe system. This is why you need to ensure that the showerhead you purchase will fit the pipework of your home.
Wrap Up
Handheld showers are very convenient to have around, as they offer more flexibility compared to the average fixed shower. This way, instead of moving your body according to the shower, you simply move the shower according to your body. All you have to do at this point is choose the best handheld shower head – one that you know for certain will do its job.
Hopefully, our handheld shower head reviews have proven to be useful to you. Every reviewed product was tested by various users before, and we have only chosen the ones that are the most promising. Choose the one that offers you comfort and suits your budget. There is a perfect shower head for everyone in this world.
Bonus guides: low-flow shower head reviews – top-rated high-pressure shower heads