The best steam showers have gotten more and more love from people as time went by. These showers have mostly been used in health clubs and gyms, and it's only in recent years that installing one in your household became possible. A steam shower can seriously transform the whole room and make it look like a luxurious spa. At the same time, it has amazing pain-relieving abilities – that's why these units are stormed by athletes after an intense workout.
Yet finding the right steam shower is no walk in the park – you may be overwhelmed by the diverse models you will find on the market, and you worry about buying one that won't last. Also, are all steam showers even that amazing? You can find the answers to these questions by reading our steam showers buying guide and steam shower reviews.
See The Quick Comparison Chart
Benefits of Steam Showers
1. It Helps with Lung or Sinuses Inflammation
Inflammation of sinuses or lungs is not fun, that's for sure. You will feel a lot of discomforts, and it seems as nothing is too effective against this condition. A steam shower may change that, though.
When you take a steam shower and the vapors are released, there are high chances of getting rid of the inflammation. Basically, the hot air released by the generator will clear up your nose and lungs, thus helping you win against your condition.
2. It'll Boost Your Immune System
Did you know that something as simple as a steam shower can greatly improve your immunity? Well, now you know. When the water vapor is released into the air, it causes your body to warm up. By constantly raising your body's temperature, you'll boost your immune system to its best.
3. It Takes Care of Your Skin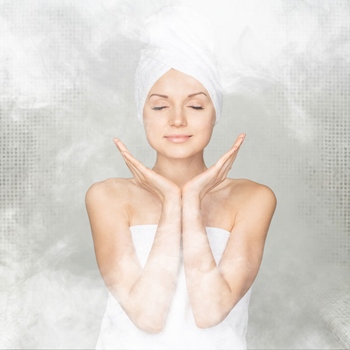 The simple act of taking a steam shower can be very beneficial for your skin. Your body will come in contact with the hot vapors circulating the air, and as a result, your pores will open. This will ensure that you unclog your pores while showering.
Also, opening the pores will help your skin absorb vitamins, minerals, and oxygen. So, over time, you'll see some great improvements on your skin, as it will look more youthful and beautiful.
4. It Helps with Workout Recovery
If you're someone who often goes to the gym, then you surely know how much strain you feel once the workout session is done. Your muscles will build up metabolic waste, which causes you to feel sore and fatigued. That being said, a steam shower can put you back on your feet, having amazing effects on your body.
Through a steam shower, you can get rid of metabolic waste, and restore your muscles to their initial power. If you make sure to switch from hot to cold air, the pain and soreness will be relieved, while the blood flow will get a boost too.
5. It Helps You Lose Weight
When you're aiming for weight loss, you can try out a steam shower. Since metabolic processes will take a boost too, you will have better chances of losing unwanted weight. Isn't that awesome?
6. You'll Detoxify Your Body
Your body tends to accumulate a lot of chemicals and toxins. They can be eliminated through sweat and that's exactly what a steam shower does – it causes you to sweat. And since you're showering afterward, it will all be removed immediately.
Once you get rid of all these toxins, you will feel cleaner and healthier.
7. It's a Great Relief for Stress
Feeling stressed is something normal, especially if you have to deal with a job, family, and try to maintain a social life as well. But accumulating too much stress can mess up your mind. Using a steam shower can ease some of it since all the physical benefits you get from it will also have an effect on your mental health.
Together with your muscles, your mind will get some well-deserved relaxation, making you much happier. It will also help you sleep better.
Best Steam Showers Comparison Chart
PRODUCT
DETAILS

Ariel Platinum DZ959F8-BLK-L Steam Shower

Price: $$$
Customer Rating: 4.4
Voltage: 220
Seats: 1
Dimensions: 43 x 35 x 89 inches

View On Amazon

Luxury Shower Room L90S42WSHD Heavy-Duty Steam Shower

Price: $$$$
Customer Rating: 4.0
Voltage: 220
Seats: 1
Dimensions: 38.5 x 17.5 x 60.5 inches

View On Amazon

Aston Steam Shower

Price: $
Customer Rating: 4.3
Voltage: 110
Seats: 1
Dimensions: 52 x 39 x 85 inches

View On Amazon

1001Now Corner Steam Shower

Price: $
Customer Rating: 2.5
Voltage: 110
Seats: 1
Dimensions: 41.25 x 41.25 x 82.75 inches

View On Amazon

Mesa 803L 2-Person Steam Shower

Price: $$
Customer Rating: 3.0
Voltage: 120
Seats: 2
Dimensions: 54 x 35 x 85 inches

View On Amazon

ARIEL 300A Steam Shower

Price: $$
Customer Rating: 3.2
Voltage: 110
Seats: 1
Dimensions: 48 x 36 x 85 inches

View On Amazon

KOKSS 8004-A Corner Shower Enclosure

Price: $
Customer Rating: 2.3
Voltage: 110
Seats: 1
Dimensions: 36 x 36 x 82.75 inches

View On Amazon
Best Steam Shower Reviews
1. Ariel Platinum DZ959F8-BLK-L Steam Shower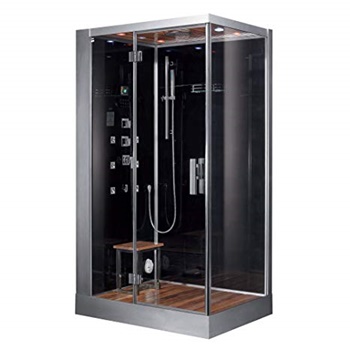 Sometimes, you don't have too much time at your disposal, and you want the steam shower to get to high temperature as soon as possible. This model can do that, as the high-temperature steam starts being produced within 2 minutes.
You'll have many features that will make you feel like you're at the SPA. For instance, the steam shower is packed with an aromatherapy system, chromotherapy lighting, FM radio, as well as 6 body massage jets for your own comfort.
Overheat protection has also been added to make things better and safer. There are a few things to pay attention to before you buy it, though. It should have the right amperage line if you want it to work, and it can be hard to move it around after it's put together.
Pros
The shower itself is very stylish and makes the bathroom look and feel like a spa
It comes with a few spa-like features to make your life better
It has an overheat protection
The high-temperature steam is produced within 2 minutes
Cons
The customer support is said to be very bad
It may be hard to install it, and hard to move around once put together
2. Luxury Shower Room L90S42WSHD Heavy-Duty Steam Shower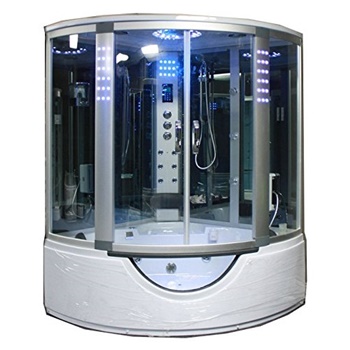 If you have a spouse who often complains that you spend too much time in the shower, maybe it's time to consider a two-person steam shower – just like this model. It's spacious enough to fit both of you and to make sure nobody has to wait outside the room until you're done.
This heavy-duty steam shower has pain and stress alleviating capabilities. Basically, you'll have access to ventilation, nice lights and radio music during your session, as well as aromatherapy, massage jets, foot massage, and many others. This is all to ensure you'll get out of the shower like you're a new person, just like you'd be if you went to the spa.
Maybe it's not the best option for anyone, unless you have a big bathroom, though. You'd need a lot of space to store it since it's for two people and the dimensions are pretty big. If you have all the necessary conditions, this heavy-duty steam shower can be a blessing.
Pros
It comes with many features, like massage ones, phone call receiver, lighting, radio music and more
It allows two people to use it at the same time
It is very durable thanks to the tub bottom reinforced with an extra layer of fiberglass, as well as a wooden board
Cons
Not suitable for smaller bathrooms
3. Aston Steam Shower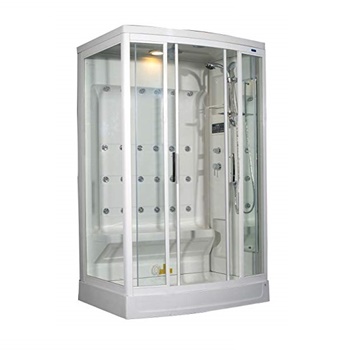 When you are looking for a steam shower, you want to enjoy it and have a lot of benefits. To make that possible, this Aston steam shower comes with waterproof components, so durability is increased all the way through.
The shower is loved by customers thanks to how many actions it is able to perform. It comes with 24 massage jets, and it also has a 3-kW steam generator, thermostatic valve, overhead rainfall shower, and many others. Conversely, there's also a LED control panel to let you operate the shower properly.
And since you shouldn't wait an eternity to enjoy the steam, it is produced within 5 minutes only. Of course, just like with any other unit, this shower is not all good either. For example, with this, maintenance may be the most difficult thing about it.
Pros
The steam is produced very quickly
You have plenty of actions to perform with this steam shower
The construction makes the product durable
It's really easy to operate thanks to the LED control panel
Cons
The white color makes it hard for you to maintain its shine over time
4. 1001Now Corner Steam Shower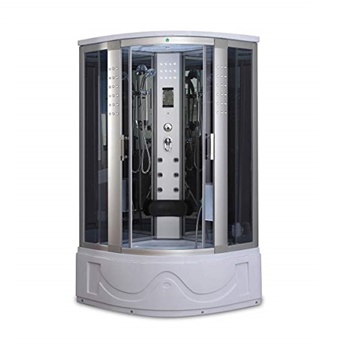 Certainly, you're not seeking a steam shower that will take more to learn how to operate instead of actually using it. Luckily, this steam shower is packed with a touchscreen display & control – thus, the controls will be right in front of you, easy to understand and use.
In case you like listening to music while relaxing, don't worry – the manufacturers thought about it and included an FM radio too. Thanks to that, you can enjoy your favorite music during your home spa session.
But that's not all – the shower has a multi-function sliding handle shower, foot massage attachment, a ventilation fan, body massage jets, and many others. It should do a good job in soothing your pain and making your day better when you get out of the shower. What makes is better too is the easiness when it comes to cleaning and maintaining it.
Pros
The incorporated electronics work amazingly
The base and glass are solid, and you won't experience any leaks
It has many features that massage your body and relieve your pain and stress
It's easy to take care of
Cons
Some parts of the product may damage
There is either bad or non-existent customer service in some situations
5. Mesa 803L 2-Person Steam Shower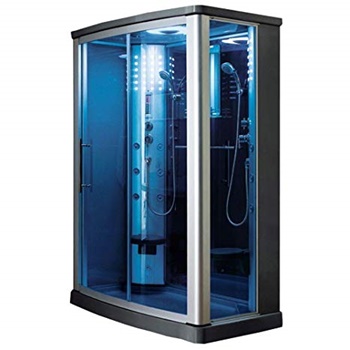 If you and your spouse need to use the shower at the same time, it's best to shower together. You can do so through this two-person steam shower while feeling like you're both at the spa rather than at home. The shower comes with two shower seats, as well as two adjustable handheld shower wands for your convenience.
12 acupuncture water body jets have been incorporated to make sure you release all tension after a hard day at work. Combined with the 3KW steam generator, this product has stress and pain-relieving abilities. It's meant to make you feel better. The FM radio is also a built-in feature to ensure you can shower in the best conditions.
The design is very beautiful too, having two sliding glass doors, a curved front, as well as a brushed nickel trim. If your bathroom is spacious enough, then you can rest assured you can fit this steam shower inside and have a good time.
Pros
It has control panels on the inside, making it easy to operate
It features two shower wands so two people can use it simultaneously
It comes with pain soothing and tension relieving features such as acupuncture water body jets
Cons
The instructions are not useful
Some customers said it started to leak everywhere
6. ARIEL 300A Steam Shower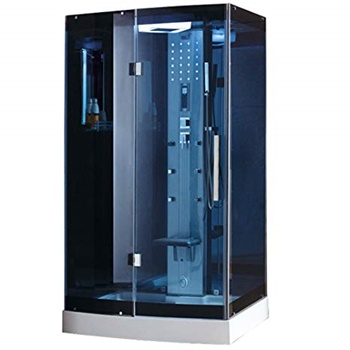 Aspect matters in some cases, especially if you want your bathroom to look nice and stylish. So, maybe this steam shower with blue-tinted glass will fill that spot and you'll add some beauty to your space.
This Ariel shower allows you to control it through a built-in digital control panel, meaning you should always be able to have the conditions that you want. At the same time, you'll have a 3Kw steam generator to make things better and give that spa feel in your own home. And if overheating is an aspect you were worried about, you'll be happy to know that precautions have been taken.
The product has a built-in heating limiter, which allows the installment to heat quickly and safely too, by preventing overheating.
You may also love the rainfall ceiling shower, in combination with the wall-mounted bench. If you want to relax and ease some tension, maybe this product will be suitable for you.
Pros
Stress relief abilities
It comes with a built-in heating limiter to prevent overheating
Easy to control through the built-in digital control panel
Cons
Bad or inexistent instructions
The customer service may not always be available
7. KOKSS 8004-A Corner Shower Enclosure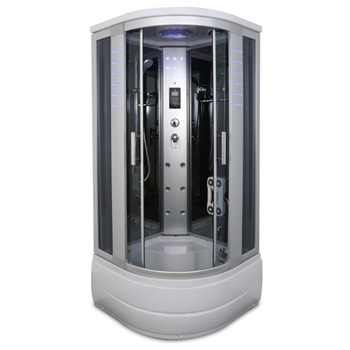 This product comes with a long list of features. First of all, it has an overhead rainfall style shower head to give you a nice and comfortable shower. But aside from that, you also have a multi-function sliding handle shower to use.
Controlling the shower is possible through a touch-screen display. Through it, you can turn on the FM radio if you want or use a CD/MP3 playback. For when people are calling you during your alone time, you have a phone calling feature as well.
Moreover, the LED mood lighting, in combination with the powerful hydromassage jets, corner shower enclosure, and foot massage is enough to make you happy to be alive. The design of the product shouldn't go unnoticed either, particularly if the perfectionist inside you needs to buy something that suits the surroundings. It was made from all mirrors and glass and it looks quite elegant.
Pros
Easy to control through the touch-screen display
It has a long list of features, including massage ones, FM radio, LED lighting, phone calling, and CD/MP3 playback
All components inside are waterproof
Cons
The shower may end up leaking a lot
The instructions are not too good
The customer service is not excellent
What Is a Steam Shower?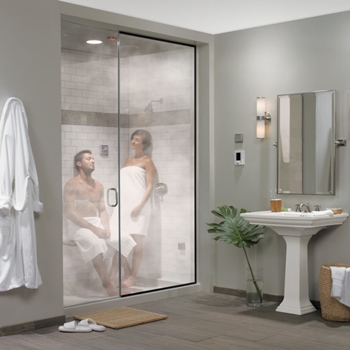 A steam shower is basically a shower that doesn't only let you do your daily body washing, but also produces steam. Simply put, the installment contains one of the models in our steam shower generator reviews, which is responsible for producing the steam and giving a nice feel.
Steam showers allow you to bathe in an enclosed area, from where the steam can't escape. The steam generator will produce humidifying vapors that help you relax, while the shower gives you the same capabilities as a normal shower room.
More often than not, these steam showers come with a larger variety of features, including massage, radio, and so on.
How Does a Steam Shower Work?
A steam shower works by offering you an enclosed place where you can take a shower after a long and exhausting day at work. Apart from that, it contains a generator, which produces water vapor. This water vapor then disperses around your body and gives you that nice, relaxing feeling as if you're at the spa.
Before getting to know how steam showers work, it's important to understand how the unit produces the vapor too. Basically, there is this generator where water is piped into. The water will be heated until it boils and, obviously, releases steam into the air. The steam is produced during and after the shower too but doesn't escape the enclosure, thus not causing damage to your walls or other surfaces in the bathroom.
Steam showers generally come with control panels so you can operate them from the inside. The steam generator is activated from the control panel. And what's best is that it doesn't take long for the steam to be generated. Depending on the unit you choose, it may take from one to five minutes until you get that nice water vapor.
The inside is built in such a way that everything is waterproof, including the control panel. Also, the ceiling is usually sloped, so the condensed steam will not fall on your head, back or shoulders while you're showering.
You can use the control panel to adjust multiple aspects of the steam shower, including the temperature. Depending on your preferences, you can set it higher or lower, to clean yourself in the best conditions.
On top of that, you'll see many steam showers that come with other features, besides the steam generator. For instance, some of them will come with foot massage, or other additions meant to massage your body and release stress, pain, and tension. Some even incorporate an FM radio to allow you to listen to your favorite music while showering. You can also see different steam shower ideas.
The LED lighting is sometimes included too, to help the atmosphere and make it feel more like a spa. Add that to the fact that such a unit might also have aromatherapy features, thus letting you inhale some nice scents while taking care of your body.
More often than not, there will also be a showerhead so you can rinse yourself once you are done with the steam shower.
Steam Shower Buying Guide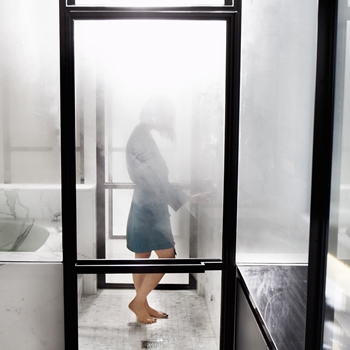 When you want to purchase a steam shower, you need to have some considerations in mind and not go with just any model. We recommend that you look very carefully into them, as long as you want something of high-quality and not cheaply made. You know that on our website, we want you to have the best experience with the products you buy – that's why we're always providing detailed buying guides for you.
Here's what you should bear in mind when shopping around for steam showers:
1. Number of People Using It
Before you even think about looking for steam showers, think about how many people are going to use the unit. Do you want to use it with your significant other, or alone? You should know that there are steam showers for two people, meaning it won't come with only one of the best shower chairs, but two.
It's a great thing to have, especially if your schedules collide and you need to use the shower at the same time without keeping the other waiting. This is one of the first things to keep in mind.
2. Controls
Controls will allow you to operate the steam shower, in order to improve your experience and make sure you feel amazing during and after using it. Controls may come in various forms. They either have manual or LCD controls.
The former is not that precise, while the latter will do a great job. The only problem with LCD controls is that you may have to step outside of the shower in order to fix the temperature. Some units have controls inside the shower, though, being a much better option.
3. Design
The design and color of a steam shower should be on your list too, although it should not be the first thing to keep in mind. The design depends on the material of the unit. It can be made from chrome, stainless steel and have a glass door.
Therefore, these will greatly impact the overall look of the unit. Bear in mind that if you have a bathroom with a specific theme, you may have to choose your steam shower to fit that décor. In other words, it should fit the surroundings accordingly, so make sure to look for one that meets this requirement.
4. Height
Height must be considered especially because you have limited space. The steam shower is already big enough, so it only makes sense it needs to be in a bathroom with a high ceiling. But at the same time, it wouldn't be ideal if it was too tall.
The ceiling of the steam shower you choose should have no more than 8 feet. With that being said, if your bathroom's ceiling is taller, you'll automatically have to get a more powerful steam generator. In this situation, you'll have to support more costs.
The steam generator is a very important part of the shower, and if yours is not large enough for the shower enclosure space, it won't generate enough steam. Thus, your experience with this unit won't be as nice as you want it to be.
5. Safety
Safety comes first, no matter what. You can't afford to slip and injure yourself or burn yourself if the shower gets too hot. It is especially dangerous if you have children.
So, when you search for a steam shower, it's important that you look into its safety measures. Your new steam shower should have glass doors that are safe enough to touch and it should also have an anti-slip floor. Slipping could be very dangerous since you can injure yourself – thus, an anti-slip texture is necessary.
Concurrently, the showerhead you use should be made of plastic instead of brass. Brass ones can get very hot and make it very likely for you to burn your hands. Choose a plastic one to be sure.
Some steam showers also have overheat protection, so you won't come in contact with a burning surface. Look for showers with this feature if you want some additional safety.
6. Power
Not all steam showers operate the same way, that's for sure. Depending on the size of the unit, it may consume more power to be able to operate properly – thus, you'll have to meet the requirements. Thankfully, only the compressor that may need power, which usually only requires a 110V outlet to operate.
Once you own a larger steam shower, it will have to heat up a larger area, so you'll automatically need to use a 220V outlet. Make sure you meet these requirements for the shower before you spend your cash on it.
7. Installation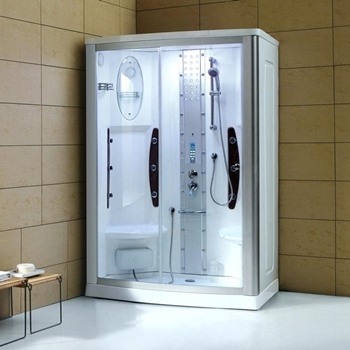 Let's be fair, the last thing you need is to end up with a unit that is so hard to install that you spend more time swearing than actually enjoying the steam shower. Not all steam showers have been created equally, and you're most likely aware that some have more complex installation processes than others.
Nowadays, it's very likely that your shower unit comes with everything it needs for the installation, without making you buy separate tools.
Keep in mind that the instructions have to be clear and easy to follow – otherwise, you'll just keep reading them over and over to no avail.
However, if you happen to find something convenient but it seems too hard to install, don't hesitate to seek a professional's help.
8. Necessary Connections
Your steam shower will not work unless you make the right connections for it – these consist of a water line and electrical connection.
It's already a known fact that electricity will be a requirement to get the steam generator to work. But other than that, you will need a water line to make sure the steam has water to generate vapors. A steam line has to be made from the generator to the shower enclosure as well.
Don't forget – you must make a drain on the shower enclosure's base too.
9. Good Enclosure
Have you wondered why steam showers have to be enclosed? Well, it's exactly because of the steam they produce. As good as it makes you feel, it may cause damage to your walls and other fixtures in the room. Moisture will lead to mold over time, ruining the aspect and health of the bathroom environment.
As such, before you exchange your money for a steam shower, you need to know for sure that steam will be unable to escape the enclosure. To figure this out, read the reviews left by other customers. Also, check to see if the unit is waterproofed and if the walls surrounding the shower won't let any of the steam get out.
10. Seats
You're very likely to spend a lot of time in the steam shower, especially once you notice how good it makes you feel. Having said that, there has to be a seat big enough to allow you to stay comfortably. Make sure the material of the seat can't be damaged by water or steam.
Depending on your needs and how many people will use the shower, you should have enough space to install a bench or seat. On the other hand, if there's too little space, maybe you should consider a folding shower seat.
How to Install a Steam Shower?
1. Step 1 – Get Your Walls Ready
Before you start installing your unit, make sure that your walls are ready for it. Remove the bathtub if you have one and want to replace it with the steam shower. The walls in the area need to be waterproof, thus sealed so no mold will grow due to humidity exposure.
If you think the walls don't fit this requirement, you will need to seal them before you start – that if you don't want to ruin the bathroom. You can add a vapor barrier, after which you apply a layer of Durock wallboard. Use adhesive mesh tape to cover any possible joints and lay the tiles on top of the board.
You can just use a thin-set bonding agent to lay them, instead of usual adhesive for tiles.
2. Step 2 – Add Your Fixtures
The next step is mounting the fixtures on the wall. You must have your pipework done, so the shower faucet can be connected to it. Any other mounting, including the controllers, should be put on the wall. Make sure the controllers will not be close to the outlet for the steam generator, though.
3. Step 3 – Make the Circuit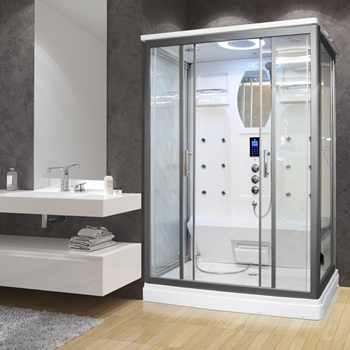 The steam generator coming with the unit needs electricity to run – otherwise, you won't get that steam you're so looking forward to. In order to do that, you'll have to add a dedicated circuit. So, if this is not something you're good at, calling an electrician should be on your list.
The dedicated circuit is meant to provide you with protection, so no electric shock will be experienced while you're using the steam shower.
In addition, connect the steam delivery pipe as soon as you find a place for the steam generator. In some cases, drilling into the wall may be necessary to complete this step.
4. Step 4 – Install All Additional Attachments
If your steam shower happens to come with aromatherapy trays, towel rays, lighting or anything of the sort, make sure to install them before you finish the shower installation. You won't be able to get to the walls as easily anymore, so take advantage while you can.
5. Step 5 – Fit Your Bath to the Wall
This step only applies if you have a bath packed with the shower enclosure. Ensure that you plumb it to the wall, together with the faucet and the drain. Buy sealant and use it on the shower base or the bath's top.
6. Step 6 – Install Your Enclosure
Now that your walls and fixtures are ready, you need to install the enclosure. You should install the base of the shower correctly by using a spirit level to make sure it stands straight. Then, you should use some self-tapping screws in order to make the attachment between the base and the walls. Make sure the whole thing is leveled properly so water can drain the right way.
Once you notice that the walls are secure enough, you can put the top onto the unit, and now you're sure the steam will not getaway.
FAQ about Steam Showers
Since it's still possible to have some questions about steam showers, we've gathered some of the frequently asked ones and provided answers for them.
1. How Are Steam Showers Different from a Sauna?
It's easy to get the two of them mixed up since they perform similar actions. But the difference between them is that a sauna provides dry heat and steam showers generate wet heat. Conversely, it's much easier to install a steam shower into the bathroom, compared to a sauna. A sauna would be pricier too.
2. I Have a Shower/Bathtub Installed Already – Can a Steam Shower Replace It?
Normally, it depends on some factors. It may be replaced, by it's recommended to seek a professional's help before you buy the unit. You must make sure the area is fit for a steam shower and that you'll be able to set it up if piping and electrical wiring needs to be done. Remodeling any enclosed shower to a steam shower is also possible.
3. Can I add an Exhaust Fan Inside the Enclosure of the Steam Shower?
We don't recommend doing this, because people will use the shower to rinse off after a steam session anyway, thus an exhaust fan is unnecessary. You can install it outside the shower enclosure though, in case some stubborn steam decides to escape.
4. I Want to Install Steam Showers for Real Estate – Is It a Good Idea?
Definitely. Over the past years, these units have gained popularity and more people are demanding them. From a real estate perspective, you will have more success with a steam shower.
5. How Much Water Will a Steam Shower Need?
Usually, a steam shower will consume around 2 gallons of water per 30 minutes. This makes it more efficient compared to a traditional bath or shower when it comes to saving. Of course, what influences this is also how long and how often you use it.
6. Is There a Set Amount of Times I Should Use the Steam Shower?
Normally, there should be a limit to how much you expose yourself to steam. As amazing as it may feel, it may dry your skin too much if you use it too often. About one or two steam showers per week should be enough to cleanse your skin, relieve your pain and stress, and make you feel better overall.
The best course of action would be talking to a healthcare provider, especially if you're using the steam shower for therapy.
7. Do I Need Tiles for All the Walls in the Bathroom?
No. You just need to tile the part of the wall and ceiling that comes in contact with the steam, as that's where it's exposed to the water vapors. Tiles are meant to prevent the wet heat from escaping the enclosure, as well as retain the heat.
8. Can I Have a Window in the Steam Shower?
It's generally not a recommendation, as it may cause steam to get between the wall and the window. But if your steam shower has an exterior window, proper insulation with double-paned windows must be added so the vapors won't escape the enclosure.
Wrap Up
In the end, finding the best steam shower all depends on the research you do. There are way too many to count, and it might be difficult to decide. But once you know what a high-quality steam shower should have, you'll be on the good path. This article has given you the necessary information in this regard, and now you should have what it takes to buy your amazing shower.
We are really hopeful that the steam shower reviews and the buying guide as a whole were helpful. Our homepage has more guides and information regarding your bathroom, so don't hesitate to check it out.
See also: top-rated infrared saunas