For people with disability or impaired mobility, finding the best walk-in tub truly feels like a blessing. These devices make it so much easier to have a comfy bath without risking slipping or falling when getting in and out.
For that purpose, we have brought you a few walk-in tub reviews so that you may choose the best one for your purposes. All of them differ in functionality and features, which is why you must make your choice wisely. To make sure that you buy the right option for your home, here is a guide that might be able to help you out.
See The Quick Comparison Chart
Who Needs a Walk-In Tub?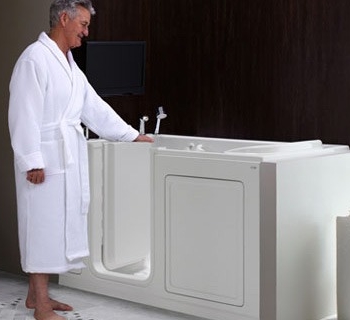 A walk-in tub is an ideal choice for the elderly that have balance problems, mobility issues, are struggling with extra weight, or are in a wheelchair.  This type of tub is easier to get in and out of thanks to its design, and it is also much safer to use with its special safety features.
Since one in every three seniors above the age of 65 suffers a fall in the bathroom, a walk-in tub can be an effective help.
Most of these tubs will have handrails, non-slip features, and other safety-related extras. But most importantly, all of them will have a seat so that you will not have to struggle to get back up.
Rather than climbing over the edge of a traditional bathtub, it is much easier to simply walk into the tub. A walk-in bathtub has the possibility of giving seniors back their independence, allowing them to take baths by themselves – without having to request help from other people. This will make life much easier for the ones that provide them care.
As a result, walk-in tubs are a perfect addition to those that cannot step into a traditional bathtub themselves. They will simply allow them to step into the tub, close the door, sit – and then enjoy a nice bath once it has been nicely filled with water. Once the bathing is done, they will not have to worry about stepping over any high edges.
Walk-In Tubs Advantages and Drawbacks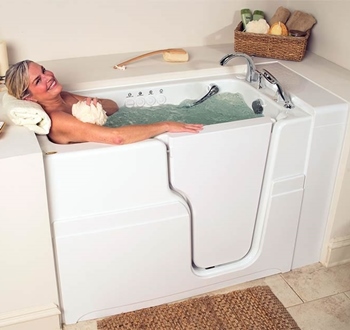 Installing a walk-in bathtub is no easy feature. It will require a certain amount of time, careful planning, and since they are usually not covered by medicare, a big financial investment. However, considering the advantages that it brings, the investment might just be worth it under the right circumstances.
1. Advantages of Walk-In Bathtubs
Walk-in bathtubs can make life easier to a number of people – not only the ones using it. Here are a few factors that might make a walk-in tub a good investment for you or those dear to you.
Walk-in bathtubs provide better stability while taking a bath compared to standard bathtubs. If someone has mobility issues, this issue might be most appreciated.
Those who cannot get out of a standard tub or do so with difficulty might benefit from a walk-in tub.
Those who are not able to shower because of their stability issues might be able to do so thanks to the easily accessed walk-in tub
A wheelchair user might find it much easier to slide from their wheelchair into the bathtub.
A caregiver might have a much easier time aiding their patients when they are taking a bath.
If done correctly, most of these bathtubs can be installed as freestanding bathtubs as well.
As you can see, walk-in tubs might be a rather convenient purchase – particularly if the person in need of it has severe mobility issues.
2. Drawbacks of Walk-in Bathtubs
Just like there are advantages involving walk-in bathtubs, there are also certain disadvantages that you might want to consider. Here are the most common drawbacks that you might notice.
A walk-in tub might take a fair amount of time until it fills. This might be quite inconvenient, as the filing process cannot start unless the user has stepped in.
While some walk-in tubs are very spacious, most of them do not exactly offer you that much space. You'll simply have to remain in a sitting position throughout the entire bathing process.
Just as it will take a fair amount of time to fill, it will also take some time until the tub drains. And since the water will be keeping that door shut, you cannot exit the bathtub until the water has drained completely.
Since the access is rather limited or awkward, a caretaker might have quite a difficult time assisting their patients in the bath.
Everyone in the house needs to accept or be comfortable with this kind of bathroom. If not, they at least need to have another bathtub or shower stall installed.
Like traditional tubs, a walk-in tub is a permanent fixture to have installed.
Walk-in tubs can be very hazardous if an emergency were to occur. For instance, if the user goes through a medical emergency, they would not be able to get out until they manage to pull the drain or help arrives. Therefore, they will be trapped until help gets there. Many of the emergency buttons you will find on bathtubs aren't waterproof.
There are many things to weigh and think about if you want to purchase these units. If the advantages of walk-in tubs seem to outweigh the disadvantages for you, then a walk-in tub might seem to be a convenient investment.
Best Walk In Tubs Comparison Chart
PRODUCT
DETAILS

American Standard 28″ x 48″ Walk-In Tub

Price: $$$$
Customer Rating: 4.0
Size: 33.5 x 28.5 x 48 inches
Type: Soaker
Material: Fiberglass
Drain Installation Style: Right Hand
Door Opening Swing: Inward

View On Amazon

Ellas Bubbles 60″ x 30″ Walk-In Tub

Price: $$$
Customer Rating: 4.3
Size: 60 x 30 x 42 inches
Type: Hydrotherapy
Material: Acrylic
Drain Installation Style: Dual Hand
Door Opening Swing: Inward

View On Amazon

American Standard 32″ x 52″ Whirlpool Walk-In Tub

Price: $
Customer Rating: 4.2
Size: 52 x 32 x 40 inches
Type: Whirlpool
Material: Fiberglass
Drain Installation Style: Right Hand
Door Opening Swing: Outward

View On Amazon

Ella's Bubbles Ultimate Air, Hydro and Foot Massage Walk-In Tub

Price: $$$$
Customer Rating: 5.0
Size: 60 x 30 x 38 inches
Type: Hydrotherapy
Material: Acrylic
Drain Installation Style: Left Hand
Door Opening Swing: Inward

View On Amazon

American Standard 30″x 52″ Walk-In Tub

Price: $$$
Customer Rating: 5.0
Size: 52 x 30 x 40 inches
Type: Whirlpool
Material: Fiberglass
Drain Installation Style: Right Hand
Door Opening Swing: Outward

View On Amazon

Ella's Bubbles 55″ x 30″ Walk-In Tub

Price: $$$
Customer Rating: 4.5
Size: 37 x 29.5 x 55 inches
Type: Whirlpool
Material: Acrylic
Drain Installation Style: Left Hand
Door Opening Swing: Inward

View On Amazon

American Standard 30″x 60″ Walk-In Tub

Price: $$$
Customer Rating: 3.9
Size: 59.5 x 29.8 x 37.5 inches
Type: Hydrotherapy + Whirlpool
Material: Fiberglass
Drain Installation Style: Left Hand
Door Opening Swing: Inward

View On Amazon
Best Walk-In Tub Reviews
1. American Standard 28″ x 48″ Walk-In Tub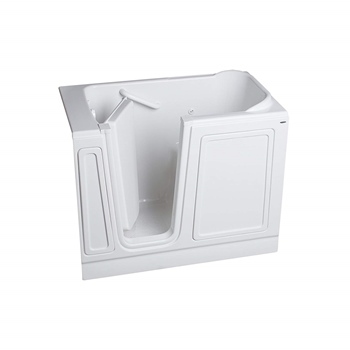 American Standard has been a top choice for bathroom items for more than 14 decades – being practically a veteran in the field. While most of their models have outward opening doors, this one features a space-friendly indoor style. This way, if the bathroom is very small, you will not have to worry about the door bumping into various objects.
Since the bathtub is made from fiberglass, it is not only an affordable choice – but it was also meant to last. Plus, considering its 5-year warranty provided by the manufacturer, you can also easily have the bathtub fixed if damage occurs.
Many elders have difficulties in cleaning and scrubbing the bathtubs themselves – which is why the automatic ozone cleaning system of this tub is so convenient. This way, if the person using it has limited mobility, the bathtub will practically clean itself for the next use.
Pros
The bathtub is very easy to use due to the low threshold design
It drains easily due to the quick-drain system
The automatic ozone cleaning system will keep your bathtub clean at all times
Cons
It takes a fair amount of time for the tub to fill
2. Ellas Bubbles 60″ x 30″ Walk-In Tub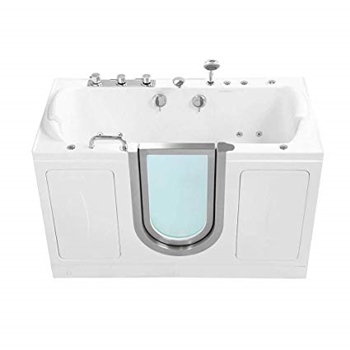 You may be old – but this doesn't mean that you don't want to take a bath with your significant other every now and again. This bathtub features two seats, one on each side, with a door that is opening inward in the middle.
This bathtub is wide, luxurious – and most importantly, very easy to clean. Since it has received a non-stick coating, all it will need is for you to spray it with the showerhead once you are done bathing. You might want to avoid letting it dry, as it might be more difficult to clean in that state. You may also remove the door to quickly clean the tub.
Since it has been equipped with a dual drain system, this bathtub will be completely drained in just a few minutes. Plus, with its 18 Jet Hydrotherapy System and MicroBubble Therapy, your skin will be cleansed, exfoliated and hydrated without you even having to do anything. It will feel like one day at the spa.
Pros
It can be used by two people at the same time
It provides a deep clean without you having to do anything
It drains quickly once you have finished bathing
Cons
It does not have a pipe so that you may use it as a stand-up shower
You will have to do quite some installation to align the drains and the electric parts
3. American Standard 32″ x 52″ Whirlpool Walk-In Tub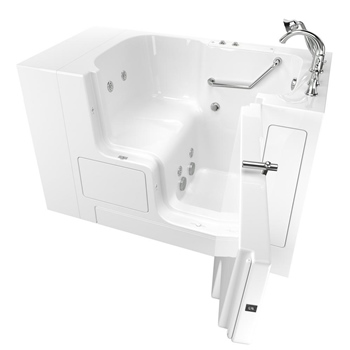 If you are looking for a whirlpool walk-in tub that can be fitted even in a small bathroom, then this one is certainly the right piece for you. Featuring a massage system with six water jets and an in-line water heater, you can be sure that your baths will be nice and comfy.
This bathtub was made out of very durable fiberglass material and high-gloss Gelcoat that can withstand scratches and damage. Plus, even if it does get damaged, the manufacturer offers a 10-year warranty for the tub's shell, as well as a 5-year warranty for the rest of the pieces. This way, you can be sure it will last.
Unlike most bathtubs of this kind, this one features an inward opening system. This way, while it may take more space when the door is open, it will at least make the bathtub much more accessible. Its low threshold also makes it easier for you to access it if you have low mobility.
Pros
Easy to access due to outward swinging door and low threshold
Made out of durable materials
Whirlpool massage system that will make the bathing experience very pleasant
Cons
Some users have complained that the jets are weak
Installation costs can be rather high
4. Ella's Bubbles Ultimate Air, Hydro and Foot Massage Walk-In Tub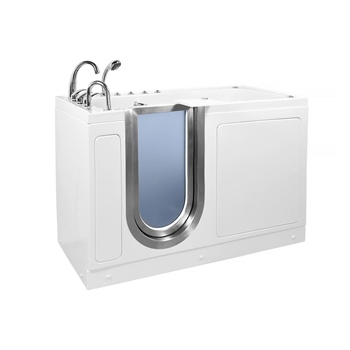 Massaging bubble baths are a joy to have after a long day – but since most tubs are fairly small, you cannot gain this effect from the average walk-in tub. However, this bathtub is fairly spacious in itself, so you can very well take a comfortable bath in it.
With its 17-jet hydrotherapy system with a dial for intensity control, this bathtub provides the advantage of therapeutic massages. Acting on the lower back, legs, hips, and feet, this will not only take the pain from the muscles, but it will also allow your skin to remain nice and clear.
Featuring a 2-inch dual drain, it takes only a few moments for the tub to fully drain. This means that you will not have to sit more than necessary in the tub until it is completely drained. The ozone sanitization system will ensure that the tub is kept clean for the next time you use it.
Pros
The massaging system is very comfortable
Very easy to maintain and keep clean
The low threshold makes it very easy to maintain
Cons
It takes a bit more time until the tub is filled
You will need a professional to install it
5. American Standard 30″x 52″ Walk-In Tub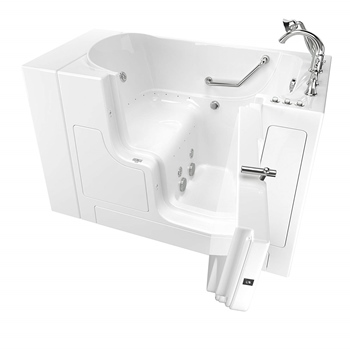 There's nothing like American Standard to make it seem like you have a luxurious spa in your house – all while making it quite affordable for you. Fully equipped with the most important features (e.g. non-slip coating and safety features), this will ensure that you can enjoy a very comfortable and safe bath.
When it comes to the warranty, the provider is very generous. You have a lifetime warranty on the door seal, a 10-year warranty on the shell of the bathtub, and a 5-year warranty on every other component. This speaks quite a lot regarding the fact that it is a long-lasting unit.
This bathtub features quick-fill convenience, meaning that it fills up to 16 gallons at 40 PSI. In just a few moments, you will be surrounded by water – and the patented quick drain will clear the tub of water just as fast. You will not have to remain in the tub any longer than it is necessary.
Pros
Quick fill and drain system that allows you to stay in the tub only as much as you need
Durable construction that will resist against damage and scratches for quite a long time
The outward opening door makes it very easy to access
Cons
Some parts have to be purchased separately
6. Ella's Bubbles 55″ x 30″ Walk-In Tub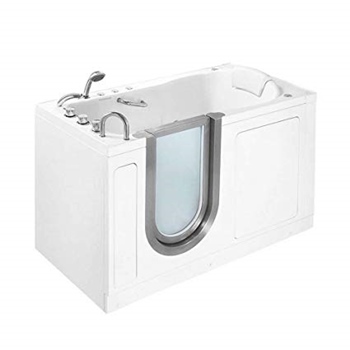 When in doubt, Ella is certainly a great choice to go for. With this deluxe 12-jet hydrotherapy massage walk-in tub, every bath should be like a spa day as you are allowing the massager to caress your body. Acting on the hips, lower back, feet, and legs, it is perfect for those who are struggling with lower body pain.
Thanks to the in-line water heater, the water remains at a constant temperature. This way, if you tend to stay for longer times in the bath, you won't risk the water going cold on you. Furthermore, thanks to the thermostat control valve, you may control the water temperature so that you prevent scalding.
This bathtub has also been equipped with ozone sterilization that will prevent a wide variety of bacteria from forming. It will make the bathtub very easy to clean – and most of the time, all it will require will be a quick jet from the showerhead. The bathtub will practically clean itself, making the cleaning task easy to tackle even by the elders using it.
Pros
The dual drain allows the tub to drain quickly
In-line water heater and thermostat that prevents the water from going cold
The ozone sterilization makes the bathtub very easy to clean
Cons
It is rather large, so it might be difficult to get through a normal doorway
The installation process is quite complex if you choose to do it yourself
7. American Standard 30″x 60″ Walk-In Tub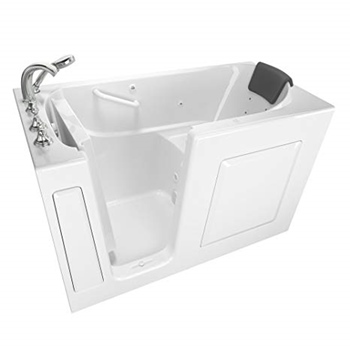 Those of you looking for a high-quality and affordable bathtub will certainly appreciate this model. Packed with a high number of features for both safety and comfort, this unit brings a fair amount of value for its price.
Having a quick-drain system that requires no extra plumbing, the bathtub takes only a few minutes to fill up and drain. This means that you will not have to remain in the bathtub any longer than it is necessary. Plus, the non-slip surface and the handrail will make it perfectly safe for you to get in and out of the tub.
Unlike many other bathtubs of this type, this one also features an ergonomic neck rest that will provide both support and comfort. Add to this the multicolored chromotherapy system, and you get a very peaceful bathing experience in return.
Pros
The neck rest makes the bathing experience more comfortable for you
The filling and draining rates are very fast
The chromotherapy light system makes the bath experience even more enchanting
Cons
The showerhead cannot be placed high enough for you to assume a standing position.
Types of Walk-In Tubs
There are several different types of walk-in tubs that you might want to consider – all of which are suited for different needs and budgets. Here are the most common that you might come across. For more information on these tubs, you can also check our home page.
1. Inward Swinging Door Soaker Walk-In Tubs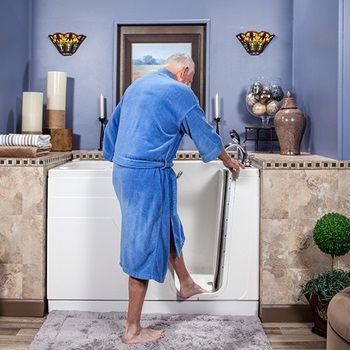 These tubs are likely among the most popular types of walk-in tubs – mainly because they tend to be both classy and cheap. They are mostly recommended for the elderly that do not have any particular requirements – such as having to access the tub from a wheelchair. As their name suggests, the door opens inward.
2. Outward Swinging Door Soaker Walk-In Tub
These walk-in tubs are similar to the inward swinging door tubs – with the difference that the door (obviously) swings outward. These walk-in tubs are not as common as inward swinging door types, but they are certainly a good choice for those that have restricted mobility.
3. Bariatric Walk-In Tubs
Bariatric walk-in tubs are made for bariatric patients that have a weight over 300 lbs. When it comes to their aspect, these bathtubs look similarly to inward swinging door bathtubs – safety features included. The only difference between the two is that bariatric tubs have a wider entrance, are sturdier, and are also larger.
4. Wheelchair Accessible Tub
Also referred to as "slide-in tubs," these bathtubs have no steps for you to climb over, and they also come with a wheelchair entrance – making them the perfect choice for wheelchair users. Granted, since they have an outward opening door, these bathtubs tend to take more space – and they are also more expensive due to their size. However, due to their smart design, they make the bathing time much more convenient for wheelchair users.
5. Recliner Walk-In Tubs
Unlike most walk-in tubs that keep you in a sitting position, this one also allows you to stretch your legs as you are taking a bath. The chair is easy to access, regardless of how you are entering the bathtub (stepping in or sliding from a sitting position).
Plus, the design allows you to recline – making it perfect if you want to take a long, relaxing soak. Most of these tubs also have waterfall faucets and dual drains that make the filling and draining the tub a quick process.
6. Whirlpool Walk-In Tubs
These walk-in tubs provide water jets for those that are in need of water-based therapy. They provide massages for those that suffer from arthritis, injuries, and other related conditions. Most of these tubs also include in-line heaters that will keep the water warm as you are bathing – which is perfect if you like to take long soaks.
7. Aromatherapy and Hydrotherapy Bathtubs
These bathtubs create a mood that is packed with aromatherapy benefits. The air that is resulted from the bubbling water is very warm – and can, therefore, treat a fair number of respiratory issues. If the patient has regular sinus issues, these tubs can be used to treat those problems.
The advantage is that these tubs are also very deep – so aside from the hydrotherapy benefits, you also get to enjoy a very good soak in the meantime. Since they may also be customized with support bars and underwater treadmills, they represent a very efficient way of keeping the pain off the joints and muscles – strengthening them as you are at it.
Walk-In Tubs Buying Guide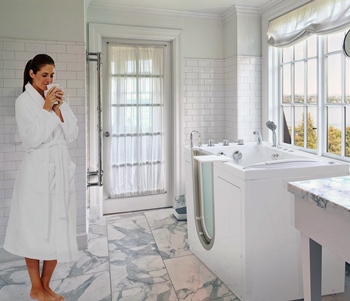 When looking for a walk-in bathtub, there are several features that you might want to consider. Some are concerned about safety, others simply involve your comfort level. It is up to you to decide which feature benefits you the most.
1. Safety Features
Every good quality walk-in tub should have these following safety features, so make sure that your tub of choice has them.
1.1. Anti-scald systems
Anti-scald systems are very useful additions, as elders generally have delicate skins – and most of the time, not much control in their hands. These systems will keep the water at a constant level, even if other people are using water appliances in the house.
1.2. Quick drain systems
Sometimes, emergencies may occur, and you will have to get out of the tub quickly – but since the door won't open when the bathtub is full, you might be exposed to danger. This is why quick-drain features are so useful, as they allow you to get out of the bathtub in a matter of moments.
1.3. Anti-slip surfaces
Slipping and falling is a common (and dangerous) occurrence among elder folk. This is why walk-in tubs should have anti-slip seats and floors as a standard.
1.4. Safety bars
It is commonly known that elder people may have some stability issues – particularly when they get in or out of a bathtub. This is why safety bars are a great addition to have on a walk-in bathtub.
2. Other Comfort Features
While safety-features are a must, there are also a few comfort features that you might want to look into.
2.1. Low thresholds
The low threshold is a very good feature to have, particularly if the person has difficulties in raising their feet. This will make it much easier for them to enter the tub, reducing the risk of discomfort and accidents.
2.2. Self-cleaning systems
Elders can have quite a difficult time cleaning, which is why a walk-in tub with a self-cleaning system can be such a great asset. This way, you may keep the tub free of bacteria or mold, ensuring that everything stays nice and hygienic.
2.3. Extra-wide doors
If you have a wider door, it will be easier for you to get out of the bathtub – particularly if you are a bit larger in the hips. Additionally, if you suffer from pain or stiffness in the hips, these bathtubs should also be quite convenient.
2.4. Leakproof seals on the door
Every good walk-in bathtub should also have leakproof seals, along with a lifetime warranty for them. This way, you will be able to prevent the flooding of the bathroom.
How to Install a Walk-In Tub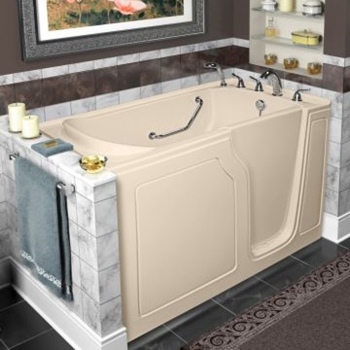 With walk-in tubs growing so much in popularity, many of their potential customers are asking the million-dollar question: "okay, but how are these installed?" It won't be a piece of cake, we will be honest with you – and even with a skilled installation team, it is likely that it will last one day until you finish with the fixtures and everything.
To make the process easier to understand, here are all the steps involving the installation of a new walk-in tub.
1. Prepare the Area
It is very important that you prepare the area before beginning to work on it – no matter if it's your own home or one that you have been hired to work on. Begin by lining the surrounding area with protective maps or carpets, so that you will not scratch the surfaces that you already had installed.
2. Remove the Existing Bathtub
You obviously cannot install a new bathtub without taking the old one out first. Taking out or demolishing your current bathtub might be a challenge – which is why you have to work with a skilled home installer. If you choose to go for the entire process yourself, make sure that you do not damage the plumbing or the walls surrounding the bathtub.
3. Align the Electrical Parts and the Plumbing Drain
If you do not do it yourself, make sure that the company that you choose to install the bathtub will have the necessary skill to set up the electrical configuration and the plumbing. This is crucial with every project – but its importance grows even more if you go for a walk-in tub with hydrotherapy features. The electric parts will need careful configuration.
4. Bring In the Bathtub
You have taken out the old tub – now it is time to bring in the new one in. Depending on the size of the bathtub, you might have to temporarily widen your existing doorway – or at least take out the door. It is not a top-rated inflatable hot tub that can be deflated and brought through any door.
Generally speaking, though, if you go for a professional team, they will find a way to successfully tackle your project.
5. Install the Faucet
Many walk-in tubs arrive with chrome faucets that have lever handles so that they can be used with more ease. These faucets are generally installed before the bathtub is even brought into the bathroom and its final place – but if the space in the doorway does not allow you, you may install this application in the bathroom as well.
6. Level the Tub
No ground floor is completely leveled – and there is a high chance that it might be slightly tipped. If this happens, there is a chance that the bathtub won't be drained completely. Since most bathtubs of the kind have six adjustable feet, you may level them so that they stand perfectly straight. Once that has been resolved, the one responsible for the installation process can move onto the next phase.
7. Retrofit to the Available Space
The bathtub has been leveled – but now you have to ensure that it stays perfectly in its place. In this case, you might want to add custom-sized end panels that will fit the bathroom inside the stall. This way, there won't be any unsightly empty spaces around the bathtub. Once that is done, you have to trim the edges so that the bathtub gets a clean look with a designer feel.
The bathtub has now been successfully installed. Once you have cleaned it up and read the instructions manual, you can enter the tub and start enjoying a nice bath.
Walk-In Tub Safety Tips For Seniors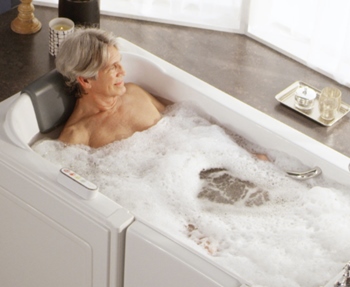 This may be a bathtub for seniors but there are also some safety tips to consider. If you are planning to purchase such a bathtub, here are a few bathtub safety tips to keep in mind.
1. Purchase a Tub with Non-Slip Surfaces
Some tubs have non-slip surfaces that will keep you in the same place, whereas others have the usual ones that let you dive down and soak. Since slipping and falling is a great concern among elders, you might want to go for a tub that has received that non-slip coating. This way, you can be sure that no one will lose his/her equilibrium while taking a bath in these tubs. You should also go for anti-slip flooring as well.
2. Go for Low Thresholds
The lower the threshold, the easier it will be for the person to step into the bathtub. The standard threshold height is around 3 to 7 inches high – which means that the senior will not have to step very high to get into the tub. The more difficult it is for that person to walk, the more you should invest in a lower threshold.
3. Opt for Back and Head Rests
This might seem like a comfort feature rather than a safety one – but in truth, it is also something that will keep the user safe. With their help, the elders with impaired mobility will be prevented from sliding off the seat and injuring themselves.
4. Look for Easy Unlocking Features
Elders may have a difficult time trying to unlock doors, which is why they need something that can be safely unlocked. A bathtub that has easy unlocking will prevent them from being stuck in the bathtub due to an inability to open the door.
5. Get a Bath Pillow
Sometimes, it may be difficult to remain comfortable in your bath while using walk-in tubs. In this case, a top-rated bath pillow might make the experience more pleasant for you, as it will give you extra support.
In addition to walk-in tubs, making bathrooms safe for seniors need a lot of action to take.
FAQs About Walk-In Tubs
1. Do I Have to Completely Renovate My Bathroom to Install a Walk-In Tub?
The short answer to this question is that it depends. In most cases, if you go with the average tub, you may connect it to the current openings. Some manufacturers claim the fact that their drain openings and fill valves are faster – but in the end, this will depend on your plumbing. It is your decision whether you want to go through that renovation process or not.
The level of work you will have to do may also depend on the type of bathtub that you have purchased. If you go for fancy bathtubs such as those with heated seats or whirlpool jets, the installer might have to do some extra plumbing work and electrical upgrade.
2. Will Epsom Salt Damage My Walk-n Bathtub?
Epsom salt is a great home remedy for pain, and considering that it has a rather "scratchy" consistency, it is understandable why people might be concerned. However, since most of the salt will melt in the first few minutes, there is no reason why you should be concerned.
Moreover, even if the salt does scratch against the surface of the bathtub, a good quality bathtub should not be affected by this – particularly if it was one that received a fiberglass coating. Even so, even the best acrylic bathtubs should not be affected by the salt.
3. Are Walk-In Tubs Only for People That Have Mobility Issues?
No. Anyone can use a walk-in tub, as long as they feel comfortable with it. The only issue here is the matter of comfort, as walk-in tubs do not allow you to stretch out and soak. However, there are some people out there that prefer this type of design to the traditional kind.
4. How Long Do Walk-In Tubs Usually Take to Fill or Drain?
The most pressing matter regarding walk-in tubs is that you will have to start the water once you have entered the tub – and not get in when the bath is full. It's only logical – if you open the door when the water is running, the whole bathroom will be flooded. This is why you will have to wait naked in the tub until it's full.
Thankfully, you will not have to wait long until the bathtub is full. In truth, with a good bathtub, it should only take around two minutes or less until the water reaches the full level and almost the same amount of time until it drains.
Wrap Up
Walk-in bathtubs are a safer purchase in comparison to the traditional tubs, as you will not have to step over such high edges. With that in mind, you will need to ensure that the best walk-in tub for your house has all the safety features necessary and that the dimensions are just right to fit into your available space. You should also ensure that it has enough comfort-related features, so that bath time is comfortable for you.
Hopefully, our walk-in tub reviews have helped you take a calculated decision. Every chosen model shows great value for the price that was asked, and they all provide great features that have made the users happy with their purchase.