Investing in the best shower valve up front saves you the hassle of replacing a cheap one later on. This simple part is so crucial for good bathroom functionality, yet it's often overlooked.
But in a world where every piece looks alike to the last one, how do you even choose? It's not like picking a bathtub, where you are charmed by its design – the valve is a piece that usually you don't even see. So, to ensure that you buy a high quality one, you have to read a couple of shower valve reviews. This way, you can know whether the product you have your eyes on is reliable or not.
See The Quick Comparison Chart
What Do Shower Valves Actually Do?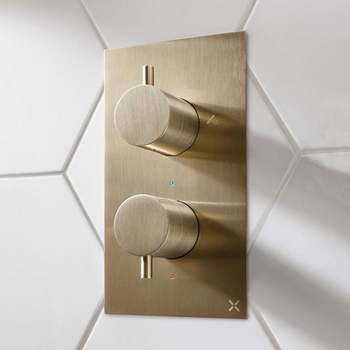 When renovating your bathroom, you come across a lot of important decisions: what shower door to buy, what bathtub to go for, whether you should buy the best dual shower head or not – but the last thing that you probably thought about is the shower valve. It seems to be coming up everywhere – but why do you actually need it?
To put it simply, a shower valve has two basic, but very important functions: it controls the temperature of the water, as well as its flow in the shower. To put it simply, it's the only thing that allows you to get that nice, comfy shower that does not burn you alive.
The temperature is controlled by mixing cold and hot water from both water supplies, generally in different proportions. But bear in mind that depending on the number of outlets, you may get different control to different fixtures.
For instance, if the flow control supplies water to just one outlet, you may control the flow rate from full on to full off. However, a 2-way diverter will supply water to two different outlets, allowing you to switch between them according to your preferences. You may only go for one at a time.
Shower Valve Outlets
Every outlet of the valve will provide water for every part of your shower that requires it. For this reason, a shower valve may have one, two, or three outlets. As such, with a one-outlet shower valve, you should be able to control an overhead shower. Two outlets will also add a shower slide rail in the mix – and three outlets can add body jets. It all depends on your personal preferences.
It is such a small item in your bathroom – but one that controls pretty much everything. You may have the fanciest shower head, but if you don't have a good shower valve, you will not even be able to use it.
Types And Uses Of Shower Valves
With today's technology, there are many unique types of shower valves that you can find on the market. However, among all those different types, there are some that will stand out the most:
1. Pressure-Balancing Valve
This valve is among the most common types, and it can be found in every average household. To put it simply, this kind of valve is used for regulating the water temperature so that you only get the temperature that you want. This can be achieved through adjustment of the shower faucet, ensuring that the water is not too cold, nor too hot.
This kind of valve will also allow you to control the water pressure that is coming through the faucet. Depending on your preferences, you might want to get a shower valve for high pressure, for low pressure, and for hard water.
You can check the details of pressure balancing valves and a little comparison with thermostatic valves here.
2. Thermostatic Valve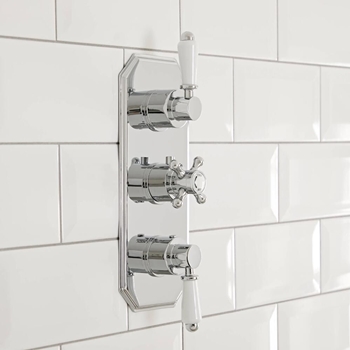 Sometimes, the most inconvenient part of the shower is to wait until the water reaches a certain pleasant temperature. This might take quite some time – and in the meantime, you may be standing there in the shower, freezing and maybe accidentally even dropping a cold jet of water over you. That might be uncomfortable during winter, right?
Well, a thermostatic valve is used mostly for controlling the water temperature. The reason why this kind of valve is so convenient is that it provides superior control, allowing you to have the ideal water temperature immediately – without forcing you to wait. You can hop into the shower instantly, without presetting the water temperature beforehand.
3. Diverter Valve
This kind of valve is generally used when the bathtub and the shower are connected. You may also find them in walk-in tubs, baby bathtubs – or any kind of tub that has a handheld shower connected to its system. The purpose of this valve is to change the flow of the water from the faucet to the showerhead – meaning that it has more than one outlet.
4. Manual Shower Valve
A manual shower valve will generally only have one handle. This is used to control the water flow and the temperature in the same way that you use the sink's mixer tap. Generally, there is no separate handle or knob for turning the water on and off – which means that each time you take a shower, you will also have to adjust the temperature from the faucet. For more information regarding compatible pieces, you might want to give our home page a glance.
In opposition to the thermostatic valve, the manual valve does not regulate the water temperature. Therefore, if someone decides to turn the tap somewhere else in the house, you might find yourself underwater which is either too hot or too cold. This makes it rather unsuitable for houses with children, as they might fall underwater that is dangerously hot.
These manual valves can also be found in different outlet styles – with two, three, or four openings. However, they represent the least expensive option for those shopping on a budget, as it does not offer the benefits of a thermostatic valve.
Best Shower Valves Comparison Chart
PRODUCT
DETAILS

Kohler GP77759 MIXER CAP FOR PRESSURE BALANCE 1/2″ SHOWER VALVE

Price: $
Customer Rating: 4.5
Dimensions: 3.5 x 2.5 x 4 inches
Type: Pressure-Balancing
Material: Plastic
Style: Concealed
Finish: None

View On Amazon

Delta Faucet R10000-UNBX MultiChoice Universal Shower Valve

Price: $
Customer Rating: 4.2
Dimensions: 4.9 x 5.1 x 4.9 inches
Type: Thermostatic
Material: Metal
Style: Concealed
Finish: None

View On Amazon

GROHE 19457001 Concetto Pressure Balance Valve Trim, Starlight Chrome

Price: $$
Customer Rating: 4.1
Dimensions: 21.6 x 8.1 x 2.8 inches
Type: Pressure-Balancing
Material: Metal
Style: Exposed
Finish: Chrome

View On Amazon

Pfister 0X8310A OX8 Series Tub/Shower Rough Valve

Price: $$
Customer Rating: 3.9
Dimensions: 0.1 x 7.6 x 7.8 inches
Type: Diverter
Material: Metal
Style: Concealed
Finish: Brass

View On Amazon

KES Bathroom Single Handle Mixing Valve Body and Trim Round

Price: $$
Customer Rating: 3.7
Dimensions: 7.7 x 7.4 x 5.9 inches
Type: Pressure-Balancing
Material: Metal
Drain Installation Style: Exposed
Finish: Chrome

View On Amazon

Moen 2580 Posi-Temp Brass Pressure Balancing Shower Valve

Price: $$$
Customer Rating: 3.7
Dimensions: 7 x 2.8 x 6 inches
Type: Pressure-Balancing
Material: Metal
Style: Concealed
Finish: None

View On Amazon

KOHLER K-302-K-NA Ceramic Wall-Mount Two-Handle Valve System

Price: $$
Customer Rating: 3.6
Dimensions: 11 x 7 x 3.2 inches
Type: Diverter
Material: Ceramic
Style: Concealed
Finish: None

View On Amazon
Best Shower Valve Reviews
1. Kohler GP77759 MIXER CAP FOR PRESSURE BALANCE 1/2″ SHOWER VALVE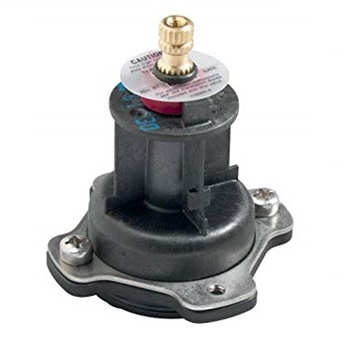 If you are looking for a good quality pressure balance valve that will not "murder" your budget entirely, then you might want to give this model a try. Featuring a high-quality plastic construction, this model is resistant to corrosion and will provide you an astounding experience in the bathroom for the long run.
The advantage of this item is that you may easily turn your shower valve on and off – allowing you a very smooth experience in the shower. Plus, it may easily adjust the temperature so that you do not end up being scalded by the hot water – making it the perfect choice for households with children. The mixer cap kit that it comes with will also offer you more control over the water temperature.
This shower valve is compatible with the most common shower designs, which means that you will not have any issues of compatibility with your old shower. Plus, it is very easy to install, which means you probably will not require the help of a plumber – unless you really think you can't do the installation by yourself.
Pros
Easily regulates the temperature
Compatible with most trims and shower systems
The turn handle turns smoothly
The material is of a high quality
Very quick installation
Cons
Some additional parts may have to be purchased separately
2. Delta Faucet R10000-UNBX MultiChoice Universal Shower Valve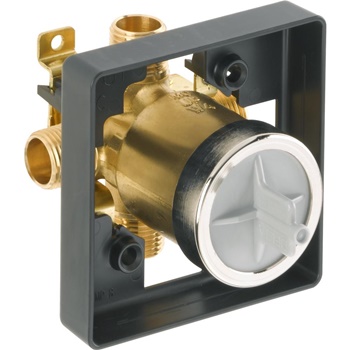 If you want something that was specifically made in the USA and has a good quality, then you might want to try out this shower faucet. Plus, this valve is truly a versatile one, as it allows you to change the faucet without forcing you to go through and replace the entire plumbing system.
Its installation is very quick and straightforward – and in most cases, it will only take minutes to install it. This valve is among the thermostatic types, which means that you should be able to easily adjust the temperature of the water without having to waste time.
Unlike models that were made from plastic, this one has a metal construction – brass, to be more specific. Plus, along with the cartridge, you will also get the sponges and screws that you need – even without having a professional plumbing kit.
Pros
It can accept both single and dual cartridges
The brass material is very durable
You don't have to make many plumbing alterations
Cons
It is not compatible with every shower type
You have to buy the trims separately
3. GROHE 19457001 Concetto Pressure Balance Valve Trim, Starlight Chrome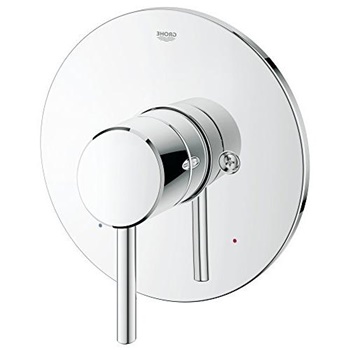 If you are looking for something that provides a beautiful finish and an exceptional style, then the Grohe valve is certainly something that you may want to invest in. Nevertheless, just because this valve is fancy, it doesn't mean that it will not show great strength of character.
Considering that it was made from high-quality brass material, durability will not be an issue with this model. Moreover, its StarLight chrome finish is not only elegant and modern-looking, but it will also protect the valve from rust and corrosion.
The lever handle makes this valve very easy to use. Plus, due to the fact that it has an exposed design, it is very affordable and easy to install. The entire process should not take more than 10 minutes.
Pros
It comes with its own handle
You may easily mount it on the wall
Its body construction is long-lasting
Cons
It does not have its own thermal control
4. Pfister 0X8310A OX8 Series Tub/Shower Rough Valve
This one is a high-end model from Pfister, and it is also one that is appreciated by numerous homeowners. It is particularly suitable if you have more than one fixture that you want to supply with water – such as a bathtub, a shower, a jet massager, and so on.
The metal from which it was made is very durable and is expected to last for a fairly long time. Moreover, it features a brass finish that not only makes it look fancier but also ensures its durability. It's the kind of valve that will last for years to come.
This model is a good investment in the long run that will definitely save you money. Featuring a lifetime "Pforever" warranty, you receive coverage for both its functionality and its finish.
Pros
It can connect a variety of fixtures
It is made from a high-quality material
Lifetime warranty is convenient
Cons
5. KES Bathroom Single Handle Mixing Valve Body and Trim Round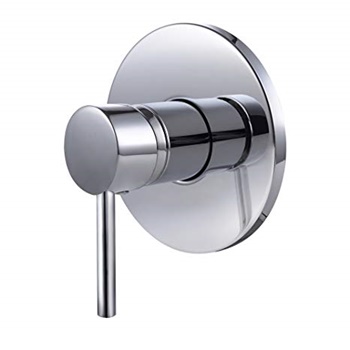 Those of you looking for a fashionable mixing shower valve that makes it easy for you to set your temperature might want to give this one a try. With its exposed design, this one is not only very easy to install but will also provide a nice accent to your bathroom.
The chrome finish that this valve has received is rust-proof. With trivial maintenance, it should be able to last you in the long run – resisting all kinds of daily corrosion and scratching.
Plus, since it was made from high-quality brass, its longevity is also ensured. The chances are that it will take years until you have to replace the shower valve with the new one. However, you need to provide it the proper maintenance.
Pros
It is easy to install
Elegant rust-proof finish
Durable brass construction
Cons
It can leak if not assembled correctly
It doesn't come with any mounting hardware
6. Moen 2580 Posi-Temp Brass Pressure Balancing Shower Valve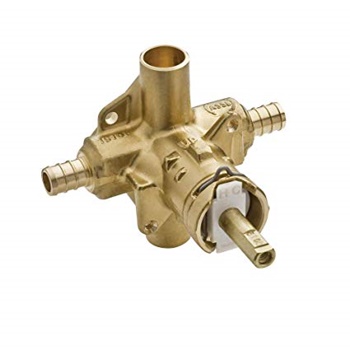 If you need something efficient yet simple, you might want to go for the Posi-Temp from Moen. Featuring superior pressure balancing properties, along with a smooth temperature regulating system, you can get the shower that you want in a relatively short time.
This model was made from durable brass material. It may have no finish, but considering the quality of the material, it is certain to resist for quite a long time. Plus, you have several color options to choose from.
This valve is highly versatile and simple to install on any kind of plumbing system – without requiring any updates. Even if you are not a plumber, it should be very easy for you to install this piece.
Pros
Very easy to install, even if you are no plumber
Very versatile, fit for modern bathrooms
Durable material that is meant to last
Cons
It may not be compatible with every shower fixture
7. KOHLER K-302-K-NA Ceramic Wall-Mount Two-Handle Valve System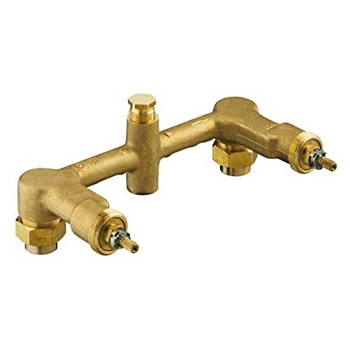 This is the kind of valve that does all the "behind the scenes" work. Made from brass, this model is highly durable and will certainly prove to be a worthwhile investment in the long run. Plus, it doesn't have any plastic parts. It's all-ceramic, with some extra bits of brass.
The valve was ergonomically shaped so that you may easily turn it. This way, you may reach the perfect temperature quickly – without worrying about the pressure or the temperature being the wrong one.
The valve itself is resistant to debris and buildups caused by hard water. This makes it easy to maintain, only requiring the occasional vinegar soak. However, it features a special design – which means that you might need a plumber.
Pros
It is made from very durable, rust-proof material
Very easy to control the water pressure and temperature with it
Resistant to debris and buildups
Cons
The valve trim is sold separately
Shower Valve Buying Guide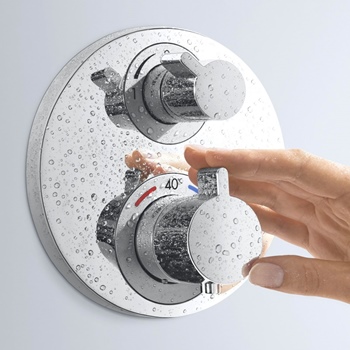 It's a known fact: you need a shower valve. However, you also need to make sure that you purchase the right type – one that will serve you the best in the long run. Here are the factors that you might want to consider when picking out a shower valve.
1. Design
It is essential that a good shower valve features a solid and leak-proof design. The more it can resist leaking in the long run, the stronger its character will be, and the less you will have to spend on replacements in the long run.
Look for valves that seem to be built solidly. Ideally, you may want to do some research on brands and see whether they have been certified as leak-proof or not.
2. Material
The material from which the product is made is also very important. Very often, bathroom fixtures are made from plastic – more specifically, thermoplastic material. Rarely, you may find parts that are made from metal or plaque – one that is considered very likely to live through.
The option here is yours, as every model can have its own benefits. For instance, thermoplastic is more resistant to rust and corrosion – but if you are not careful with it, you may break it, or it may start leaking when you least expect it.
Solid metal parts are generally more convenient, as they tend to be more leak-proof and resistant to damage. On the other hand, if the metal that you choose is of poor quality, it might be prone to corrosion and rust. This will eventually pollute your water. Research the brand beforehand, and make sure that you go for something that uses high-quality materials.
3. Type
We have already discussed the types of valves, so all you have to do at this point is to choose which one is the most appropriate for you. If your shower place is in the bathtub, then you will need a diverter valve. However, if your shower is an enclosed area of its own, then you will need pressure or a temperature valve.
4. Function
What function do you want the shower valve to offer? Do you need it only to control the water temperature and the pressure from your shower in one outlet – or do you want to connect it to as many appliances as possible? For instance, if you want to create a shower area that has dual shower heads and water jets, then you might want to go with a valve that has multiple outlets.
5. Size
Perhaps one of the most important factors of purchasing a shower valve is to buy one in the correct size – because let's face it, it will be completely useless if you do not get something that will fit. Check the dimensions of the valve to ensure that it will fit in the assigned space and make sure that the size is correct enough to be fitted on the pipeline.
6. Style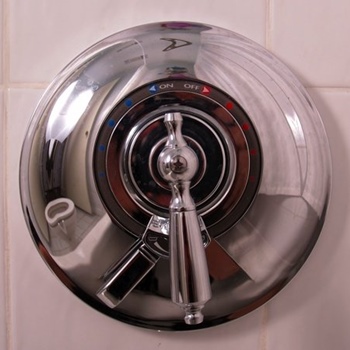 You might want to choose whether you want a concealed or an exposed shower valve. As its name suggests, the concealed shower valve is the one where its "body" is on the inside, namely the outlets and connecting pipes, but its controls are on the outside. In most cases, if you want to replace this valve, you will have to tear down the tiles – but the final aspect of the bathroom will be much more pleasant this way.
If drilling holes is not your style, or if your shower was already designed this way, then you may go for an exposed shower valve. These have their entire body on the outside of the wall, making them much easier to replace in the event of leaking from the valve. These valves are also generally chrome-plated so that they are more appealing to the eye.
7. Finish
It might have been made from a good material, but if it has no finish, then you might see signs of corrosion earlier than you actually expected to. Most of the time, exposed valves will also feature a finish to make them look more aesthetically appealing. However, a hidden valve that has a durable finish will reduce the chances of the unit leaking before its time comes. It will make the overall valve be more durable.
8. Price
A good shower valve will be one that is within your budget. We're not saying that the valve you are buying should be cheap – but it should be worth the money. If you are paying quite a sum for a valve, you might at least want to ensure that you are getting something of a higher quality.
How to Fix a Shower Valve
When your valve seems to be failing on you, there may be some things that you can do to fix the problem. Of course, we're talking about a problem that doesn't require you to replace the valve entirely. The duration of the process depends on the style of the valve – but once you have access to the valve, you can easily try to mend the damage.
Bear in mind that this kind of mending can only be done if the problem is a buildup of grime or lime. If this is the case, you will have to remove the valve, disassemble it, and clean it up.
You might want to refrain from using strong chemicals to clean the valve, as they might damage it and make it more prone to corrosion. Soap is also not as effective, as it might add up to even more buildup. The best (and safest) way to clean it would be to make a mix of water and vinegar. Leave the valve to soak in it for a bit. After that, you may spray the valve with the shower cleaner.
However, keep in mind that this solution is only good when grime is involved. If the problem concerns wear and tear or leaking, then you might have to replace the valve. Just be sure that you have tried repairing the shower valve washer seat before changing the unit itself.
How to Replace a Shower Valve
If your shower valve is damaged beyond any chances of being repaired, then you may have to replace it in order to prevent any further leaks. Removing and replacing it may take a bit of time and patience, but if you follow the steps correctly, even a novice may be able to do it.
However, we advise that you are careful when replacing your shower valve. A lot of work here goes into the details, and you do not want to forget any of the important details.
1. Remove the Handle
When replacing the shower valve, you might want to begin by exposing the valve – but first, you may want to cover the shower drain with a plug or a cloth. By blocking it entirely, you will prevent any screws or small parts from falling into the drain as you are working on the valve.
Once the drain has been covered, take off the shower handles. These will usually adhere to the walls through screws. So, unscrew them and gently lift the handles from the stem.
2. Unscrew the Trim Plate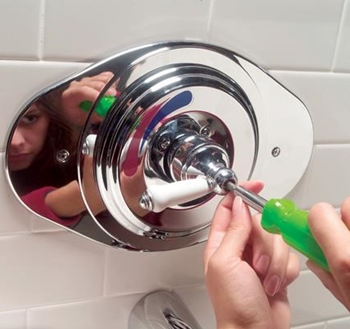 The trim plate should also be secured into the wall using two screws. You may want to unscrew it from both sides and lift the plate gently from the wall. Set it aside along with the screws, near the shower handle – but make sure that the parts do not get mixed with each other.
Once you take both the handle and the plate off, you might want to soak them in vinegar for the time that you are replacing the valve. This will ensure that the grime and lime will go off once you screw everything back together.
If there is any caulk around the edges of your trim plate, you might want to remove it too. The chances are that you will apply a new layer of caulk and if you do so over the old layer, it might not stick. Caulk can be bought from a variety of places, going from local home improvement stores to online stores.
3. Shut the Water Off
This can be the second or the third step – but either way, before you proceed to remove the valve, you will have to shut the water off first. Depending on your piping, you may have to turn off the water from your basement or straight from your bathroom. If you cannot do it from your bathroom, then you might want to shut the entire water supply of the house.
Depending on your home heating system, you may have to turn off one valve or two valves. Anything that might bring water to the valve needs to be completely shut. Generally, these water stops will feature flat screw heads that will allow you to turn the water on and off.
4. Remove the Valve Clip
At this point, you should have a hole that is wide enough to give you access to the valve. If not, you will have to cut an access hole through the wall so that you may reach the valve.
Once the valve is reachable, look at it. You should be able to see a metal slip at its top, one that had the purpose of keeping it in place. Lift it and place it safely on the side, so that you do not lose it. If the clip has not been damaged, you should still be able to reuse it.
5. Pull the Valve Out
Now it is time to pull the valve from the wall, for which you will need pliers. Grip the metal end of the cartridge of the valve and pull it back firmly. If it seems like it got stuck at some point, you may wiggle it in an attempt to dislodge it. Once it has been removed, you may discard it to ensure that it stays out of the way.
6. Insert the New Valve
Now that the old valve is out of the way, it is time for you to insert the new valve. Make sure that it's identical to the old valve. Otherwise, it might not be compatible. If it gets stuck, you should once more wriggle it back and forth until it slides into its spot. Make sure that there isn't any corrosion or rust – because this might be a sign that you have to change the whole tub and shower system.
7. Slide the Metal Clip Back In
Remember the metal clip that you pulled out before you removed the old valve? Well, it's time to put it back again. You may use your hands – but ideally, you should use the pliers. The clip should go in the same place that it came out of, at the top of the valve.
8. Turn the Water Supply On
No matter if you turned the water off for the entire house or the local shower area, you have to turn the water back on. This way, you can determine whether there are any leaks in the new valve or not and whether you need to tighten or simply get a new one.
9. Put the Trim Plate Back In Its Place
If everything is in order – and definitely not leaking – you may put the trim plate back in its place. Screw it back from both ends and if there's a need for caulk to secure it, then you may apply another layer. Screw the shower handle back in its rightful place, and turn the water on to see if it works. If all is alright, remove the cloth or the plug from the drain.
FAQ about Shower Valves
1. Can I Replace a Two or Three-Outlet Shower Valve with a One-Outlet Model?
Yes, you may get a different kind of valve but you should make sure that its dimensions will fit in the space that you have inside the walls. The trim plates of most models are also wide enough to fit most shower valves – just as long as they remain within the appropriate dimensions. If not, you may have to change the entire shower system – which might require a plumber.
You can also check two handle shower valve replacement from a single handle unit here.
2. Can I Reverse the Hot/Cold on a Shower Valve?
Sometimes, people may not be used with the position on which the hot or cold water is set on. Let's say that you had a shower valve with the cold water on the left and the hot water on the right – and with the new valve, it is all reversed. To fix this, you might want to go into back to back installation.
To reverse the hot and cold water, all you have to do is to remove the cartridge and rotate it until you get to 180 degrees. Once that is done, you may reinstall it into the valve. If you are not exactly certain how you are supposed to do this, you might want to hire a plumber to help you out.
3. My Rough-In Valve Was Installed Too Far Into the Wall. Can I Fix This?
It happens. Sometimes, your valve may end up being installed way too far into the wall. In this case, you may be able to get an extension kit to correct this. Still, make sure that the kit you purchase is compatible with your current valve. Otherwise, you might not be able to connect the valve into its place.
Installation is quite easy to do and generally, it can be gone through by simply reading the instructions the kit comes with. There are also multiple tutorials on the Internet that can help you out in this regard. But if you are not completely certain whether you can do the installation yourself or not, you may want to hire a professional contractor.
4. Why Is My Valve Dripping or Leaking?
There are various reasons why your valve may be leaking. First, it may be caused by grime buildups or lime. In this case, you will have to remove the valve and clean it. Depending on how bad the situation is, you might have to leave it to soak for at least half an hour.
If buildup is not the problem, then it might be because the cartridge, grommet, or O-ring has become torn or scratched. In this case, if you want to repair the link, you will have to replace the valve altogether.
5. What Should I Use to Clean the Valve?
Valves, in general, are highly prone to damage from rust and corrosion – and while it might be tempting to leave it into a bowl of water and chemicals, this might not be the best thing to do. Not if you care about the state of the shower valve.
Instead, you might want to make a mix of water and vinegar. Vinegar is strong enough to break down the grime and give the valve its shine back – but it won't be strong enough to cause any permanent damage to the unit. It's what you should use if you want to provide regular maintenance to your shower valve.
Wrap Up
A shower valve may not be the prettiest part of your bathroom – but it's certainly one of the most important ones. It will determine whether your shower is comfortable or not, connecting every piece so that the water is just right. This is why, if you want to purchase the best shower valve, you need to look for a high-quality one.
It might be difficult to pick a qualitative model that works just right for your bathroom. That's why you might want to read some shower valve reviews to help narrow down your choices. The options that we mentioned for you have great value for their price, and many people seem to appreciate them for their reliability.
See also: grout for shower reviews