These days, you can have the best steam shower generator in the comfort of your own home. Steam has the ability to ease your muscle strains, relieve stress, and improve the quality of your sleep. You may now use the bathroom to chase away all the winter chills and get yourself all nice and cozy. All you need is a high-quality steam shower generator to ensure that you get all the power that you need during your shower.
The issue here is that all units have their own capabilities. For this reason, you might find our steam shower generator reviews to be rather useful, as they may help you find the best one that suits your purposes.
See The Quick Comparison Chart
Advantages and Drawbacks of Steam Shower Generators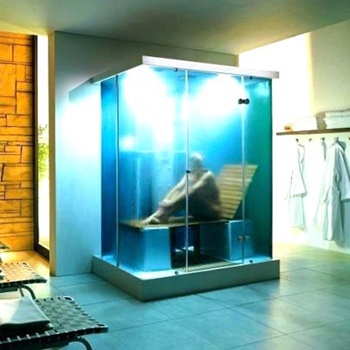 With so many kinds of water heaters on the market, it is difficult to actually understand which type works best for you. Going through the advantages and disadvantages, you should be able to understand whether you should choose a steam generator in favor of a standard boiler.
Steam generators come in various sizes, which is why it is very easy to find one that takes less space than the average water heater. Plus, besides the fact that they are fairly inconspicuous, they are also convenient. You can fit them both horizontally and vertically, and you can also choose whether you want to install them on the wall or on the floor. They may also be used for both commercial and residential purposes.
That being said, while steam generators have a fair number of advantages, you can also note a few disadvantages as well. This section will introduce you to both aspects.
1. Advantages of Steam Shower Generators
There are several reasons why you might want to choose steam shower generators as an investment. Alongside increasing the value of your property, here are a few advantages that might be of interest to you.
1.1. They have a quick operating speed
Steam generators will heat up the water quickly and swiftly, making them a good choice for those that want a minimum period between the unit's startup and the moment when the hot water starts flowing. This way, you should be able to hop into the shower much faster.
1.2. They have a low running cost
Compared to other water heaters, steam shower generators have a much lower running cost. Alongside the fact that they are cheap to install, they are a great option for those that are shopping on a budget.
1.3. They are easy to use
Once you have fitted the steam shower generator, the unit is very easy to use. Using the controls, you may easily turn it on and off, as well as regulate the temperature the way you wish it.
2. Disadvantages of Steam Shower Generators
Just as there are some advantages, you may also find quite a number of disadvantages in a steam shower generator. Here are the most important ones.
2.1. Some steam shower generators can be very expensive
Despite the fact that steam shower generators have a very low running cost, the unit in itself can be very expensive. The more features it has, the more expensive it is. And since steam shower generators are actually considered to be "luxury household items," manufacturers may go out of their way to "pimp them up" and raise their price.
2.2. They can be dangerous if installed incorrectly
Technically speaking, steam shower generators are very easy to install. Still, if they are installed incorrectly, they can be very dangerous. Incorrect installation may lead to blockages, which, in turn, may lead to steam accumulation. This may not only damage your unit but if it accumulates on the floor, it may also lead to injury.
You can also find some ideas here for steam shower generator troubleshooting.
Best Steam Shower Generators Comparison Chart
PRODUCT
DETAILS

Happybuy 9 kW Steam Generator

Price: $
Customer Rating: 3.7
Size: 21.3 x 17 x 8.4 inches
Weight: 26.3 pounds
Power: 9 kW
Room Volume: 300-400 cubic feet

View On Amazon

Superior 9 kW Self-Draining Steam Bath Generator

Price: $$$
Customer Rating: 3.9
Size: 19.8 x 20 x 10.4 inches
Weight: 27.8 pounds
Power: 9 kW
Room Volume: 320-450 cubic feet

View On Amazon

WDQY YJINGRUI 7 kW Steam Bath Generator

Price: $$
Customer Rating: 5.0
Size: 21.5 x 18.5 x 8.9 inches
Weight: 24.6 pounds
Power: 12 kW
Room Volume: 250-320 cubic feet

View On Amazon

Superior 12 kW Self-Draining Steam Bath Generator

Price: $$$$
Customer Rating: 3.8
Size: 20.5 x 12.7 x 20 inches
Weight: 37 pounds
Power: 12 kW
Room Volume: 460-700 cubic feet

View On Amazon

CGOLDENWALL 6 kW Steam Generator Shower

Price: $
Customer Rating: 5.0
Size: 24.5 x 17.8 x 9 inches
Weight: 23.4 pounds
Power: 6 kW
Room Volume: 100-148 cubic feet

View On Amazon

Steamist TSG-7 7.5 kW Steam Generator

Price: $$$$$
Customer Rating: 5.0
Size: 15.5 x 15 x 6 inches
Weight: 15 pounds
Power: 7.5 kW
Room Volume: 90-250 cubic feet

View On Amazon

ECO LLC 220V 9 kW Steam Generator

Price: $
Customer Rating: 4.5
Size: 17.5 x 6.5 x 15.6 inches
Weight: 26.5 pounds
Power: 9 kW
Room Volume: 250-353 cubic feet

View On Amazon
Best Steam Shower Generator Reviews
1. Happybuy 9 kW Steam Generator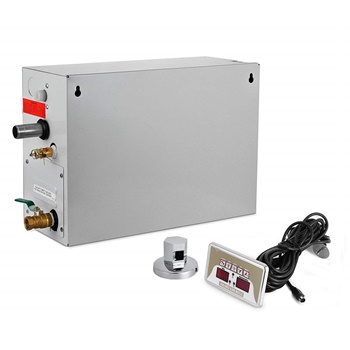 This well-designed product has received dozens of good reviews. It has a proficient anti-leak system which will keep everything going smoothly and prevent the machine from suffering severe malfunctioning. This exact system will also keep the unit from overheating, which means that you should be able to enjoy your sauna in peace.
Despite the fact that it has some fairly advanced features, this unit still manages to remain affordable. For this reason, this is a good option if you are looking to shop on a budget. Plus, it comes with a good set of instructions that will teach you how to use the unit.
This unit also features a light system control and a long-distance signal transmission that goes over a distance of 50 meters. This will help keep you even more relaxed, as you will barely have to move an inch.
Pros
The unit is made with waterproof controls that will easily allow you to use it during the shower
It is sold at an affordable price, making it a great investment considering the features it has been equipped with
Cons
It has a manual drain that may be rather troublesome to operate
Some users claim that you may have a difficult time understanding the instructions
2. Superior 9 kW Self-Draining Steam Bath Generator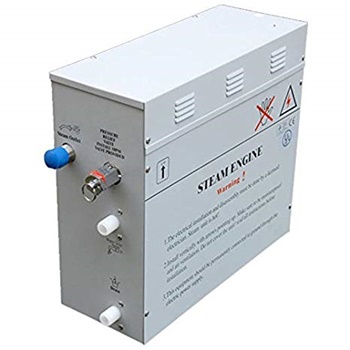 If you are looking for a steam bath generator that has a smaller power but can still throw a fairly good punch, then you will learn to love the Superior 9KW steam generator. It might have a smaller output compared to other units, but to be fair, it is still good enough to keep a small family well-relaxed.
This device is meant for residential use and can be installed both inside and outside the house. The controls are waterproof, which is why it is fairly convenient for indoor use. Plus, another great advantage is that it features an aromatherapy outlet that will further increase the experience.
This unit has temperature sensors that will not only prevent the unit from overheating but will also ensure that the temperature is kept at the most satisfying level. This way, you may be sure that your shower will be as great as it possibly can.
Pros
With its ETL certification, this unit is ideal for home use
The control panel can be mounted indoors and outdoors
The aromatherapy outlet will also work in improving the experience
Cons
It has a small power output, which some users may find rather dissatisfying
Some users also say that the materials used in its construction are not of the highest quality
3. WDQY YJINGRUI 7 kW Steam Bath Generator
Those of you looking for a top-quality unit for a small home might certainly appreciate this product. With its small dimensions and digital control panel, this device can be installed both indoor and outdoor, taking the least amount of space around the home.
Featuring an anti-corrosion shell, this unit features an electrolytic plate that has been sprayed for durability. Adding the waterproof connectors into the mix, this item can be safely used even in conditions less favorable for electric units.
Last but not least, it has been equipped with an auto-drain system. This will prolong the life of the heating elements – and will also make the process more pleasant for you. This way, you will not have to worry about any manual switches. However, just in case, a manual drain button has been installed in the event of an emergency.
Pros
This unit is small and compact, and perfect for small houses and flats.
Thanks to its motorized auto-drain, it is also very easy to operate.
Cons
The power that this device provides is relatively low and may not provide the kind of steam that you wish for.
4. Superior 12 kW Self-Draining Steam Bath Generator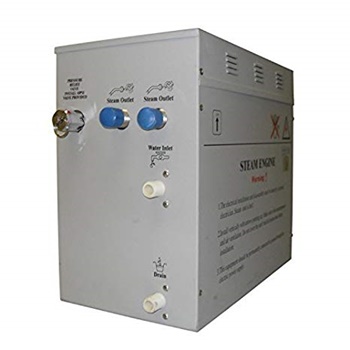 Those looking for a heavy-duty generator might deeply appreciate this product. At 12kW, it can steam up even a larger bathroom, making it the perfect choice if you want to create a relaxing steam room for a larger group.
One feature in particular that users might appreciate in this unit is its self-draining system. This will allow the floor to remain as dry as possible, preventing the steam from condensing on the floor – which will usually transform it into a slippery surface.
The controls of this unit are waterproof, meaning that you can install it both indoors and outdoors. You also have an aromatherapy outlet and a temperature sensor, which will improve your shower experience even further. Not only will your steaming session be relaxing, but it will also be therapeutic.
Pros
This unit is ETL certified Y
You may easily install this unit both indoor and outdoor
The aromatherapy outlet may turn a relaxing steam session into an even more therapeutic one
Cons
Considering that it has a large steam output capacity, this unit might be a little more than you need for the regular household
5. CGOLDENWALL 6 kW Steam Generator Shower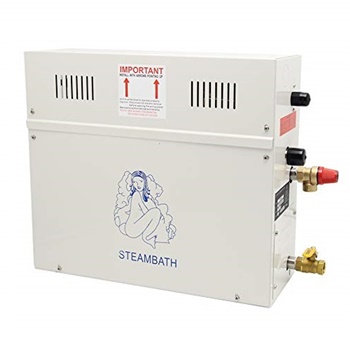 This unit is among the top-rated products simply because it is very easy to install and comes with an easy to understand user manual. This will make it much simpler for you to understand the process of using this unit.
If you are looking for energy efficiency, then this unit is just the right one for you. At a power rating of 6 kW, you won't have to worry very much about your power bill. Still, this may come at a disadvantage for some, since it may not be able to heat up bathrooms that are larger than 150 cubic feet.
One more cleverly designed feature is its dual-tank technology that features protection from overheating. This will stop the unit from expanding in the event of a steam blockage, automatically draining the unit so that you can be safe. It is also followed by a quick warm-up feature that will start in around 3-5 minutes, continuing with the steam.
Pros
The unit is very easy to install
The dual tank technology will prevent the unit from overheating in the event of a blockage
The auto-draining will keep the floors from getting slippery, preventing the steam from forming on the floor
Cons
Some people complained that the customer support service is not very useful
6. Steamist TSG-7 7.5 kW Steam Generator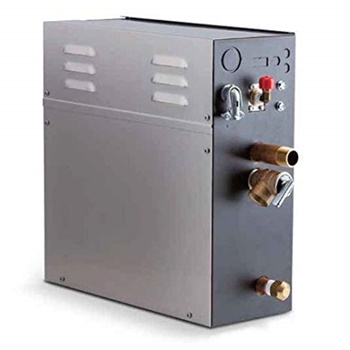 This device boasts a total power of 7.5 kW, making it perfect for bathrooms as large as 250 cubic feet. Featuring a stainless-steel exterior and durable waterproof components, this unit may be installed both indoor and outdoor.
With adjustable temperature, you can choose for yourself how hot you wish your steam session to be. You can also choose the shower duration, along with recessed lights from the controller. This way, you will get a relaxing steam power.
This device also features aroma oil disbursement, further improving your steam room experience. The automatic drain system is bought separately – but if you do decide to make the purchase, you will realize that the investment is actually worth it.
Pros
The unit is made from durable waterproof components, making it perfect for both indoor and outdoor
The aroma oil disbursement makes it perfect to be used in therapy
Easily adjusted and compact in size
Cons
The unit delivers quite a small amount of steam power
The covered area is not wide enough for standard use
7.  ECO LLC 220V 9 kW Steam Generator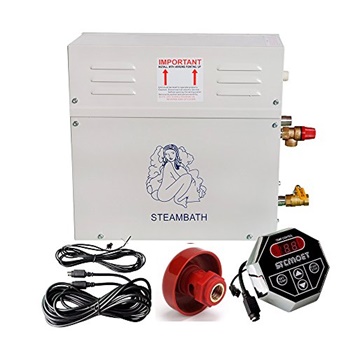 Those of you looking for a more affordable unit will appreciate this model. However, even if the product is cheap in price, it does not mean that it is cheap in quality. In truth, this one is a high-power generator that can cover a very wide surface, one that reaches roughly 353 cubic feet.
The sauna steam generator comes with a LED digital display on which you may adjust the water temperature and the running time of the unit. You may set it anywhere from 35 to 45 degrees Celsius. As for the running time, you may choose from 1 to 60 minutes.
Featuring a stainless-steel tank for the heating and ozone sterilization, this unit will ensure that you get clean, pure steam. Moreover, it has an optional auto-drain system that can be used to enhance the performance of the unit.
Pros
For the features that it provides, this unit is sold at a very affordable price
The LED control panel is easy to use and is also waterproof
The ozone sterilization will ensure that the steam you get is clean, pure, and therapeutic
Cons
It may be fairly difficult to install with the automatic drain
What Is a Steam Shower Generator?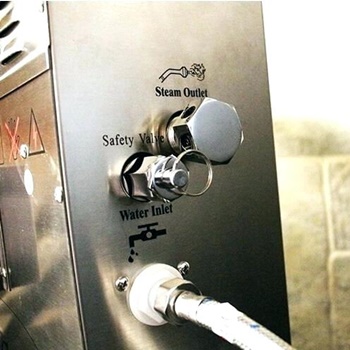 A steam shower generator is a unit that plays a crucial role in your bathroom or shower – particularly if you need to relax after a very long day. It is used to heat water until the point that it goes into a boil, the end result being steam.
Generally speaking, the average steam shower generator will use around 2-5 gallons of water, depending on the room capacity. Inside the generator, the cold water will begin interacting with the heating element, turning it into vapors and sending it through the shower by using heat pressure.
Most steam showers will generally come with their own generators. However, if you want to make the most out of a sauna, you may want to invest in a high-quality generator that you can rely on.
There are various significant factors when creating a steam room, going from the tiles to selecting the right controls. However, one of the most important aspects is finding the right steam shower generator. Without it, there wouldn't be any steam, which is why we need to understand more about the way it works.
How Does a Steam Shower Generator Work?
A steam shower generator connects to the plumbing of your home. The working principle of these units is relatively straightforward: water is taken into a closed vessel of the steam generator once the electric valve is triggered. Featuring a heating element inside, it will begin to boil the water once it is turned on – the boiling water produces steam. That steam is further on delivered into the shower room.
Ideally, the steam shower generator should be installed about 25 feet away from the shower room – typically under a vanity, under the floor, inside a closet, or even in the attic.
Steam shower generators have control panels that allow you to monitor the temperature of the steam – a monitor that can be mounted both inside and outside the shower room. Some even have two control panels that you may install in both areas, inside and outside the shower room.
Regardless of the control panel that you choose, it will show you the exact temperature (the one set on the inside). Plus, it will automatically shut down the unit after the set time has passed (the one set on the outside).
A high-quality steam generator will produce enough vapors to "steam up" a shower room. Therefore, it is good to know the exact measurement of the enclosure before picking out a steam generator. Too little steam will not be able to provide such a great effect, whereas too much might make you feel slightly uncomfortable in the steam room.
How to Size a Steam Shower Generator?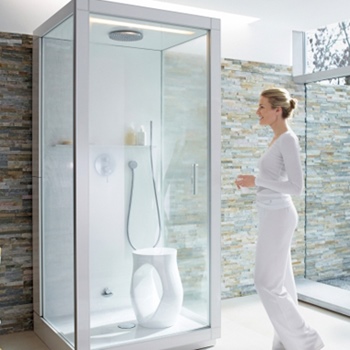 For you to get the best effects of the steam shower generator, you have to properly size up the steam room. Then, you must choose the steam shower generator accordingly. Here is how you can do so.
1. Measure and Multiply
Measure the length, width, and height of the enclosure, and then multiply them. Make sure that your measurements are done in feet. This will allow you to determine the cubic footage of the room.
2. Adjust the Cubic Footage
In order to find out the total room volume, you have to adjust the cubic footage. This will also depend on several other factors, such as the material, exterior wall, or height of the ceiling.
2.1. Material
If the shower room is made from marble or natural stone, you should multiply by 2.0. On the other hand, if you have porcelain tile, ceramic, or gas block, you should multiply by 1.35. If you are using any other material, you have to contact the manufacturer.
2.2. Exterior Wall
If there is only one exterior wall, multiply by 1.1. If there are two of them, multiply the sum by 1.2.
2.3. Ceiling Height
If you have a 9 ft. ceiling, you should multiply the numbers by 1.15. On the other hand, if you have a 10-foot ceiling, you have to multiply by 1.3.
These numbers can be rather confusing – but in this regard, you may look up an online calculator. This will determine the adjusted cubic footage for you.
3. Select the Steam Shower Generator
Now that you have determined the adjusted cubic footage, it is time to pick the steam shower generator. You should choose a steam generator that is equal or even greater than your adjusted cubic footage:
7kW generator: 101-250 cu. ft.
10kW generator: 250-450 cu. ft.
12kW generator: 4561-550 cu. ft.
15kW generator: 551-675 cu. ft.
Bear in mind that if you have an outside window or a skylight, you have to choose "one-size-up" when it comes to your generator. Plus, for the best performance, the height of the ceiling should not go over 8 feet (10 feet at most).
Steam Shower Generator Buying Guide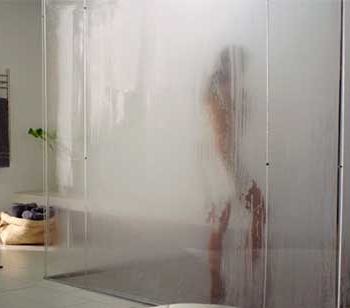 A steam shower generator can build up steam in the shortest amount of time, making every shower feel like a sauna. However, most of the steam generators that are sold together with the shower will not last for a very long time. Moreover, those that do not break down from the very beginning will either take too long until the steam builds up or will simply prove to be unreliable.
If you are thinking of buying a steam shower generator, you should keep in mind the following factors:
1. Power Output
The power output of a steam generator is likely one of the most important factors that you need to keep in mind during this process. A unit like this is just as good as the amount of power that it can deliver. If you get a 3kW steam generator, it will perform no more than 3kW. It's simple, right? With that in mind, make sure that you get a generator that has enough power to steam up your shower room.
If the room is very small, then a 3kW steam shower generator should be able to do the trick. Simply add some good sliding shower doors, and you should be able to get a nice, steamy relaxing shower. However, just to be safe, you might want to get a unit that has at least a 6kW output. If the steam room is meant to fit two people, go for an even bigger steam generator.
Besides having the ability to deliver a fair amount of steam into a big room, a powerful generator should be able to build the steam at a much quicker rate. This could be a convenient feature, as it will certainly help you save on time.
2. Quality
Here's some food for thought: you bought quite a "killer" steam generator, with a lot of power, and a price that is to die for. Unfortunately, the price is not the only thing that dies – the unit might die too in about 6 months. At that point, you will be forced to buy another steam shower generator, making your "catch" generator to be more expensive than a membership at the spa.
Therefore, when you want to get a steam shower generator, give as much importance to the construction quality as you would to its performance. If a steam generator works really well but seems to be poorly built, you should not invest in it.
3. Efficiency
Many people value a steam generator based on how efficiently it works. The problem is that you can't usually test a steam generator to see how it works – particularly if you buy it online. So, how do you solve this problem? You read through customer reviews, that's how.
To know how efficient a product is, you need to learn about it from those that already own it. A company might advertise it as the "best product on the market" – but only those that have used it before will actually be able to tell you what to expect.
Additionally, the features should be able to give you an idea over the efficiency of a product – so, you might want to keep a close eye on that as well. Moreover, look at the power output, as well as the warranties. On average, the longer the warranty, the better the product is believed to perform.
4. Components
A top-notch steam generator will have an entire myriad of convenient components – but what you should be careful of is that it comes with a high-quality connecting wire. A wire that goes past 10 feet should be the standard.
The unit should have outlets for linking to the aromatherapy scents, but it should also have a wand or a radio outlet. When you buy a steam shower generator, make sure that it offers all the value that you can use. Check the control panel as well, and make sure that the dials it has will improve your experience.
5. Noise
Like many other machines, a stream generator will also produce a certain amount of noise as it is working. This is precisely why most experts recommend that you install it into a cabinet – to isolate the noise.
To make sure that there is minimal noise pollution in your shower room, go for a generator that has among the lowest noise level. The noise is measured in decibels – so, the lower that number, the quieter the unit will be.
6. Functionality
Before buying a steam generator, think long and hard about why you want to buy it. Do you need a unit for residential use? Or do you need something that can increase the steam buildup time? You'll most likely find the perfect steam generator when you will learn precisely why you need it.
7. Startup Time
How long does it take until the steam generator starts "steaming up" the place? It shouldn't take too long. In fact, a good quality generator should begin building up steam right away. It's the reason why you likely invested in it, after all. Considering that most manufacturers will indicate a startup time, you need to keep a close eye open for that. The less time it takes to start steaming, the faster you can get out of the shower and start doing your things.
You can get additional advice about steam shower generators here.
Installation of Steam Shower Generators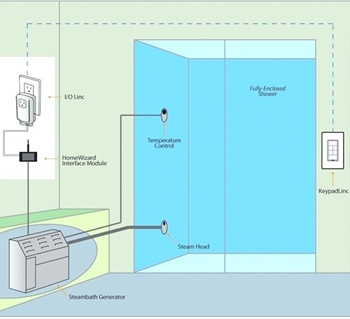 Unlike installing the actual shower, the steam generator is something that almost anyone can install – as long as you want to. You will need a couple of tools – but if you put your mind to it and follow the instruction, there's no reason why you should not be able to do it.
1. Find a Suitable Steam Generator
When installing a steam generator, it is important that you find one that can deliver up to your expectations. As we have already mentioned, steam generators can be rather expensive.
You should start by determining the reasons why you want a steam generator and pick one in accordance to those reasons. If you need something that builds up steam really fast, you should buy a generator with a higher power that will keep you as little as possible in the bathroom.
2. Identify the Place Where You Wish to Install the Generator
Steam shower generators may last for a whole decade. That's why you have to ensure that you choose a good place where it can serve its purpose without bothering you.
There are a few good places in the bathroom where you may install this unit without a problem. A cabinet, for instance, may serve as the perfect place for you to install it. However, you may place the generator anywhere it won't bother you – as long as it is away from anything that can cause it physical damage. It is also ideal for you to place it near the bathroom lines, so that it may be easily connected.
3. Install the Generator
Once you have found the perfect place for the device, you should prepare the drilling tools. You will need a total of two holes: one that will connect the generator to the control panel, and one that will connect the unit to the steam outlet.
You should bear in mind that some generators have their own strict installation rules that you will have to respect. Moreover, some states require that you allow the drainage system a 1-inch gap. In regard to the electrical connections, you may either want to follow the instructions carefully or ask an expert to do it in your stead.
Depending on the power rating of the unit, you may be required to use insulated copper conductors when it comes to the wiring. For complete safety, install two circuit breaker instead of just one. You may install one circuit breaker right between the power supply and the generator, whereas the other one can be installed in a location nearby.
If the control panel of the steam generator asks for a separate place to install it, you may do so where it is most convenient for you. Once you have done that, turn the water on so that you may test the system. However, make sure that the power is off because you only want to test the performance of the unit.
If you see any small issues that appear to be hindering the efficiency of steam delivery (such as holes or cracks), you may want to address them first. However, if everything is running just in the way that you expect it to, then you may begin with the "steam party." Buying and installing a steam shower generator may turn out to be rather costly – but if you do it correctly, it may be a worthy investment in a few years.
FAQ About Steam Shower Generators
1. Will Steam Shower Generators Help Me Improve My Health?
Yes. In essence, steam makes you sweat more than you normally would – and when you are sweating, you are practically removing the toxins from your body. You will feel much better on the inside – but your skin and hair should also show signs of improvement.
2. Will It Be Dangerous If I Install My Steam Shower Generator in the Bathroom?
Not in the slightest. Many people are wary of installing the steam generator in the bathroom mainly because they fear the steam will somehow damage the shower, faucets, furniture, etc. This is caused by the recommendation that it should be installed "25 feet away from the shower."
However, if the shower is well-built, it will not be affected by the steam – as its components should be waterproof. Moreover, the closer you are to the shower faucet, the better. This will mean that you won't be losing any steam in the process.
3. How Often Should I Use the Steam Shower Generator?
This will mostly depend on your health. If you are going for steam showers as per the recommendation of your healthcare provider, you should take as many as they recommend you to.
On the other hand, the typical adult is exposed to dry skin if they take too many steam showers – which is why you should limit your exposure. For this reason, you should not use the shower more than 1-3 times per week.
4. Do I Need to Renovate My Bathroom to Install My Steam Shower Generator?
As long as you have a shower kit properly installed in the bathroom, you should not have to go through any renovation projects. All you have to do is follow the instructions provided by the manufacturer, and the unit should be up and running shortly. If you do not have the bathroom infrastructure, you can also check steam showers to see which one works best for you.
5. Are Steam Shower Generators Usually Large in Size?
No, not at all. Steam shower generators come in small sizes – generally no larger than a briefcase. For this reason, you may install them wherever you want: in a cabinet, under a vanity, etc. You won't even know that it's there.
Wrap Up
They might be small and compact, but steam shower generators are some of the key factors in a relaxing bathroom. However, for the best experience, you need to be willing to make an investment – and the best steam shower generator will definitely serve you well after a long day.
With that in mind, these units are quite easy to install and use – and as long as you have the main bathroom infrastructure, you should be able to hop into a relaxing shower in no time. It has great benefits for your health, provided you follow the recommendations.
Hopefully, you found our steam shower generator reviews useful. We opted for the ones that presented the highest quality and a superior performance so that you may enjoy the shower to the fullest. Now, you just have to measure your bathroom and select the right size – after which you are good to go.