What if we told you that you could have the best infrared sauna in the comfort of your own home? That's it, no expensive memberships, no seat sharing with strangers – and you'll be able to enjoy a good sauna without even having to step out of the house.
Granted, it will be an investment – which is why you have to ensure that you only buy when you find the perfect unit. That can be easily done as long as you read some good infrared sauna reviews – which we will try to provide in as much detail as possible for you. Everyone can have their own spa in their house.
See The Quick Comparison Chart
What Is an Infrared Sauna and Should You Have One?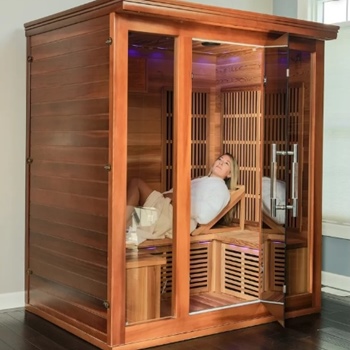 A sauna's purpose is to produce heat that will cause you to sweat – something which is perfect if you want to efficiently get rid of the toxins from within your body. Instead of going for regular day-to-day sweating, which sometimes is not enough, people are opting more and more for the controlled sweating of a sauna – the one that is followed by a "cool-off process." Its popularity has raised due to the many health benefits that it provides.
Infrared saunas work by creating heat with the use of infrared heaters – which obviously will generate infrared waves. These waves will enter your skin, heating it directly without heating up the air around you. This will allow you to sweat even if the climate that you are in is otherwise temperate.
Infrared saunas are perfect for those that cannot handle the heat of a traditional sauna. Whether they have sensitive skin or lower tolerance to heat, they choose these saunas as it makes it much easier for them to breathe. Thanks to modern technology, you may enjoy a more relaxing and comfortable sauna, all while reaping the benefits of a traditional sauna.
Benefits of Infrared Saunas
There are several reasons why you might want to buy an infrared sauna – for both health and comfort benefits. If you are yet undecided as to whether you should buy such a sauna or not, here are a few reasons that might make you say yes to this purchase.
1. It Helps to Detox Your Body
When it comes to getting rid of the toxins from your body, sweating is generally one of the most efficient methods – particularly if you sweat a lot. However, instead of waiting for sweat to come naturally, an infrared sauna might help speed up that process.
To put it simply, an infrared sauna will increase your natural core body temperature, inducing the sweating process and resulting in detoxification on a deep cellular level. It has been shown that an infrared sauna is more efficient at getting out the toxins from your body than your average steam shower, for example.
2. It Improves Your Blood Circulation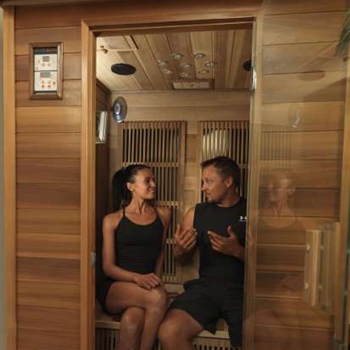 Are you one of those people who have always had cold extremities, to the point where people were asking you if you were still alive? This might be because you have bad blood circulation – in which case, you might be able to benefit from an infrared sauna.
As the heat from the infrared sauna works to increase your body's core temperature, so will your blood circulation. If you go for consistent sessions with this kind of sauna, particularly at a middle-infrared level, you may be able to improve the recovery of your muscles and decrease the inflammation and pain you get after an intense round of exercising.
3. It Improves Your Skin
When you are sweating, aside from getting rid of the inner body toxins, you are also removing the dead skin cells and the impurities that have become embedded in your skin. So, by regularly undergoing infrared sauna therapy, you will be improving the texture of your skin, the elasticity, and its tone – leading to much healthier and fresh-looking skin.
4. It Takes Away Stiffness and Joint Pain
When you are dealing with arthritis, there are few things that might help ease the pain – among which is the infrared sauna. It has been shown that radiant heat can help treat neuralgia, sprains, muscle spasms, bursitis, and many other bone-muscle related conditions. Therefore, if soreness, aches, and stiffness are part of your daily "schedule," then you might want to invest in a good quality infrared sauna for your home.
5. It Helps You Lose Weight
When it comes to fitness-like benefits of infrared saunas, think about it: when you are doing lots of cardiovascular exercises, you do it because you want to sweat the weight off. The more you sweat, the more calories you work off. So, if you'll be sweating continuously in the sauna, it will be like you are undergoing a round of jogging around the block – only instead of running, you'll be sitting comfortably in the sauna, with your core doing the only "exercising."
6. It Boosts Your Body's Immune System
When you use an infrared sauna, you practically raise the core temperature of your body, inducing something resembling an artificial fever. How is this good for your immune system, you may ask? Well, the answer to that is relatively simple, if you stop to think about it.
When you have an infection, the fever is your body's way of accelerating and strengthening the immune response. That, mixed with the improved toxin and waste elimination through intense sweating, leads to better health overall, and a body that is more resistant to disease.
7. Reduce Cellulite Appearance
This goes hand in hand with the weight loss properties of infrared saunas – and is a benefit that ladies will certainly appreciate. When you lose weight, you don't always lose the cellulite as well. These superficial pockets of fat that are trapped beneath the skin won't usually be released unless you give them a nudge.
An infrared sauna will warm, on average, three times as deep as your traditional sauna – which means it can easily penetrate those fat pockets and reduce the "orange peel" look. It will make your skin look nice and smooth – making you look even younger in the process.
8. It Reduces Stress and Fatigue
This is likely the main reason why we are all fans of infrared saunas: they are all so relaxing! Like with the best inflatable hot tubs, the gentle warmth will allow you to feel rejuvenated and relaxed within minutes, easing your body of all that built-in tension. It's a well-deserved spa day that we all want at the end of the day, as it allows our bodies to heal from the inside.
Best Infrared Saunas Comparison Chart
PRODUCT
DETAILS

DYNAMIC SAUNAS AMZ-DYN-6106-01 Barcelona Far Infrared Sauna

Price: $$
Customer Rating: 4.3
Size: 39.2 x 35.3 x 72.5 inches
Carbon Fiber Heaters: 6 Carbon Fiber Panels
Warranty: 1 year
Exterior: Hemlock Woods
Capacity: 1 person

View On Amazon

Radiant Saunas 2-Person Hemlock Infrared Sauna

Price: $$$
Customer Rating: 4.5
Size: 49 x 39 x 75 inches
Carbon Fiber Heaters: 6 Carbon Fiber Panels
Warranty: 7 years
Exterior: Hemlock Woods
Capacity: 2 persons

View On Amazon

BetterLife BL6109 1-2 Person Carbon Infrared Sauna

Price: $$$
Customer Rating: 4.0
Size: 39 x 36 x 77 inches
Carbon Fiber Heaters: 8 Carbon Fiber Panels
Warranty: 7 years
Exterior: Hemlock Woods
Capacity: 2 persons

View On Amazon

SereneLife Portable Infrared One Person Sauna

Price: $
Customer Rating: 4.1
Size: 31.5 x 27.6 x 37.8 inches
Carbon Fiber Heaters: Heating Food Pat
Warranty: 1 year
Exterior: Thermoresistant Mesh
Capacity: 1 person

View On Amazon

JNH Lifestyles MG217HB Joyous 2 Person Far Infrared Sauna

Price: $$
Customer Rating: 4.7
Size: 47.3 x 75 x 39.5 inches
Carbon Fiber Heaters: 6 Carbon Fiber Panels
Warranty: 2 years
Exterior: Hemlock Woods
Capacity: 2 persons

View On Amazon

JNH Lifestyles MG301HCB MG317HB Far Infrared Sauna

Price: $$$$
Customer Rating: 4.2
Size: 59 x 39.5 x 75 inches
Carbon Fiber Heaters: 8 Carbon Fiber Panels
Warranty: 2 years
Exterior: Hemlock Woods
Capacity: 3 persons

View On Amazon

Dynamic Granada 1-Person Sauna

Price: $$
Customer Rating: 5.0
Size: 30 x 47.5 x 30 inches
Carbon Fiber Heaters: 3 Carbon Fiber Panels
Warranty: 60 days
Exterior: Hemlock Woods
Capacity: 1 person

View On Amazon
Best Infrared Sauna Reviews
1. DYNAMIC SAUNAS AMZ-DYN-6106-01 Barcelona Far Infrared Sauna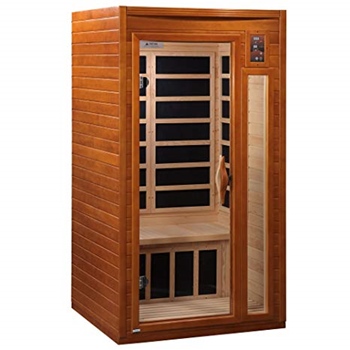 If you are looking for a sauna that is small enough to fit in a corner but big enough to comfortably provide sauna therapy to two people, then this one might be just right for you. With its Canadian Hemlock wood panels, big glass door and overall classy look, it will look great in every kind of bathroom – no matter if it is modern or traditional.
With its far infrared technology, this model is good for your health, providing great detox for all those that are in need of it. Furthermore, since this unit has also been equipped with an mp3 system, you may relax while listening to your favorite tracks.
Last but not least, this infrared sauna has a chromotherapy lights option. This will further on add to that relaxing sauna experience, offering you those changeable lights that will set the mood.
Pros
The built-in sound system that adds to the sauna experience
Perfect for detoxification and health
Compact enough to fit in a corner
Spacious enough to fit two people
Cons
The assembly instructions are somewhat unclear
It's slightly smaller than other units
2. Radiant Saunas 2-Person Hemlock Infrared Sauna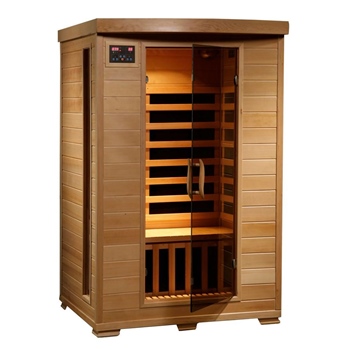 This one is also a compact sauna that will work perfectly well with a small apartment. If the space available only allows you to fit a standard sauna for two people, then this will provide all the therapy that you need. And as small as it may be, it can easily tackle various health concerns such as allergies or asthma.
With its far infrared technology, this unit is perfect for purifying the air around you from various impurities. The oxygen ionizer helps in that regard, taking out all the toxins while you are simply sitting and relaxing.
This one can easily handle higher temperatures, up to 141 degrees – so, if you like things a little "steamier," then this one is perfect for you. Its assembly is also straightforward and secure, meaning that you can get to your spa day straight away.
Pros
Perfect for smaller apartments
Can easily fit two people inside the sauna
The temperatures can go very high
The oxygen ionizer can help with health conditions such as allergies or asthma
Cons
Some say that the heater is rather faulty
The bottom ventilation holes might let the heat escape
3. BetterLife BL6109 1-2 Person Carbon Infrared Sauna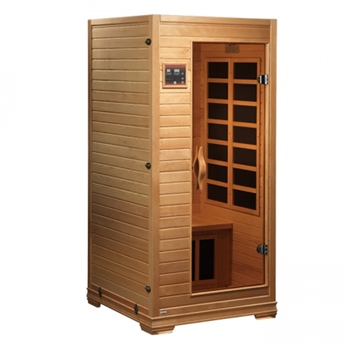 If you are living in a small apartment and are looking for something compact, then this infrared sauna should certainly be up your alley. With its 8 far-infrared heating panels, it can efficiently heat up the 1-2-person cabin until you can sweat away all the toxins from inside your body.
If you are the kind of person that likes to listen to music while taking a sauna, then this one is once more perfect. Since it features an mp3 auxiliary connection along with a clear speaker system, you may listen to your favorite tracks – all while keeping your phone safe from the dangers brought by steam.
Aside from that, this sauna has chromotherapy lighting. This means that if you want to have some mood lights to go with the sauna, then this one will have you all set.
Pros
It is very efficient when it comes to muscle and pain issues
Quite easy to put together
The compact design makes it perfect for small spaces
Cons
Only actually fits one person, as two people might fit quite "tight"
The heaters go higher than head level
4. SereneLife Portable Infrared One Person Sauna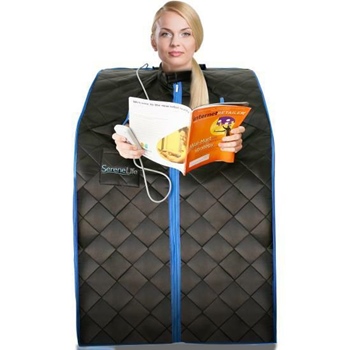 There will be a time when you will want to enjoy a sauna while you are traveling or spending the month away from home. In that case, this portable sauna might actually prove to be quite efficient, as you can easily pack and go with it.
Unlike other similar portable units that only include a stool, this one comes with a folding chair. This means that you will be able to stay comfortable in your chair as it is conducting is magic, with your toxins getting out of your body as you are simply resting.
The sauna comes with a remote, and you may adjust the temperature whenever you want until it reaches your point of comfort. You may also easily get in and walk out of the sauna thanks to the zipper entrance – one that will keep the heat in just as it will keep the cold out. Plus, you have spaces where you can take out your hands – just in case you want to read a magazine while you are enjoying the sauna.
Pros
Easily transported wherever you need it
Very affordable for those shopping on a budget
It comes with its own sauna chair and all necessary elements included
Cons
Only allows you to sweat from the shoulders down
It may be a fire hazard if you are not careful
5. JNH Lifestyles MG217HB Joyous 2 Person Far Infrared Sauna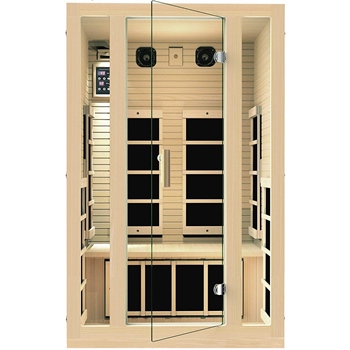 If you are looking for a modern yet rustic-looking sauna, then this one should be right up your alley. Made entirely from high-quality Canadian hemlock wood with no plywood and no chemicals added, this one is not only eco-friendly but will also last you in the long run.
This sauna has also been equipped with a special kind of safety glass, which means that it should be able to tolerate a much higher temperature inside the cabin. It will also provide better insulation, as well as better visibility from within the sauna.
To set the mood, even more, you have two premium speakers, as well as an amplifier – all these are connected through a 3.5 mm auxiliary plug. This way, you won't have to bring your phone into the sauna to listen to some music; you can just let the sauna play it for you.
You also have a digital control panel that lets you set the temperature from within the sauna. This way, you won't have to step out and let the heat slip if you simply want to lower or raise the temperature.
Pros
The sauna heats up quite fast, which means you will not have to wait long
The digital control panel is very convenient
Despite being compact, this sauna includes its own speakers
The dual insulation keeps the heat in
Cons
The audio input doesn't support iPhones without a special adapter
The temperatures it can reach feel lower than 140 degrees Fahrenheit, as the product advertises
6. JNH Lifestyles MG301HCB MG317HB Far Infrared Sauna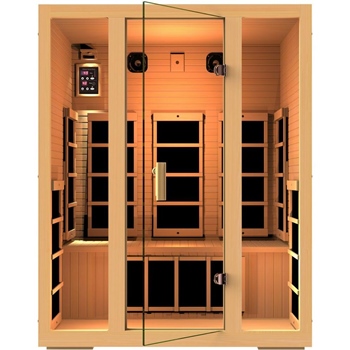 JNH Lifestyles once more strikes with another good sauna that is spacious enough to fit not two, but three people. Even four if you are determined enough and you don't mind a few legs touching. With its hemlock wood construction and its double layering, not only is the cabin durable, but it can efficiently isolate the heat – preventing it from being affected by outside factors.
With its built-in 3.5mm aux control, 2 premium speakers, and volume rocker, each sauna session can be an adventure of the senses, where you may listen to all of your favorite songs while you are steaming out the toxins. You also have a LED light system that will set the mood even further.
The sauna also comes with a 2-year warranty, along with lifetime tech support. This means that whenever you have a problem with the sauna, you can either have the pieces replaced, or you may receive advice as to what you can do in order to fix it.
Pros
It can efficiently retain the heat in the cabin
While the temperatures may go high, you will still have visibility through the glass panels
The digital control is very efficient and allows you to control the temperature from within the cabin
Heats up quickly
Cons
Some say the craftsmanship is poor
It takes fairly much from the electric bill
7. Dynamic Granada 1-Person Sauna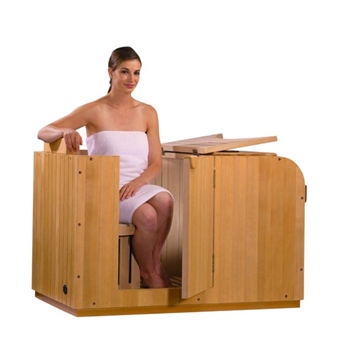 If you are a single person only looking to have some quality sauna time, then you might be able to reap the benefits out of using this unit. It looks more like a walk-in bathtub than the standard saunas with which we are used – but nonetheless, it is very efficient at making you sweat the toxins away.
This sauna has a full-floor heating system – and while you may not be seated on a heated bench, you will still be able to reap the benefits of the sauna. It has 3 carbon elements, which means you will get enough heat to actually detoxify your body entirely.
Made from hemlock wood, this sauna is not only durable but very spacious as well. Plus, due to its very compact size, it will be very easy for you to install it wherever you want. It's not even a two-man job, as the sauna in itself is relatively lightweight.
Pros
Very compact yet efficient at making you sweat
It is very comfortable, as it does not take all the heat to your head
Quite easy to install
Cons
You are only sweating from the bust and below
Not a lot of moving space
Infrared Sauna vs. Traditional Sauna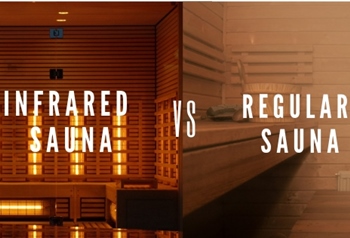 Still deciding whether you should purchase an infrared sauna instead of a traditional one? Well, to make this decision, you will have to understand exactly where the differences between them lie.
Before buying a sauna for your home, you should compare them in terms of heat, power needs, humidity, and action. For more details in regard to these, you might want to visit our home page and read more about them.
1. Heat
A traditional sauna will generally use a temperature that can go as high as 185-195 degrees Fahrenheit – a temperature that can be fairly overwhelming for those who cannot stand high temperatures.
On the other hand, an infrared sauna will have a maximum temperature of 120-150 degrees Fahrenheit – which will feel more comfortable in the air. Still, considering that infrared technology penetrates deep into the skin, you'll be sweating more at a lower temperature.
2. Power Needs
As surprising as it may seem, the typical sauna consumes more power than an infrared model. While a traditional home sauna will need about 6 kW of power to operate, an infrared model will only need a meager 1.6 kW. This means that a traditional sauna might be a more affordable initial purchase, but it will be costlier in the long run.
3. Humidity
When you compare an infrared sauna with a traditional model, it's important that you also take a good look at the humidity level. Since traditional saunas will use quite a high amount of steam, they can lead to a fairly humid environment. On the other hand, since infrared saunas will rely on infrared heaters and not on steamers, they won't result in as much humidity as traditional units.
4. Action
Traditional saunas will use stoves as an attempt to heat up the air – and as the temperature in the air goes up, so will the temperature of your body as it absorbs the heat. On the other hand, infrared saunas will send infrared light of a specific wavelength directly into your skin, causing your body temperature to rise.
Therefore, instead of raising the temperature from the outside, it will be raising from the inside. You'll still be sweating – only that you will need less heat to do so.
Home Sauna Types
If you have decided to purchase a home sauna, you should know that there are many options for you to choose from. Each will have its own technology and mechanism of action – and you will have to decide for yourself which one suits your purposes the most.
1. Infrared Saunas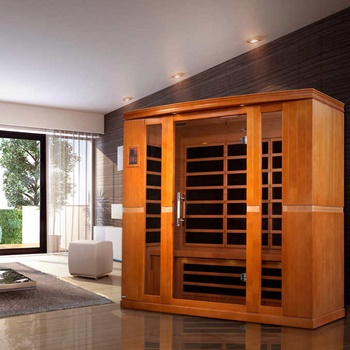 Infrared saunas send heat into your body pretty much as the sun does. Their method of increasing your core body temperature is more direct – and they have also been proven to be quite effective if you choose the correct setting (near vs. far). You may use these saunas to treat quite a fair number of health problems.
2. Wood-Heated Saunas
Wood-heated saunas are likely the most popular types of saunas, and they usually have a wood stove with a chimney that will permit the elimination of smoke caused by the burning wood. The methods used to create steam are the most traditional ones, and this type is used by many sauna purists from all around the world.
3. Electric Saunas
Those who lack the space and need a more compact sauna (for instance to install in an apartment) may take a special interest in an electric sauna. They are very easy to use and install and do not take up too much space.
One of their drawbacks is the steam power that they release, as they use heated rocks to heat the sauna up. Plus, since the result is a "dry heat," they might not give off the same traditional feel of a steam sauna.
4. Smoke Saunas
Also referred to as Savu Saunas, these are a popular Finnish kind that will burn wood in an enclosure in order to create heat. However, in order to release the smoke up into a chimney, they keep it in the enclosure as a means to hold onto a hot temperature.
Keep in mind that these saunas are not to be used for a prolonged amount of time, as the carbon dioxide might prove to be dangerous for you. They should only be used if you do not particularly like to spend a long time in the sauna room.
5. Steam Baths
Just like their name suggests, these kinds of baths will heat the water up until the point where it starts to release steam. In return, the steam will heat up the air until it increases your inner body temperature. They are very efficient when it comes to taking out the toxins from your body.
Those who prefer a shower instead of a classic bath may also go for steam showers. In this case, the shower will be using a model like in our rain shower head reviews – one which will release water that is hot enough to produce steam. Bear in mind that if you don't like to take hot showers and milder temperatures are more your cup of tea, then these types of saunas might not be appropriate for you.
6. Manufactured Sauna Rooms
Manufactured sauna rooms come fully equipped and they have a heating system clad with enclosed walls, seats, flooring, and a ceiling. They are generally only big enough to fit a single person, and they are all sold in a variety of materials.
7. Barrel Saunas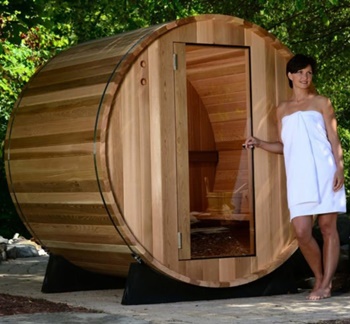 As the name suggests, this type of sauna is compact and is shaped like a barrel. The heat comes from an electric source or a wood source that has been placed outside the sauna.
8. Portable Saunas
There may come a time when you might want to enjoy a sauna – but you are hundreds of miles away from home and can't. It may also be that you want to have a sauna in your own home, but you do not have the space necessary to permanently install one. In these cases, you might want to go for a portable sauna.
Fairly small in size and easy to put together and take apart, you may place this virtually wherever you want – and then put it in storage after you use it. These saunas are generally made from a thermo-resistant mesh fabric that will keep the heat in – and the cold out. Bear in mind that since these can only make you sweat from the neck down, they won't be very efficient if you want to start sweating from your face.
Infrared Sauna Types
Just as there are several kinds of saunas, there are also various types of infrared saunas. Furthermore, each type will branch out in other different types – as there are two different angles from which this topic can be approached.
1. Near-Infrared vs. Far Infrared Saunas
First things first, infrared saunas can branch out into two different categories: near-infrared and far-infrared saunas. To make things easier to understand, you may put things this way: an infrared sauna will work in pretty much a similar way to the sun. Once the infrared rays land onto your skin, they will warm you in almost the same way the sun does when it touches your skin.
So, what does this have to do with the near-infrared and far-infrared thing? Well, the difference lies pretty much in the spectrum of light. For example, when you feel the sun's heat on your skin, you are pretty much feeling near-infrared light. In fact, half the light spectrum that the sun emits is near-infrared.
When that light and warmth are absorbed into your skin, your body uses that energy in order to create vitamin D. That's right, you don't get it directly from the sun; instead, you create it yourself with the help of UV rays. This means that a sauna using near-infrared technology is perfect for your overall wellness, health, and skin. The light is able to increase your core temperature, therefore improving your circulation and offering you relief from pain.
While a far infrared sauna uses almost the same technology as the near-infrared kind, the spectrum is not the same. Both lights have different wavelengths – being set at a farther distance from the skin. This is why a far infrared unit is perfect for relieving the tension and stress, detoxifying you, kickstarting your metabolism, and strengthening your body's immune system.
2. Carbon Fiber vs. Ceramic Infrared Saunas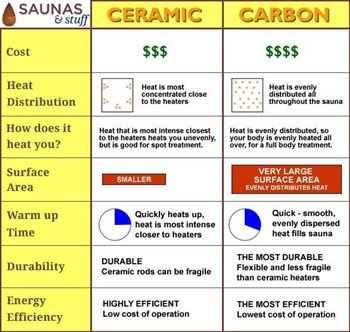 The second category of infrared saunas spells out like this: does it use a carbon fiber heating system, or does it have the ceramic kind. Each of them has its own benefits, and the difference between them is relatively subtle – in the sense that the effect will be the same, only the means will be slightly different.
In essence, carbon infrared saunas will have a more even heat distribution and will have more efficient heat coverage. The plates of such a sauna will also have a much lower temperature in comparison to ceramic units, which is why the air temperature will be much more comfortable. Infrared lighting released by a carbon fiber system will also go deeper inside your skin while using less energy.
On the other hand, ceramic infrared saunas will be less costly – both as an initial investment and in the long run. In terms of features, you might say that carbon is the slightly better option – but in terms of money, it will cost you much more.
Infrared Sauna Buying Guide
Aside from the heating element and the type of sauna that you want to buy, there are several other factors to consider when buying an infrared sauna. Check whether your product has these or not before making the purchase.
1. Capacity
When you are browsing for an infrared sauna, you need to think about how many people are going to use it. Are you planning to use it only by yourself? In that case, a 1-person sauna should be more than enough – and won't consume that much either.
The more people are going to use it at the same time, the bigger it should be. Most commonly, you will find 2-people cabins – but if you are planning to get one for larger get-ups, then you may also find infrared saunas for 3 people or more.
Bear in mind that you will see cabins advertising a 1-2 people capacity. In truth, most of those cabins will only fit one person comfortably – and two people might be quite a tight fit. If you are planning to use the sauna together with someone else, for example, you might want to get a cabin that has been specifically made for two people.
Or you can just build your own sauna, as many others do.
2. Built Material
For a sauna to be efficient, the hot air actually needs to stay in – and that cannot happen unless the material used is of very high quality. Cedar or hemlock wood has proven to be quite good at retaining the heat – and thanks to this, your electric bill will be smaller. It will lead to a more efficient sauna session.
3. Size of the Heated Surface
You thought about which heater works best for you between ceramic and carbon, but there is one thing that you might forget in this scenario: size matters. The wider the heating surface area, the better it will be able to conduct heat. If the heated surface area is well measured, then the sauna will be able to heat up and cool down much faster – which means that you will not be losing any precious time in the sauna just waiting. You'll stay only as long as you need to.
4. Heater Covers
No one really thinks about these aspects – but in truth, you really should give it a good thought. If the heaters are placed fairly low, all that is needed for a disaster is for you to yawn, stretch, and accidentally touch a low-quality cover that has been heated to the extreme.
A good quality cover should be able to protect your skin not only from the heat source but even from direct contact. Make sure that the material from which it was made can not only evenly distribute heat but can also remain relatively cool during its running time.
6. Dimensions
How big is the infrared sauna in comparison to the space available in your home? Do you have enough space in your bathroom/garage/wherever – or do you have to cramp it tight somewhere? Obviously, you cannot buy a sauna that does not fit in your home – because otherwise, you will be staring at it from your doorstep.
As a result, you might want to measure the dimensions before placing the sauna. Make sure that the sauna does not arrive already installed – and if it does, make sure that it will fit through your doorstep. No matter how cheap such a sauna may be, if the size is not right, you can't buy it.
In the worst-case scenario, if you do not have enough space but you still want a sauna in your home, then you may go for a portable unit. These are smaller in size – and the advantage is that they can also be stored easily.
7. Safety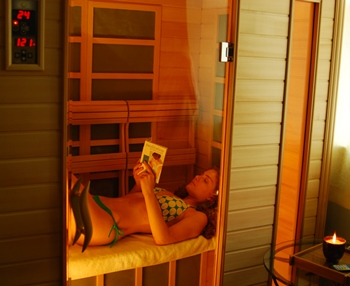 When buying an infrared sauna, safety is not to be underestimated. This is why, when you are getting such a sauna, you may want to make sure that it's from a certified brand that had enough time to create its history.
A company that has a CE or an ISO certification can safely be trusted. Granted, there are also other types of certifications out there – so, if you see that one of your companies of interest is flashing a certification, you need to get a good look into it.
At the same time, you should read as many reviews as you can, to get an idea over how safe and efficient their services are. The more time a company has been in the business, the more reviews you will be able to see. If any of the saunas presented any safety concerns, then there's bound to be someone who wrote a review about it – and you will know whether it is safe to buy or not.
8. Warranty
Any large purchase – particularly if it is an appliance (for instance, a sauna) – will have a warranty period. Since your sauna may experience wear and tear over time, you may want to ensure that the sauna you choose will have a long warranty.
No matter if the sauna breaks due to misuse, improper assembly, accident – or there was simply a problem from the manufacturer – you need to ensure that you have some coverage. The average company will give you about one or two years' worth of coverage – but there will also be those that will give you seven or more.
Make sure that you always read the fine print, and that you are aware of what the warranty covers. Depending on the manufacturer, only some pieces may be covered – so, you should ensure that the weakest ones (according to reviewers) are also on that list.
Are Infrared Saunas Safe to Use?
Yes, there is no reason why it should be not safe to get into an infrared sauna. You will always come across studies that show inconclusive results over the long term – but the effects and benefits in the short term are indisputable. The detoxification and pain management benefits are perfect when you use saunas safely – and for the correct amount of time.
The correct session should not last more than 20 minutes – and if your skin is sensitive or you have any other issues, you might want to consult with your doctor first. However, a sauna may be used as a supplemental treatment that will work together with your current one.
To put it simply, an infrared sauna is just as dangerous as the summer sun is for your skin. If you do not stay for too long in the sun, you will not have any issues. Since we are not running from the sun, there should be no reason for us to run from an infrared sauna. Infrared saunas actually stimulate our bodies to produce vitamin D – which means that they are good for our health.
To clear things up, infrared elements are also used in the beds of newborns to keep them warm and help them grow. Therefore, if a baby can safely use the technology in a hospital, then there is no reason why a full-grown adult should fear it.
FAQ About Infrared Saunas
1. Is Using an Infrared Sauna Every Day Safe?
Yes – but that will also depend on how long you stay in the sauna. For instance, if you stay only about 15 minutes every day in the sauna, it should be safe. However, since each individual will have a different body, you may want to ask your doctor about it first – to avoid any health concerns. They should be able to guide you as to how much it is safe for you to use the infrared sauna.
2. Will Infrared Saunas Help Me With My Acne Problems?
While there isn't a clear connection between acne and saunas, it has been proven that saunas can help improve the aspect of your skin – which should include acne. Simply put, when you are sweating, you are releasing the toxins from your body – toxins that would have otherwise led to acne. With those toxins gone, there should be no reason for acne to appear, as the sauna cleanses your body from the inside.
On the other hand, there are people who believe that acne is made worse by saunas since you sweat a lot in the process. Experts have debunked this, saying that sweating actually helps with acne as it unclogs your pores. The only reason why people keep getting breakout is that they do not follow a proper skincare routine after getting out of the sauna – or at least wash their faces.
3. What Is the Ideal Temperature for Saunas?
This will actually depend on your own preferences. As saunas usually go from 120 to 175 degrees Fahrenheit, you may choose the temperatures that you feel most comfortable with. However, you should avoid using high temperatures on a regular basis, and try to alternate between medium and high on each different day.
4. Can I Use My Phone While Sitting in the Sauna?
It depends on your phone. Some cell phones, for example, have a high resistance to humidity and steam. Others do not have this resistance. iPhones, for instance, feature a temperature ambient that only allows you to use them up to 95 degrees Fahrenheit – and since saunas can easily go past 105, it might be a better idea to just leave your phone outside.
Plus, aren't you taking a sauna exactly to relax and take away the stress from daily society? You can't really do that with your phone glued to your hand. Best case scenario, if your sauna does not permit mp3 playing, you may leave your phone outside the sauna, setting it to play a few tracks. However, make sure to keep it out of steam's way – it may not get damaged right away, but in the long run, it will start degrading.
5. Will a Sauna Worsen Sunburn?
Initially, it might feel like the sauna is worsening your sunburn. In truth, however, saunas create heat that is soft enough to stimulate new cell growth. Therefore, that sting you are feeling is actually your skin healing itself. In the long run, the sauna will be helping you with your sunburn.
6. What Should I Wear When Going Into an Infrared Sauna?
Technically speaking, you shouldn't be wearing anything when you are getting into an infrared sauna. The infrared lights can indeed penetrate through clothes – but the effect will not be that good. The same thing goes for towels – which is the thing we most often see on people in saunas.
Ideally, when stepping into an infrared sauna, you should be wearing as little clothing as possible. If you are with your friends, you might want to wear a swimsuit. More clothing will get soaked in sweat, and you will certainly have to wash them after getting out of the sauna. For that reason, you might want to refrain from wearing your regular clothing.
Wrap Up
Finding the best infrared sauna is certainly not easy to do. Should you pick one with a carbon fiber heating system, or should you go for the cheaper, ceramic version? What about the people using it? Should you buy one that is enough for just one person, or should you go for something that can fit two or more?
Regardless, you might want to read as many infrared sauna reviews as possible to make your decision easier. We've taken these factors into consideration – and based on them, we have chosen among the best products for you. Select the one that fits your preferences the most, and enjoy your sauna session.
See also: shower panel system reviews