The best shower panel system can be a great way to modernize your bathroom, from both a design and functional point of view. A shower panel usually comes with multiple functions, such as having handheld showerheads, waterfall showerheads, jet nozzles, and many others.
To ensure you only purchase a shower panel that matches your tastes and isn't problematic, this guide is packed with shower panel system reviews and information. Read it carefully, and you'll be prepared to storm the market and find a convenient model.
See The Quick Comparison Chart
Benefits of Shower Panel Systems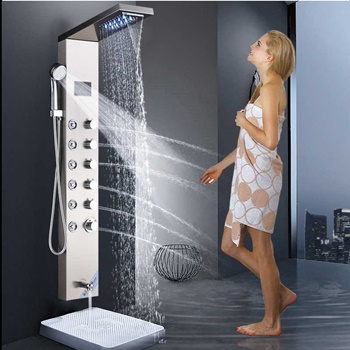 You can't buy something without knowing what improvements it can bring in your life. That being said, you have to make sure you won't regret your decision to buy a shower panel system. Here are a few of the advantages you can have with this unit:
1. It's a Versatile Product
Versatility is probably one of the main reasons why people end up buying these. You don't have too much versatility with normal showerheads, but shower panels give you more features. For example, multiple shower heads are available, and sometimes even water jet nozzles and other amazing features are incorporated – all for your own convenience.
Not only you, but your family members can all enjoy such an invention and use whatever function they like the most.
2. They Add Some Style
Nobody wants an ugly bathroom, even if the bathroom is not where you spend most of the day. So, with a shower panel system, you'll always be happy to be in the room and do your thing, so to speak, because even the less sophisticated unit makes the bathroom look up to date. Its modern design adds elegance and can also serve as a décor piece.
3. Shower Panels Are Easy to Clean
Unless you have an obsession with cleaning, you'd want something that is not too hard to take care of. So, say goodbye to your old shower, and embrace the shower panel system. Whereas some surfaces may be a little sensitive and you don't want to scrub them too harshly, cleaning them is very easy. All you need is a damp, clean cloth and some warm water to bring the shine back.
4. They Help You Save Money
You may think this is not possible because their design will only make you want to spend more hours in the shower. But the truth is that they are cheaper when you compare them by buying all the components separately. On top of that, the ones with LED panels may show you how much water you're consuming. It's not a feature existent on all models, of course, but if yours has it, then you might refrain yourself from spending hours under the water jet.
5. They Fit All Bathrooms
Sometimes, you want to choose a specific theme for your bathroom, but you don't have to worry about this when it comes to shower panel systems. They will go with any bathroom design, and besides, there is a shower panel for any bathroom, no matter the size. They come in various sizes and shapes to adapt to the environment. Furthermore, you can easily mount them on your wall.
6. Shower Panels Have Prices for Everyone
Shower panel systems are not as expensive as you may think. While, of course, there are some models with prices that will make you run for the hills, some have lower, decent prices so people with lower income can have access to them.
The cheapest ones should be avoided as they're not always the best ones, but even still, you can find units for a few hundred dollars, instead of thousands.
Best Shower Panel Systems Comparison Chart
PRODUCT
DETAILS

Derpras Luxury Shower Panel System

Price: $
Customer Rating: 4.4
Weight: 11.15 lbs
Warranty: 5 years
Dimensions: 20.6 x 13.2 x 5.4 inches

View On Amazon

Blue Ocean 62" Stainless Steel SPS88991 Shower Panel System

Price: $$
Customer Rating: 4.0
Weight: 25.2 lbs
Warranty: 1 year
Dimensions: 68.5 x 16 x 12.2 inches

View On Amazon

ELLO&ALLO Stainless Steel Shower Panel Tower System

Price: $
Customer Rating: 4.3
Weight: 21.4 lbs
Warranty: 2 years
Dimensions: 55 x 8 x 16.5 inches

View On Amazon

Perfetto Kitchen and Bath 65″ Shower Panel Tower System

Price: $$
Customer Rating: 3.8
Weight: 25.1 lbs
Warranty: 1 year
Dimensions: 69.8 x 16.7 x 11.1 inches

View On Amazon

Blue Ocean 52″ Aluminum SPA392M Shower Panel Tower

Price: $$
Customer Rating: 4.3
Weight: 31.2 lbs
Warranty: 1 year
Dimensions: 54 x 13 x 7 inches

View On Amazon

AKDY AK-787392M 52″Tempered Glass Aluminum Shower Panel

Price: $$
Customer Rating: 3.4
Weight: 25.5 lbs
Warranty: 1 year
Dimensions: 3 x 9.8 x 52 inches

View On Amazon

Blue Ocean 66.5" Stainless Steel SPS8727 Shower Panel

Price: $$$$
Customer Rating: 3.9
Weight: 32.6 lbs
Warranty: 1 year
Dimensions: 69 x 16.2 x 13.5 inches

View On Amazon
Best Shower Panel System Reviews
1. Derpras Luxury Shower Panel System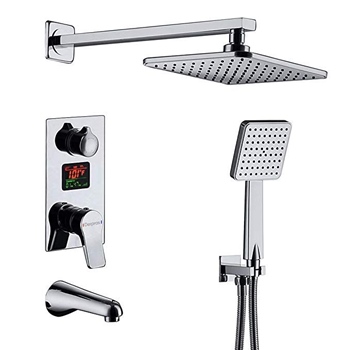 This shower panel system brings you a nice model that doesn't need a battery or electricity to run. Water flow is the power source it uses, and the LED lights as soon as the water starts flowing. That's pretty amazing and you may love it if you want to save some cash on electricity.
The unit features a LED digital display that will show you not only the water temperature but also the time of use. It's very useful especially when you want to get a specific temperature and want to decrease the amount of time you spend in the shower.
In case you have no need for the tub faucet right now, the unit also comes with a free plug. It will allow you to block the tub water outlet in this situation. And besides, if you want something that lasts, the handheld showerhead is engineering-grade ABS constructed.
Pros
It doesn't need electricity or batteries to operate
Looks very stylish and adds a futuristic touch to the bathroom
Good quality for the price
Cons
Not suitable for a bathtub
Some people experienced issues as some features stopped working shortly after being used
2. Blue Ocean 62" Stainless Steel SPS88991 Shower Panel System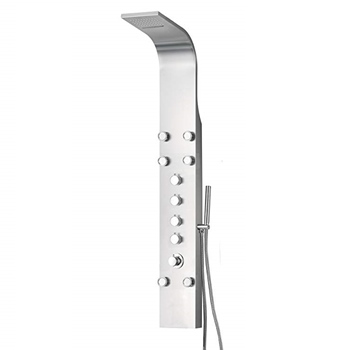 When you want something durable, you need a unit made out of good, high-quality material. Stainless steel may be one of them, meaning this shower panel system is supposed to give you the durability you need from such a product. It also has a brushed finish.
It's a pretty versatile product as it contains a waterfall showerhead, rainfall showerhead, handheld showerhead, as well as 6 body nozzles. And probably an instant advantage is the fact that they can all run at the same time. You'd have quite a unique shower experience.
It looks cute and will go well with the design of the bathroom, so it will be suitable if you also want to choose a shower panel system based on design. The product will also arrive with all the needed components and will be easy to set up. Therefore, it's a good option for people who don't want to struggle to install something.
Pros
You get 1-year part warranty
It's easy to install
While lightweight, the product is durable
All of its functions can be used simultaneously
It's easy to hold and grip the plastic trimming along the edges when mounting
Cons
It may not fit plumbing codes in all states
3. ELLO&ALLO Stainless Steel Shower Panel Tower System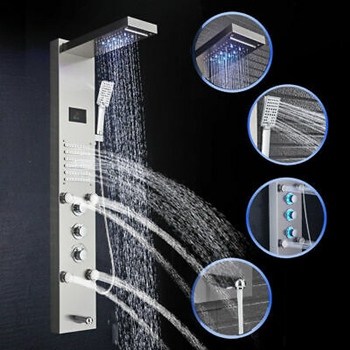 A good fit if you want a modern look is this model from ELLO & ALLO. Its design includes a LED overhead shower that will make you eager to jump under it as often as you can. Apart from being beautiful and helping with design, it also assists you to select the suitable water temperature for your tastes. To make things better, the unit will automatically select the temperature you used the previous time, preventing you from having to adjust it again.
The shower panel has multiple features, out of which you can turn 2 of them on simultaneously. Some of these include 3-Setting Handheld Shower fixtures, 4 Adjustable Jets nozzles for Power Mist Massage, and Multi-outlet switches that control Multiple Combinations of water effects.
It is also made of stainless steel to ensure durability, and a 1.2-year manufacturer's warranty to complete it.
Pros
The power jets will make you feel like you're in a jacuzzi
You can adjust the temperature and it saves for when you use the shower again
It has a very modern design
It has amazing pressure
Cons
A few customers declared the temperature gauge stopped working
May start leaking
4. Perfetto Kitchen and Bath 65″ Shower Panel Tower System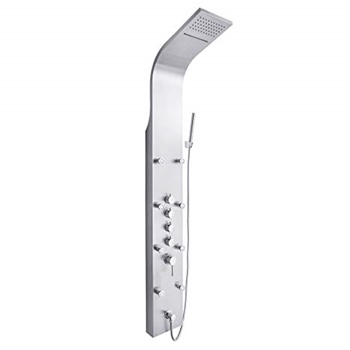 A multifunctional shower panel tower system can be a good way to make sure you always get the comfort you deserve. This model from Perfetto can meet this requirement, as it comes with a handheld shower with great mobility, and 8 adjustable jet nozzles for water massage.
Furthermore, it's one of the little things that will make your bathroom look better, and you'll be proud to show it around to your guests. This shower system can match the modern look of any bathroom while being perfect for a minimalist's tastes. Two showerheads combined with a waterfall feature and water jets complete the look.
If you need something that will provide relaxation and help you ease some of the tension you feel after long, stressful workdays, this shower system is an opportunity. It's also made of stainless steel for added durability.
Not to mention that it's also fairly easy to install. If you don't want to give your plumber headaches trying to figure out how to set it up, this unit is a great choice.
Pros
The model is multifunctional
The look is modern yet minimalist
It delivers amazing quality for the price
The product is easy to use
Cons
There is not too much water pressure
5. Blue Ocean 52″ Aluminum SPA392M Shower Panel Tower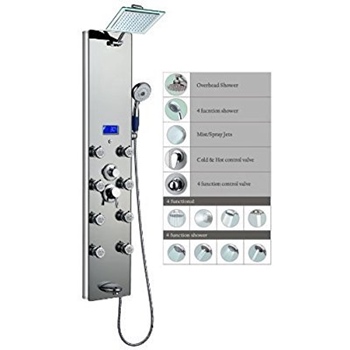 People prefer different temperatures for their shower, and not everyone is easy to please. But if you want something that will make things easy for you in this regard, maybe you could try out this Blue Ocean product. It has a temperature display, meant to help you select the most suitable temperature.
With a hand-held shower head and an overhead shower, you can choose whichever you want more and enhance your shower experience. The functions work independently in order to let you enjoy the best water pressure.
A good thing about it is that almost everything is already plumbed in the unit, and installing it is most likely going to be a piece of cake if you know what you're doing. You can also set the handheld shower on mist, which will make it act like a steam shower and give you a spa feel.
You may still encounter problems at one point, as the unit is not immune to rust.
Pros
The product looks very beautiful
Easy to set up and use
Has multiple features to use separately
It has amazing water pressure
It can make you feel like you're at the spa
Cons
The hose may start to rust
6. AKDY AK-787392M 52″Tempered Glass Aluminum Shower Panel
Effortless control is one of the best features any unit can have, and that's probably why a lot of people have turned to this AKDY product. Switching between multiple functions in the shower can be done very easily, and your shower experience may be the one you're looking for.
To improve your experience, the shower panel has a LED temperature display, which is hydro/battery-powered to prevent freezing and scalding, thus serving as protection. You also have a very fast tub faucet to allow you to quickly switch between a bubbly bath or a soothing shower.
It doesn't matter how you take your shower, because the head is angle adjustable to match your needs. 2 spray settings and 8 body jets are incorporated too. They'll help a lot with relaxation and stress-relief.
Pros
The tempered glass aluminum makes the unit look gorgeous
The 8 jet nozzles can give you a nice massage
The rainfall shower has large coverage to help rinse your whole body
You won't have too much trouble trying to install it
It has a low price while the quality is great
Cons
The customer service is not the best
It may be a little loud
7. Blue Ocean 66.5" Stainless Steel SPS8727 Shower Panel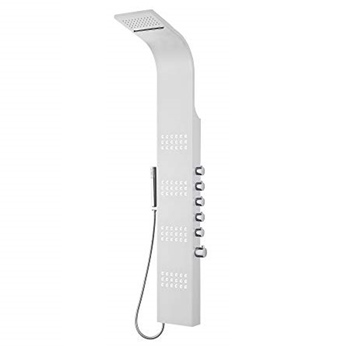 If you like having something rather luxurious, the shower panel from Blue Ocean may match your tastes. Made of high-quality stainless steel, it's not only durable but it's also eye-candy, as long as you're into modern looks. Easy-to-install and lightweight, it may be a great option for people who want something durable and versatile.
This shower panel includes a handheld showerhead, waterfall shower head, rainfall showerhead and 4 sets of body nozzles. Add that to the fact that there's also a thermostatic valve control, to make sure you have the right temperature at all times.
It has reinforced pipes on the back, and in order to install the unit, you need access to cold and hot water pipes directly. Flat wall installation is possible due to the unique flat design. However, it's not a perfect product as the hoses are visible, and the back top of the panel is open.
Pros
Amazing water pressure
The hand wand is quite strong
The shower helps you relax and relieve some of the built-up stress thanks to its functions
Jets can all be used at the same time
Cons
Not quite suitable for a tub shower
The top back of the unit is open
The hoses are visible
What Is a Shower Panel System and How Does It Work?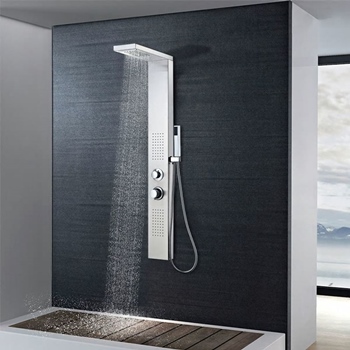 Shower panels are units you can install in your bathroom, respectively in the shower enclosure, and they offer an unmatched shower experience. Unlike a normal showerhead, a panel system will give you multiple options for showering and improving your comfort. For example, aside from having various types of showerheads, some models also give you the option to set your desired temperature for the water.
This way, you're on your way to having the shower of your dreams, relax your body, and maintain your hygiene. But amazing functionality is not all it has to offer – it is also a nice addition from a design point of view. A shower panel serves as a way to make your bathroom look modern. An up-to-date bathroom will definitely be something to be proud of.
Shower panel systems are typically mounted on the wall, where you can access them without obstacles. They incorporate multiple features, such as:
1. Rainfall Shower Head
Top-rated rain shower heads, or waterfall showerheads, are different from the regular showerheads, which spray water on you from whichever angle you want. A rainfall one will be located above your head, and the water will fall on your body and head, just like rain, or a waterfall – that's why it's called rainfall shower head in the first place.
You also have the option to set a horizontal spray function for massage. This is something that you won't get with a normal shower, and it's a great tension relief for your back.
2. Handheld Shower Head
The best handheld shower heads are your typical ones that are found in most homes. Easy to maneuver, you can use them to spray water on any part of your body and move them around as you please. This kind of showerhead can also be removed very easily.
Normally, they are meant to help you reach areas that are harder to clean because the hose attached can be stretched. Handheld showerheads can even be used to clean the actual shower enclosure, so they're useful for more things than just for body cleaning.
3. Temperature Display
A temperature display will show you the temperature of the water, so you know how hot or cold it is. It's a great feature to have because it makes it easier for you to change the water temperature as you please. In some situations, the display may also show you how much water you've consumed. If you have a keen interest in saving money on utilities, this might help you stop wasting too much water.
4. Water Controls
Some models also have water controls incorporated, which means you'll be able to set the flow rate, pressure and spray pattern of the water, not to mention other features. The controls are situated on the panel's surface for easy access.
5. Water Jet Nozzles
Water jet nozzles may not always be implemented, but when they are, they're a blessing. These small additions are able to spray water on your body, providing another way for you to get a stress and tension relief massage.
Shower Panel System Buying Guide
All units, whether they're bathroom-related or not, have a list of things anyone should consider before becoming a customer. Shower panel systems are not an exception, and when you want to look carefully into things, you must know everything that makes a high-quality product. Here are some aspects to take into account when you're searching for your new shower panel:
1. Installation
It's important to know if the unit is easy to install, or whether it comes with everything it needs to set it up. As long as you have enough knowledge and skills to mount it, it shouldn't be hard to do it alone. These units don't need plumbing.
As expected, though, some models come with additional or advanced fittings that may give you a lot of trouble. The instructions' manual should provide you the help you need, and if not, calling the customer support should be the next thing to do.
Moreover, not all necessary components will always be included – so, you'd have to spend some extra money on them separately. Check the information of the product prior to purchasing it and check the reviews too – it should be easy to figure out if the installation is trouble-free.
2. Warranty
Spending money on a new bathroom unit should be done when you know it will last. But in the event there may be problems with it, you must make sure you have a warranty. More often than not, shower panel systems will have some sort of warranty to protect yourself against spending cash on reparations.
Don't expect a shower panel's warranty to be as long as it is for other bathroom accessories, though. It's normally shorter, although there may be some exceptions. The most common warranty you'll stumble upon is between one and three years.
Check the length of the warranty and take it into consideration when buying your product – you may avoid buying a bad one.
3. Material
There's no shortage of materials used in the creation of shower panels. In fact, some of them have multiple materials in their design. You should know the materials are not meant for looks, but they have something to say when it comes to the item's durability.
For instance, you're more likely to have a stainless-steel shower panel system for years, compared to one made from other metals or materials. Stainless steel and aluminum are the best options out there as they don't rust and are easy to take care of.
Some manufacturers know how good these materials are, but they are too expensive, so they limit themselves to cheap ones like ABS plastic. This is all to gain more customers since people always want to spend less for the same quality. At first glance, even ABS plastic ones may look like the best deal, but once you use them for a while and look closer, you'll notice how cheaply made they are.
You can also find some with a glass front, and they work for when you want a good-looking unit too.
4. Pressure
To be fair, nobody wants to buy one of these beauties only to notice that water pressure is little to non-existent. Of course, water pressure is not only given by the panel system – it also depends on your household's water pressure. Normally, the manufacturers will tell you the required water pressure for their shower panel model.
The best shower panel should mix well with the water pressure from your home. If you have a higher pressure, the unit may end up damaged over time. On the opposite side, the shower experience will be bad if you don't have the desired water pressure.
5. Price
Not everyone has the money to buy a shower panel system, especially since some of the best ones can go way beyond your financial possibilities. But the price doesn't always have to be atrocious. Whereas some can go as far as $1,000, others represent a more convenient option at only a few hundreds of dollars.
Of course, it may still be too much for some families, yet it is better if you think of the money you'd spend on handheld and rainfall showerheads separately.
You're always better off buying something a little more expensive, than settling for the smallest price on the market. Spending money on a cheaply made unit will be the same as throwing money out the window since the product is bound to stop functioning properly very soon. Settle for a decent price and you'll have no regrets.
6. Additional Features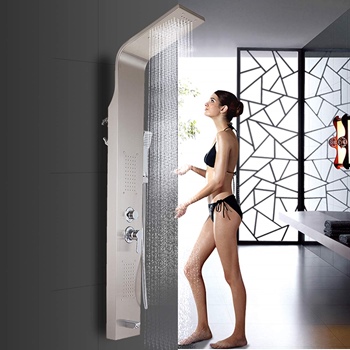 Shower panel systems are created differently. While some will only bring you the joy of having dual shower heads, some will actually bring more to the table. For example, LED displays can be incorporated, as well as thermostatic controllers.
An LED display will show you how hot the water is, and in some instances, even water consumption. Conversely, a thermostatic controller helps you set and maintain certain water temperatures. With this feature, you'll say goodbye to spending minutes until you can adjust the water to suit your needs. Not to mention that it also serves as protection, as the shower head won't overheat, and you won't burn your hand.
If you don't want to clean the shower too often, anti-clog nozzles may be a good way to prevent you from doing so. Particularly if you know your water has too many sediments, this feature will save you a lot of trouble.
Additional features will make your life easier so if you have any need for them, buy a unit with more functions.
7. Size
Size is important because not all shower panels will fit your bathroom. Some are bigger and could not fit into the place you want them to be mounted. Measure the spot in your bathroom and check the product's dimensions, to ensure you buy something that actually fits and looks good.
8. Design
Shower panel systems look great – so, if you get one, you're already set to have a modern-looking bathroom. But even so, it's good to consider the design and finish of a unit before you buy it. If you're a perfectionist, maybe you want to look into the colors and finishes available, such as chrome finish and brushed nickel finish, or a glass front panel for some.
How to Install a Shower Panel?
1. Step 1 – Mark the Place
Once you purchased your new shower panel, it's time to figure out where it's going to be installed. Figuring out the perfect place should be followed by you holding the panel in place to see how it will look and if it fits. If it does, mark the position so you know where the mounting holes should be.
2. Step 2 – Drill
Of course, now that you have the area marked, you have to use a drill to create the necessary holes. There's where the screws are going to be.
3. Step 3 – Attach the Mounting Bracket
Shower panels should have a mounting bracket that will help you mount the actual panel on the wall. Attach them to the wall with your mounting equipment. Also, bear in mind that the mounting hardware type should be chosen based on the wall's material.
4. Step 4 – Attach the Hose and Arms
The handheld shower will come with a hose, so you'll have to attach it. There is an outlet on the other side of the panel where you'll have to attach it, so do it. Don't rush the process, though – do it slowly and gradually.
Also, there are situations when the panel comes with a separate shower arm, so you have to set that one up too. Take it and insert it in its rightful place and tighten by twisting. Use an adjustable wrench to fully tighten.
5. Step 5 – Connect the Unit to the Water Supply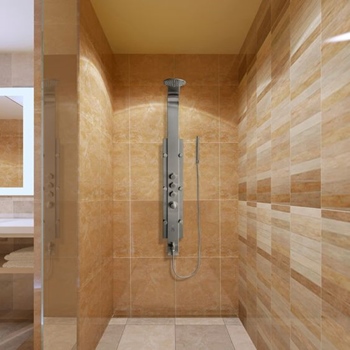 Take the flexible feed tubes and connect them to the main water supply, and the best shower valve. But you will have to make sure no leak is occurring, so check it out by turning on the water supply. In case you notice leakage, tighten the connection with the adjustable wrench. However, if you can't seem to fix the problem, don't hesitate to call the customer support of the shower panel's manufacturing company.
Still, if you see no leaks, you are good to go with the rest of the installation.
6. Step 6 – Mount the Panel
Your shower panel should now go on the wall, so mount it by hanging it from the mounting bracket, thus attaching it to the wall. It's quite a tricky step as you have to make sure you hang it properly, so it's not too loose or you don't drop it. Adjust as much as you can until the unit is leveled and hung firmly.
7. Step 7 – Check the Shower Panel
Try out your freshly installed shower panel system and see how it works. It should have the water supplies working properly, both the cold and hot ones. Conversely, no water should be leaking. Check the way the water flows from each output, such as your handheld and rainfall showerheads. Let the water flow for around a minute to ensure everything works.
When everything is done, you should use some sealant to seal the top and sides of the shower panel. Don't seal the bottom, though, as the little space will serve as an exit for water during a potential leakage problem. Lastly, use a damp cloth to wipe away excess sealant, and now your shower panel system is installed.
You can also check this link for shower panel installation.
FAQ about Shower Panel Systems
When it comes to shower panel systems, a lot of people have questions that they can't seem to find answers to. And you know that on our homepage, we always try to help people regarding all sorts of bathroom units and problems.
Still, to give you some answers regarding the most frequently asked questions about shower panel systems, you can read below:
1. Can I Put My Shower Panel System Over Tiles?
Yes, it's possible to have a solid surface like a shower panel system go over tiles. Nowadays, most bathrooms have tiles, so it only makes sense that panel system manufacturers thought about making their products fit for most modern bathrooms. However, now all shower panel systems are the same, so you should check the product's specifications prior to buying one, and see if it works on tiles or not.
2. How Can I Clean and Maintain My Shower Panel System?
It all depends on the design and build of your own unit. If you have one with a smooth surface, you must use nonabrasive cleaners to make them shine. Meanwhile, matte finish ones could be cleaned with mild abrasive cleaners. You can simply use water and a suitable cleaner to make it look beautiful again.
In some cases, water will build up over time and ruin the look of the shower panel, so use paint scrubbers combined with acid-base cleaning solutions. Just make sure you don't use dangerous chemicals, or you don't scrub the panel too hard, as you may damage the unit.
You can watch the below video or check these detailed instructions for shower panel cleaning.
3. Are Shower Panels Pricey?
Some of them are, but others can have pocket-friendly prices. The price varies depending on the model, brand, quality, number of features and other aspects. But if you are short on money and still want one of these beauties, then you can rest assured you can find one for a lower price.
4. Are Shower Panels a Good Idea to Install?
Shower panels are definitely a good idea, and you won't regret installing one in your bathroom, especially if you choose something of high-quality. Basically, a shower panel system can easily be replaced in the event it gets damaged. Another advantage is that these units are mounted on the wall and leave more space in the room. And another great thing is that they work for all types of bathrooms.
5. Are Shower Panel Systems Safe?
In general, they are, because there are not too many risks involved with having one installed. Still, one possible problem is overheating. Luckily, a lot of these shower panels come with temperature controlling functions to make sure the water doesn't get too hot – so, if you choose one of these, you'll be safe.
6. Is Every Shower Panel Thermostatic?
No, not all of them come with thermostatic features. You have to look for one that has this feature specifically, so be very careful. We recommend choosing one of these as it's much easier to control the unit this way.
7. Do I Need Some Special Tools to Install the Shower Panel System?
No, you don't. In fact, to install these products, you only need simple carpentry tools. If you have some drills, table saws, jigsaws, carpenters' knives or anything of the sort, you will have the opportunity to install it yourself.
Wrap Up
You won't have it that easy when looking for the best shower panel system, but with our insightful guide, your journey should go from troublesome to easy. You were presented with a comprehensive buying guide and a number of shower panel system reviews to see the variety of products.
If you choose to get a shower panel system, your bathroom will have a modern and stylish look, and you'll have features that will make your life much easier.
Before the purchase, check everything carefully and you won't end up with a product that breaks shortly, or one that won't give you the comfort you deserve. This way, you'll surely find the most awesome shower panel system for you and your family.
See also: infrared sauna reviews