When you have the best rain shower head, jumping into the shower can become a magical experience that makes you want to sing in the rain. Have you heard how soothing it can be to use a rain shower head after a long and exhausting day? When you feel all tense and the stress gets to you in unimaginable ways, a rain shower head will wash everything away in just a few minutes.
The problem is that the market is so crowded with these units that finding the perfect one for you will feel like going on a treasure hunt. Have no fear, though – we'll make things easier for you through the rain shower head reviews and the buying guide found below. Let's get moving!
See The Quick Comparison Chart
Rain Shower Head Advantages
Your happiness and well-being are what matters the most, which is why you need to know what improvements a rain shower head could bring in your life. Let's look at some of the advantages you'll get:
1. Great Decoration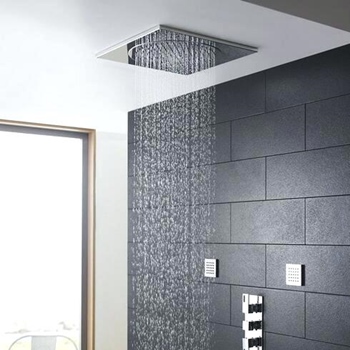 A very big advantage is, obviously, the design. Most rain shower heads have an elegant look to them, and it's easy to improve the overall aspect of the bathroom by using such a unit. Not everyone may need this, but if you're someone who constantly has people coming over, you want to make a good impression, and you'll succeed with this item.
2. The Water Flow Is Controlled
Whereas a normal showerhead could quickly make a mess due to the strong pressure, a rain one makes it easy to control the water flow. The water doesn't come with so much power – so, it will simply fall on your body without soaking everything in the surrounding area.
3. They're Efficient
Handheld or jet showerheads may give more pressure, but they take longer to cover your whole body in water. Since a rain unit has a wider coverage, it will take a few seconds until the water rinses your skin.
4. You'll Get a Spa-Like Experience
Shower relaxation gets mostly associated with a spa, but not everybody has time to go to such establishments. So, why not bring the spa to your house through a rain shower head? The water falling on your head and shoulders like rain will release a lot of pent-up tension.
5. They Offer Variety
Rainfall showerheads are not as limited as you may think. Even if they have less pressure than other showerhead types, there are models with multiple settings, which allow you to choose a stronger water flow. Besides, some models also let you choose the spray pattern, offering even more variety.
Best Rain Shower Heads Comparison Chart
PRODUCT
DETAILS

HotelSpa Giant 10″ Stainless Steel Rainfall Square Showerhead

Price: $
Customer Rating: 3.9
Weight: 2.5 lbs
Flow Rate: 2.5 GPM
Dimensions: 10 x 14 x 3 inches

View On Amazon

SR SUN RISE Luxury 12 Inch Large Square Stainless-Steel Rainfall Showerhead

Price: $
Customer Rating: 4.4
Weight: 4 lbs
Flow Rate: 2.5 GPM
Dimensions: 11.8 x 11.8 x 0 inches

View On Amazon

PULSE ShowerSpas 1011-III-BN 8″ Rain Showerhead

Price: $$$$
Customer Rating: 4.4
Weight: 1 lbs
Flow Rate: 2.5 GPM
Dimensions: 10 x 5 x 30 inches

View On Amazon

Moen S6320 Velocity Two-Function Rainshower

Price: $$$$
Customer Rating: 4.5
Weight: 2.5 lbs
Flow Rate: 2.5 GPM
Dimensions: 10.5 x 9.5 x 4.1 inches

View On Amazon

ShowerMaxx, Luxury Spa Series, 6 Inch Round Rainfall Shower Head

Price: $
Customer Rating: 4.7
Weight: 9.9 lbs
Flow Rate: 2.5 GPM
Dimensions: 6.7 x 6.5 x 3.5 inches

View On Amazon

ALFI brand RAIN16R 16-Inch Solid Round Ultra Thin Rain Shower Head

Price: $$$
Customer Rating: 3.5
Weight: 4.5 lbs
Flow Rate: 1.8 GPM
Dimensions: 16 x 16 x 0.1 inches

View On Amazon

DreamSpa Hotel Spa Ultra-Luxury 9″ Square Rainfall Shower Head

Price: $
Customer Rating: 3.7
Weight: 1.8 lbs
Flow Rate: 2.5 GPM
Dimensions: 9.5 x 6 x 3.5 inches

View On Amazon
Best Rain Shower Heads Reviews
1. HotelSpa Giant 10″ Stainless Steel Rainfall Square Showerhead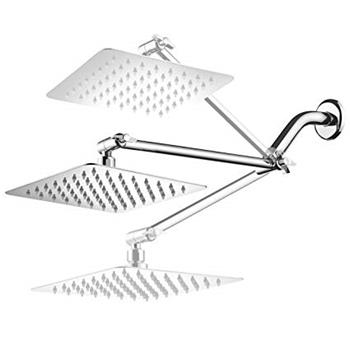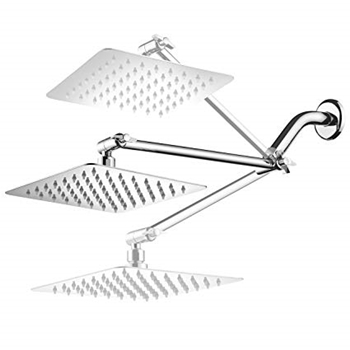 You need a rain shower head with a solid construction unless you want it to deteriorate not long after buying it. Fortunately, this HotelSpa product can make that wish come true. Fabricated from stainless steel, the unit is durable and able to sustain the mass of water circulating through it.
The profile is ultra-thin and elegant. You don't have to worry about it looking out of place, especially if you're seeking a modern design for your bathroom. The extension arm is made of solid brass to properly support the showerhead.
And if you're seeking an installation that won't give you any complications, this unit's installation may be child's play. You won't have to grab your tools – connecting it to an existing overhead shower arm is enough.
You won't experience too much trouble cleaning it either, as the jets are easy to maintain. They'll go back to being shiny in no time. The showerhead is also angle adjustable to make sure that no matter what position you're in, the shower head's rain will reach you.
Pros
The rain shower head has great pressure
It can be adjusted
The product comes with a limited lifetime warranty
Cons
After a while of being used, the water coming out of it may split at the edge
2. SR SUN RISE Luxury 12 Inch Large Square Stainless-Steel Rainfall Showerhead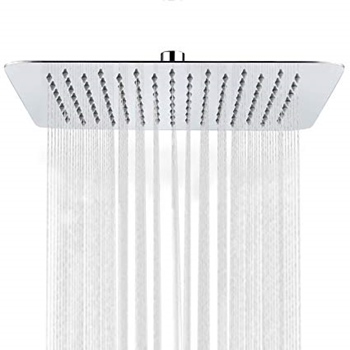 A rain shower head has great pain-relieving powers – so, if you want that to work for you too, you need a unit with enough water pressure. This SR SUN RISE product can give you the powerful rain you're looking for. With air energy technology, the powerful rain will be consistent and ease up the tension accumulated during the day.
Your bathroom will be splendid with this jewel of a showerhead. The finish is ten-layer chrome plater so the sleek look is always maintained. The finish is also resistant to corrosion, for your peace of mind. You won't have to deal with replacements any time soon.
The showerhead is wide enough to offer you full-body coverage. As such, your muscles will benefit from a great massage and will thus relax. Let's not forget that setting the unit is tool-free and mounting it on the wall will be an effortless process.
Pros
No body part will be missed during the showering process
It's easy to clean and maintain thanks to the silicone gel nozzles
You get a 5-year warranty
The stainless-steel construction guarantees durability
Cons
The showerhead can rust quickly
3. PULSE ShowerSpas 1011-III-BN 8″ Rain Showerhead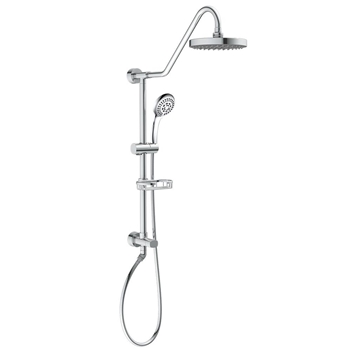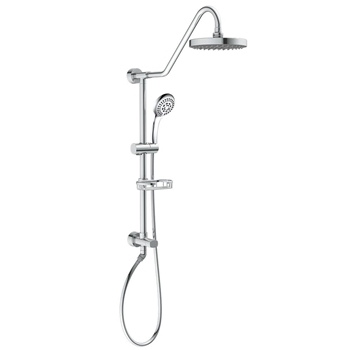 What you may love about this product is that you get a little gift with your rain shower head. Whereas the rain one will be a great way to make yourself feel at ease when your muscles are in pain, you'll also get a multi-function handheld unit. Connected to the same system, you can use them either separately or together, according to your needs.
The model is fully pre-plumbed. Therefore, you won't need a remodel, as your existing shower can be replaced with this one. To make things even better, you can do the installation all by yourself, without the help of a professional. Connecting the unit to the water supply and the valve will grant you access to the excellent features it has to offer.
Since the last thing you want is aggressively rubbing a shower head to get rid of build-up, you'll have a much better time maintaining this product. The showerhead has rub-clean soft tips that aid you against mineral build-up, ensuring longer durability.
Pros
Easy to clean and maintain
You get a handheld showerhead as well
No remodeling is required to set up the unit
Good customer service
Cons
It may have leaks if you don't tighten it carefully
The flow may not be excellent until you remove the flow control discs
4. Moen S6320 Velocity Two-Function Rainshower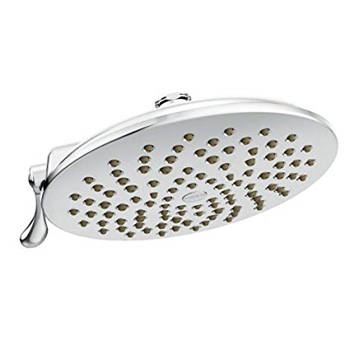 Are you tired of seeing showerheads that talk all about how large they are, but they don't actually provide enough body coverage? The same thing can't be said about this Moen product. The size and power of the unit are good enough to completely cover your body with water and get an even massage.
Compared to other rain showerheads, this one is more interesting as it sprays water out of the nozzles with more pressure. Therefore, you can rinse your body properly instead of simply using it for massages and relaxation.
The look is simple yet pretty, matching with most bathroom designs. Whether you want a classic or modern design, you can fit both. And if you want to easily adjust the water temperature, there will be a single handle lever to make things more pleasant for you. Two spray models are available too, to help you adjust water flow as you wish.
Pros
You have four finishes to choose from, so you'll end up with the design of your dreams
It offers full-body coverage
The water spray is powerful enough to let you rinse
You won't spend an eternity adjusting water temperature
Easy to set up
Cons
The showerhead may be dripping for a while after being turned off
5. ShowerMaxx, Luxury Spa Series, 6 Inch Round Rainfall Shower Head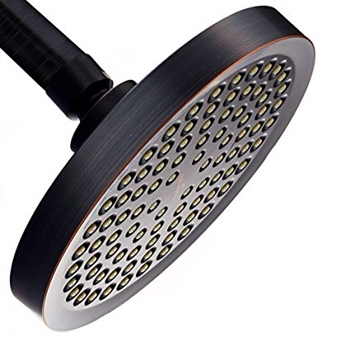 ShowerMaxx created this model with the customers' convenience in mind. Having self-cleaning silicone jet nozzles, as well as a rubbed bronze finish ABS body, the model is meant to last and prevent hard-water build-up.
The look alone is enough to make you feel like you're at a luxurious hotel. The gorgeous design is so modern that you'll get to enjoy a spa-like experience in the comfort of your own home. Aside from the obvious design benefit, the ABS body with oil rubbed bronze finish is heat-resistant too.
What's more, you don't have to spend cash on a plumber either. The showerhead comes with clear and easy-to-follow instructions to help you do the work yourself. Don't worry, it's not as difficult as you think. You'll get Teflon plumbing tape, two fitted mesh sand filter disks and a flow restrictor that will be effortless to set up.
Pros
The showerhead is of high-quality
It has an elegant and shiny look that won't fail to impress
The comfort it provides can match the one you get at a spa or hotel
The customer support is very good and quick to solve your problems
Cons
May start leaking from the sides after being used a lot
The cover may fall off after a while
6. ALFI brand RAIN16R 16-Inch Solid Round Ultra Thin Rain Shower Head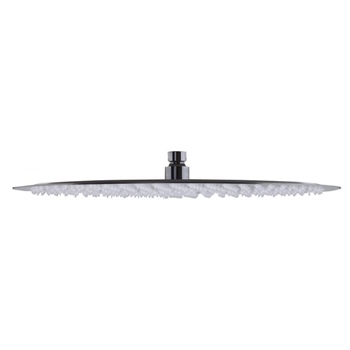 Having your shower head clog is very annoying, particularly when you think about the amount of time you'd need to unclog it. This is why ALFI thought about including clear rubber nozzles to ease your work when having to clean the nozzles. In addition, 5 replacement nozzles are included as well.
If you want to change the angle of the showerhead while cleaning your body, the swivel adapter will let you do so. Also, the design is very beautiful. The finish is of polished stainless steel, and it also has a mirrored look. Fingerprint marks won't be easily left on it either. Once again, your cleaning process is made easier.
The body is made of stainless steel to make it more durable. The price is quite convenient for what the product has to offer. Even if you lack strong water pressure, this showerhead will make the flow good enough, as well as comfortable.
Pros
Easy to clean, unclog and maintain
It comes with replacement nozzles for your convenience
The finish makes it look beautiful and also serves as a decoration
Cons
Some customers have had the showerhead split in between the two metal pieces and start leaking
7. DreamSpa Hotel Spa Ultra-Luxury 9″ Square Rainfall Shower Head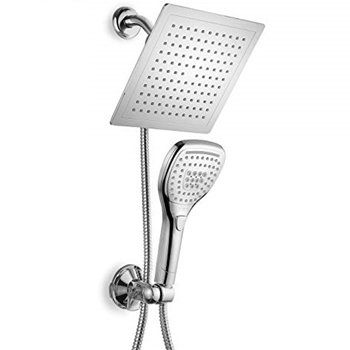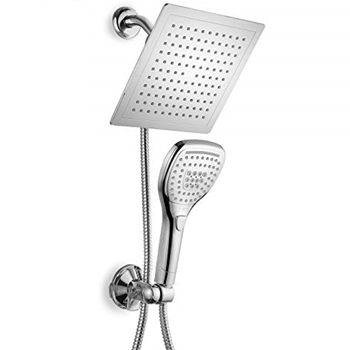 This showerhead is pretty decent. It's large enough and able to provide enough coverage for your whole body, more specifically shoulder-to-shoulder coverage. It can also be adjusted to follow you wherever you're staying.
An advantage is a fact that it's a combo, as it also comes with a handheld showerhead. This way, you can have the rain flowing on you while rinsing with the handheld one. The handheld one even looks very similar to the rainfall unit. Therefore, the design is cool and fun and can look very nice with the rest of the bathroom.
You have a push-button for flow control for the handheld showerhead. One hand is enough to operate it and get access to amazing features such as aeration massage and high-power rain.
The installation is tool-free and quick. Few minutes are needed to connect the unit to a standard overhead shower arm so that you're ready to use it.
Pros
It also comes with a handheld shower too
Wide surface to ensure shoulder-to-shoulder water flow
The rub-clean jets will make it very easy to clean and maintain
Has a limited lifetime warranty
Cons
It's quite cheaply made and prone to break easily
What Is a Rain Shower Head?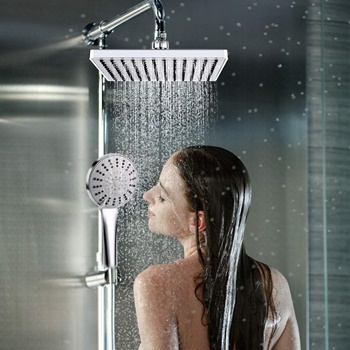 A rain shower head is a type of shower that differs from the units you're probably used to. Unlike a standard showerhead or best shower panel systems that spray water on your body, a rain one will let water flow on your body, hence the "rain" in the name.
Rain is something relaxing and calm for the most part, and the showerhead is meant to bring the same feeling. The water will peacefully fall on your head and shoulders, caressing your skin, massaging your muscles and helping you release a lot of the accumulated tension.
Of course, some rain shower heads come with special settings that make the rain effect heavier, but it's still more peaceful compared to a standard shower that uses pressure. Rain shower heads are installed either on the wall, as a replacement for your current shower system, or on the ceiling of your shower.
This type of shower head is always placed above your head to make sure the water will come flowing down on you. Since their main goal is to help you relax, the water pressure won't be too high. There will be a few models with adjustable water pressure, though.
Types of Rain Shower Heads
During your search for the best rainfall showerhead, there are a few types you may encounter, such as:
1. Wall Arm Showerhead
The name is self-explanatory already, but this type of rain shower head is the one that you fix on the wall in the shower enclosing. More often than not, the face of the showerhead is larger in these models to guarantee you'll get enough rainfall to cover your whole skin.
They are mounted on a long shower arm to reach you, and the face of the shower points downwards to allow water to fall on your body. It's a convenient option because it will always be able to spray water on you, so you don't have to worry about water not being able to reach you.
2. Fixed Showerhead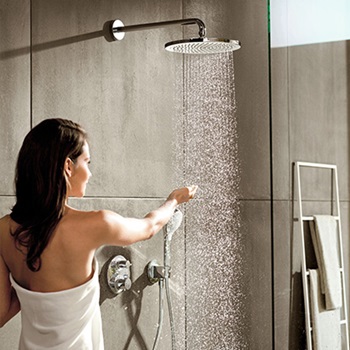 This type of shower head is similar to the wall-mounted arm one in how it's installed. Just like the previous type, this one is also mounted on the wall. However, it only uses a single bracket, but here's where the cool feature comes into play: there is a ball joint that will give you the power to adjust the showerhead's angle. Therefore, you can let the water flow on you no matter where you stand.
Fixed rain shower heads are most suitable for smaller shower enclosures. They have a much simpler design but may come with a number of features such as flow strengths and sprain patterns to offer some versatility.
3. Ceiling Arm Shower Head
Once again, this is a type that comes with a self-explanatory name. Instead of being mounted on the wall, this one uses a shower arm to stay attached to the ceiling. It is a beautiful option that will make any bathroom look luxurious. In general, these units are most suitable when you have a lot of space in the room.
Jet vs. Rain Shower Heads
When being faced with the option to buy a rain shower head, you may be wondering how a rain one differs from a jet shower head. After all, both of them are supposed to push water through nozzles the same way in order to aid you in maintaining hygiene.
Well, there are a few differences between the two. Let's start with rain showerheads. They have a very wide surface in comparison to a standard showerhead, thus the water that comes out of it will offer more body coverage. Conversely, the water isn't violently pushed out of the system, but rather left to gently fall on your shoulders like rain.
Rain shower heads are meant for a spa-like experience, as they have pain-relieving properties, as well as stress-relieving ones.
Jet shower heads are way smaller compared to rain ones. Their face is much smaller, so it would be hard to shroud your entire body in water in one go. Also, the water is being pushed out more violently – in other words, it comes with a higher pressure. This is something that aids the shower head cleaning process but doesn't give you the same spa experience a rain one does.
A jet shower head also uses fewer nozzles to shoot out water and doesn't work to massage your muscles.
They are similar because they both come with the feature to change the spray pattern of the water. As such, while the units share a few similarities, they are mostly different.
Rainfall Shower Head Buying Guide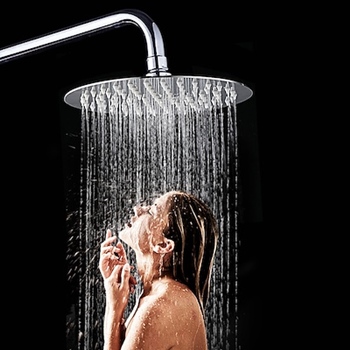 We don't recommend looking for a rain shower head without knowing what features it should have. You'll only set yourself up for possibly buying a unit you're not pleased with. Let's not waste any more time, and see what you should look for in a rain shower head:
1. Price
Before you even think about buying one of these beauties, you need to ensure you have the funds for it. Analyze your budget and see if the products you set your eyes on will be in the same price range. Don't go for one that seems too cheap, as you risk buying something bound to fail not long after being mounted.
If possible, try to find a product that is just as expensive as your budget. This way, there are better chances to find something that doesn't only look and feel good but is sturdier and has multiple features as well.
2. Shower Head Type
With rain shower head types, there are 3 options: fixed, wall-mounted and ceiling-mounted. Whichever you settle for depends on how much space you have in your bathroom, not to mention the distance between the floor and the ceiling. The shower arm needs to be situated higher enough so that even the tallest person in the house can use the unit without difficulties.
Moreover, the fixture you choose should match your shower arm, so make sure the model you consider fits. The good thing is that most of them use standard parts.
3. Cleaning
If you don't want to pull your hairs out every time you have to clean the unit, you should look into how easy it would be to clean, and whether it has self-cleaning features. This is usually mentioned in the features section, so check the user manual to find out how the process should go.
4. Warranty
Good rain shower heads should always come with a warranty, to make sure you have coverage over parts that may potentially break. This will give you some peace of mind, so check and see if the product has one, and how many years it's available for. Don't forget to check what the warranty covers more specifically.
5. Design
Whether you're a perfectionist or just obsessed with house design, you would probably refrain from buying a shower head that doesn't look attractive enough. Even if you're not particularly interested in design, a good-looking unit will surely seem like the better choice, especially if it has all the other features that you want.
Rain shower heads can be found in various styles and finishes, so if you're redecorating the bathroom, you need to find a suitable model. You can go for a traditional style or a modern, luxurious one – there is a rain shower head for everyone.
6. Size
The bigger the showerhead, the better, especially if you have enough space for it. A small rain shower head will hardly offer you enough coverage, and you'd have to move around quite a lot until your whole body gets wet.
Larger rain shower heads offer shoulder-to-shoulder coverage for the best experience, making it much easier for you to shower quickly while relaxing. There are a lot of great shower heads coming between 8 and 10 inches. Make sure your shower enclosing is large enough to deal with a larger rain shower head before you make your choice.
7. Ease of Use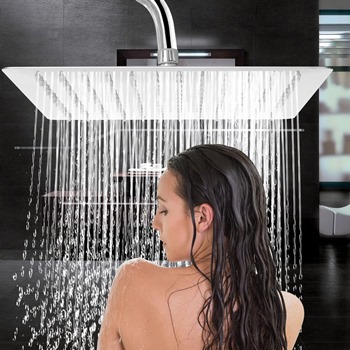 Wouldn't it be annoying if you bought a new rain shower head, only to find out it's harder to use than you thought? And even if you figure it out, there's a chance the other family members won't find it as easy to use as you do.
If elders or children are living in the same house, you may want something that doesn't give them a hard time. A rain shower head mounted on a sliding bar may be the best option this way, as it can be adjusted to match the height they desire. Some models can also be removed and held in your hand to help you clean your bath or best shower pan.
Furthermore, we recommend choosing a shower head with a dial on the surface, which allows you to change water flow patterns very easily.
8. Shape
If you haven't noticed just yet, rain showerheads come in two shapes: round and square. Of course, the shape may not be the most important thing, but it's worth considering depending on how you want to style your bathroom.
For example, a square one may be a suitable option when you're trying to achieve a modern look. A round one may look better if you want to go for a more delicate style.
9. Installation
Most likely, you want something that you can install effortlessly, and without having to contact a plumber. Over the past years, a lot of easy-to-install models have emerged, so it's very likely to find one like that for yourself too. You just need to search carefully.
Look for rain shower head models that require no tools for installation and come with all the parts they need to be mounted. It's the greatest option for someone who doesn't want to spend more cash on extra parts or on a plumber.
10. Durability
One of the most annoying things is buying a product that breaks not long after it has been installed. It means that you'll waste money, and you'll have to buy a new unit.
This is why it's important to check the manufacturer carefully and make sure that the unit is made from quality materials. A high-quality rain shower head is made of stainless steel, as the material is sturdy enough and able to resist the quantity of water being circulated through it.
If you buy something very cheap, the chances are that it will start malfunctioning after you use it for a few months or less.
11. Additional Features
For people who want something fun and unique, some rain shower heads come with special features to make the shower experience better. A few models incorporate LED lighting and can make your day whenever you step into the shower. They are operated either through battery or an external power source, and while they're a little pricier, the fun-loving person inside of you will fall in love with them.
FAQ About Rainfall Shower Heads
Our site is meant to help you get answers regarding bathroom units, and since this post is related to rain shower heads, you probably have some questions. Therefore, here are some of the most asked questions regarding rainfall showerheads, and the answers to them:
1. Will a Rain Shower Head Consume More Water?
No, it won't. It all depends on how long you leave it on, but on average, rainfall showerheads consume about 2.5 gallons of water per minute. More than that, there are also rainfall showerheads that come with a water-saving feature – so, you should look for them.
2. How High Should I Install My Rainfall Shower Head?
Rainfall showerheads should ideally be mounted at least 84 inches above the shower floor. The minimum height is 80 inches, but it's always better to go a little higher, especially if you have tall people in your family.
3. What Shower Arm Am I Going to Need for My Rain Shower Head?
There are different types of shower arms available, and the type you need all depends on where you want your product to be mounted. Do you want it on your wall, or on your ceiling? You must look at all of these things before buying a new shower arm.
With both wall and ceiling arms, there is a variety of shapes you can choose from. Some are more curved, others are straight, and so on.
4. Will I Have Good Water Pressure with a Rain Shower Head?
It can't be said how high your pressure will be unless you have the product in your possession already. Rainfall showerheads normally don't have that much pressure, and that's because this is not their purpose in the first place. They simply let water fall on you like rain – therefore, you won't experience the greatest pressure.
However, they make units like this with higher pressure too, so you have to research carefully if you want to find one. If what you're looking for is a high-pressure fixture, though, a traditional showerhead would be a much better option for you.
5. At What Distance from the Wall Should My Rain Shower Head Be?
There's not really any specific distance in this regard. But one thing is for sure – the shower arm has to be long enough to reach your body.
First of all, it's important to have it mounted a few inches higher than the tallest member of the family. As for the shower arm distance, you need to think about what angle you want the water to hit from. If the showerhead would be too close to the wall, you may have to stand closer to the wall too in order to have water reach you, and that could be quite uncomfortable.
6. Does a Rain Shower Head of Bigger Size Need More Water?
No, it doesn't. The surface only ensures you'll have a larger body coverage, but the amount of water will still be the same as with a smaller model. They provide the same amount of water, so the only change you'll experience with a bigger unit is less pressure. Since water has to be distributed across a bigger surface, the pressure will decrease, while the amount of water stays the same.
Wrap Up
It would be less burdensome to find the best rain shower head if you had the right information to help you find it. Thankfully, our buying guide provided all the details you need to know, so there should be no problem in that regard anymore.
Through the rain shower head reviews, buying guide, and the answers to some of your questions, you may end up purchasing the most suitable unit for you. Get ready to start shopping around and lay your fingers on the most amazing product.
See also: best high-pressure shower heads – dual shower head reviews